Ready to start eCommerce for your Small Business?
A great-looking and functioning website is now a standard expectation in 2023. Customers no longer put up with bad experiences or outdated websites. With so many website builders available to small business owners, choosing which eCommerce platform is best for your small business can be confusing.
I'm going to cut to the chase. It's Shopify, just start a free trial account!
Then, keep reading for details...
Building an online store can take as much or as little time as you want, but one thing to keep in mind is that your website will never be done. There will always be areas to improve, tweak and tune.
As you grow, you'll need help with maintaining your eCommerce website. That's when you hire a professional Shopify Expert like me to take over the care and feeding of your website so you can continue the day-to-day operations of your business.
Like I always say: "Don't fight with your site. Hire Scott to do it right!"
What do I need to start my eCommerce website?
Starting an eCommerce website with a website builder like Shopify is fairly straightforward. There are steps you should take to make sure you are not redoing work, or creating more work for yourself down the road.
Here are the steps I suggest for getting your eCommerce website up and running, and off to a great start:
Start a free trial of Shopify
Map out your website with Lucid Chart
Choose a Theme
Collect images and information for your Products
Buy a Domain Name
Write Content for the Home, About, Contact, and Product Pages
Start Mapping out the Content for your Blogs
Write Content that is SEO friendly
Connect your Domain Name
Make the site Live!
Step 1: Start a free trial of Shopify
It's not a random chance that I choose Shopify. I use it for this site you're reading right now, and I've been a Shopify Expert for over 6 years and a top-rated freelance Graphic Designer and Shopify Website Developer for over 15 years, starting development well before Shopify ever existed.
Click here to start a free Shopify Trial
Step 2: Map out your Website with Lucid Chart
Most people skip this step, but it's a bad idea because it will give you a global view of your website and a way to see what has been done and what needs to be finished. Remember: your small business eCommerce website will never be finished. It's an ongoing process, but what's most important is to get started.
Step 3: Choose a Theme
When you start your Shopify eCommerce website for your small business, you will have a free theme already installed. Remember: free themes can run a fully functional Shopify eCommerce website perfectly. You don't need to spend money on a Premium Theme.
Clients often ask me, "How do I know if I need a Premium Shopify Theme?" My answer is relatively simple: If you want the features and functionality that a Premium Theme offers and don't want to pay for Shopify Website Development to achieve those features, a Shopify Premium Theme is a great place to start.
The site you are on now is a custom Shopify Theme I created. Free themes are, of course, free. Premium Shopify Themes can range from about $150-450 USD. This custom Shopify website you are on now cost me about $12,000 to design and develop and includes advanced functionality and bespoke designs.
Click here for Basic Shopify Website Design and Development.
Click here for Advanced Shopify Website Design and Development.
Step 4: Collect images and information for your Products
The next step is to collect all of the images and information for your products, both for inventory management but mainly for customer-facing displays inserted through the Shopify content management system, or CMS for short.
Make sure your Shopify eCommerce website product images feature clean backgrounds and are consistently sized. Clear and consistent imagery increases your eCommerce site's conversion rate and reduces the need for abandoned cart recovery, which can be expensive to set up and maintain.
Step 5: Buy a Domain Name
I use GoDaddy for all of my domain names. It's super easy and integrates perfectly with Shopify. Once you buy your domain name, simply login to your Shopify eCommerce website Admin and click Settings in the bottom left corner, then Domains about halfway down the next screen. Follow the few steps, and you're done! I've found it takes from an hour to a day to get the site to link to the domain, so just be patient.
Step 6: Write Content for the Home, About, Contact, and Product Pages
There are two major considerations when you are writing content. The first is "do you want to pay for traffic?" or "do you want to pay for organic traffic?" Paying for traffic is an expensive ongoing cost to your small business Shopify eCommerce website, so I think it is best to write content that will start ranking for traffic organically first.
Read: How do I rank on Google with SEO writing?
Hire me to do your Content Writing and Search Engine Optimization.
Step 7: Start Mapping out the Content for your Blogs
Within Lucid chart, it is a great idea to map out all the content you can to help build organic traffic. Organic traffic for your small business Shopify eCommerce website is so important because it is significantly less expensive to produce in the long term.
There has been a lot of misinformation running around in life coaching books that are saying that you can run a successful business on $50 of ads per day. It's just not true. Although $50/day on ad spend will get you traffic, it will only be about 100-200 clicks per month and won't cover the cost of the ads.
By paying for ads like this, whether on Google or Facebook, your small business will simply bleed to death slowly. It's death by a thousand cuts.
In my opinion, the most effective way to drive traffic is to write 100-200 blog posts and watch your organic keywords and organic traffic build-up by demonstrating your expertise.
Need blog writing to get started? Hire me.
Who is the best Shopify designer and developer in 2023?
Well, that's easy, it's me!
Ha ha, I kid, I kid, I'm not the best in the world, but I'm also reasonably priced and can do the vast majority of tasks you will require for your small business Shopify eCommerce site. From basic setup to advanced customizations and functionality.
I can even help train you to use your online business and the associated marketing tools to help you build sales on your commerce platform. I can help you with the point of sale if you have a brick-and-mortar small business, set up payment processing and make sure that Shopify is the best eCommerce platform for your small business.
Have a look at my Shopify eCommerce Services here.
Where can I hire a Shopify Expert?
You can hire me as your Shopify Expert.
With over twenty years of consumer packaged goods design experience, I have what it takes to help you build your online business. My goal is to get you online, make sure your digital marketing strategy is in place, and develop sales.
I offer 24 7 customer support and user-friendly project briefing to ensure your online presence has all the features you need to launch.
How do I do search engine optimization for my Shopify eCommerce website?
Here are the essential skills your Shopify SEO Expert must have:
Keyword Research
Google Analytics
Marketing Initiatives
Conversion Rate Optimization
Driving More Traffic
Product Descriptions Writing
Content Writing
Blog Post Writing
URL Structure
Meta Descriptions
To optimize your project and increase rankings for your Shopify eCommerce store, you require developers, designers, and marketers who are highly experienced in building their brand so you know they can make themselves successful in their market.
Searching for a freelancer who can achieve the business goals you are aiming for can sometimes be daunting as there are so many particular tasks that require attention for success.
Keyword Research
Finding your target audience starts with keyword research. This goes far beyond simply listing services and products that your business provides. Keyword research deepens your customer's emotions and common sense and identifies how they search and why.
Google Analytics
Your Google Analytics implementation sets the baseline for analyzing your traffic daily and ensuring that you are making decisions that increase the tasks that drive traffic to your Shopify store.
Marketing Initiatives
Having a plan in place is critical to your success, and this is built by designing correct marketing strategies, tackling the low-hanging fruit first, then expanding into the details of the site structure, from the main navigation to content writing, keywords, and URL structure.
Conversion Rate Optimization
Product pages, especially product descriptions, will move the needle on your conversion rate optimization tasks (also known as CRO). Conversion rates increase with customer trust, speed to purchase, price, and numerous other tasks. Ensuring you are checking all boxes is critical to your business development on Shopify.
Driving More Traffic
Everyone wants more traffic. It's critical to achieve your business goals, and showing off your products and services to increase sales is the primary goal. The main goal of every business is to increase sales, and even if your CRO isn't perfect, increasing rankings on search engines will help drive traffic to your Shopify store.
Product Descriptions Writing
Visuals, price, and trust help customers buy confidently, but writing product descriptions that are highly effective in returning search results on search engines is the first step in getting sales.
Your primary goal when getting product pages up and running and producing sales on your Shopify store is to write keyword-rich product descriptions high in relevancy to drive organic traffic.
Content Writing
When considering on-page SEO, content writing is vital. Content writing includes landing page writing, blog, and long-form article writing. Most Shopify websites don't rank for the keywords they need to rank for success. This is often because their content scores are so low.
When I write content for Shopify stores, I start with keyword research and analytic tools such as SurferSEO to find exactly how much content I need to write and what topics to include, so businesses increase organic traffic.
Blog Post Writing
Writing blogs has been around since the beginning of the internet, and they are still a critical component of your on-page SEO strategy when hiring a Shopify SEO expert. This service includes writing blog posts that are 3,000-5,000 words.
Proper blog post writing is much more extensive than originally thought to move the needle on organic traffic. Hiring a Shopify SEO expert with the expertise to create marketing strategies for your store and website while optimizing the content correctly is critical to success.
URL Structure
On-page SEO with your Shopify SEO Expert extends to your URL Structure, and making sure that it matches the content on the page helps not only with sales on product pages but with building organic traffic, which will help you rank for keywords and make sure your page and Shopify store gets noticed.
With an initial analysis of many client Shopify sites, I find that they often neglect this important SEO practice, reducing the page's relevancy and damaging the search results.
Meta Descriptions
Your online store will also need correct Meta Descriptions as part of the marketing strategies and optimization for keywords. The Shopify platform has many great SEO tools that can help you slowly increase your rank, generate more traffic to your store, and increase sales.
If you simply follow the key projects listed above, you will move the needle on SEO for your brand and start achieving the goals of bringing more customers to each page on your Shopify site.
My goal for every business, especially with eCommerce on Shopify, is to make sure that they are using the best SEO practices and getting the expertise needed to help rank on Google and other search engines.
These SEO practices and projects extend beyond just your Shopify website as well. SEO should be implemented with all of your online communications as it will help Google return search results that help bring clients to your Shopify store.
Your Shopify SEO Expert
As a Shopify SEO Expert, I can help your business navigate all of the SEO best practices for your Shopify eCommerce site and create the correct marketing strategies to make your project successful.
SEO isn't a quick fix. These changes take a few months to take effect and should be considered a long-term ongoing marketing project for your Shopify business.
Using a combination of Google Analytics, Google Search Console, SurferSEO, and other marketing strategies will dramatically improve sales over time on the Shopify platform. As your SEO expert, I will work with you daily to help make sure your SEO content writing on each page is perfected.
Shopify SEO for your online store starts with web development, web design, and content structure to ensure you have templates for the amount of content you require on each page and product description to make sure your online store stands out in the crowd of millions of other websites.
My website, the one you are reading right now, ranks in the top 0.05% of websites online, with no backlink focus, simply correct SEO planning and content writing for this online store.
Your online store will benefit significantly during the SEO process as you can reduce or altogether eliminate daily Display Ad marketing budgets and even start earning money through paid ad placements.
One SEO piece I didn't mention yet is backlinks. Search engines are now penalizing the purchase of backlinks, so this should no longer be part of your strategy for SEO. Only backlinks that are achieved organically are used to help increase your rankings on search.
If you purchase backlinks, you risk having a penalty on your search engine results and should be carefully negotiated by contributing content to other sites. However, it is often much more logical and beneficial to have original content on your site versus contribution on other sites.
Content writing aims to make it so great that people naturally want to link to it.
By writing content that is SEO friendly, it will compliment your web design, web development, sales, and eCommerce traffic to your site. If users can't find your site, how beautifully designed it doesn't matter.
Perfecting the content on each page to effectively increase conversion rates is critical to the success of businesses. Using my content writing and SEO service will increase the organic traffic to your store, website, and page.
How to hire a Search Engine Optimization Writer?
Writing for Search Engines, also known as SEO writing, combines creativity, strategy, and analysis. When you hire a copywriter for SEO article writing, it is vital that they understand the overall marketing plan and can adjust their content creation to suit the project goals.
Often with SEO writing, the point is to adjust the website content to begin to organically rank in search engines and increase the number of keywords the website ranks for.
The steps I have found to be most effective when writing for Search Engines is the following:
Ranking Content (Write keyword heavy 500 - 1,000 words)

Title (70 Characters + includes ranking keywords)

Meta Description (320 Characters + includes ranking keywords)

URL (74 Characters + includes ranking keywords)

H1 (H1 includes keywords)

H2 (H2 includes keywords)

Paragraph (First sentence includes keywords)

Internal Links (Add links into content to related site pages)

Images (Images every 3-4 paragraphs + ALT text)

Publish (Review above and make it live)

Index on Search Console (Index URL on Google Search Console)

Wait for Ranking (It's not good copy if no one reads it)

1st Draft Content (1 week later > 2,000 Words + repeat above)

2nd Draft Content (1 month later > 3,000 Words + repeat above)

3rd Polished Content (3 months later > 4,000 Words + repeat above)

Update Yearly (Keep content up to date + zeitgeist)
Structuring the content writing using this step-by-step plan will ensure that your business's website content will begin ranking as long as the copywriting is of high quality, and you make sure to link to other internal landing pages to increase the relevancy of your SEO copywriting.
Hire me as your Shopify Expert for all of your small business eCommerce needs.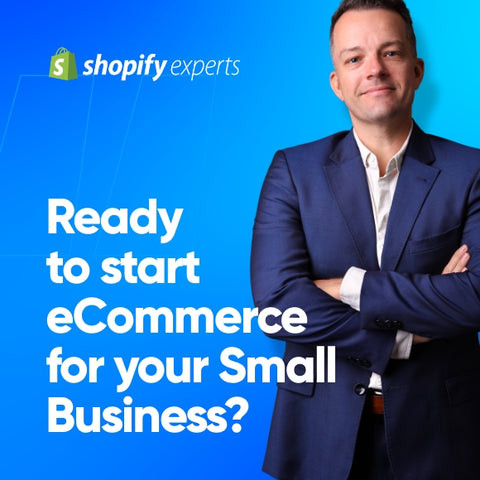 What is the best eCommerce platform for small business in 2022?
Then, pick one of these:
---
Third, try these:
---