Goal: Onboard new clients quickly by focusing on the solution and delivering a great freelance sales pitch.
How do you write a high converting freelance sales pitch to win more work?
You have gotten the client's attention and now have the opportunity to pitch them. During each stage of the sales process, you get more and more time to explain yourself. At the initial glance of your profile, you get about 3 seconds. Now at the Pitch stage, you have about 10-15 seconds. Making this time count is essential if you want to get the project, and a clear, confident pitch is the way to build the client's confidence in you and get you hired.
Stop doing this...
Casting a wide net
You use the opportunity to pitch a client and ramble on about your business and what you do. This gets you skipped.
Problem:
Your Pitch fails.
You get so excited that a client has reached out to you that you either forget what to say or say everything.
Try doing this instead...
Narrow your focus
Focus on one problem you can solve for the client right now and work up from there. This will get you hired.
Solution:
Perfect your Pitch.
Design and deliver a Pitch that solves the client's problem within the first sentence, then talk about working together.
What: Learn freelance sales pitching like a pro.
The Dragons' Den, a popular business TV Show, invited me to sell one of my products to the 5 Dragons, and I received offers from 4 out of 5 of them, closed the deal, and sold my business.
Effectively selling boils down to reducing risk and being trustworthy.
Clients want a problem solved and want to understand what it takes to get this done and the benefit it will provide. It's an explicit request from the client and requires a clear answer.
It's tempting to want to sound impressive by listing all of your accomplishments, all the skills you have, and the tools you use. But thinking of it from the client's perspective is critical.
Important: The client doesn't know how to solve the problem, so they are hiring someone to do it.
Over-explaining loses projects. Clients generally don't understand how the problem is solved or even why your skills and tools are relevant.
Have you taken your car to a mechanic? Well, chances are you want the car to work correctly and don't care which wrench the mechanic will use. The same goes for clients. 
The client is aiming at a result. You win if you can understand this result, communicate it to them, and offer a solution. The client won't care as much about how it gets done, only that you completed the task and achieved their goal. 
Here is a 1 Hour Coaching Session session I recently did with Paul O., from Nigeria, Africa who is currently earning $150,000/year on Upwork and wants to grow his freelance business:
How: High Converting Freelance Sales 
Pitch Writing.
Your Pitch, whether delivered in person, via a cold email to a potential customer, or a potential client on a platform such as Upwork, one thing is sure, you only get one shot to get the project started.
If your Pitch is the Goldilocks of the business world and it's vital to get this step right. As a freelancer but also someone who hires freelancers for assistance on projects, I see all kinds of pitches. Pitches that work when I'm hiring and looking to hire are clear and concise, easy and quick to read, and follow a very similar format as the following Pitch.
1 Introduction
Your first "introduction" sentence is about you, precisely why the client should be confident you can solve their problem.
2 Options 
The second "options" sentence is about the three options the client can choose from to get their problem solved.
3 Action

 
The third sentence is the "ask," where you ask the client to take action and include your availability, contact, and conversation starter.
Example:
Divide your proposal into 3 sections that allow your potential client to understand you quickly, and speed is what you want.
Section 1, Introduction - Who are you, and what problem do you solve for the client?

Section 2, Options - What are 3 options for the client, and what are the prices broken up into high, medium, and low?

Section 3, Action - How does the client begin the project, when can you start, and how long will the project take?
For example:
Hi, I'm ________, and with ________ years of experience I can complete your ________ project.
I suggest 1. ________, 2. ________, or 3. ________ for this project.
To get started, I require ________, and can begin your project ________, with a completion date of ________. You can schedule a meeting here ________, and make payment here ________.
Want to learn more?
Buy my book the Freelance Shortcut for 10 assignments and a step by step guide to a successful freelance career.
Would you like a one on one Freelance Coach to help you achieve your freelancing goals and leap ahead of the competition?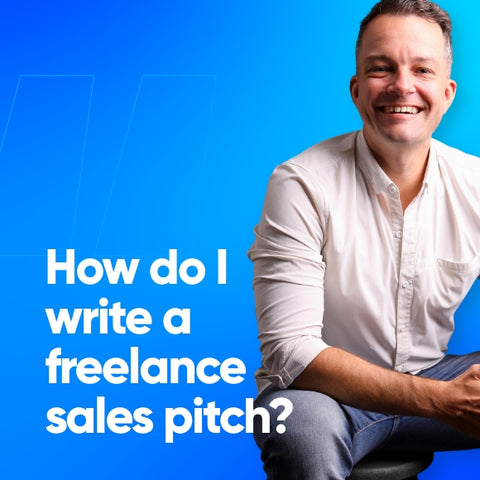 How do I write a high converting freelance sales pitch?
Then, pick one of these:
---
Third, try these:
---