From Upwork, to Fiverr, to LinkedIn, to job boards, I shed light on where to start first to build a successful freelance career.
Here is where to get started freelancing as a beginner.
One thing is for sure, freelancing has been the best foundation of my career as a graphic designer, website developer, copywriter, and digital marketer.
From the start of my career, picking jobs off of the job board in my school and trying to make $20 here and there, to over $400,000 earned on Upwork, and about $15,000/month on LinkedIn.
As a beginner freelancer, it can be daunting trying to figure out where to look, what to choose, and not spread yourself too thin trying to pick a bunch of freelance platforms like Upwork, Fiverr, Braintrust, and polish your profiles, then hear crickets.
So what is the best platform to start freelancing?
My pick is LinkedIn.
There are numerous reasons why I pick LinkedIn as the best place to start which I'm going to list below, to help you build your freelance business from the ground up, get traction, then worry about which freelance platform you are going to tackle next.
Can I earn a living as a freelancer on LinkedIn?
Yes. Unequivocally, yes! I do it every day, and the amount of clients on LinkedIn is incredible. Every day when I start my search only for Graphic Design projects I can usually find about 500-600.
Out of these 500-600 Graphic Design projects I speak to about 10 people, and receive responses from 2-5 depending on the day, that's a 20-50% response rate which is incredible.
There are so many freelance websites out there now, all asking you to polish your profile to a high shine, upload your portfolio, your education, and pay to bid on projects. These freelance websites like Upwork and Fiverr are incredible in their own right, but they all have the same major problem, they can be expensive when you're starting out.
The advantage that LinkedIn has over most of the freelance sites out there is that you can make an incredible profile, comment, and engage with potential clients as much as you would like all for free.
Finding freelance jobs on LinkedIn is actually quite simple, and I aim to explain my process of going about that within this article.
How do I build a freelance career on LinkedIn?
As a freelance coach, one thing I tell my students who are just starting their freelance careers is that you need to consider yourself a salesperson first, before your freelance talent. You are a salesperson before you are a freelance writer, designer, developer, marketer, or virtual assistant.
Understanding sales skills is essential to a successful freelance career. Freelance marketplaces like Upwork's Project Catalog or Fiverr, basically tell the story for you and reduce some of the salesmanship needed to succeed in getting each freelance job.
Step 1: How do I write a great LinkedIn profile for freelancing?
There are two sides of the coin to consider when starting out on LinkedIn, the first to understand is Inbound Marketing, and the second is Outbound Marketing.
Inbound Marketing is basically like this article I'm writing for you now, you are looking for the answer to a question, and by providing details that are valuable to you, you may become a client.
Outbound Marketing is basically like cold emailing a client, where you get in touch with someone who isn't expecting you to contact them, and you trying to establish a relationship and sell them something.
A great LinkedIn profile is the first step to the easy one, Inbound Marketing, when clients are looking for something specific and you happen to have that solution to their problem.
Your LinkedIn profile should have a Heading that is easy to read and understand, you can have a look at my LinkedIn profile for how that works, but you can see it here:
🤘Rockstar freelance graphic designer with a backup singer price 👋 Graphic Design 👏 Website Development 👨🏼‍💻 Digital Marketing 🫵 Copywriting ✍️ Coaching 👉 scott@creatibly.com
The Heading should be scroll stopping. Make it funny, make it rhyme, make it smart, but also pack it with keywords, which lead us to our next step...
Step 2: How do I find my keywords as a freelancer?
You can analyze your Search Appearances on LinkedIn, which takes time to update and is pretty vague, or your can just head straight to the source of keywords.
The first way I recommend you find keywords to add to your profile is by reading the Job Descriptions of employers you want to work for as a freelancer.
For example, if you are a freelancer focused on Digital Marketing, in the search bar, type in your position Digital Marketer, then choose the country you're aiming to get clients from.
Now go through the job board and find 10 LinkedIn job postings for your chosen career and look at the Job Description, taking notes of what the hiring managers are typing into their job postings.
The key in finding keywords to add to your LinkedIn profile is to make sure you are writing like your clients are writing. You want to ensure that you're speaking their language, and even if you have some wildly specific freelance category in mind, you need to focus on what your potential clients are saying, and not what you think they want.
The second way I recommend you find keywords is to type in your chosen freelance service domain, such as Graphic Designer, type that into the search and add "we're hiring" or "looking for" after.
For example type "Graphic Designer and we're hiring" and "Looking for a Graphic Designer" then search through the results, you'll typically get hundreds, so pick a few that appeal to what you're looking for and read what the person posting has written, and note anything specific.
Do this 10 more times and start comparing common words you're seeing, these common words are your keywords and need to be added to your Profile when you're writing it. 
Step 3: How do I get clients to find me as a freelancer?
Now that you have the keywords collected, it's time to get writing. As you can see from my LinkedIn profile, I have even added these keywords to my Headline to make it absolutely clear to clients that I'm the freelancer they want.
Making freelancing jobs come to you is the pinnacle of success, this is about $8,000/month on average for me, people finding me and asking to work for me, and I want the same for you.
It's really not rocket science, it's just putting in the right keywords and having an inviting profile that is polished and free of spelling and grammar mistakes.
When clients look for you they are in a rush, they want to get to the point, quickly, and make a decision now because they need the work done.
The way I suggest formatting your initial 3 sentences of your LinkedIn profile are ordered in a standard marketing funnel. The Upper, Middle, and Lower Funnel.
The Upper Funnel
The first sentence is all about what you do and your experience, this should be a quick sentence, that the client can read and understand easily, don't be too specific, you're just clarifying the client's problem and showing that you're the easy solution.
For example, on my LinkedIn profile I use:
I'm Scott Luscombe, a freelance graphic designer, website developer, copywriter, and digital marketer, and I help:
The Middle Funnel
The second block of sentences is about giving the client the ball so to speak and letting them make a decision that is right for them. Identify your clients by writing 3 client profiles and quickly outlining them in this section, so that the client can see that you help them specifically.
For example, on my LinkedIn profile I use:
• Founders brand their businesses, design communications, and manage technology
• Marketers and Brand Managers to generate marketing communications in all digital, social, and print media
• Inventors bring their ideas to life with end-to-end product design, manufacturing, printing, distribution, retail and wholesale
• Freelance Designers, Developers, Writers, and Marketers to build their careers from any stage in their process
The Lower Funnel
The third set of information should be about the next steps, and how to proceed, and set expectations for clients to quickly decide whether you are right for them.
For example, on my LinkedIn profile I use:
Hourly Rate: $55
Flate Rate: $75-19500
Payment: Credit Card, PayPal, Direct Transfer
Timezone: EST
Average project size: $3840
Website: www.creatibly.com
Email: scott@creatibly.com
Upwork: www.upwork.com/fl/creatibly
Phone: 315-791-7511
What else should I add to my LinkedIn freelance profile?
Freelance websites like Upwork give you about 5000 words to write about yourself, and LinkedIn gives you about 2,500 which is more than enough to make an impact and get found.
The structure of your profile should be easy to read, styles change but try your best to break down your own Profile into:
Heading
1 Paragraph of writing
Bullet List
People like reading in this manner because they can skim it and it feels efficient. If every paragraph is 4-5 sentences it reads too much like a book, looks daunting and the client closes it and moves on to someone who can get to the point.
The best freelance websites for beginners give you lots of flexibility in what to add, but the above is mainly for LinkedIn, and platforms like Upwork and Fiverr won't allow you to enter personally-identifying information.
Make sure you're reading the terms of service for each of the freelance sites to ensure you're not breaking any rules if you are going to try to adapt this style of writing to your freelance marketplace profiles.
How do I know what to add to my LinkedIn freelance profile?
Job seekers often get too specific about their own skills instead of how these benefit the client. Think of all the skills you have, write them down, now underneath each of them, write the benefit each of these skills has to your clients.
This is called Features and Benefits writing and serves as a great way to help you think of what to write to make sure to fill out your profile.
Remember, that you're writing for search engines first, then the reader. If your profile never gets any views, it doesn't matter how brilliant your writing is, no one is reading it.
Think of what your freelance writing clients or graphic designers are looking for when they need to hire you as a website developer. This is the key to giving your freelancing career a boost and bringing clients to you and standing out from other freelancers.
How do I find freelance gigs on LinkedIn?
I touched on this a little earlier in this article about finding keywords for writing your profile and getting clients to come to your freelancing business.
An initial determination you need to figure out is where you fit within your freelance career. By understanding your personal details you can stand out as one of the professional freelancers and start to earn money.
To determine this fit, you need to look at a project you would like, then build a timeline of everyone that will touch on the project along the way from the first idea for the freelance project, to the completion and delivery of the project. 
Analyze where you fit on that timeline, and who you will work with. Freelancers often only take on one part of a larger project as beginners, but other freelancers around you may hire you for help.
For example, if you are working on designing a website you will receive content from a Copywriter, then design it, then hand it off to a Website Developer. Both the Copywriter, and Website Developer are potential clients, so start connecting with these freelancers and find out if they need help!
Read: 3 Best Freelance Jobs for Beginners in 2023
Did you find this blog post helpful? Need more clarification? I offer complete coaching services to help supercharge your freelance career.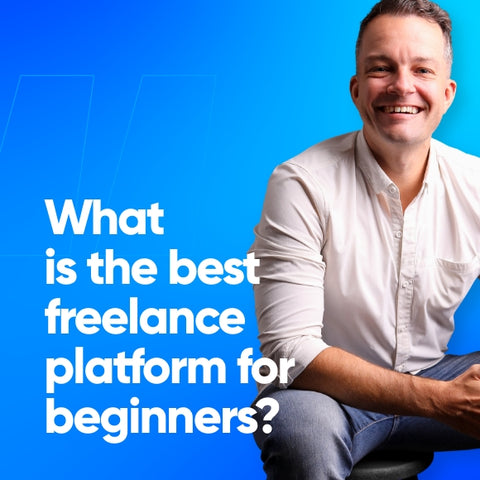 What is the best freelance platform for beginners?
Then, pick one of these:
---
Third, try these:
---