Building a successful Shopify Store and eCommerce business is way more than loading some products, adding some content, sitting back, and making millions. If it were that easy everyone would do it, and I'm here to explain how to increase your chances of success.
A successful Shopify eCommerce store is a great way to build an income. Today I'll help you build a successful Shopify store.
As a background into my experience with building your own online store, we need to go back to 2017 when I built a brand called Dawg Grillz, a dog toy brand. I build Dawg Grillz for a fairly simple reason, my freelance graphic design clients were repeatedly asking what I could do beyond graphic design and website development.
I'm the type of freelancer who likes to put his money where his mouth is so I decided that instead of trying to simply figure it out as I went with client's projects, I would build a dog toy brand of my own from the ground up. This included everything from concept to completion, and I started by writing a step-by-step milestone guide for myself so I could track my progress.
My process overview for building a successful eCommerce business, based on the Shopify platform looked like this:
Creative Concept
Product Design
Prototyping
Testing
Manufacturing
Brand Design
Packaging Design
Marketing Strategy
Social Media Content Marketing
Fulfillment
Logistics
Distribution
Retail and Wholesale
eCommerce Platforms
With every new project, I find it helpful to write down a similar order of steps, mainly so you can see an end in sight, but to keep you on track and stop from getting stuck on a particular step for too long. 
My insight into this product design came from a previous product design, the Wallet Ninja, which went from an initial Logo Design project, all the way to becoming a #1 product on Amazon, and a #1 seller on Groupon, with total sales now exceeding 30 million units.
I worked alongside my client Alex at Vante Brands to build this brand from the initial idea and the little pocket Ninja multitool really took off and continues to be a great product. Most clients tell me the same thing "Oh, I have one of those!" whenever I talk about it, which I still find kinda cool.
After being a part of that project and seeing all of the inner workings, I had a reasonably strong grasp of the steps required to make a successful eCommerce business. The budget I had given myself was $20,000 to get the product selling. Which didn't leave any room for error, so I had to be extremely thorough on all of the steps, but also not waste any time.
Building a successful online business requires an amazing product first, no amount of paid ads, email marketing or search engine optimization can help your eCommerce store if the product doesn't resonate with new customers.
Your successful eCommerce website also requires a great online shopping experience, and as I have my own successful online store using one of the most popular eCommerce website builders, Shopify, I'll explain in detail how to build eCommerce sites that work across platforms and mobile devices, explain web hosting and sales channels to help your business model go from concept to completion and turn clicks into conversions.
Are you looking for a budget friendly, but fully functional Shopify Store? Click here.
How do I design a product? 
The first step in this process was the Creative Concept, I asked myself two questions "What was I going to build?" and more importantly, "Why would customers want what I'm making?" My goal for my clients, and indeed my own brand is to build a product that solves the end user's needs, but also the business owner's needs.
Entrepreneurs often want to build their own product from scratch to give themselves that feeling of ownership and invention. It's a fun process to build a successful eCommerce business from the ground up but can have some sticking points along the way.
I've been a dog guy my whole life and I decided right away that I would build a dog toy, it's a big enough market to support a new entry, and my idea was solid. When I thought about it through the lens of the end-user I wanted a product that would make people laugh and want to take pictures to post on social media.
Dawg Grillz ended up being a dog toy which is a simple round ball, with 3D human-looking teeth in different colors and styles to make it look like the dog had big shining teeth when holding the ball.
By combining what I enjoyed doing "playing with my dog," and an idea that made the toy interactive and easy to share "makes your dog look hilarious," I was able to design a product that customers would want to purchase, and would enjoy sharing which caused more people to want to get in on the action.
Build a product based on what you like, and one that involves the end-user and you will have a winning product.
How do I test a product? 
The manufacturing process is an expensive one, and going through hundreds or thousands of prototypes just wasn't in the budget for me, so I basically gave myself 2 tries to get a product I could sell.
The first product never hit the market, and testing it with my own dog and friends and family dogs made that clear. The concept I had was sound and I knew I could sell products of this caliber, but I knew it couldn't go to market. After manufacturing 20 initial prototypes it had some issues:
It smelled like rubber
It didn't squeak
It didn't float
It was too big
It was too heavy
By taking these negatives into account by testing them with my target audience, I started from scratch with an all-new 3D model and new instructions for the manufacturer. By being able to look analytically at my product, instead of the emotional attachment often associated with doing something on your own for the first time I knew I had something that a new customer would love.
Look at your product design analytically and accept feedback, if its not great, fix it.
How do I design a brand?
When I designed the Dawg Grillz brand, I wanted a really cool character behind it, not just a text logo, so I designed the Dawg Grillz dog character and incorporated a demonstration of how to use the product right in the Logo so customers would have no doubt.
Whenever I start a new brand design I consider these points as critical elements in my decision-making process:
Will customers understand the name?
Will it stand out when compared to competitors?
Is the name unique?
Can I get the domain name?
Can it be trademarked?
In a visual search will there be very similar results?
Will customers understand the name?
Regarding the name Dawg Grillz, I used very common terminology in the Logo. Yes, brands like Google become household names, but this wasn't that, and when on shelves you want the end-users (families with dogs in my case) to be able to pick up your and instantly read and understand the brand. Dawg is very simply Dog, and Grillz are teeth coverings often in gold with diamonds or other precious stones. So Dawg Grillz was born.
Will it stand out when compared to competitors?
When I started brainstorming ideas for brands I always look at all of the competitors and make a list of all of the visual and written elements I can't use, which honestly leaves me with tons of options of what I can use, but makes sure I don't subconsciously copy something I may have seen days, months, or years ago that my brain simply dug up.
Is the name unique? Can I get the domain? can it be trademarked?
This one is fairly easy, it's as easy as a quick domain name search www. whatever you want .com and see if anything comes up. If not, head over to a domain registrar and check availability. Available as a domain, cool! Then I head over to the U.S. Patent and Trademark Office USPTO website and do a quick wordmark search for the name, and if nothing shows up you're in business. In this case, I was. 
The whole process is actually quite fast, I can do it in just a few minutes. You have no idea how cost-saving this process is, and the reason will surprise you. At least once per month, a new client will show up wanting a re-design of their Logo, or a complete Brand Design only to find out a few minutes later that their brand name has been a registered trademark to a major corporation for years.
Running this process during the Brand Design phase can save a ton of heartache down the road, simple search results in your favorite search engine can help customer expectations significantly.
How do I design packaging?
I have been fortunate to have a long career, over twenty years now, mainly focused on consumer packaged goods, which is basically anything you buy in a brick-and-mortar store or online store.
There is one critical aspect of good packaging design, customers have to be compelled to pick it up. It's very rare in a retail environment that a customer will pick up a product, then put it back down. Your goal is to get that first pick-up, if the customer skips over your product you have lost.
I have designed packaging for Nestlé, Coca-Cola, Nickelodeon, and numerous other enterprise brands. There is a tendency with some designers to be overly subtle, clean, and precise, but loud and in your face is what gets picked up. Strong, bold colors, and in-packaging product demonstrations are key.
Here are a couple of considerations when designing packaging:
Does the packaging stand out when it is next to competitors?
Can the customer understand the product within 2 seconds?
When the packaging is held, does it feel high quality?
Does the packaging secure the product?
Does the packaging have a fun opening experience?
Does the packaging stand out when it is next to competitors?
I achieve this by buying a few competitor brands and laying them out in a row and placing my packaging design within them. If there are any similarities in the packaging I remove them, making sure that my packaging design is a little bit brighter, bigger, and bolder.
Can the customer understand the product within 2 seconds?
If a customer can't understand the product right away, you will never sell them. The customer will move on and find what they're looking for elsewhere. This is one of the main reasons why Apple displays each model of their products out in the open, available to use, with no misunderstandings, just right to engagement.
When the packaging is held, does it feel high quality?
To achieve this with the Dawg Grillz Packaging, I made sure that 90% of the product could be touched, when you pick up the Dawg Grillz Packaging there is absolutely no doubt as to what you are getting. 
All too often designers try to be overly smart, and by using high IQ solutions you exclude customers who just want a toy to play with and don't want to be challenged by the packaging.
Does the packaging secure the product?
Customers buy packaging, it's the truth, it's what catches the eye and makes that first decision, the decision to purchase so making sure your product ideas turn into customer purchases is essential to your eCommerce business success.
Does the packaging have a fun opening experience?
Customers are continually becoming more environmentally conscious and designing your packaging to reduce waste is a great way to show that your brand aligns with the customer's values.
By designing packaging that has a secondary use, such as including coloring illustrations for children, or refolds into storage or presentation, your packaging should never just be built to be thrown away. When customers collect your packaging (think Hermes or Apple products), you know you are heading in the right direction with your packaging design. 
How do I create a successful Shopify eCommerce website?
Your online store is the heart of your eCommerce business and there are many considerations as to how to build your eCommerce site to be a place where customers want to make purchases. An online store builder like Shopify is my favorite place to start as it is the most secure and user-friendly platform currently available. Shopify requires no updates to software and is a great home for your online eCommerce business. Combined with the right kind of design and development practices, you can differentiate yourself from the pack of boring and unoriginal store designs.
As with every website, there are important steps you must include, and following them in order is the easiest path to success. One important consideration is to always think of your website as ever-evolving, it will never be "done."
First goal: Minimum viable product
With your own eCommerce business, I recommend finishing a Minimum Viable Product (MVP) first. This sets the groundwork and gives you a site that chooses function over form and allows you to start taking orders and gets your content ranking in search engines to start building organic traffic.
What do you need for an MVP?
Hosting, Store name, and Account Setup
Home and Contact Page Complete
Product Catalog Uploaded
Payment Processing Gateway Connected
Domain Connected
That's it for the MVP, it's a very simple site and should be up and running in the first few weeks so that you have a place customers can find and start purchasing products. From there we start building out the complete website.
What do you need for a complete website?
Sitemap
Copywriting
Wireframe
Design
Development
Your completed website then adds to your MVP website and replaces any of the MVP designs for a more final version 1.0 of your website.
What is a Sitemap?
Your sitemap is a visual map of how all of the internal pages connect and helps users navigate the customer journey. The sitemap helps set the direction when you start an online store and will help you visualize how website visitors will interact with your eCommerce brand. Your sitemap helps you map the customer journey for your target market and help potential customers reach the end goal you are aiming to achieve.
When you drive traffic to your eCommerce space, you need to make sure that it is easily understandable within new markets that the target market may not be familiar with.
Why do I need copywriting?
I always start with Copywriting before any design starts, the reason for this is one of the marketing tactics which is essential to digital marketing for your eCommerce site is search engine optimization. Search engines always analyze text via copywriting for relevancy, and the only way to generate backlinks is through great content. The holy grail of digital marketing is organic reach, and the more great copy and content on your eCommerce site, the more relevant you appear on search engine results pages, and the more likely you are to develop backlinks. 
With great copywriting, your existing customers will become repeat customers for your own products and services, new customers will understand what you are doing, and website visitors with their own sites will reference your great content. Each time these actions take place you will increase your relevancy and the likelihood of ranking higher in search engine results.
Product descriptions are incredibly important during the copywriting stage as enticing copy helps turn clicks into customers. Your product descriptions should include all of the information, broken down into steps to help customers understand the product or service you are selling easily, and should also be structured for traffic that skims through your products putting the goal of understanding the product or service at a glance to the forefront.
What is a website wireframe?
Your website wireframe is a simple black and white layout of how all of the copywriting will layout on each page in your sitemap, this allows you to now read the customer journey through your eCommerce business.
Being able to read through your website content and how each section flows together is critical to building a great experience for your website traffic. Online businesses have a great advantage with wireframes by quickly being able to visualize new ways to get customers to your goal.
What is website design?
The next step in your website project is to design it, and from here we take the wireframe and start applying the Brand Logo, Colors, Type Styles, and overall Brand Guidelines to the website to make it look amazing.
Each website design that I do has two versions to accommodate mobile responsiveness and accessibility. Your eCommerce business needs an amazing-looking online store. Some marketers will say that "ugly pages convert better" but this is nonsense, and this belief comes from Amazon holding 50% of the market share for eCommerce, and being rather ugly at the same time. This makes marketers assume that ugly works with your eCommerce store, but when representing your brand, customers expect a well-polished visual presentation.
Your marketing strategy will also become more successful with your eCommerce business by giving customers a beautiful experience that increases their confidence as a buyer. I have seen conversion rate increases of 2-3% on websites with excellent designs. With my average client earning $80,000/month with their eCommerce business, a typical website design that I produce adds up to $2,400/month in new sales, easily recovering the redesign fee with a couple of months just in new conversions.
What is website development?
Website development for your online store makes your eCommerce website work across all platforms, whether on Desktop, or mobile devices like your phone or tablet. Having a mobile responsive site that works perfectly leads to more sales. 
One tip I always mention to my clients is to build a mobile footer navigation similar to this site when you view it on your phone, this gives users a familiar experience when they go from a popular social media app, to your website.
More coming soon! Stay tuned.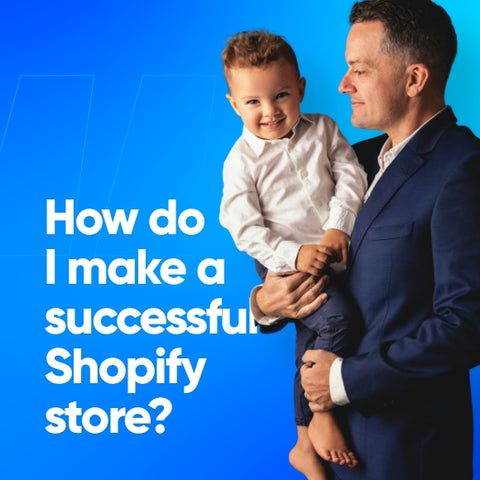 How do I make a successful Shopify store?