Over the past twenty years, I've designed amazing sales sheets for brands such as Nestlé, Nickelodeon, Fruitopia, Mother Raw, and numerous others in the consumer packaged goods industries.
During my career I've designed business-winning sell sheets, here are the essential elements for a great sell sheet design.
I have learned a ton working with marketing and brand departments and teams to create company sell sheets that convert the viewer into a customer. A killer sales sheet helps prospective customers engage with your brand and is a great marketing tool for your potential customer.
A strong sell sheet acts as your sales representative and is one of the great marketing tools your team can use to fill your sales funnel. Creating a sell sheet should be one of the first projects you complete after your Brand Identity Design and Website Design and Development.
What does a great sell sheet include?
Your Brand
Relevant Images
Powerful First Impression
Product Information
Company Contact Information
Call to Action
An effective sales sheet will help you convert prospective clients in as few words as possible. One of the sell sheets I produced for Nestlé's Nescafé Something New is Brewing campaign went on to build the iconic, and globally renowned Nespresso brand. A great sell sheet can literally build a multi-billion dollar business.
How do you design a winning sell sheet?
Your sales sheet design is a critical step in your sales process and an invaluable tool for your sales team. Designing an effective sell sheet requires an initial striking impact, often with an illustration, a catchy headline that captures the attention of the reader, and then information about your product or service.
Flawless design means resisting the urge to pack your sales sheet full of information. Your sales sheet should be a brief overview of your product or service for potential customers. The fundamental elements of a great sales sheet should be easy to read, eye-catching, and informative.
Your sales sheet is your go to piece when presenting your product or service during early interactions with interested prospects. I use an in depth approach to design a visually compelling sales sheet. Your brand's identity should be represented will in this single page document.
An effective sell sheet reduces your workload.
Internal teams benefit greatly from this powerful marketing tool. Your sales sheet will help each prospect determine whether or not your product or service is right for them at a glance and will help your brand save time by only approaching qualified leads.
By combining the correct design elements in your sell sheet, including your company's identity by way of a common brand voice, imagery, product information, company information, and importantly a call to action, you can land your prospective buyer with a reduced workload.
Using your sell sheet as a digital direct mail sales piece, you can bring in interested stakeholders with ease by using a funnel marketing style that starts with Why prospective clients need your product or service, then the What which is represented by a technical document, and finally How to buy your business offering and get started with a call to action.
Build new business with your sell sheet.
I use a more in depth approach to writing and designing your sell sheet by using proven tactics and layouts that go way beyond a sell sheet template, and aims your sell sheet with a clearly defined directive. Potential buyers need to go beyond simple product features, they want to understand how your offering will benefit them.
Your customers should be absolutely hooked within the introductory paragraph. You only have seconds and a simple glance to should that you have the best interest of the client in mind. By designing a sell sheet that has multiple products on one sheet, and explaining your brand in one page with minimal text is crucial to your sell sheet success.
There are many design resources online to help you compile your sell sheet technical information into a digestible one page sell sheet. If you are in doubt, contact me for an initial project discovery call to find out how to design an amazing sell sheet.
Buyer personas are key.
Your sell sheets should have a personal touch to allow your audience to resonate with your brand at a glance.
Would you like me to design your Sell Sheet? Click here for my Sell Sheet Design Service.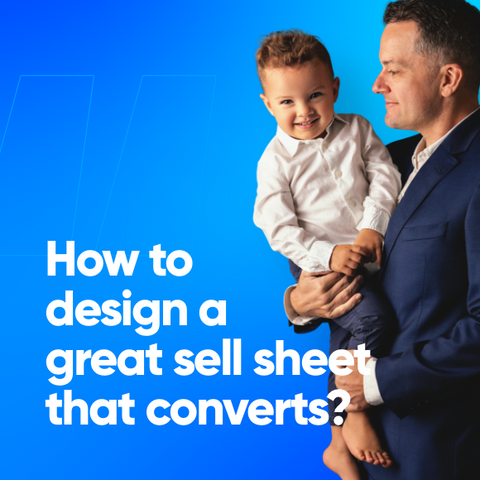 How to design a great sell sheet that converts?
Then, pick one of these:
---
Third, try these:
---