10 Steps to Upwork Freelancing Success in 2022
Upwork is a fantastic place to become a freelancer in 2022. I started over twenty years ago in 2001 when Upwork was Elance, then oDesk. The Upwork freelance platform has gone through many iterations, but these strategies will help you build a great freelance career, regardless of your chosen service industry.
With the massive shift to the remote work marketplace, employees are now realizing how bad an hour-long commute and time away from their families causes for their health. Employees are shifting to remote freelance work.
Here is the 10-step program to building a successful freelance career on Upwork
Write Your Main Profile
Write Your Specialized Profiles
Complete Your Project Catalog
Build Your Portfolio
Find Work
Send Proposals
Sell Projects
Complete Contracts
Get Feedback
Upsell and Follow Up
Write Your Main Upwork Profile
Your main Upwork profile is called the All Work profile, every freelancer on Upwork starts with this as their default Profile.
The primary goal with your Upwork Profile is to be invited to projects. When clients come to you, this is called Inbound Leads, whereas when you contact clients for sales, this is called Outbound Leads.
Think of your Upwork freelance profile as your cover letter to clients. Clients want a few core things from freelancers, so make sure that you are clear with these details:
What problem do you solve for the client?
What makes you low risk?
How can you prove that you are the one to hire?
With the world's work marketplace, Upwork, it's essential to ensure your profile is easy to find. One of the ways is to ensure you are using the correct keywords and that you write as your audience writes.
During my freelance coaching sessions, I often help adjust profiles, clients may not understand what WordPress or Elementor is, so they won't search for it, but they know that they want a Website.
The point is that you should write for the results your clients are looking for. Start writing your Profile with encompassing keywords, then niching down to specifics the further down the profile you get. You have 5,000 characters to work with, so use them all!
For a more detailed guide on creating your Upwork profile, read How do I write a great Upwork profile.
How to set your Upwork hourly rate
Another way is by pricing. You want to make sure you're strategically priced. You can find this information on the Client-side of Upwork, where you can see what the Entry, Intermediate, and Expert price ranges are. Make sure you're in the correct price range.
For example, if you set your rate at $50/hour, but Intermediate projects end at $48/hour, it may be more advantageous to lower your rate slightly to access more projects. Then be excluded because you are $1-2/hour more.
How to get more Upwork Connects
Another advantage to this is Invitations and Connects. Connects are the Upwork currency that allows you to bid on projects and new freelances often run out. One free way to get more Connects is by responding to your invites.
When you reduce your price, you increase invites by covering more of the projects. More invite responses increase the chance that you'll earn the Upwork offer of 10 free connects when you respond to an invite and the client gets in touch with you.
Write Your Specialized Upwork Profiles
Freelancers often forget the Specialized Upwork profiles, and like every platform, they like it when you use all of the features. The Specialized profiles also allow you to add more keywords which will, in turn, expand your search appearances and allow you to expand your service offering.
You can also use your Specialized profiles when you send proposals. These allow you to refine your messaging when sending proposals to ensure they are relevant to your customers.
Complete Your Upwork Project Catalog
Like Fiverr, Upwork has a shoppable Project Catalog for freelancers, one of the additional tools at your disposal. The Project Catalog acts similar to an eCommerce product order, where potential clients can find your specific services and purchase them without needing to write their project brief.
The Upwork Project Catalog helps clients browse and buy projects and easily get started
To give your projects the best chance of being found, ensure that you use the right keywords, are in the right category, and have enticing images that stand out in the crowd. As a freelancer marketplace, the Upwork project catalog can be busy, often a race to the bottom on pricing. But if you're strategic, you can make an excellent Project Catalog that draws in new customers.
Build Your Portfolio
Displaying your work samples in your portfolio is the way that you prove to clients that you can do the job and will help you stand out from the crowd.
How to Find Work on Upwork
Learn how to get the projects you want on the Upwork talent marketplace and dive into your freelancing field. Finding work on Upwork is one of the primary ways to earn money on the platform and is the core outbound sales channel.
My recommendations for finding freelance projects on Upwork
Every freelancer on Upwork knows their niche on Upwork. Whether you're a Graphic Designer, Copywriter, or Website Developer, they all simply type their niche into the search, then blast off a hundred proposals...
...then they hear crickets chirping, nothing but complete silence.
Why don't clients respond to your proposals on Upwork?
This often happens because you're thinking that every customer in your freelance service niche will want your services, and other sales coaches they've told you that quantity of outreach is an essential aspect. If you send out 100 proposals, you're bound to get at least one client, right?
Salespeople also have an acronym called CAC, or Customer Acquisition Cost. This includes your time and value to get onboard each new client. If you spam every client on the platform, your CAC increases with every proposal you send.
How do you reduce your customer acquisition cost?
Your first goal is to optimize your conversion rate, and one aspect of that is aligning every piece of your proposal with the client's project details.
If the client has their budget range at $1000, and you bid $5000, you're going to get overlooked most of the time. Sure, you may think the client is out of touch with their expectations for the budget they have set, but remember this. YOU are the expert, and instead of shrugging and saying, "well, the client doesn't know what they are talking about, so I'm going to give them a wild quote, and if they take it, that's great."
That attitude, although somewhat valid, will set you up for failure. Instead, try this:
Pitch the client 3 options in your message, $500, which is well below their budget; get package A, $1000, which is within their budget. They get package B and package C which is at $5000. This way, you don't automatically exclude yourself and can communicate that the client may have unrealistic expectations without embarrassing them.
How to Send Proposals on Upwork
Think of yourself as a salesperson first. This way, you focus on the client's problem instead of your skills.
I can't tell you how often I get a long-winded message listing the 50 top skills each freelancer on Upwork has. It's tiring to hear because, honestly, every Graphic Designer should know Adobe Creative Suite. It's not a skill; it's the equivalent of a Mechanic telling me they have a screwdriver. Ya, of course you do.
What you MUST communicate is that you know how to solve the client's specific problem. Read their project details, and find their problem. They probably don't just want a website; they want to be free of their full-time job.
When you understand the client's problem, you simply say it to them. That lets the client know you understand what they're trying to achieve.
Running out of connects? Read How to get more Upwork connects for free?
Sell Projects
Selling is a particular skill that every successful freelancer on Upwork must master. I'm not talking about being ok at sales. I'm talking mastery. You're a sales development representative before you're a Writer or Web Developer.
You win the project when you identify the client's problem, communicate it back to them, and then offer the solution. It's an easy win because, like anything in life, a very small percentage of business people win the vast majority of business.
For every freelancer on Upwork earning $100,000, there are about 500 hundred who earn little to nothing. Bridging that gap is relatively easy. Stop spamming clients with proposals that don't solve the client's problem and simply act as a list of what you do.
Clients of a mechanic want their oil changed. They don't care that the mechanic has a wrench. Solve the problem and get the project.
Complete Contracts
Follow through is everything when you're doing freelance projects for clients on Upwork. Communicating what you're doing daily takes a few seconds and keeps the client in the loop.
I make a point of contacting my 30+ clients on Upwork every morning and sending them a task I'm working on that day. This way, they don't ask me constant questions and feel like I care about their project, which I do, and so do you.
When a client pays you, you achieve your goals, so when you start aligning your thinking to "when I achieve my client's goals, I achieve my own," you will win because the client's success becomes your success.
Get Feedback
When you submit a proposal, you always want to get to where you're about to receive feedback. When you reach this point, make sure that before the contract is closed, always ask this one question:
"Is there anything else I can help you with that would make this a perfect project for you?"
When the client answers "nothing," that's great. You just got your five stars. If the client gives you some tasks, that's great as well as you can check these off. This is simple customer service, but so many freelancers are concerned with making money and getting on to the next client that they forget the basics of customer support.
As an example of how this works, I did the Wallet Ninja Logo Design for $250 over ten years ago on oDesk (before it was Upwork). Had I left at that point, it would have been fine. I made my $250 and got five stars. The client was happy, but then I asked what else they needed and turned that $250 client into over $250,000 over 6 years.
Upsell and Follow Up
So now you're interested in taking a $250 project and multiplying it by 1000, I don't blame you.
Here is how I do it:
When each project is about 75% complete, I give the client 3 options for the next projects
The first option is 50% of the current project
The second option is around the same price as the current project
The third option is around 200-300% more than the current project
Doing this, it shows that I'm interested in continuing with them and that I'm thinking about the client's future in the long term. I always present new options, even if it is just one flat-rate project.
You should always be upselling, especially if the client is even remotely happy with their project. As Simon Sinek says, "play the infinite game," this is an excellent way of saying Upsell. You always want to think about how you and the client can continually develop your relationship.
I barely knew the client when I worked on the Wallet Ninja project. Then after a few years, I counted them as one of my friends and was involved in numerous other projects they were working on.
When you make yourself an essential service (even when a particular task may not be your freelancing niche), you keep yourself aligned with the client for years to come. You automatically increase the client's lifetime value. Still, you also increase your lifetime value by demonstrating that you don't just want the short-term gain of money but want to be a dependable resource for years to come.
If you need a freelance coach, I would love to help you build a massive freelance career, click here.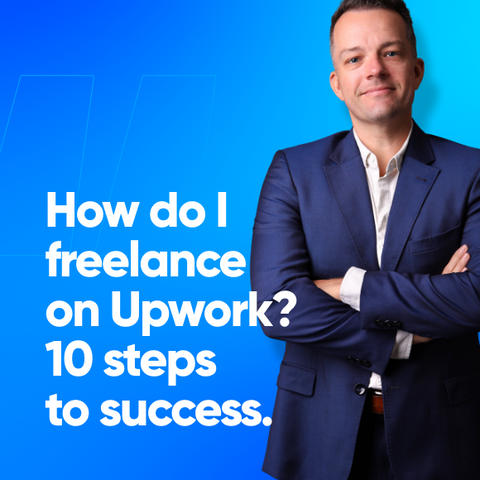 How to freelance on Upwork, 10 Steps to Success - By Scott Luscombe
Then, pick one of these:
---
Third, try these:
---