Search Engine Optimization for your website
This is by far the most effective effort to drive sales on your eCommerce site. Something that new business owners are often unaware of. Search Engine Optimization (SEO) is the steps taken to make sure that your website is easily discoverable on Google and other search engines. 
The primary reason for doing so is to get searchers who are looking to buy to your site and capture them in the mood to buy. Let's say, you are looking for the "best treks in North LA" and the first link is to a trek organizer's site with great design, solid reviews, and an easy checkout process; you will buy their trek package. That's the power of SEO. The three primary facets of SEO are keyword research, on-page SEO, and link building. The first two of these are largely controllable. 
At Creatibly, we offer a whole range of services to setup, run and grow your Shopify store. Our services include:
App and Integration Services

Theme Development Services

Shopify Migration Services
Keyword Research
Keyword research is a major part of SEO. It is the process of identifying the keywords that your audience uses in their search queries and then trying to rank for those keywords. So the next time someone looks up a product in your category on Google, yours is one of the first few options they see. 
On-page SEO
Next is on-page SEO. Once you have found the keywords, it's a matter of using those keywords in your internal pages and blog posts. The greater the number of keywords, the better. Over time with multiple pages, you will have authority over a certain domain and you will start owning keywords. You can start by creating blog posts around your product category, which has titles, pages, and meta descriptions that include these keywords. You should also ensure your site loads quickly as that is one of the considerations that google makes when indexing your site. Mobile friendly design on your website are a plus for google, and it can significantly impact your rankings. 
At Creatibly, we use SurferSEO for keyword research and writing content. 
Link building
The last of the three is link building. This is when a website other than your own links back to your site. Google considers this as a vote for your website, and proof of relevance. You can get other sites to link to yours by writing high-quality content that people just want to link to. You can also ask other site owners for backlinks. Other than that, you can also write guest posts on other websites to earn backlink. 
There are alot of dubious practices around SEO out there too, so make sure that you don't deal with anyone who promises you fast results. SEO is a long-term game of establishing organic authority in your niche of choice, with consistency you can drive traffic to your site and make more sales. 
Still not convinced about SEO? Check out How do I rank on Google with SEO writing?
Email marketing
An email is still a very powerful tool. For something that was introduced in the previous century, it can move mountains when you are trying to get sales on Shopify. By building an email list of prospective customers, and using targeted email marketing campaigns you get a direct line with your prospect. This is where you can convince them to buy from you. 
It's a popular method of outreach because, unlike traditional advertising, sending emails is relatively cheap. You can then personalize your messages based on where people are in the sales cycle, and then send different emails to different email lists. If someone made a purchase previously during a sale, you can let them know of your next sale and get them to buy more. On the other end, if a prospect abandoned their cart on checkout, a coupon code for free shipping might just do the trick. 
Email marketing softwares like Mailchimp and Klaviyo make creating and running email campaigns almost child's play. Consistently sending targeted email campaigns will keep your audience engaged, and ultimately increase online store sales. 
Coupled with SEO practices, it becomes easy to come up with ideas for email campaigns as well. So let's say that you write two blogs every week about your product. If you make a weekly email campaign that targets your previous customers to read this blog, they are likely to open the email, return to your site to read the blog, and make a purchase. 
Upselling and Cross-Selling
Upselling is when you try to convince your customer to buy a more expensive product from your site and cross-selling is when you sell paying customers other products along with what they are already buying. 
For example, if your online business slees spices and someone is buying an assortment of 12 spices, you can upsell them to your 16-spice offering by showing a popup that says that the 16-pack contains spices from 4 other countries or can make 10 more dishes. In this case, cross-selling may be selling containers or measuring spoons for the spice blends. 
Remember that the recommended products are related to their original purchase. If the products are unrelated, you may lose a customer altogether. These can also be combined with coupons which incentivize the customer to spend more with you. 
Prioritizing customer service
Like any good business, customers need to be happy and feel confident in their buying decisions. Good customer service helps do exactly that, by converting potential customers who are eager to buy. The greater customer satisfaction, the higher the number of orders and the average order value. You can do this by having an FAQ section on all your product pages that answers key questions about the product. You can also make reaching out easy for the customer so that they can get their questions answered quickly via email or phone.
Beyond that, you can also integrate accessibility features and a ChatBot on your site. This will allow more people to use your site and also get quick resolutions to any of their queries. Google also prioritizes websites with accessibility features by giving them a higher ranking on the Search Engine Results Page(SERP).
High-quality product images, video, and sizing charts
It's appalling how many store owners use low-quality or unclear product photos on their Shopify sites. This is your Pieta or Mondrian, present it in the best light possible. Hire a professional photographer to click pictures in staged sets to photograph your products. If you are not at that stage yet, take clear photos of your products and replace the background with a uniform color using Canva. 
If a product requires a demonstration or has moving parts, you should also include a video so that your customer can understand how it works or what it will do. Of course, it's always good to have a video regardless of the type of product you're selling. Lastly for garments and accessories, both personal and home; it's good to have a size comparison chart. This lets the customer know how the product will fit or how much space it'll occupy. 
These three will engage the customer, and give you a better chance of convincing them to buy. Combined with good product descriptions, you will start convering browsing customers. 
Social media
Businesses can now blow up overnight since TikTok came around. Thousands of business owners are creating content around their products on social media apps like TikTok, Instagram, and LinkedIn. Based on your niche and target audience you can pick a platform that works for you and then start creating content with a content plan in place. 
Social media content and followers also act as social proof of your product's prowess. So if you can accumulate a large following online you can easily establish credibility with new customers. Not to mention the current followers that can lead to future sales down the line. All in all, you must have a social media profile and plan in place, constantly creating and publishing posts for it. 
Like it's the case with most strategies, it's slow in the beginning but the dividends are well worth the time and effort. For faster results through social media, you can look into creating a social media marketing strategy as well.
Offer free shipping
Offering free shipping in your country or worldwide can seem like an inordinate expense on your end but in the long run, it makes you come across as a more trustworthy brand and can increase sales by increasing overall cart value per customer. 
It will also substantially reduce cart abandonment since customers hate paying more for something than its listed price. If a customer is looking to buy gifts under $100 and the shopping comes to a total of $115, they will be deterred from buying. With free shipping, if that price comes to 103 with taxes, they will feel confident in their choice. They hit the budget and also got what they wanted to buy. 
Creating a sense of urgency 
This is a widely used technique in successful eCommerce business and other types of online businesses. Creating urgency can be in form of a flash sale or a limited-time coupon code. These can be sent out in email campaigns, made live on social media, or in form of a pop-up on the site. A countdown timer next to it is also a great idea. 
Another way to create urgency is to show inventory levels, like 2 pieces remaining or selling fast with the number of articles left. This makes the customer act quickly while also creating the impression that the product is in high demand. The high demand and low supply make it unique in your customer's minds and make them want to purchase. 
This can be applied during the holiday seasons and toward the end of a sale cycle to liquidate inventory.
Using customer reviews and ratings with pictures
Humans have a herd mentality, and if someone is happy with a purchase from you, the prospect who sees this review will expect similar results. The more 5-star reviews you get and the more you show them on your online platforms and the website; the greater their chance of buying. You can incentivize customers to provide you with ratings in exchange for a discount or offer. This will get you to repeat customers. 
Using ratings with pictures from customers lets your new prospect know that this review is genuine and also if it will work for them. A basic example of this is baby slippers. If someone posted their kid wearing the slippers, the new customer will know what they would look like for their baby. Incorporating reviews creates trust, drives sales, and ultimately grows your business. 
Implementing abandoned cart recovery strategies
Abandoned carts are the most prominent revenue loss that you can see on your online store. It's the customers that added items to the cart but didn't check out. By applying strategies like effective email marketing, you can remind them of the items they've abandoned and also incentivize them with coupon codes. 
You can also send them an email with a direct link to their cart in an email. You can also include any products that are about to sell out in an email, letting them know that it's the last chance to buy them. 
For a more detailed overview of Abandoned Cart Recovery read 10 effective methods to stop cart abandonement.
Using ad retargeting
Retargeting ads are a really strong strategy to re-engage customers who may have visited your site previously. If you are running paid facebook or google ads, you can remind your customers about your brand and its products.
To successfully implement retargeting with paid ads, you need a combination of good design and relevant copy. You can also offer discounts and free shipping to incentivize prospective customers to convert. 
Offer discounts and promotions
We have covered offering discounts and promotions across all the strategies above and this is basically giving your customer an incentive to buy. We love deals and discounts, that make us feel that we are getting more value for the money we spent.
Using social media, email campaigns, and on-site promotions; you can convert new and existing customers who abandoned carts; and the ones who are buying from you will buy more. You can also have a customer loyalty program where you attract customers using gift cards and discounts codes.
Conclusion
The strategies discussed in this post are bound to get you results. Agreed that they take time and effort, but unfortunately, there is no quick way to inflate sales other than paying for ads, and even then it takes time to create successful campaigns. Your primary goal with your Shopify site should be establishing social proof. A lot of effort goes in creating a successful Shopify site, but with these strategies, you will slowly but surely succeed. For a more hands on approach towards growing your Shopify sales check out Shopify eCommerce Success Coaching.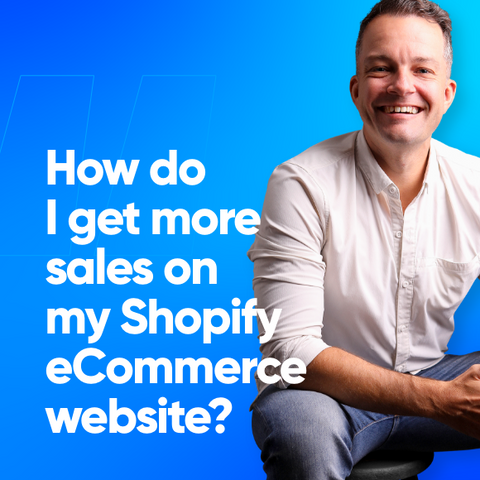 How do I get more sales on my Shopify eCommerce website?
Then, pick one of these:
---
Third, try these:
---