I often receive the same questions from clients regarding the problems they want to solve with their digital marketing, my job is to design and implement the strategy to solve these problems.
What is Digital Marketing?
Digital marketing must go beyond simple brand recognition.
Here's how I build effective digital marketing strategies which move the needle.
Here are the most frequently asked questions:
How do I increase the visibility of my brand?

How do I get ahead of my competitors?

How do I increase sales of my brand?

How do I build my personal brand?

How do I stand out on social media?
Does this sound familiar?
Often, my clients come to me frustrated with their progress, following different paths and arriving at different conclusions. None of these conclusions, unfortunately, were expected or desired.
As digital marketing can be confusing, new clients often respond to me asking about their goals by simply saying they want to increase brand awareness. Now, this in and of itself is not a bad thing, but it's quite easy to do by just spraying content everywhere and praying something happens, but it's a time-consuming and expensive proposition.
In the below article I want to help you become a more educated client, so that you can understand more of what's important in 2022 and beyond, versus what maybe have worked last year.
How do I increase the visibility of my brand?
You can increase the visibility of your brand with your digital marketing in a number of ways now:
Social Media Content Marketing

Personal Brand Development

Social Media Distribution

Search Engine Optimization SEO
The last resort for me is paid digital marketing, such as Facebook Ads, Instagram Ads, Google Display Ads, etc., and the reason for this is privacy. 88% of teens, and about the same number of millennials own an iPhone according to recent research, this means that paying for ads will be crushed by the privacy controls such as the "Ask App not to track" iOS feature on all Apple devices, which 96% of users choose.
This basically means that all of the demographic targeting that was super effective over the last few years will be null and void moving forward. Evidence of this can be seen in the tumbling of share prices for Facebook (Meta), Instagram, Snapchat, et al.
Social Media Content Marketing
A digital marketing strategy using social media will outperform pay per click ppc significantly moving forward in 2022. To use this for digital marketing it's fairly straightforward, to build a content marketing strategy that allows you to create relevant content for the audience you are targeting as your customers at minimum, daily.
Personal Brand Development
For your personal branding, I suggest using LinkedIn as your primary platform. "But isn't that a Business to Business B2B platform?" Yes, but people are customers, and the organic reach of LinkedIn far exceeds all but TikTok in 2022. Facebook and Instagram have died as Business to Consumer B2C and Business to Business platforms, killing their users' organic reach by forcing them to pay for expensive ads, that are quickly becoming ineffective.
Social Media Distribution
You can distribute your product or service throughout a wide range of social media channels if you are aiming for brand awareness, this allows for your quick analysis of what platforms are best for your particular brand. When starting out, or doing it yourself, I often recommend choosing one primary social media platform, and one secondary, that way you can use them to your advantage to stand out on the internet.
Search Engine Optimization SEO
This year, my freelance site ranked in the top 0.05% of the internet, with only two backlinks. Effective content writing and marketing is the way to go in 2022, one because as stated above, pay per click PPC ads just aren't very effective anymore (and getting worse), and two, because it helps your personal branding efforts by demonstrating it is you who can provide for your clients.
Read How do I rank on google with SEO writing?
How do I get ahead of my competitors?
There are a number of ways to leave your competitors in the dust in 2022, here are my recommendations:
Your Website

Search Engines

Your Digital Marketing
Along with the visibility aspect mentioned above, I like to optimize these three items as they will have the biggest impact on your ranking if you do them right.
Your Website
You can use your website to your advantage by building an effective digital marketing strategy and content marketing channels to great effect by optimizing for relevance and teaching your audience.
One of the most effective ways of doing this is to use your existing knowledge base to develop content.
What makes you an expert? Talk about it, continually generate content and post it to your website as a knowledge base, and as your information and opinions change, go back every 3 months and expand on that knowledge base. Search engines love it when you are constantly being the end of users' search journeys.
Search Engines
Search engine optimization can be somewhat of a dark art and not quickly analyzed as it can often take months for your content to start ranking. Saying "this isn't working" a week after you post content and then giving up is a quick path to the death of your brand on the internet.
It must become a continual optimization by making additions to your content regularly. Build yourself a system where you can continually adjust your content marketing daily and you will stand out.
To get the most out of your internet ranking you want to develop a daily system to make sure you're posting continually on your website. Your digital marketing strategy depends on effective content marketing.
How do I increase sales of my brand?
Here are the ways I recommend for you to increase the sales of your brand on the internet.
ECommerce Website

Social Media Selling

Platform Selling
Digital marketing channels are everywhere, allowing for the easy marketing of your business on the internet. Hoping that you can learn more about online marketing and grow your sales is one of the primary reasons I write these articles. As a secondary effect, it also allows me to refine my own business.
My hopes are that you can increase the sales of your business, whether that includes a product or service, or a combination through digital marketing, social media marketing, and online marketing.
ECommerce Website
Every business sells to make a profit and stay alive on the internet, the businesses that struggle are the ones who fail to allow customers to purchase directly on their website.
There are many excuses such as "my business has highly customized products and services." This is incorrect, simply because through variants, you can create over 300 variations of a single product, allowing your customers to build their perfect product or service.
The second excuse I hear a lot is "I don't want my competitors to know my prices." Also, this is wrong simply because if you don't give your customers transparency they will find it, it's the internet, and people have easy access to pricing. Give customers easy access to your products or services!
Social Media Selling
Tagging products or services on social media platforms is an effective way to ensure effective digital marketing. Digital marketing is simply allowing easy access to your products or services through the various channels that already exist.
Platform Selling
Amazon, Upwork, Toptal, Fiverr, Task Rabbit, and the thousands of other platforms out there are perfectly suited to marketing your products and services that you can provide for to the customers. Choosing a couple of these and making sure that you are active on them will make a massive difference to your marketing efforts.
As a service provider, in particular, you can ensure you have easy access to your target audience who are ready to buy from you with these platforms.
How do I build my personal brand?
Building your personal brand has never been easier, here is what I recommend you do in order to succeed:
Setup your LinkedIn Profile

Build a Content Marketing Strategy

Design a Daily System for Posting
Setup your LinkedIn Profile
You want to start with digital marketing here, with your Personal Brand, and LinkedIn is in my opinion a must-have for 2022 and beyond. Establishing your digital marketing on a platform such as LinkedIn has proven to be a sure-fire route to success.
Write a great profile packed with keywords, and design a header and profile picture then start engaging with people you would like as customers. Not sure who to connect with? Have a look at your competitors and see who is following them and engaging with their content and connect with them.
Build a Content Marketing Strategy
By starting with the knowledge base you already have you can easily develop digital marketing content and build an excellent personal brand by being the expert in your category.
If you want to stand out, you need to be opinionated and bold, take sides, no one interacts with people in the middle!
Design a Daily System for Posting
The main component of your digital marketing strategy is consistency with content marketing. You need to build a system that allows you to contribute to social media daily. The types of digital marketing have changed, it's no longer "set an ad budget and forget it," it's no all about the relevancy you can provide and helping your audience to learn.
By being the expert on a topic of your choice, your digital marketing efforts will be supercharged. One easy way to get this boost is to build content that centers around "how to."
People are naturally curious and these "how to" guides are positive influences on your website, you digital presence and your online marketing strategy as a whole.
How do I stand out on social media?
Here are my recommendations to stand out on social media:
Be an Expert

Have an Opinion

Teach your Audience
Be an Expert
Build your website into a knowledge base by showing clients that you are the expert in a field of your choice is one of the most effective ways to make an impact.
Have an Opinion
Your target audience loves loud, opinionated voices, they are part of your tribe. "But what if my opinion is to - out there?" One of my suppliers in China said to me "if you're one in a million here, there are ten thousand just like you."
Can your business thrive with ten thousand customers? I'm sure it can! No matter what, the more popular you become, the more people will send you negative comments, don't feed the trolls by engaging with them. Just keep doing you!
Teach your Audience
How to guides are a gold mine for digital marketing strategy. How to guides boost your digital presence by showing you as the go to guide for the customers' problems.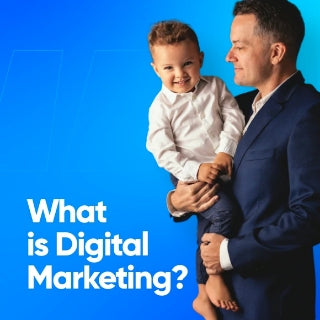 Learn What is Digital Marketing by Scott Luscombe Creatibly