How To Make $500 A Day - Realistic Ideas To Make More Money!
I recommend everyone start their own online business. It's a great way to hedge against layoffs regardless of what you do for a living. Earning $500 per day as a freelancer, whether you are a designer, writer, developer, marketer, or virtual assistant, is possible.
Here is how to earn $500 per day freelancing:
Work an 8 hour day

Sell 10 physical and/or digital products

Sell affiliate products and services

Add AdSense to 100 blog posts
By combining hourly income, product income, affiliate, and ad revenue together, you have an incredible income machine. Will it happen overnight? No. But the more content you produce, the more traffic you will get and the more conversions you will see.
How to choose the right freelance career?
Don't look for the "hot" freelance careers, do what interests you!
It doesn't matter what you choose as a freelance career, there are no "hot" freelance careers, and if there are, they're going to be cyclical, and as soon as you jump on a hot career, its popularity will diminish.
Plenty of new technology is coming in 2023, making new freelancers (and even established ones) think they have missed their chance. As a freelancer for over twenty years, I say not to worry about it. Customers will need the same services they always have. There will be small adjustments to the tools that are used.
For instance, in 2021, it was all Web 3.0, then it was AI-generated Art, now it's ChatGPT, and next year it will be something new. My advice is, STOP WORRYING ABOUT IT and use these tools as they pop up. They are good to know, but they're not the beginning or end of your career as a freelancer. They're just new tools.
Read our guide to the 3 best freelance jobs for beginners.
How to earn money selling your time as a freelancer?
This seems obvious, but trading your time for money is an excellent way to build a excellent income stream.
As freelancers, we trade money for time. That's obvious, but what's not obvious is how to get the freelance work to keep the pipeline full and ensure you're earning money daily. If we do simple math and assume a 1% conversion rate on an average of a $250 project, we need to make around 100 contacts daily to have a new client daily.
Getting a new client every day is a great goal. However, as an independent freelancer, you will be swamped with work quickly. It's at this point you have to decide one of two things:
Am I raising my rates to increase the value of each job?

Am I going to delegate these extra projects to another freelancer?
Saying "no" to work when you have a financial goal is bad. Even if you're swamped, giving the work to someone else and sub-contracting that project is simple. It will reduce your overall profit, but you will see the advantage when you start receiving $10-15/hour for sending a couple of emails and notes. It really starts to add up.
Raising your rates should be done every year. Try to aim for about a 10% increase. One aspect is inflation. Things get more expensive as time goes on. But it is also a huge advantage because you will reach the point where you're at $85/hour and above that. In the event of an economic downturn, you can reduce your rates and still earn a great living.
One objection I get from freelancers when it comes to yearly increases is this question:
"What if my client says no?"
If you have been doing good work for a client and are responsive to them, you will find, much like I have, that this is exceedingly rare. Typically clients say "ok," and everyone moves on. I had one client who refused to budge on pricing for 2 years, and I had to quit. However, the client that replaced them was much better, and the work experience I received from the previous client made it easy to raise my rates. Sometimes you outgrow clients.
How to build digital and physical products?
Mix physical and digital products into your catalog to earn money online!
It's never been easier to build digital products, list them for sale, and earn profit. You can use your knowledge to write a small book or cheat sheet and post it on your website for sale. Making it easy to earn money as you build organic traffic through your site through blogging.
You will see on this page that there are many digital products and services in the right-hand column. This is a great example of building products and services into your content to increase the likelihood of your content earning you income.
You can start with many different products and services, from drop shipping products you are interested in, to selling eBooks and guides to coaching services. The options are endless. The recipe for success comes from traffic. How can you generate more organic traffic and increase your conversion rate to make buying from you appealing to your customers?
How to set up and earn money from affiliate programs?
Sell other people's products to earn passive income through affiliate programs!
I use many affiliate programs, I mainly sign up for them individually through each vendor I use (I only sell affiliate programs and products I personally use) and businesses like PartnerStack.
Whether you are using an Amazon affiliate link to earn a small piece of income from each product sold to contacting brands regarding affiliate programs directly, affiliate income is great. Once it's set up, it's quite passive. It does take time, and it's usually not a huge amount of money, but if you can earn cash by just putting a link on your website, it's worth it.
How to earn ad revenue from your website?
Turn on AdSense and other ad delivery services to earn money blogging!
Once your website gets to about 5,000 page views per month, it's time to turn on AdSense, Ezoic, or another add provider. At first, your earnings per thousand page views (EPMP) will be low, but as your traffic grows with the content you produce, it becomes easy to make $1-20/day on your website. You've written loads of content for your site to make it rank organically on search engines. It's time to monetize that and have yet another income stream.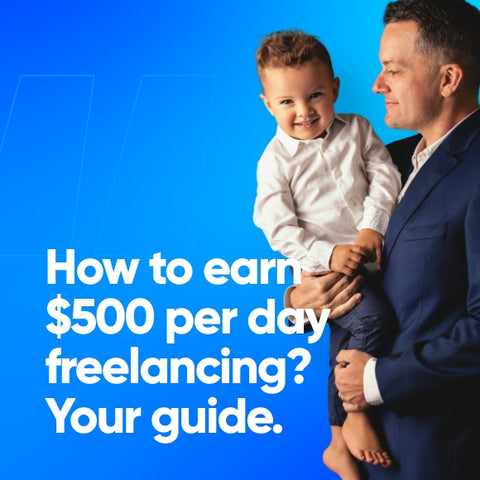 How to earn $500 per day freelancing
Then, pick one of these:
---
Third, try these:
---