Hire the right freelance Shopify Expert Developer, and you ensure the success of your Shopify eCommerce business. In this post, I will help you understand the ins and outs of hiring a Shopify Expert Developer.
Where do I start when hiring a freelance Shopify expert?
Type "build an online store" into google and you will find thousands of great profiles online at variable skill levels. Being an eCommerce expert isn't easy and probably most of those experts can help you set up an eCommerce store.
All developers aren't alike though. Some work with a WordPress site and others with Shopify. Shopify is the superior of the two platforms and usually the choice for many business owners already running or wanting to build an eCommerce site.
These online business owners hire Shopify expert(s) to assist them with updating their Shopify website or online store, it doesn't have to be more complicated than that. There is a balance you need to achieve between business goals, design aesthetics, and development know-how that is critical for your success as a Shopify brand.
At Creatibly, we provide all Shopify expert services you require to build a successful eCommerce site:
Shopify Themes Developer

Shopify Migration Expert

eCommerce Landing Page Writer

eCommerce Product Description Writer

Shopify eCommerce Speed Optimization

Make Shopify Site Mobile Responsive

Monthly Shopify eCommerce Maintenance
 Are you looking for a more basic, but fully functional Shopify Store? Click here.
In the next 5 steps, we have tried to give you everything that you could require when hiring an expert for your Shopify store:
First, prepare the business
Before even considering hiring for any role, take into account your business. This applies to current and new business ventures. See in what avenue, additional investment will have the greatest impact and what you can afford to spend.
Start with your greatest priority
When it comes to the physical products in a brick-and-mortar store, if you're spending a lot of time trying to sell products and restocking shelves, you probably need to hire a sales representative.
However, with a Shopify store, where you can physical or digital products, there are problems like; I don't know why people are abandoning carts or I don't know why my store isn't getting many visitors. You can't possibly have all the details on why something is happening and can be more complex to fix, than simply hiring a Sales Rep.
When you start with your greatest priority, you are highlighting a problem with your Shopify store. When seeking this problem to communicate with an expert, later on, only flag the issues. Don't apply any solutions, in most cases, you'll get it right but not in its entirety. Think of Shopify Experts as mechanics. You tell the mechanic what's wrong with your car, but you don't ask them for a new bearing in your transmission. Leave the diagnosis to the experts.
What services do you want and what do you want to spend?
When it comes to hiring a Shopify expert, you can hire experts with varying levels of expertise. Their pricing would depend on what services they provide, their years of experience, and how successful they are at what they do. The more services a professional candidate provides, the higher the likelihood of your problems being solved cohesively and linearly rather than smaller patchwork here and there.
The highest rated and hired experts towards the higher end of the pricing spectrum would be a web designer and developer, an SEO expert, and a content writer. Last but not least be adept in applying all these skillsets in the Shopify platform i.e add elements and make changes to your Shopify account wherever necessary.
Finding the right person
The obvious answer, is you have already found your freelance Shopify expert, me, Scott Luscombe, at your service! I offer a huge range of Shopify design and development services as a Shopify store. I can help you navigate all the steps from registering a custom domain to constantly applying various growth practices toward your business. With a proven track record in the design and development space, I can help your online store see great results through the best industry standard practices.
View Creatibly's Shopify Expert Development Services.
But, if you must continue your search for Shopify experts to build your online store, you can begin with the Shopify Experts Marketplace, where you can sort from experts by their pricing and industry expertise.
You can also seek referrals by asking around. Ask a friend who runs an online business and they may be able to connect you with a pre-approved partner since they may have worked for someone you know. LinkedIn is also a great way to seek specialists within your network. Just make sure they have experience working with Shopify and Shopify tools. Some experts may primarily work on a WordPress website, and their experience won't be relevant to your goals.
Before seeking the right candidate, know what does a Shopify developer do? 
Interview your candidate
So you have found a great Shopify Expert with great reviews, a stellar store portfolio, and who is an absolute rockstar when it comes to Shopify Design and Development. Before you start a contract and share access to your Shopify Admin page, it is vital to interview them for fit. Yes, they are great and vetted by other businesses, but are they a good fit for your store? That's why you need to have a one-on-one meeting, either in-person or online.
Schedule an interview with Scott Luscombe
While you need to interview your candidate, your expert is also determining if you are the right fit for them. They have a high level of work experience with Shopify stores and have spent thousands of hours perfecting their niche, they will tell you if they can't help you or better yet point you in a better direction.
Be wary of unrealistic promises made by dubious practitioners online. Yes, there are some not-so-nice people on the internet, crazy right? While they may set up your website quickly using a Shopify theme and populating it with products. Big commitments or promises regarding site performance and results should be taken with a big lump of skepticism. Content marketing and eCommerce are everchanging and what works today may not work tomorrow, also the work done today yields results in two months from now.
Scope out the project
Once you have found the right talent to work with, the next step is about scoping out the project. This entails determining what work they will do for you and on what timeline. This is commonly known as setting the Scope of Work. Ideally detailed in a document by the expert that you are working with.
With your store name at the top, a detailed Scope of Work document should include:
A project objective with a high-level overview of goals

Project Deliverables (No of pages, setting up Shopify payments, blog post, etc.)

Constraints for Budget or Time

Approval Process (Who will approve what)

Timeline (Expected completion for each project)

Cost estimate breaking down costs and any overheads
It's okay if the steps above seem confusing. Your expert of choice understands these elements with a Scope of Work Document and can help you answer most of the questions above. If an expert can't help answer these questions, it's time to revisit this search.
Paid and unpaid scoping
Some experts offer unpaid scoping where they do a Scope of Work by themselves to best address your problems, offer solutions, and offer to price for the same. Paid scoping often includes a more hands-on approach wherein the expert works with you to come up with the best solutions and determine a mutually agreeable scope of work. There are extrinsic factors outside your Shopify store that are also part of your business, so your expert must know how to get the desired results.
There are pros and cons to both approaches. However, you should choose the one that suits your current needs and you are comfortable with.
Clear communication
When it comes to working with a Shopify expert, clear communication from both parties is cardinal. Most development projects are long-term projects which require you to meet, share feedback, and resolve disconnects when they arise. There are a few ways that you can keep the project and your relationship with the expert in check:
Follow Process and Timelines
With a scope of work set, you will have the project breakdown with a timeline breakdown, which will also be approved by the expert. Follow these processes and timelines and allow for additional time for your expert to revert on things when there were any delays on your end and automatically adjust expectations for the same.
Timelines are important and no one understands this better than Shopify experts who often run multiple projects for multiple clients. So make sure your expert sticks to the timelines committed and you hold up your end of the bargain as well. Yes, you want to start selling products online, but if they aren't photographed the right way, there's little that your developer can do in that case.
Offer Constructive Feedback: During and After the Project
Whatever issues or great experiences you have during and after the project, share them with your expert. Your customer experience and Shopify store success are of equal value to the Expert as it is to you. They are working on high-value projects here and they will do everything possible to achieve your objectives and make sure that you feel confident in their ability to deliver.
Be it project-specific feedback about free and premium themes, business-specific ones, or something as trivial as someone's demeanor; voice it. Do so in a structured and concise manner but do it nonetheless.
Providing constructive feedback towards the technical aspects of our store and the service you have paid for is vital to get the best results from the service provider but also helps them provide their new customers with a better customer experience. As I said, you need to work with these people on long-term projects, so it is important that you like the people you work with before you like the work that they do.
Things to understand
Shopify is a complex platform and hiring an expert will fix most of the roadblocks that a storeowner may face with creating and running a Shopify store. A Shopify expert will do what you want them to do but will be limited by what you want to do for your business and how you want to grow it. They can help you grow your business but they can't define goals and run the business for you. Your goals, aspirations, and current ability to fulfill them will determine the best approach forward.
There are factors outside your Shopify store which influence your business growth and discoverability. Your work on building sales channels outside your website through marketing will play a great role in how much traffic you can drive to your site. Paid marketing campaigns can also be considered.
To fine tune your business objectives, marketing practices along with making technical tweaks to achieve them, you can work with a Shopify coach to advice you on an on-demand basis.
Shopify offers a different paid plan on its site for different levels of business. The basic Shopify plan is ideal for a new business while ShopifyPlus is their enterprise-level software. Allow the hired expert to determine the right plan for you with your goals in mind. Sure advanced reporting is great, but do you need it?
Close the project
To close the project, you would need to get a holistic understanding of your Shopify website with respect to the site functions with the site settings and Shopify admin. You should also check to see if you can accept payments. Lastly, understand how your Shopify theme works and what text to add where when adding content to a specific page.
See if the site looks and functions well across different pages
Once you are through with your project and have run down the exhaustive set of deliverables on your Scope of Work document, it's time to close out the project which often includes viewing and user-testing all the parts of the site. So make sure the site looks good and is user-friendly.
Ensure that you proof the product images, and re-read product descriptions and other details on your new website. Also, try out as many functions on the site as possible to see if they work and if your customers can add items to the shopping carts and pay with any of the payment options within the payment gateways.
It's your website, so try to go through all the pages of the site before giving a go-ahead for the rollout.
Get down to the details
Make sure that you also understand the basics of running and managing the site from the settings page to the admin screen and viewing and changing individual pages. You may hire the expert continually to alter these pages but you must understand what each of them does.
Also, know how the expert used and applied Shopify themes, their price, and usage. For premium themes, you have a one-time purchase but need a small fee to use the same theme for a different store. The cost of these and any other additional resources required for your store will not be included in your pricing for the Shopify Expert. If you are using any of the free themes from the theme store, this won't concern you.
What's next?
With the site built and complete, there's hardly a point where you can close the project entirely. Your Shopify expert will continue working with you in some capacity or other to address and fix technical problems which arise with running an online business or to simply update products and blog pages at regular intervals. This can include updating visual elements within the website builder, adding new SEO-friendly content, and pretty much all things Shopify. Usually, they would charge you a small monthly fee to stay on a retainer basis or bill you hourly whenever you may need your help.
With the site complete, you can now mobilize other business practices including marketing campaigns, social media, SEO, or any other sales channels that you wish to cultivate. You are all set to start selling!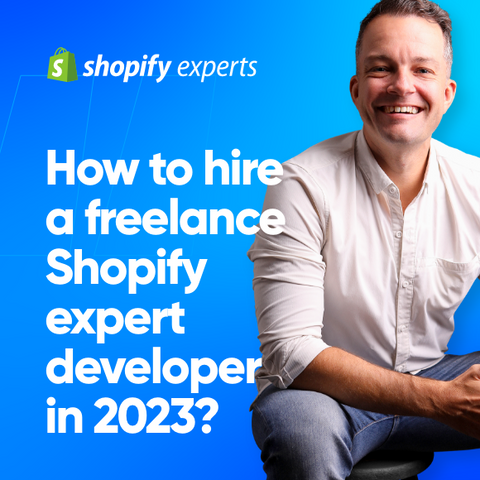 Hire a Freelance Shopify Expert Developer Scott Luscombe
Then, pick one of these:
---
Third, try these:
---