I break down my 3 step program to help you find clients and get freelance work on the LinkedIn platform.
Your freelance business should be well diversified over numerous platforms such as LinkedIn, Upwork, Fiverr, your Website, and various other social media platforms like Tik Tok, Instagram, and Facebook.
By having a high level of diversification you can distribute your business and build a highly profitable freelance business with numerous income streams. By diversifying your platforms you shelter yourself from the potential issues that can happen on platforms.
Some platforms gain and lose popularity, some fail entirely, and some can kick you off of the platform with no warning.
My 3 step program for getting freelance work on Linked in consists of these foundations:
Search

Inbound

Outreach
How to use Search to find freelance jobs on LinkedIn
Freelance jobs are everywhere on LinkedIn, here's where they are
Your first step to find job opportunities and freelance clients on LinkedIn is to use the search feature. "Well, ya, of course" you might say, that's obvious, but many people don't know how to use this resource properly to get results.
Here are the steps to using LinkedIn search:
Click the search bar at the top of the screen

Type in the freelance position you want and we're hiring

On the search results page click Posts

Choose most recent posts

Read the posts for opportunities
Organize your leads in a spreadsheet
At any given time I find 400-600 opportunities, it's impossible to contact every one
Using a spreadsheet like mine here on Google Sheets you can organize your LinkedIn leads and update your list daily by spending 10-15 minutes every day loading them into your spreadsheet. Once you're ready, try to contact 30-40 people per day who are posting freelance jobs in your niche. When you have figured out the keywords to type into search to get the projects you want you will be surprised how many there are available you.
Best of all with LinkedIn, so few people know how to do this correctly that many of these freelance job opportunities have less than 3 candidates reaching out. Unlike freelance platforms, LinkedIn is a social network and doesn't force you to bid on jobs, or take hefty fees out of each project.
You never know when you will find freelance jobs, or the right freelance job for you, so it's important to keep these contacts in your list and see what pans out. By reaching out a few times over a few months you may unlock new freelance projects.
This spreadsheet also becomes a great way to analyse past clients to see how your found the right freelance job, and where people posting job opportunities came from. This data can be used to optimize your search for the next job opportunity.
Inbound leads are the holy grail of freelance
Getting clients to come to your is the way to earn a great living as a freelancer
Outside of finding people posting job opportunities and contacting potential clients directly, having a well written LinkedIn profile works wonders for having clients come to you.
Here are a few steps I use to ensure that my LinkedIn profile is ready for inbound:
Search for job opportunities on LinkedIn

Read the job descriptions of about 10-20 job opportunities

Find common keywords the hiring managers are using

Add these common keywords to your LinkedIn profile
Just as your are job hunting, hiring managers are head hunting, looking for their next freelance copywriter, designer, or developer. To help increase your chances of being found to fill a job opportunity, it's critical that you use the words and terminology that the hiring manager is using.
Remember that clients aren't as well versed as you, they may not know technical terms so it is important that you list common keywords to help potential freelance clients find you.
Outreach to potential clients to build relationships
It's not exactly "cold outreach" since the client has already asked for help
It's a bit awkward feeling, sending out hundreds of messages on LinkedIn and not hearing anything back. But remember that when client has asked for help so you are there to help them in the best way you can.
It's important not to be spammy, I like to send a connection request outlining who I am, the problem that I solve, how much it costs, and when I can start. By being perfectly transparent in the beginning I reduce the amount of back and forth and the client can potentially chose me for the position right away.
Many freelancers fall into the trap of wanting to explain everything in one big long message. But remember to keep your connection request message about the size of a tweet, short and sweet with all the info the client needs to make a decision.
Here is the information I send:
My name

What problem I solve

How much it will cost

When I can start

*How long it will take
*I only mention how long it will take if the client has a specific request, like a Logo Design, a Blog Post Writing project, or another fixed service.
If it's an ongoing freelance job, then you can simple say "I charge $50/hour and am available from 10-40 hours per week." It doesn't have to be more complex than that. All you want is the client to make a decision of yes or no to proceed.
The last thing you want when you are trying to quickly find freelance projects is to get a long, drawn out conversation about all of the details you could have mentioned in the beginning. Remember than a typical conversion rate is around 2-4% with sales, so if you end up spending an hour or two going back and forth with a client you can waste a significant amount of your time and theirs.
Also Read: 3 Best Freelance Jobs for Beginners in 2023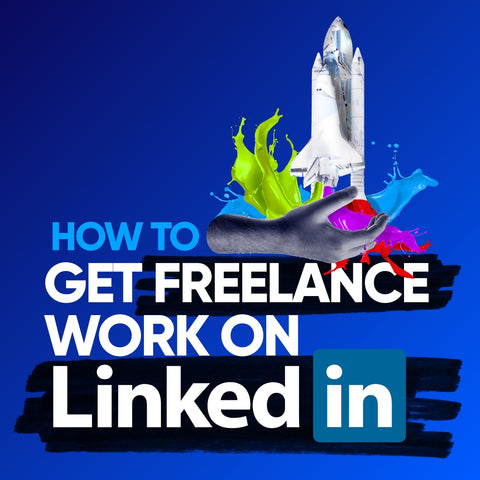 How to get freelance work on LinkedIn
Then, pick one of these:
---
Third, try these:
---