Why choose Shopify for your dropshipping business?
First and foremost let's establish why Shopify is the best choice for your dropshipping business. The simple answer is that Shopify is a market leader in hosting and managing eCommerce stores. The tools and the features factor in absolutely everything you need to run your dropshipping business. 
It's extremely easy to integrate products from dropshipping suppliers like Alibaba onto Shopify. You can use the dashboards to manage everything you can possibly think of when running an eCommerce store including products, marketing efforts, analytics, and even the look and feel of your site. Other sites may offer the same features, but no one promises the security and assurance that Shopify does. There is a reason why Shopify has become synonymous with dropshipping. 
At Creatibly, we offer a whole range of services to setup and run your dropshipping business through a Shopify store. Our services include:
App and Integration Services

Theme Development Services

Shopify Migration Services
When building a droppshipping business, your site is one of the most important assets you have. It needs to provide a seamless customer experience that builds trust and confidence within your customers. The services at Creatibly, backed by the assurance of Shopify, allow yout to create a bespoke and safe experience that your customers love and trust!
To setup your site on Shopify free, without worrying about the 14 day free trial, click here! Take as long as you need to design your site and pay only when you're ready to go live. 
Shopify and its plans 
If you go onto Shopify, you will see that they of 5 plans. There are the 3 main Shopify pricing plans in the table at the top and scrolling below will reveal Shopify Starter and Shopify plus. But what do each of these entail and how do you choose between spending $5 a month or $299? 
The 5 plans that Shopify offers are Shopify Starter, Shopify Basic, Shopify (regular), Shopify Advanced, and Shopify Plus. In addition to the 5, you can get a custom Shopify pricing plan with handpicked features and can contact Shopify for a custom quote. The custom plan is for businesses that have been in business for a long time and know exactly what they want, for this article, we will not discuss the custom plan, instead, we will cover the main 5. 
Shopify Starter
Shopify Starter is the $5 plan by Shopify which covers the bare minimum of online selling. You can even find this plan on a promotional offer of $1 a month for the first 3 months. With Shopify Starter plan, you get the sales function of an online business. With Shopify Starter you pay a 5% fee + 30 cents on every transaction. So for a $10 purchase, you will receive $9.20. 
Shopify starter does not allow you to build a website but allows you to collect payments and manage inventory. This is primarily to support Instagram and TikTok shops, which don't need a website to host products but need a place for customers to transact. You can also share products through email and SMS, which can then be purchased. Instead of going to amazon.com, think about being at the checkout as soon as you click on a particular product on Instagram or TikTok.
Shopify Basic
Shopify Basic is the $29 plan by Shopify. With Shopify Basic plan, you get the sales function from the Starter Plan but more importantly, you get the ability to set up your website. With Shopify Basic, you pay a 2.9% fee + 30 cents on every transaction. So for a $10 purchase, you will receive $9.41.
With the ability to make an online store, for dropshipping, you need this Basic Shopify Plan. The starter plan won't have the ability to create a website. Shopify Basic allows you to have up to 2 staff accounts, 4 inventory locations, basic reporting, and sell in only one country. You won't be able to know the exact shipping rates at checkout. 
For drop shipping, this means that you have a small business with one or two contributing members. You have less than 4 suppliers for your products, you don't need much reporting because you are starting out and only sell in one country. As a starting point, this plan is good enough for anyone starting their dropshipping business. Most of the reports that Shopify provides can be sourced through free additional tools like Google Analytics and Google Search Console. 
With Shopify Basic, you are all set to sell up to $16,333, at which point, it will be prudent for you to upgrade to the following plan. 
Shopify (Regular)
Shopify (Regular) is the $105 plan by Shopify. With the Regular plan, you get all the features of the Basic plan, but with added support and functionality. You get your website, this time it's more suitable for a mid-sized team. With Shopify (Regular), you pay a 2.6% fee + 30 cents on every transaction. So for a $10 purchase, you will receive $9.44.
Shopify (Regular) allows you to have up to 5 staff accounts, and one additional inventory location; for a total of 5. You also get professional reporting with the ability to sell internationally at the same rates as your first country of choice. 
For drop shipping, this means that you have grown your team beyond yourself and one other employee. You are likely working with an external designer and developer. This is also a stage where you start online marketing through paid ads and organic efforts like SEO. Professional reporting will be an asset to monitor your campaigns and their success in converting leads to customers. 
With Shopify (Regular), you are all set to sell up to $110,000 per month, at which point the following plan will be better for a lower transaction fee. 
Shopify Advanced
Shopify Advanced is the $399 plan by Shopify. The Advanced plan is the highest any single business would need. If you are here, you are already generating over $ 1 million a year in your business and have a team to support you with your day-to-day operations. With Shopify Advanced plan, you pay a 2.4% fee + 30 cents on every transaction. So for a $10 purchase, you will receive $9.46.
The Advanced Shopify plan enables you to have up to 15 staff accounts, and three additional inventory locations; for a total of 8. You also get advanced features like advanced reporting and the ability to sell internationally at different rates, adjusted as per the country. 
For drop shipping, this means that you are already selling internationally, and have different versions of your site for different countries. You are actively working with a designer and developer to add new products to your site and update your online inventory. You are ideally cash flow positive and are in a major growth spurt. 
Shopify Plus
This is the highest tier of plan that you can have with Shopify without having a custom plan. The Plus costs $2000 a month. Shopify Plus is for complex structures, and has variable fees based on your sales volumes. Its Shopify's enterprise eCommerce solution, reserved for high volume businesses.
This means you can choose to pay considerably lower fees on high-volume items while paying more on the ones that are sold less. You work with a dedicated launch engineer and customize specific parts of your site like the checkout experience. You also get access to multiple other features that allow you to automate many tasks of your business. 
For drop shipping, this means that you have "made it" and see a constant flow of customers to your website in response to your marketing efforts. The automation allows handling payments between the customer, you, and the supplier. With the launch engineer helping you, you can automate payments, the printing of shipping labels, tracking packages on-site, etc.
Additionally, you get access to Shopify Launchpad, an automation tool for running promotions and sales. Shopify Flow, a back-end automation platform, enables you to automate repetitive tasks. Shopify Plus Wholesale, allows you to create a wholesale storefront. Omnichannel capabilities enable you to manage unique customer relationships across multiple channels (social, email) online.
Shopify payments
With Shopify payments you can pay a reduced transaction fees  per transaction that your customers make with a Credit Card. If you use a third party provider like Stripe, they will take a sizable chunk off your sales, which makes Shopify Payments a better overall solution. 
It makes alot of sense to use once you factor in the savings on each purchase. Using Shopify payments means that you get more money in your pocket, with each sale that you make. For Shopify Basic, this fees is 2%, for Shopify (regular) it's 1%, and for Advanced its 0.5%. This is the fees on top of the original transaction fees that Shopify charges. 
So what plan should I choose?
The simple answer is Shopify Basic. As a starter plan, the $29 plan is affordable and gives you everything to start selling online. You get a website which is the most important piece in all of this, and the only major requirement for your own online store. The Basic plan also makes commercial sense to the point where you are making $200,000 a year. So you don't need to worry about overpaying in transaction fees.
The Shopify (Regular) plan is where most small businesses would settle, with the ability to combine marketing efforts and measure their impact. This would also allow business owners to have collaborators such as designers, copywriters, and developers to tweak different parts of the site. You will likely be doing >$ 1 million in sales on the platform. 
Shopify Advanced would only make sense if you are doing over a million dollars in sales while wanting to grow your business further. This means being able to sell internationally in markets other than your home country. You will also have a team of collaborators and a few full-time employees managing your marketing, design, and development tasks. 
Only a handful of dropshipping businesses would need Shopify Plus. Subscribing to Shopify Plus essentially means that you are processing so many orders at one point that it is not possible to manually keep up with them. This is where automation tools come in handy. 
No matter the plan that you choose, it is advisable to use Shopify payments over other 3rd party providers. 
For the most 
If you have just started a dropshipping business or are in the process of starting one, out of all the Shopify plans, the Basic plan has everything you need. Once you have all the basics of your business set, including the website, the suppliers, bank accounts, and initial marketing efforts; you can then move to a higher-tier plan. Depending on the services that you choose (hosting, apps) you may have additional Shopify costs, so its ideal to keep overheads low when you are starting out. Once you are ready to put your foot on the gas, with email marketing and paid advertising; only then higher plans with better analytics and lower fee would be prudent.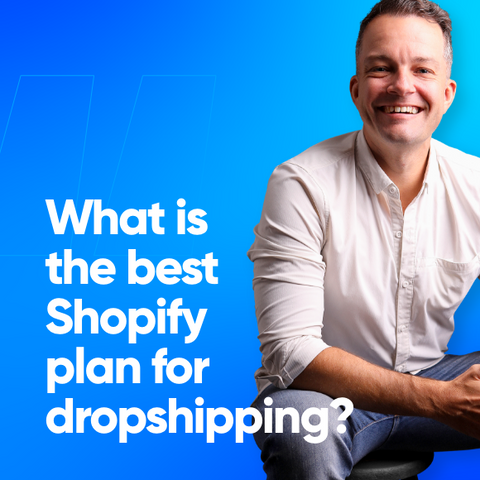 What is the best Shopify plan for dropshipping?
Then, pick one of these:
---
Third, try these:
---