Common Mistakes Freelancers Make and How To Fix Them
A Step-by-Step Guide to building a successful freelancing business.
Remote work with freelancers is here to stay. As a freelancer starting a freelancing career it is important to create a company within your niche. Whether you are a Graphic Designer, Web Developer, Copywriter, Digital Marketer, any or all of the above, freelancing will give you the extra income that a traditional job just can't.
Start freelancing today
As a freelancer it's important to start creating these individual pieces for a freelancing career, to prove that you provide quality work to your client base, and can tackle a wide range of projects. You never know which niche your business will develop into, but the most important piece is to show your business off to
As a freelance coach and mentor...
...I have been guilty of these mistakes when running my freelance business and have learned how to fix these issues over the past twenty years as a freelance graphic designer and web developer.
When we start our successful freelancing business, we're in a rush to be our own boss with the title of the business owner, and that mark is typically in the form of income. With your freelancing career, it is easy to set a dollar amount or define how many clients would indicate our success and get so laser-focused on how to start freelancing there that we forget the foundational elements that bring us this success.
Become a freelancer
I jumped into the freelancing world and began my freelance career during art school at Sheridan College, just outside of Toronto, Canada. There was a small job board of freelance work during my third year, similar to how to find clients on Upwork and Fiverr work today, but in small paper notes. People wanted to hire freelance designers, illustrators, and web developers and post their jobs, hoping to get a hungry student to do cheap work.
Writing a great profile on Upwork and LinkedIn will help clients find your profile, and book new clients. Read How do I write a great Upwork profile?
Significantly few people would go near this board to find clients in their free time, I watched it for a couple of weeks, and no one touched it. Figuring I wasn't stepping on any toes, I just started taking down these jobs to figure out how to target clients, sending a quote, getting and completing these small jobs.
A Logo Design for $25 here, an Icon Design for $10 there, not enough to live off, but my foray into the freelance world and my freelance career was born. I was hooked, it was fun trying to develop my own successful freelance business.
I'm not the type of person to advocate for cheap or free work, but starting, you can gain significant experience by approaching work this way. Clients at this level are often very forgiving, and the projects are relatively easy and lacking complexity. 
When setting the foundation for your freelance business, it's important to learn how to find potential clients, who your target market is, and gain those first clients.
Trial and error at the beginning of your journey to becoming a freelancer are paramount, this is professional experience, not just a regular job. When you approach being a reliable freelancer as a full time job, you naturally gain more clients and start learning how to pinpoint your ideal clients.
Read: 3 Best Freelance Jobs for Beginners in 2023 
Finding Clients
You can use a wide range of services, I started with the school's job board to gain my first client, but reaching out to your existing network is extremely powerful for finding clients and freelancing work.
Through your own website and own platform, you can say goodbye to what many people consider a traditional job. There have never been more opportunities with the advent of social media to show off your freelance business, build your client base, create profiles, and determine your niche.
It's a great responsibility with new clients in your freelancing business to ensure they are successful all while building your profitable freelance business. As a successful freelancer, start creating your network one client at a time, delivering quality work, and focus on building freelancing skills and services to get that new project.
As you increase your business you start seeing the big picture and all of the extra income freelancing can give you, beyond this hourly rate often associated with a full time job.
While most of my fellow students earned the same amount working at a Pizza restaurant, the Cafeteria, or a local Coffee Shop like Starbucks, I was a freelancer, running a successful freelancing business and getting paid for what I was studying in school.
In the beginning, my fellow students would think these small projects' cost was beneath them, and didn't think they could build a successful business. But I was making $20/hour, all while learning to be a better designer, illustrator, animator, developer, business person, and even copywriter by getting paid for doing what I was learning at school.
This strategy allowed me to leave school with a professional portfolio of paid client work from freelancing. I always advocate for doing passion projects for your Portfolio, but in the professional world, clients are often more focused on what the Project will cost them than how it can benefit them. Learning how to manage these expectations early on in your career is essential to success.
I have always said to freelancers, "You are a salesperson first."
Through this trial and error, I slowly developed a series of 9 steps to ensure that I will always have a busy schedule and constantly earn freelance income through sources such as Upwork, Fiverr, and LinkedIn. 
Implementing these actionable steps allow your freelancing business to flourish, and jump ahead of other freelancers who offer the same services. Regardless of your niche freelance business, your freelance company will easily find your first clients to establish yourself as a successful freelancer.
Each of these steps dramatically helps you start freelancing, and create a safety net that only freelancing can provide. As you develop these pieces, other clients will notice your freelance work and will help show that you produce quality work, and have the skills and services range that your client wants for their business.
Here are the nine items every freelancer NEEDS to build a dependable career that will grow into the future:
Personas

Profile

Portfolio

Pitch

Presentation

Process

Pricing

Projects

Proof
Customer Personas
Let's start with Personas. Have you ever sent messages to hundreds of prospects but received little to no response? I hear a common complaint from freelancers, whether designers, developers, writers, or illustrators. Personas aim your messages, and without a client persona, you will be in the dark about who to contact, and your message will go unheard.
To write a compelling Customer Persona, you need three things, a Hook or Headline which communicates your message on an emotional level to your customer. A Sub-Heading is a brief one-sentence on what you do and a short 2-3 sentence overview of the specifics of your service and why they're essential to your customer.
Your customer persona defines your target market to aim your freelancing career. Fortunately for you, most freelancers don't do this, they hop on social media and talk to everyone, cross their fingers and hope for new clients. When you start freelancing it is imperative to focus on particular clients, your ideal clients who want your particular skills and services for their business.
One way to think of your customer personas for your target market is to think of your niche, and the clients who understand these skills and services. For instance, if you are a freelance copywriter, a content manager as a target client is a great one because they understand what you do, and why they need your skills and services for their company.
Profile
Whether written on LinkedIn, Instagram, Upwork, or the Bio section of your Website, your Profile needs to be packed with keywords so the clients you want can find you.
Many freelancers who are starting out freelancing and developing their skills to get that new client ask me, "Scott, what are my keywords?" The easiest way to find what keywords you need to use is to go to Job websites like LinkedIn, Glassdoor, or Indeed. Read through the Description and Responsibilities sections, and you will find numerous keywords that the hiring manager uses to find people like you. Make sure to incorporate these keywords into your Profile.
Portfolio
When building your Portfolio or any of these nine pieces, the critical thing to remember is that they will be ever-evolving as your skills evolve. I still adjust, add, and edit my Portfolio every week to keep it fresh. Don't worry about it being perfect; focus on the first version existing, then refine it over time. As your skills build, it's important to show off how your past work freelancing helped companies achieve their goals.
"How many portfolio pieces should I use?" I receive this common question, and the answer is 5-10. My current Portfolio has ten pieces with vastly different styles to demonstrate my clients' wide range of skills.
Pitch 
Describing yourself shortly and clearly is another crucial step to building your career. Especially since many of the freelancers I coach have English as their second language, it's essential to practice your pitch over and over for accurate delivery.
Also known as an elevator pitch, you need to aim for about a 10-second delivery. I always like to add a question to the end, so the person I'm talking to knows to continue the conversation.
Presentation 
Soft skills are another problematic area for most freelancers; we forget that we are salespeople first and don't approach the solution from the client's problem. Make sure you take notes during your presentation and give the client lots of room to talk. Asking the client questions gives you time to formulate your response and take notes to further refine your presentations based on common problems.
Don't worry about failure; I'll ruin the surprise by saying you'll get turned down often. Just get used to it. Sometimes the Project won't work out. Just make sure you're learning from each experience.
Process
Clients want to know you've done this before and that you are risk-free and the go to person and can create for their business. If you can communicate this with your client, you will often get the Project. Take each of your services and break them down step by step so you can easily guide your clients through start to finish.
Having a process also ensures projects don't get out of control. Clients love to know where they are in the process. If you haven't written it down and communicated your strategy, it is open to interpretation, and that will cause problems.
Pricing
I'm both a freelancer and a client, and I can't stand when I ask, "How much do you charge for this service?" Only to get this response "How much is your budget?" or "Can we have a 1-hour discovery call to understand your project?"
Not having pricing loses business. I recently tried to hire an illustrator, who, after five e-mails, refused to give me a price. This illustrator didn't get hired. I loved his work, but if it takes five e-mails to get to a price, doing the actual Project will be a nightmare.
As a freelancer, you must realize that making the business process smooth at the beginning of the project is paramount to being a successful freelancer. Create a price list of skills and services you provide with your freelancing business so that there is no question from the client's perspective. Think "How can I make this easier?"
One other tip is always to offer three prices, low, medium, and high, with various levels and allow the client to choose. Create a price list to reflect this and you will build a great list of clients. Freelancing should be a pain less process, you're here to save your client's time.
Projects 
Now that you have your freelancing Project, it's time to manage it. I use a piece of software called Trello as it's visual and straightforward, but other software like Click Up, Notion, Monday, Slack, Jira, etc., are all great options.
Make sure to break down each freelancing Project into the steps you will take to complete it and ask yourself whether you can have someone else do these tasks. For example, suppose I'm doing a website design. In that case, I get my Virtual Assistant to copy all of the current writing on the existing site into a Google Doc to copy and paste the information quickly.
Proof
"How do I know you can do the job?" I receive this question, in similar forms, from freelancing clients often. Having social media proof in the above items, including testimonials and reviews, is essential for bringing in new clients confident in your skills.
Freelancing is all about what you can create for your clients. Having one previous example, is better than nothing, so simply keep building your proof and you will see this increase in proof reflected in your bank account.
Always aim to receive testimonials and reviews from your target market companies and clients to demonstrate your project capability, and show positive reviews which reinforce your skills and services within your niche freelance business.
 Are you looking for freelance coaching? Click here!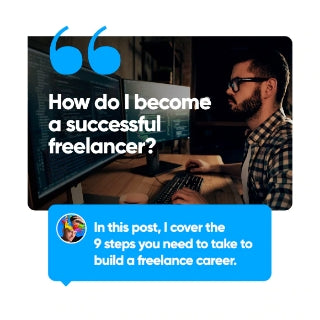 Learn how to become a successful freelancer by Scott Luscombe Creatibly
Then, pick one of these:
---
Third, try these:
---