Freelance Graphic Designer and Web Developer.
With over twenty years of creative advertising agency
and freelance graphic design and web development experience, Scott Luscombe has the foundation to
future-proof your business with multiple disciplines, including creativity, technical ability and an
ever-curious imagination.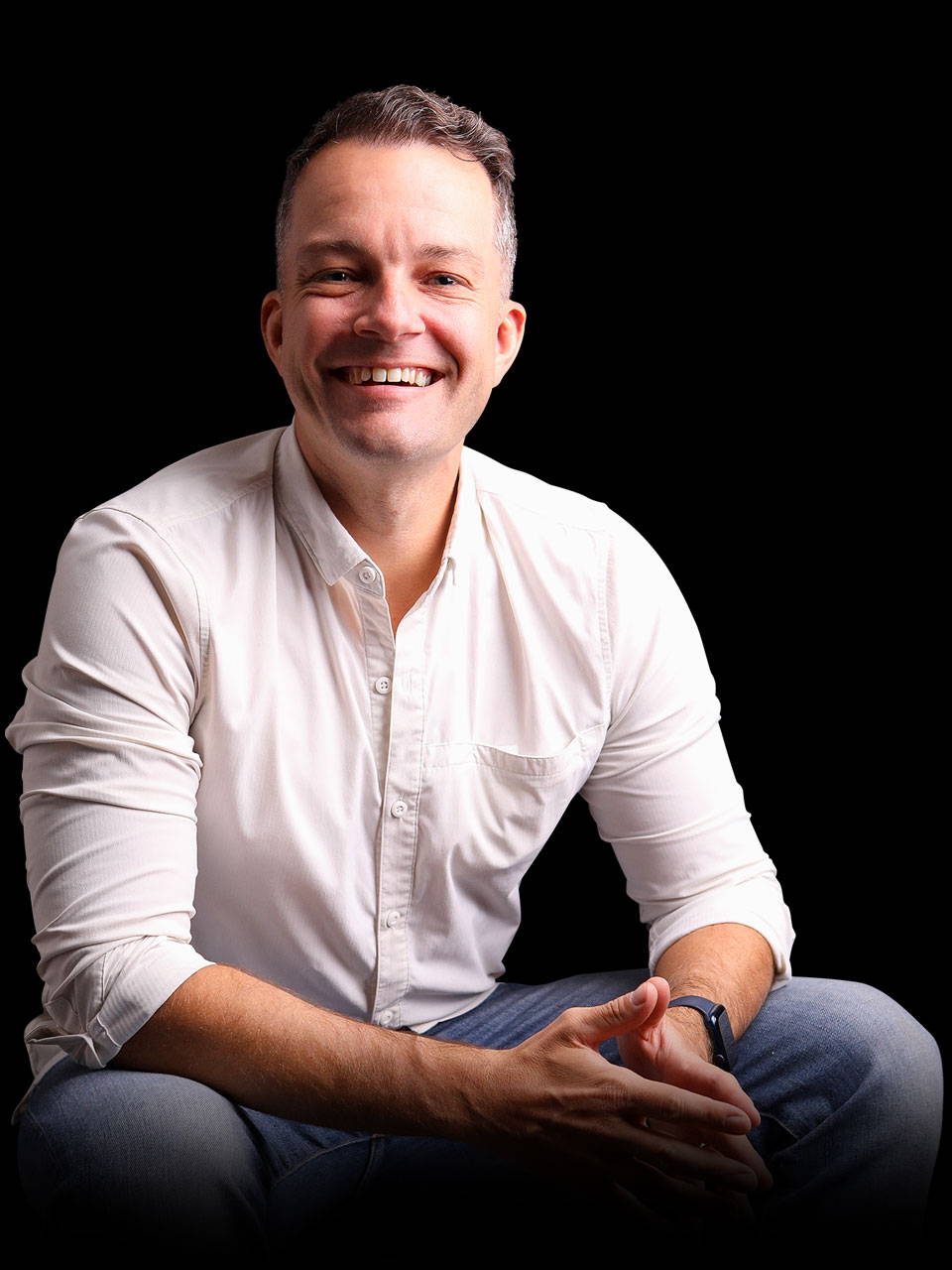 The visual communications utility belt for your superhero brand.
Experience:
• 20+ years of Design
• 20+ years of Project Management
• 20+ years of Account Management
• 15+ years of Development
• 15+ years in Agencies
• 15+ years of Copywriting

Tools:
• Adobe Creative Suite
• Figma & Sketch
• Cinema 4D, 3DS Max, & Maya
• Jira, Slack, Trello & Monday
• Microsoft Office

Education:
• Graphic Design & Illustration
• Copywriting & Marketing
• Machine Learning
Scott Luscombe's early adoption of digital media has allowed him to bridge the gaps between graphic design, illustration, copywriting, and motion graphics. Deploying each medium to tell stories that sell brands has been his main focus.
His career began as a Junior Designer at Citrus Media to Creative Director at Magnetic over five years during his early graphic design and web design career. In a short amount of time, Scott Luscombe went from managing small projects to managing a multi-talented team of up to fifty graphic designers and web developers by building cross-functional relationships in fast-paced environments.
Scott Luscombe's career producing amazing work while working with talented people in every discipline from brand identity design, packaging design, creative web design, website development makes him perfect for your next project.
As a freelance graphic designer, he has a wide range of communications solutions for small business owners and enterprise-level global brands. With a strong online portfolio, Scott can hold his own in any position, from a senior graphic designer, art director, product designer or web designer, he is a great asset to your organization's design and development needs.
Whether your project is for product design, digital marketing, print, or web, Scott is ranked as a Top Rated Plus graphic designer and web developer and is considered the top 1% of most talented professional designers with an extraordinarily creative angle.
Scott produces amazing work and can elevate your brand to unthinkable heights. Companies have relied on Scott as a professional graphic designer for over twenty years. From branding and marketing, clients depend on Scott to develop all aspects of their business. With a wide range of graphic design services, Scott Luscombe's graphic design company Creatibly is a digital marketing, graphic design, and e-commerce solutions expert.
Hire Freelance Graphic Designer Scott Luscombe. View Freelance Graphic Design Portfolio.
Ego-free graphic designer, illustrator, website developer, copywriter, and problem solver.
"With so much experience, why aren't you a full-time Creative Director or Technical Director managing a team?"

The answer is simple: although Scott does enjoy management, he considers himself a graphic designer, illustrator, developer, and technical problem solver at the core of his being. Scott loves getting his hands on the problem instead of only giving marching orders. He enjoys finding the fault in the code, that pesky RGB image that somehow got into the production files, writing copy to fit the graphic design, and building the systems and processes that ensure issues are resolved.
WHAT IS IT LIKE WORKING WITH SCOTT?
Scott has a 98% job success score, and top-rated plus designations on Upwork, ranking him in the top 1% of graphic designers and web developers globally.
Scott Luscombe loves every aspect of graphic design, web design, and working as an art director and in project management. From your social media campaign, personal brand design, website design, to Shopify expert developer. You can rely on Scott Luscombe as one of the most talented people in the industry with decades of experience.
His skill set includes everything from product design, social media content design, day-to-day graphic design and development. Contact Scott Luscombe if you need to create social media content for Facebook, or a concept for a product design, Scott can accompany you along the journey for the life of your business.
In 2017 Scott Luscombe was featured on CBC's The Dragons' Den TV Show he sold his e-commerce based brand Dawg Grillz. Clients had asked Scott if he could go beyond graphic design and website development, so he began his own journey of product design and developing the skill set he built Dawg Grillz, a dog toy company that was built into a 6-figure business using only user-generated social media content.
The Dawg Grillz project included the end-to-end solution, from graphic design to logo design, the product design concept, and all communications for print and web. Scott built the brand using social media marketing and no paid ads.
Developing websites has always been a strong focus of Scott Luscombe's skill set, and that became a great asset when it came time to develop the concept for Dawg Grillz. He wanted a brand that went beyond the dog and was fun to share on social media like Facebook and Instagram.
Dawg Grillz reach unthinkable heights when one video went viral, reaching over 25 million people, with hundreds of thousands of likes and comments. The creativity that built Dawg Grillz, is one of the reasons you can rely on Scott for your design and development projects for your business.
Scott Luscombe has been a Creative Director and Art Director from early on in his career and has worked on many exciting brands in a wide range of roles, from graphic designer to web designer, illustrator, and even developing concepts.
One such design concept, was the Something New is Brewing campaign, written, illustrated, and designed by Scott Luscombe, while relying heavily on Nestlé's marketing team, this project launched the Nespresso brand, turning it into the multi-billion dollar brand it is today.
Scott is relied upon heavily by Nestlé to this day, as one of the most talented people in the industry, he produces amazing work that is not only clever but smart. Using his extraordinarily creative angle developing concepts, he can design and develop your projects from the ground, up.
As an expert in branding, Scott can take charge of all of the services you require, whether that be a design system, illustration, iconography, websites, and development. Scott has what it takes to create opportunities for clients and their companies.
Put your faith in Scott Luscombe for all of your print, and web projects.
"Wallet what?" "Oh ya, I have one of those, I see them everywhere!"
Scott Luscombe was originally hired for a small $250 logo design project. Always thinking of the lifetime value of clients, Scott worked for this client for over a year on the initial product design, which became a #1 seller on Amazon, and a #1 seller on Groupon.
Beyond the logo design, the Wallet Ninja brand stayed in contact with Scott for all of their print and web needs to bring the product to life. From patented packaging design, to e-commerce web development, Wallet Ninja has gone on to win awards, and sell over 30 million units in 27 countries.
A great step up from a $250 logo, don't you think?
Scott uses creativity as a designer in print and web mediums, to leverage communications and social media platforms such as Facebook, Instagram, and LinkedIn. The Wallet Ninja project continues to this day as one of the leaders in tools on Amazon. Where many e-commerce brands simply race to the bottom on pricing, Scott can develop your brand into one that carves an individual niche, and leaves the competition eating dust.
As an ever-curious learner, I bring a wide range of skills to tackle every project.
Scott's education started to take shape in High School when two of his teachers found his strong interest in art and animation, entering him into regional, provincial, and national animation competitions. Scott considers himself absolutely gifted with amazing teachers throughout his scholastic upbringing, and he owes his career to the teachers from Primary school to University who helped identify and grow his skills as an artist and keep him curious about technology.
Graphic Design and Illustration
Graduated 2001

Marketing and Copywriting
Graduating 2024
Machine Learning
Graduating 2022
How can Scott help your company achieve its goals today, and into the future?
Experience isn't everything in graphic design, or even as a Creative Director. Results are. Scott sees opportunities where companies with the "we've always done it this way attitude" get left behind.
When you hire Creatibly, Scott's graphic design company for the graphic design services you need, you are not only hiring a graphic designer and web designer, you are hiring a Creative Director and Art Director who can not only lead you to your goals but complete each production step along the way.
From graphic design to web development, as a Creative Director Scott can see the forest for the trees, but can also dial down on to each individual component to optimize it perfectly for its application.
This is one of the reasons that Scott Luscombe's Creatibly graphic design company ranks in the top 0.06% of global websites, where many of the agencies in Scott Luscombe's early career have languished with dated thinking and tactics.
Scott thinks beyond clever headlines of the big agencies and deeply understands how the internet of things works, optimizing all aspects of graphic design, copywriting, and web development, first for the machines that deliver them to the user, then for the users that use them. This style of thinking makes Scott a high-level digital marketing expert.
As you read this, you may think "this is quite long and somewhat repetitive." Well, you would be right! Although Scott thinks in clear and concise ways, where many brands are left behind are on their Google ranking, Scott simply optimizes all content for the delivery system first, because, without delivery, the customer doesn't achieve the results they want.
Results are more important than being clever, results are why you are here for graphic design, web design, web development, and marketing services. Your web design and website development are only effective if it has traffic, and sells the product or services you provide.
Scott is one of the few designers and developers who thinks about how websites are initially read and delivered to the user. Branding and illustration services make your project look great, web development and e-commerce services make your project work great, but if no one sees your project, it is all for nothing.
Typical engagements with Scott whether as your graphic designer, Art Director, Creative Director, or Marketing expert, last for over a year. This length of time is to familiarize himself with your brand and see the future of how your project will come together from a designer and developer standpoint.
Marketing, branding, and website design and development projects require time, they require a designer to combine all aspects of art to produce creative print and web services that reach your goals as a company.
When hiring Scott as a Creative Director your position as a business owner is to provide the overarching goals of your brand, and let Scott use his expertise in graphic design, web, and print services to reach these goals.
As a business owner or agency, you understand your business operations and trajectory, Scott understands how to reach your goals deeply, and will steer the ship in the direction of your goals, reaching them by effectively deploying design and development services.
If you would like to contact Scott, please do so at scott@creatibly.com or schedule an appointment below. The fee for Scott as a Creative Director can be found here.
As an Art Director, Scott will manage your creative teams and work alongside your Creative Director using an extraordinarily creative angle which produces amazing work. From marketing and branding projects to illustration, and development, Scott can not only manage but lead the design department, ensuring success and brand continuity.
If you would like to contact Scott, please do so at scott@creatibly.com or schedule an appointment below. The fee for Scott as a Art Director can be found here.
With Scott as your Senior Graphic Designer, you get twenty years as a print and web designer perfectly positioned to create anything from brand identity to a logo project, website design, website development, marketing, and branding.
Mistake-free for over twenty years, Scott prides himself that no print project has ever been returned because of a typo, or setup issue. Scott is a designer you can depend on for print project services for your business.
Brand identity, design systems, and other branding services are Scott's focus as a designer for your business. However, Scott is not limited to only print and branding, he can extend his skill set well into the web design and development realm, whether working along with your developer or partnering with a wide range of talented people. Scott is a well-known developer and can code in HTML, CSS, and Ruby on Rails, also known as Liquid.
If you would like to contact Scott, please do so at scott@creatibly.com or schedule an appointment below. The fee for Scott as a Senior Graphic Designer can be found here.
Freelance Graphic Designer
Scott is widely experienced in graphic design but also understands with decades with his own graphic design company, that your brand needs time to grow. Scott is your graphic designer and web development expert for all of your flat-rate or fixed-rate projects which can be found here.
A la carte graphic design and web development services make it easy to control your budget, with a web design today, a brand design tomorrow, and just general day-to-day support using graphic design.
Marketing and brand designer services allow Scott to create art that will make your brand stand out in the crowd. Your brand deserves a marketing designer who can take your project from logo to development, from concept to completion.
If you would like to contact Scott, please do so at scott@creatibly.com or schedule an appointment below. The Flat-rate or Fixed-fee Services can be found here.
If you feel that you have an amazing brand which will impact the world, making it a better place, and have a compelling offer please feel free to choose a time that works best for you!
Recruiters please note:
I have a very successful career and will only work with particular brands based on a combination of their principles and professionalism.





I receive quite a few job offers per week, and although I do appreciate them all, I am currently looking for high-level creative and technical positions.





The first 1-hour interview is free of charge, please note that for subsequent interviews, a fee of $75/hour will be applied. Unfortunately, many recruiters have requested scheduling 5-6 interviews.
Thank you!