I've tallied up over 10,000 hours on Upwork over the past 3 years. In this beginner's guide I explain how to get more clients on Upwork by helping you understand how clients find you through search, reaching out to clients, the proposal process and closing deals.
Whether you are a part time or full time freelancer I give you what I've learned in two decades of freelance work with insights on how clients find and hire freelancers and create an effective performance plan to elevate your freelance journey.
Here is what I've learned about getting consistent, high paying freelance work on Upwork. This guide is made for freelancers looking for remote work on Upwork and will work for web developers, data entry specialists, freelance writing and every freelancer applying for jobs on Upwork and helping you increase your conversion rate on job opportunities.
If you are still confused about your freelance niche, read 3 best freelance jobs for beginners. 
There are two types of sales that you absolutely must know to be successful on the Upwork platform and reach more potential clients.
Inbound sales are when new clients come to you, and Outbound sales are when you go to prospective clients.
Both of these types of sales are incredibly important, and to have a successful career in freelance it's important to check these next boxes to ensure you're leveraging every opportunity to the max.
Before we get to the first lesson, please Like, Subscribe, and hit the Bell icon to turn on notifications on my YouTube video to get all of the latest videos to help you on your freelance journey!
How do you get Inbound sales?
Inbound sales are when clients find you, then either invites you to their project, or purchase a service from your project catalog. This is the holy grail of freelance as the customer acquisition cost goes to almost zero.
This one takes time, as you need to start by treating Upwork like the Google search algorithm and ensure that you have all of these pieces:
The first piece is a 100% complete profile.
Seems obvious right? Wrong, I don't just mean adding in the basic information, your profile, and specialized profiles must be completed as well.
Many freelancers make the mistake of adding in a few hundred characters into their profile description.
You are given 5,000 characters to fill in your primary profile, as well as your specialized profiles, make sure you use it!
By adding a large amount of content it allows you to standout from other freelancers and ensures that new clients can easily find you, which elevates your freelance career.
Many clients search for terms like freelance writer, digital marketing expert, graphic designer or web development services. New clients will primarily rely on search so ensuring you have used all of the space you're given will help you get more freelance jobs.
Not only should these 15,000 characters be used, but they should also be optimized for search. One of the tools I use is SurferSEO, you can check the link in the description to try it out, it dramatically increased my search results and I get invited to projects every few hours because of it.
The second piece is to have a complete catalog.
You can have up to 20 project offerings in your Project Catalog, it's important to use these as well.
Make the same considerations in terms of showing up in search results as you did with your profile when writing catalog service descriptions.
When pricing your catalog services, it's important not to race to the bottom. Many freelancers find the catalog frustrating because they feel that it's just a commodity service, meaning that everyone is the same.
You can stand out by creating better thumbnails and also by giving a wider range of pricing. Instead of services from $50-150, try $100, $500, and $1000, this range gives clients more distinguishable differences in service offerings.
How do you develop Outbound sales?
Outbound sales happen when you search for client projects and send proposals, hoping to stand out enough to get that initial contact and close the deal. This is an Outbound sale.
Outbound sales are great, but have a higher customer acquisition cost because you have to spend your time sending proposals, using Upwork connects, and communicating with the clients.
Want to learn how to get more Upwork connects for free? Check out this post!
I've found that on average, you can expect to spend around $100 on each new customer from these costs.
There is plenty of opportunity to get jobs on Upwork whether you want to create a logo, optimizing content for search engines, as a web designer, and social marketing for digital marketers.
The first piece of the Outbound sales puzzle are finding the right projects.
Go to the Find Work section, and make your adjustments to the search results to continually fine tune the customers that work best for you.
One major red flag when looking for projects in the Find Work section of Upwork are clients that add 5-10 questions to fill out for each proposal input. Through my experience of thousands of hours worked on Upwork, these clients are always very difficult to work with. Avoid these job listings because they will raise your customer acquisition cost significantly.
Make sure that you're doing a mix of both flat rate and hourly projects. Flat rate projects are great to give you chunks of income all at once, and when mixed with hourly contracts you get the added benefit of consistent income day to day.
The second step to get Outbound sales is a great project proposal.
At the end of this video you can see the link to the Upwork Proposal Writing video I put together with you that will teach you how to write a project winning proposal.
Crafting your high-converting cover letter whether you're in the graphic design, social media, search engine optimization, or even artificial intelligence fields is essential to your success to work remotely as a freelancer.
Small businesses are great potential clients and require freelancers for remote work for services ranging from logo design, to web design, social media marketing, and software developers as well. There has never been a better time to get started. 
Remote work has become hugely popular post-pandemic, I myself spend time in both Canada and Brazil, as my wife is Brazilian and our kids are dual citizens. Being able to find jobs where you can work remotely has amazing mental health benefits.
When sending proposals, here are a few tips to increase your odds of standing out and getting the project:
Make sure you personalize your proposal in the first sentence. I like to add the client's name (if they've added it) and the business name as well as the specific project title they used so the potential client sees that you're not just copying and pasting the template.
Add a presentation to your proposal. I've found this a critical step as it allows me to send more

 

detail with my portfolio, project information, and process. This shows the client that I can organize my information, and gives them confidence I can do the work.
Always add 3 packages to choose from if it is a flat rate project. Clients often put in a placeholder budget, and if you only bid one price, your price may be too high which can disqualify you, or too low and the client may think your service won't be good enough.
How do you close the deal on Upwork?
Closing deals happens when three things meet:
Client Confidence
Budget Alignment
Successful Presentation
Client confidence is built when the client feels like you are the right one for the job.
Listen to the client's needs, and propose solutions that you can provide within the scope of the project.
Clients mainly want to feel that when they spend money with you they are choosing the lowest risk option.
One of those risks comes to budget. Clients generally want to know:
How much will it cost?
Will the project go over the budget?
How do revisions work?
The third and final component is successfully bringing all of these together with a presentation.
When you present your work, give the client a document they can take with them to review.
It's rare when a client will purchase your service during the initial call, but it does happen.
Typically clients will wait a few days and review everything, including other candidates, to come to their decision.
Always leave your client with these three pieces:
Confidence you can do the work, that the work is within their budget, and that your presentation stands out among the competitors.
Now you've learned how to get clients to come to you, how to find clients, and how to close the deal!
These are the main ways of getting work successfully on Upwork, make sure you're using them all!
If you have any questions please feel free to add them in the comments below.
Check out one on one freelance coaching with me, or order my book, The Freelance Shortcut and get freelance work today!
Not sure if Upwork is the place for you? Read how to get freelance work on LinkedIn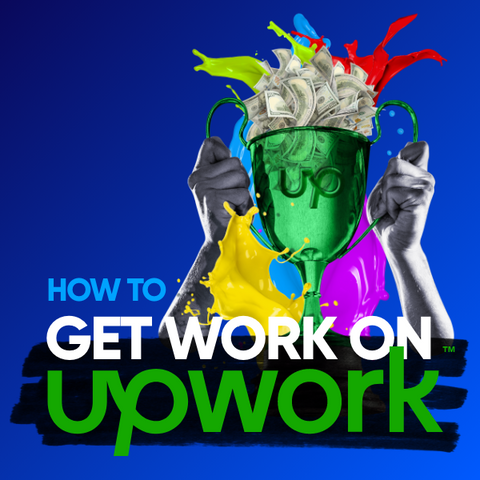 How to Get Freelance Work on Upwork
Then, pick one of these:
---
Third, try these:
---