Premium Shopify themes, the good and the bad
The benefits
Having premium Shopify themes offer many advantages including additional features and greater customizability for your brand. Some of these features include advanced navigation, product filters, and zoom which provide a better user experience on the website. 
Premium themes also have better design qualities which makes your site have a more professional look and feel. They are also better optimized for viewing on a phone or tablet. This makes all the difference when you think of customer experience Overall, a paid Shopify themes are far superior in providing a better user experience. This can make a world of difference to your customers shopping on their phones. 
Premium vs free
As we said before, free Shopify themes are more than good enough for most people, especially for online businesses just starting out. You can also test out a free Shopify theme before you make the switch to a premium theme. Free themes also have much simpler code used in them. 
Free themes however have a lower level of customization in them, and the design elements used are quite generic. You can get many features of a paid Shopify  theme with third-party plugins if you are really looking for tweaking specific interactions on your website. With these plugins also costing money, its always better to have a premium theme. More often than not, a premium paid theme will come down to your willingness to invest in one. 
How to choose the right theme for you?
As expert Shopify Expert Developers we understand the importance of selecting the right theme for your eCommerce store. Along with being an investment for your business, it can make a world of difference to your customers. With multiple options, it can be a bit overwhelming to select a Premium theme. A few factors that you should consider are:
Design and layout
The design and layout of the theme should be conducive to your brand and its products. We are not talking about the color or the typography. Instead, we are talking about sections for images and product placement. A good design and layout should be easy to navigate and emphasize your products.
Features
The features of a premium theme can be viewed as an extension of the design and layout of your theme. Some features to look out for are product filtering, search, and checkout customization. These features can provide a better user experience, increase a customer's trust in your brand and also reduce cart abandonment. This is not to say that you can't build trust with a free theme, but when you are selling products of a certain type and value, a more polished experience can lead to higher conversion. 
Reviews
Most premium Shopify themes have a rating and review section within the Shopify theme store. This means you can read the reviews and view the type of stores that the theme was used for. This provides immediate feedback, once you check out other sites with the same theme. Comparing them, you can see how well those businesses are and how customizable the theme is. Remember, some reviews may be old and the site may have moved to a different theme. 
Support
When selecting a theme, make sure it comes with support and documentation about the theme. This helps you to address any problems that you may run into. This will also help you customize the theme. 
Price
Shopify Premium themes are available at a variety of prices, along this price range you can see what theme is actually worth the price and if something can be achieved with a more economically priced theme. Shopify experts understand these nuances between two distinct themes and can advise you if the more expensive theme is actually worth the price. 
Maxing out your premium theme
Getting a premium theme for your Shopify site can unlock a whole set of advantages, and it's only fair to use it to the best of its ability. Here are some of the ways, you too can make the best of your Shopify site:
Making the most of your premium theme
Premium themes provide more customization options for your Shopify site so make sure you take your time tinkering with colors, fonts, and layout options for your site. You can create truly unique websites and if you are buying a premium theme, it's more than fair to expect a site like no other. 
Tweak the content delivery network and image sizes for faster loading times, leading to more inbound traffic that spends more time on the site. You can also apply many SEO practices like meta descriptions and keyword-rich titles to get better search engine rankings. 
Test your site on as many devices as possible to see how the site adapts to various screen sizes and what the customer experience is like. You can then tweak device-specific interactions to provide the best customer experience across all devices. 
Customize, customize, customize
A premium theme allows for customizations down to the finer details of your site. You can not only change the font but also customize how the text appears, how images react to hover, and how the site scrolls. 
Make sure you thoroughly understand and tweak the settings of your site, to make the most of a premium theme. Many businesses hire expert developers to work on these for them. 
Real-life precedent
A lot of stores around the world use Shopify premium themes to create their stores. Even this site is created on Shopify. Even as a service business, we've created a seamless customer experience to process orders online. 
Our Shopify store also includes search options, filters within the service pages, and animations on images within the learn section. 
Futureproofing
Premium themes come with regular updates and bug fixes that ensure compatibility with any new technology and device types. This makes paid themes a great choice for future-proofing your online store. This is probably the most important feature that you get with Premium Shopify themes. 
Conclusion
Picking the right Shopify theme is a major choice that you will have to make for your online business. A free theme might be good for businesses just starting out, but a premium theme comes with added benefits like additional features, better customization, good design, and enhanced look and feel. To pick the right premium theme, you should consider the design and layout, features, reviews, support, and price. Investing in a premium theme can level up your online business but it's important to tinker around with the theme and customize it to maximize its potential. They are also great to future-proof your online business. Ultimately, it will be your choice as a business owner if you need a premium theme, and what expense you can justify for it. Shopify experts like the one at Creatibly can help you make that choice!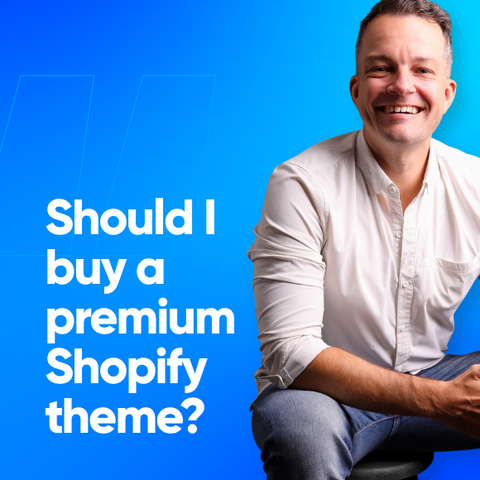 Should I buy a premium Shopify theme?
Then, pick one of these:
---
Third, try these:
---