I have always had a foundation as a freelance graphic designer in my career. The ability to scale my freelance design business up and down depending on my desired workload is a huge advantage in my design career.
Your goal is to grow your freelance business, but where should you start as a freelance graphic designer? In this article, I will explain everything you need to understand the profession of freelance graphic design, from the required education, the tools you need to be a professional, and where to build your online presence and start generating work, and get paid.
The first step is choosing how much you want to work. Consider everything from supplementing your income with a few hours a week as a freelance graphic designer to full time business as a professional designer, continually converting potential clients and doing work while building a portfolio that brings in ever larger projects.
What things should I consider to start my freelance career as a Graphic Designer?
Starting a freelance design business is no small feat, but it can be accomplished with a fairly low barrier to entry. The great thing about a freelance career is that the sky is the limit in terms of income, and you can choose how much or how little spare time you want.
Here is a 1 Hour Coaching Session session I recently did with Paul O., from Nigeria, Africa who is currently earning $150,000/year on Upwork and wants to grow his freelance business:
The 5 steps to starting freelancing as a Graphic Designer:
Education
Coaching
Hardware
Software
Business
Education
College
To start your career, freelance graphic designers should first consider getting Educated at a reputable institution. With so much "you don't need to go to college to make it" advice out there, coming from my perspective, I believe it is wrong. Leaping High School to a career as a Professional would have been too big of a jump for me. It would have come with many more years of failure than just spending time in college.
I went to Sheridan College for Advertising and Illustration, with some dabbling in Graphic Design and Animation. These 3 years of post-secondary education taught me a TON. Specifically, it demonstrated what work ethic truly is without being as brutal as the real world. The school pushed and punished me when my work wasn't up to par. It also taught me that I wasn't very naturally talented.
My High School teachers graduated me with a 96% average and plenty of awards going into College. After finishing High School, I realized that they were just blowing sunshine up my butt and telling me I was "gifted." College taught me that I was just another person trying and failing, the perfect reflection of the reality that the comfort of High School failed to teach me.
When I say High School "failed to teach me," please understand that Elementary School is really to teach you that you can learn something. High School is to expand on your interests and send you into the next step, College, with motivation. College and University get as close to the Professional world as possible without taking food off your table and showing you that your mistakes make your family suffer. That's the real world. When screwing up doesn't just get you an F on a piece of paper. It gets you an F on your foreclosure notice.
Most people, me included, can't make the big leap from High School to the Professional ranks without massive outside support. I've always had a great family, but I had to do the work and used my savings to pay my bills. I started working in High School at 13 years old and haven't stopped almost 30 years later.
I was accepted into Sheridan College, one of the hundred out of over 5000 applicants, and I quickly realized that I was terrible, wasn't gifted, and had a lot of work ahead of me. I was 17 at the time, so I can forgive myself for the sheer terror I felt as a bunch of mid-twenties and early-thirty-year-olds who had already done College walked all over me and showed me just how out of my depth I was.
Most of my friends in that school were at least a decade older than me, with way more experience. In High School, everyone was my age, and I could get by just working a bit harder than everyone else, and that's all I did in High School. I would just do an extra 10 minutes of homework every hour other people said they were doing.
What College mirrored in the "real world" was the differences between the junior, intermediate, senior, and director levels of quality. Without College showing me that, I would have drowned in the real world if I had skipped College.
In my perspective, College and University are MASSIVELY important. For everyone saying it's unimportant, recruiters still require College and University for most well-paid jobs. No one has ever asked about my GPA, but College helps tremendously.
Sheridan College helped me build my initial design portfolio and gave me a great transition into full time freelance. One of the ways College helped was with the job board, little pieces of paper with odd jobs related to design and illustration. It was the first time I had found something like Upwork or Fiverr, and I would take each piece of paper down and contact them, offering them a free design and, if they liked it, to pay me whatever they thought it was worth.
As I became busier and busier, I would simply increase my pricing, which is where I am today.
Courses
Throughout my design career, I have taken courses. I do about one or two University level courses per year. This year was Copywriting and Marketing from the University of Toronto and Machine Learning at MIT.
By taking these additional courses, I stay up to date and learn where I am by having someone with an education review my work thoroughly.
In the real world, clients say things like "that looks great," "I don't like it," or "let's try something else," never helpful in terms of feedback.
University teachers give you detailed and constructive feedback, which I find helps level up my career and helps my freelance business tremendously. The Machine Learning course was just for general interest (and was way too hard for me), but Copywriting and Marketing from the University of Toronto helped me immensely and has paid for itself many times over now.
Online Learning
Now you can start seeing where I'm heading with all of this when starting freelance graphic design. Multi-year College and University diplomas and degrees set a strong foundation for which you can jump into a professional, real world career. Then Courses can give you dedicated fine-tuning and feedback for only a few thousand dollars per year.
Now, online learning. This needs to be taken with a grain of salt because everyone on YouTube and TikTok is just giving you their opinions. However, it's still very useful. I have learned a ton about business and many specific skills from reading blogs, watching videos, and using Google.
But the caveat here is that they are single producer opinions with no peer review and no quality controls whatsoever. They should all be looked on with skepticism until they produce results.
Before claiming you're an expert because you watch YouTube, verifying it with a solid education and professional experience is best to back it up. The one issue with these learning platforms is that they are often mostly fluff, not telling you to do anything.
So, why listen to me? It's a good question.
I recommend going through all levels of school, keeping up to date yearly with University courses to get feedback, then watching videos to see if they help you move ahead.
Coaching
Freelance Coaching Services
We have all seen professional athletes who make obscene amounts of money looking down at their often much older coaches.
Why would a pro take instructions from someone who can't even do what they teach?
The answer is simple: motivation, confirmation that what the professional athlete is doing is correct, and most importantly, it's a pat on the back and support when they are struggling and a personal cheerleader when they are doing it perfectly.
Coaching is much less specific instructions on what to do next, but a verification of what is already known, and a person is there to ensure you damn well do it!
I have my own business coach and a psychoanalyst who I do weekly sessions with. The reason I have done this for many years is numerous, but I can attest to the fact that they have been essential to my success.
You need to consider yourself as a professional athlete. When you don't feel like training or don't know what you should do, a coach sets you back on course and makes sure you stay on track.
Hire me as your Freelance Graphic Design Coach.
My freelance coaching program revolves around these major lessons:
PERSONAS is designed to teach you how to identify your clients so you can stop "hoping" for a response and start talking with potential clients who want to hear from you.

PROFILES is designed to teach you how to write a compelling profile on Upwork, LinkedIn, or any other freelance platform or social network.

PITCH is designed to help you understand your freelance career and its focus and make communicating your services to the client quick and effective.

PRESENTATION is designed to help you develop a comprehensive presentation you can send to clients for review and demonstrate that you are the expert they are looking for.

PROCESS is designed to help you instill confidence in your client that you know the end-to-end system for a successful project to keep all projects within scope.

PRICING is designed to help you build your pricing structure so that your clients aren't excluded based on price alone. I will also teach you how to price your services and increase your pricing over time so that you are in the upper market.

PROBLEM is designed to help you identify and solve client problems with effective communication of your Features (what you do) and Benefits (why the client wants it).

PROMOTION is designed to help you discover customers and communicate with them so you can start building your freelance client roster.

PROFIT is designed to help you build the practical soft skills, business savvy, and negotiation tactics required to succeed in freelance.

PROJECTS is designed to help you learn to quickly onboard clients, communicate terms, and earn income.
Hardware
When you get started in freelance design, you want to make sure you and your business have the tools needed to make sure you can create quality work consistently. Your design work depends on these tools to build a successful business and continue to produce work for both old clients and new clients.
Having dependable tools is the staple of every pro, and this checklist will help you start as a freelance graphic designer with the pieces you need to build your business and produce quality work for clients:
Apple MacBook Pro
I choose the Apple MacBook Pro for my work. It's powerful enough to get all of my work done and then some. Until 2020 I used a 2015 Apple MacBook Pro, which is still working perfectly even though I recently upgraded simply because I wanted to and not because I needed a new computer. I just wanted it because I liked the color.
You don't need a top-of-the-line computer to run a successful graphic design business. My computers are usually the lowest-end computers from the refurbished section of the Apple website.
I have never purchased a computer that costs more than $2,500. You don't need to break the bank to design social media images for your graphic design business. Even the lower-end MacBook Pros from 5 years ago have more than enough power.
Apple iPad Pro
Almost all of my work starts on the Apple iPad. I have a Pro because of the bigger screen and more power, but the camera is useless, and I've never used it. My iPhone has the same camera and does the job just fine.
iPad Pencil
Speaking of starting each project, your finger will work the same, but I've always liked the feel of the Apple Pencil (from my art school days). I highly recommend getting a pencil along with your iPad. It makes the feel just so much better. And don't worry about the added tips for the Apple Pencil. I've used the same one every day and haven't worn it out.
Keyboard
This may seem obvious, but I like the full-size keyboard because of the number pad. It's not for math, but there are a lot of dimensions when you are working as a freelance graphic designer that it speeds up my work.
When you compound this time savings over thousands of projects, I save a few days per year simply by having a full-size keyboard.
Mouse
I'm a matchy-matchy kinda guy, and I love it when my computer matches my keyboard, and so does my mouse. I have the Apple Pro Mouse. It doesn't do anything special, but I like it, and the mouse for your computer is a tool you will use as a freelance graphic designer every day, so get one that lasts and feels comfortable.
Software
Adobe Creative Suite
Sure, there are platforms like Figma, Sketch, Invision, and Canva that you can use to be a freelance graphic designer. But they all kinda suck, and they don't talk to each other, and all pro studios use Adobe Creative Suite.
If you want to learn the free tools go ahead, but the bulk of your work as graphic designers (whether you're working on a Print Ad, Website Design, or Social Media in your design business) will be done on Adobe Creative Suite, so just start with the right tool. Add the amateur tools at your discretion.
Shopify Website
As graphic designers, you're not web developers, so get something easy to use that doesn't get hacked. Shopify is what I use for this site and doesn't require I be a developer or constantly update my site to avoid being held hostage for Bitcoin or some other stupidity that I hear about all the time.
Like any tool, just get the right one first. I use the $29/month package and have put over $25,000/month in orders on it, and it's been perfect.
Lucid Chart
This is charting software for freelance graphic designers. It's awesome because it lets clients see your plan visually and also lets you plan out your own business visually. You CAN use Adobe XD for this, but I find Lucid Chart worth it because I use it daily, and it quickly pays for itself.
I map out my website, client sites, marketing plans, and all other processes with Lucid chart, and it helps immensely.
SurferSEO with Grammarly
This is my go-to writing tool combination for freelance graphic design and copywriting, especially for search engine optimization. It's two apps that talk to each other. There's no reason for typos, grammar mistakes, and failing to achieve relevancy on Google search with these tools. They also pay for themselves within the first month of use because they won't let you make mistakes.
If English isn't your first language as a freelance graphic designer, and you're going for English-speaking clients, these are must-haves as they'll fix your accent. I have an accent in my second language, so I know how it can make you feel stupid, so just use these two tools in tandem, and it will melt away your anxiety.
Business
Come back for the update when I discuss the steps to building your freelance graphic design business with...
LinkedIn
Upwork
Fiver
Studio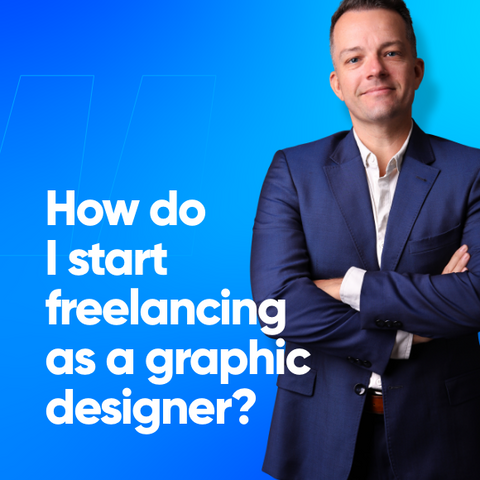 How do I start my career as a Freelance Graphic Designer?
Then, pick one of these:
---
Third, try these:
---