Beginner freelancers often haven't built up the expertise for advanced freelance jobs. So what are the 3 best freelance jobs for beginners in 2023?
As I have been a freelancer for over twenty years now, I truly believe that anyone with a computer can become a successful freelancer. During my freelance coaching sessions with new freelancers looking to get into remote work, they often ask a simple question:
What are the best freelance jobs for beginners?
In this article, I will discuss what I believe are the best freelance jobs for beginners, and projects that anyone looking to start a remote career, whether part-time or full-time, can jump into without experience.
These beginner freelance jobs can even be done right on your phone.
Freelance jobs for beginners are everywhere, and finding freelance jobs online, and especially easy freelance jobs are easy to come by and a simple way to make money every week.
Freelance job sites like Upwork are great, but you need some initial experience and a strong portfolio to have a chance to be approved. I want to ensure that everyone who wants to get started, can, and here is what I recommend:
The top 3 freelance jobs for beginners:
Copywriting
Virtual Assistant and Executive Assistance
Data Entry
The freelance job you decide on can be as simple, or as advanced as you would like it to be, with each of these positions easily able to earn you over $50/hour in 2023 with little more than your phone and creativity.
Here are the easiest freelance jobs to get you started:
Copywriter
Freelance writing is one of the best types of freelance jobs as freelance writing covers so many potential services, and having copywriting as a freelance foundation will benefit your career in many ways.
Freelance writing jobs can easily be found on LinkedIn, a free business platform, and great for beginners because there is no barrier to entry. You can be as entry-level as you like and slowly increase your skill over time.
Copywriters can easily start at $10/hour for entry-level freelancers and well over $150/hour as you build experience and get to the professional levels.
With Copywriting, you can start with virtually no upfront cost and build into a very well-paying career.
The top 10 Copywriting Services I recommend:
Content Writing
Blog Post Writing
Email Marketing Writing
Landing Pages
Biography Writing
Profile Writing
Social Media Writing
eCommerce Product Description Writing
Search Engine Optimization Writing
Video Script Writing
Virtual and Executive Assistant
Every busy owner and anyone looking to build a personal brand should have a virtual assistant. Virtual assistants are helpful to everyone online, from a social media manager to an entrepreneur.
A virtual assistant is an excellent start for freelancing for beginners. You only need a device like a phone or a tablet and the ability to get online. If you're reading this article, you can be a virtual assistant.
All freelance jobs for beginners have some form of assistance included, and you can help take the load off of stressed-out specialists by finishing the more manageable tasks, which are often time-consuming and not the best use of the specialist's time.
I believe that this is the best freelance job for beginners because you only need to be a helpful person. There is a low bar for entry as everyone is capable of assisting another person with their tasks. Some virtual assistant jobs will require specialities like graphic design, for which you can use Canva to meet all the required demands. Any complex requirements are meant for graphic designers. 
There are stories about some executive assistants earning over $400,000 per year, but starting, you will most likely have a lot of competition at $10/hour, but there is also extremely high demand.
Simply getting on LinkedIn and searching for people asking questions, you can jump in and ask them if they need help and that you can solve the problem in just a few hours. Freelance websites like Upwork have thousands of virtual assistant jobs and any job board online.
The top 10 Virtual Assistant Services I recommend:
Research Assistant
Lead Generation Assistant
Daily Scheduling Assistant
Project Management Assistant
General Task Assistant
Customer Service Assistant
Customer Success Assistant
Chat Monitoring Assistant
Email Prioritization Assistant
Human Resources Assistant
Data Entry
Data entry freelancers are necessary, especially for eCommerce brands as they scale. Your freelance career will be very secure with a foundation in data entry and are a perfect freelance job for beginners who are analytical and enjoy moving data from point A to point B.
As one of the best freelance jobs for beginners, Data entry requires excellent attention to detail, and combined with a very low barrier to entry as the instructions are typically very clear on what you have to do.
If you are high on analytical thinking and attention to detail but don't enjoy creativity. This is one of the great freelance jobs for beginners and can be very enjoyable for you, as the more detail oriented you are, the easier it is to move up within the organization. 
To find freelance jobs in Data Entry, look for businesses that require a large amount of data sorting and executives who are extremely busy. All businesses can benefit from having Data Entry freelancers. There are good freelance jobs available for data entry professionals across all platforms and various niches.
The top 10 Data Entry Services I recommend:
eCommerce Product Management
Lead Generation
Digital Asset Management
Data Mining
Research
Data Handling
Data Input
Website Content Management
Social Media Content Management
Social Follower Management
What freelance jobs for beginners are right for you?
Should I become a freelance copywriter?
Writing is a skill that builds over time; as long as you maintain perfect spelling and grammar, you will succeed!
Should I become a freelance Virtual or Executive Assistant?
Freelance virtual assistants love helping people manage their day-to-day tasks. If you enjoy helping people and don't mind the work changing constantly, this job is for you!
Should I become a Data Entry freelancer?
If you like analytical tasks and have a very high attention to detail, this freelance career is perfect for you!
Do you need help building a successful freelance career? Start with freelance coaching with me today!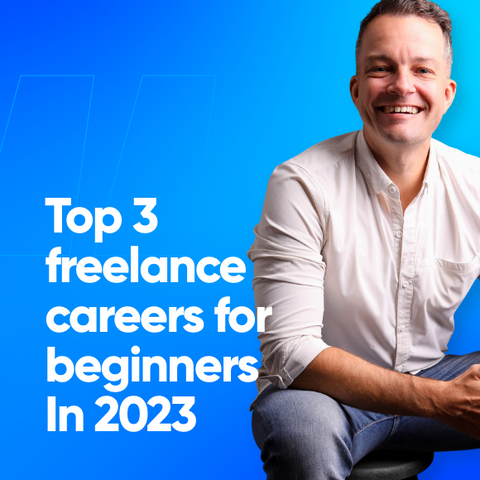 The top 3 best freelance jobs for beginners in 2022
Then, pick one of these:
---
Third, try these:
---