Ready to hire a freelance Graphic Designer?
The Bistro Morgan Bakehouse project consisted of a wide range of projects for Morgan Hipworth, the proprietor of Bistro Morgan, an Australian Bakery and Restaurant based in Melbourne, Australia.
During this project, Morgan Hipworth had envisioned a reimagining of their brand to update the look and work across a variety of mediums from print, packaging, digital, and social media, where Morgan has a huge following. By being able to leverage such a large audience, it was essential that Morgan Hipworth had a brand design that he could rely on to stand out in the crowd and work perfectly in every medium.
Bistro Morgan Bakehouse Brand Identity Design Project for Morgan Hipworth.
For the Bistro Morgan project, I completed the following services:
Vehicle Wrap
Signage Design
Bistro Morgan Logo Design
When I designed the Bistro Morgan Logo for Morgan Hipworth, I wanted an interchangeable design that could incorporate the various products that the restaurant and bakehouse could provide its customers.
The Logo Design needed to be highly visible for foot traffic as well as easily noticeable when customers drove by the physical restaurant. Other considerations for the Logo Design were to make it easy to embroider on uniforms and apparel for the many fans of Bistro Morgan and Morgan Hipworth alike. 
View Creatibly's Logo Design Portfolio
Bistro Morgan Slogan Writing
Writing the Slogan for Morgan Hipworth, I wanted to have a playful feel that was easily understood and could be used in a variety of media. With all of the restaurant and bakehouse's products revolving around "dough," I wrote the following slogans:
incredoughble.

extraordoughnary.

doughlicious
Having these fun and playful slogans allows Morgan Hipworth's Bistro Morgan team to use the Slogan as the language for the products and establish the business in the food industry throughout the world.
Bistro Morgan Icon Illustration and Design
Designing and illustrating icons is one of my favorite projects, and I produced a wide range of icon designs for an ever-expanding menu and usage on social media platforms such as Instagram, TikTok, and Facebook to allow for easy identification of the subject matter.
I designed the core icons in both 2 colors and 1 color for a wide range of mediums while still staying true to the overall style and feel of the brand. As Bistro Morgan and Morgan Hipworth both do a massive amount of events, it was important that the icons were interchangeable in the logo design in order to reflect the current offerings.
Perhaps at an F1 event, they were doing Doughnuts (Donuts for the North Americans) Coffee and Donuts, this could be incorporated into the Logo and Signage, or perhaps Bistro Morgan bakehouse was hosting a pop-up shop with sandwiches, these considerations could all be easily incorporated into the Design system.
The icon designs also had to reflect the various food preferences of Bistro Morgan's customers, whether they had gluten allergies or preferences for vegan options, these were all considerations that had to be incorporated into the Icon Designs.
Bistro Morgan Menu Design
Morgan Hipworth wanted his restaurant and bakehouse to have easy-to-read and quick-to-comprehend Menu Designs, and I set out to design them in a way that would give the menus an understanding at a glance.
Using the Brand Colors to portray whether you were looking at Food or Drink options quickly differentiated the customers' preferences.
The icons allowed for an easy understanding of food preferences and potential sensitivities before having to read what the item was. This ensured that customers with these sensitivities and preferences didn't select a product that would cause them potential issues.
The font selection also allowed for easy reading from a distance, combined with the high-contrast color selections of the brand.
Bistro Morgan Packaging Design
The Bistro Morgan packaging is some of the most photographed and shared restaurant packaging on social media platforms such as Instagram, TikTok, and Facebook. The fun color scheme allows everyone to be included.
By adding a personalized note, Morgan Hipworth's team can write the customer's name on the packaging where it reads, "Doughliciously crafted just for you. ___________." This gives a personal touch to the products and makes the customer feel part of the brand. Millions of shares on social media platforms are a testament to the effect of this personalization and are a great benefit to the company.
Bistro Morgan Color Palette Design
Inclusion was the name of the game for the Bistro Morgan bakehouse color choices. I wanted a color palette that was easy to brand, instantly noticeable, and could be used to represent the business functions such as the cafe, bakehouse, and restaurant properties, as well as standing out at the events Morgan Hipworth attended.
Bistro Morgan Typeface Design
Combining an interesting Serif font, Butler, with a strong Sans Serif font, Roboto Condensed allows for easy reading of all of the communications materials, including signage that is seen from a distance and small product cards which need to be easy to read at a quick glance.
The stylized Brownhill Script font is a fun third addition to the typefaces allowing a dose of personality when needed.
Bistro Morgan Vehicle Wrap Design
Designed to turn heads and get the mouth-watering, making a delivery truck doughlicious was the name of this game. Using the strong color palette, the restaurant, cafe, and bakehouse delivery vehicles are instantly identifiable and work wonders as a driving billboard for the brand.
Bistro Morgan Social Media Design
With a combined following on Instagram of over 200,000 followers, and a whopping 1,000,000 followers on TikTok, Bistro Morgan and Morgan Hipworth have built an enviable following.
Reaching true influencer status, Bistro Morgan and Morgan Hipworth had an essential requirement of making social media stand out in a big way and stay relevant for years to come. A tall order for any social media campaign.
The color palette, icons, and packaging designs all support one another to make the brand instantly identifiable on social platforms. No other brand can use this color combination now as Bistro Morgan and Morgan Hipworth have cornered the market.
About Morgan Hipworth
Morgan Hipworth is now worth over $200 million USD by cornering the doughnut industry and trusted me to take their brand to the next level. When Morgan Hipworth was only 15 years of age they created the company Bistro Morgan after experiments "gone right" in the kitchen.
Bistro Morgan sells an average of 20,000 units per day through their permanent bakehouse and brick-and-mortar stores. From cookies to doughnuts, scrolls, and coffees (including espresso and cappuccino).
Morgan Hipworth was always an excellent student at school but always knew his company was a priority, even from such a young age. He would get his school work done and work sometimes until 2 am to complete company orders, and by doing so, has built his famous empire through dedication to quality and the local community.
Now twenty years old, Morgan Hipworth supplies a wide range of local community companies and cafes throughout Australia and is known worldwide for his cooking posts on Instagram and TikTok.
I have been wildly proud of Morgan Hipworth, who has trusted me with his baby and allowed me to tweak and refine the brand design to help Bistro Morgan continue their path to success. Bistro Morgan has been featured over one million times through news and social platforms.
Morgan Hipworth also appeared on the famous TV Show 60 Minutes Australia, where he demonstrated his prowess to millions of viewers worldwide.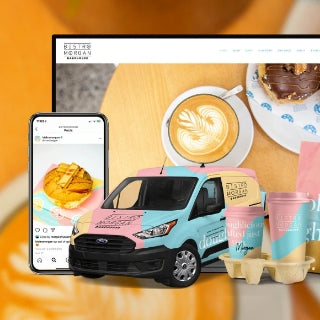 Bistro Morgan Brand Identity Design, Vehicle Wrap Design, Packaging Design and Menu Design by Scott Luscombe of Creatibly