What is Shopify development?
Shopify has become the mightiest platform in hosting and running an eCommerce store online. Anyone with an internet connection and some computer chops can make a Shopify website, it's almost plug-and-play. But as businesses online get complex with large inventories, content marketing efforts, branding, and customer experience enhancements; very few people can actually customize their Shopify websites. Yes themes exist and they are quite powerful on their own, but in order to make the sites truly unique, one needs a Shopify Developer. 
Shopify developers are skilled in web design and development principles like wireframing and prototyping. A Shopify developer skills include HTML, CSS, PHP, jQuery and JavaScript. They are also friendly with Shopify's ecosystem for development which requires them to know liquid, an internal template language. This makes them ideal for creating and running successful eCommerce websites. 
They play an important role in helping online businesses establish an online presence. They also help define and create unique customer experiences, which are crucial in a highly competitive field like e-commerce. 
At Creatibly, we offer a whole range of services to setup and run your eCommerce business through a Shopify store. Our services include:
App and Integration Services

Theme Development Services

Shopify Migration Services
Store setup
For someone who is new to Shopify, setting up a store can be a long and arduous process. Yes, it is quite intuitive, but simply the expanse of settings can become overwhelming. This is where a Shopify Developer can help you set up your store, and customize the design for your new or existing Shopify store. 
They can also help with the integration of payment gateways and tweak shipping settings as well. They are informed on new 3rd party plugins to improve your online store operations. They will ensure that your store is user-friendly, responsive, and secure. They are also an asset because they can help with SEO (Search Engine Optimization) through content marketing and effective description writing. This allows search engines like Google to find your store, and when a customer searches for your store, they see it in the results.
Customizing Shopify themes
Shopify has a theme store, that has alot of free and paid themes. These themes are good enough to run a Shopify store but over time, you would need custom modifications to suit your company and provide your customers with a superior customer experience. Only new businesses should use premade Shopify themes, and even then a certain degree of modification is important. 
A Shopify Developer is proficient in programming languages and can implement the changes you are looking for. Shopify theme development also requires developers to have proficiency in Liquid, which is Shopify's internal template language. They will not only make a compatible and responsive site but will ensure that they do so the right way. They will make sure that all new features and changes work well without affecting any of the current functionality that your customers have come to expect. 
They can also set up custom functionalities like advanced search filters, zoom on hover, and product customization. With Shopify Developers, you can build your eCommerce store on your terms. Most themes are good, but nothing can match a custom experience created by a Shopify Developer. 
Creating Shopify apps
Creating apps in the Shopify app store requires creating custom apps that integrate within Shopify platform. Shopify Developers can create custom apps that can improve a store's functionality and elevate its user experience. This will require a developer to know and understand Shopify's API, and its frameworks and also be proficient in programming. Most business owners can not accomplish this by themselves. 
Having a custom app can enhance a business's online presence, make operations smooth and elevate the customer experience. With a developer by your side, you can create apps that are unique, and solve your specific problems. The development of high-quality and effective Shopify apps is a difficult task to accomplish without a Shopify developer. 
Maintenance and support
Another essential part of running a Shopify store is making sure that your store is running smoothly, and constantly providing solid customer experience to all your users across different platforms. A freelance Shopify developer can perform regular maintenance tasks like updating softwares and plugins, finding and fixing bugs, and troubleshooting any issues that arise. Since they understand the platform, they can can perform experience optimization to alter every little touch point and meet consumer expectations. Something that isn't possible by simply purchasing a theme. 
Maintenance is also important to ensure the store has the latest security features and functionality. This can be tasks like setting up and fixing automation that relies on other tools, supplementing them with better newer versions of these tools. They can also address technical issues that may result in lower traffic or conversion rates. On the flip side, if you have high traffic which leads the site to slow down or crash; a developer can help fix these issues. 
A good Shopify Developer is like a Swiss Army Knife for your Shopify online store. You don't know when you will need one, but it's always good to have one when things go wrong. Most Shopify Developers charge monthly retainer fees for the maintenance of your site. This will include standard features like updation and bug fixes. Most websites online need maintenance, and your eCommerce store is no different. Just like a swiss army knife, they can help you tweak pretty much all aspects of your site. From the customer journey between the landing page and the checkout and everything in between!
Conclusion
A Shopify Developer then is a highly skilled developer who plays a crucial role in creating and maintaining an eCommerce store on Shopify. All the way from store setup and customizations to creating custom apps, Shopify Developers have the skills to create unique online experiences in a highly competitive field. They are proficient in web design, programming languages, and Shopify's ecosystem, which makes them an invaluable asset when establishing an online presence. They can provide maintenance and support to ensure smooth store operations and a solid customer experience. Maintenance tasks like updating softwares and plugins, fixing bugs, and troubleshooting issues are essential for the security and functionality of your store. 
Overall, if you are an E-commerce store owner, or intend to start one; an experienced Shopify Developer will be one the most influential hires that you will make for your own online store, turn it into a success!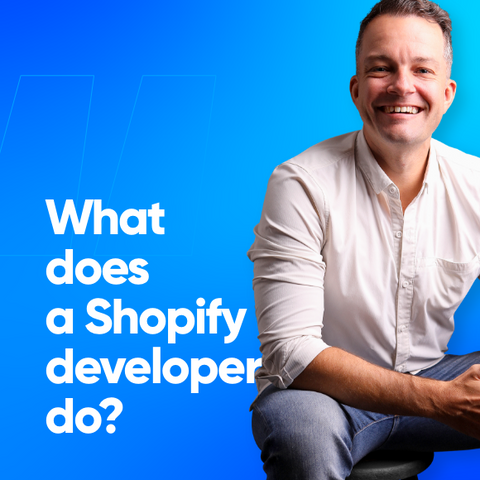 What does a Shopify developer do?
Then, pick one of these:
---
Third, try these:
---