How do I get potential clients to view my Upwork profile?
My Upwork profile has returned over $400,000 in the last few years, here is how I write an amazing Upwork profile to land jobs and ensure that prospective clients invite me to their projects every day.
The primary way a potential customer on Upwork will find your profile is through Search. We need to use SEO and Content writing in order to first optimize your Upwork profile for search results.
It won't matter if you have a fantastic profile if no one can find you, so we need to write for search results first. Then make your profile reader-friendly. Search engines on all platforms are getting better and better all the time, so you can write naturally and still have your profile found.
Experienced freelancers know they must write their Upwork profile as the clients write. This means you must use the same search terms that potential clients are typing into the search field.
Doing this requires some research, and the easiest way I have found to find out what your clients are searching for is to find about 10-20 job posts on LinkedIn and 10-20 job posts on Upwork for jobs you think you would be an excellent fit for.
Using these ideal jobs, read them and write down any commonly used keywords. This will give you a great start when writing your Upwork profile. Problems with this often look like this, for example. A website developer lists themselves as an Expert Javascript Developer. It might not look like a problem, but most clients have no idea what Javascript is and why they may need it.
Here are some great tips for writing a better Upwork profile:
Research keywords your clients are using

Write your profile as your clients write

Optimize for search first

Focus on Benefits

Write headlines using client keywords
How do I land high-paying clients on Upwork?
When you achieve the client's goals, you move up the ranking. That's obvious, but getting larger and larger projects requires you to build relationships well and instill confidence that you can handle more complexity with each project.
New clients often don't know what they need. When your car isn't working properly, you take it to a mechanic, and they tell you the solution to your problem. They don't tell you that you need a specific bolt to hold a specific part in place; it requires a certain socket and wrench.
You must show that you are the expert by focusing solely on the solution. By walking the client through each problem and having a solution for them, they will trust you with ever greater projects. Your goal is to instill confidence in the customer that you can walk them through each portion of the project.
Grammatical errors are a big no-no in 2022. There isn't any excuse to write with errors. So many tools can fix your writing as you go that it's now inexcusable to make these simple mistakes. Ensure that you're using a tool such as Grammarly, and if you are writing in your second language, hire an editor to spend some time reviewing your content.
Should I add client testimonials to my Upwork profile?
Your goal with testimonials is to show relevancy to the client by showing them someone similar to themselves in your testimonials. Demonstrating that you have an employment history full of great feedback will quickly build the social proof needed to excel.
More leads will come when potential clients read reviews from past clients. This helps new customers make decisions.
Five star reviews are a great way to instill confidence in your potential customers.
How do I add a skills section to my Upwork profile?
Start with a heading to introduce the Skills section of your Upwork freelancer profile.
Then write a brief overview of 1-2 paragraphs describing how these skills will benefit your customer.
Bullet points come next. 3-5 bullet points should combine the feature and benefit for greater understanding. Instead of a bullet point that reads "Graphic Design," write "Graphic design to make your brand stand out!"
Detailed descriptions can come next. Once you have completed your Headline, Overview, and Bullets points, you can get quite detailed in your description. Typically clients won't read all 5,000 characters in your Upwork profile, but it's a good idea to use every character you are given to have the next chance at moving up the Upwork search rankings.
How do I start landing clients on Upwork?
Potential clients want to know two things. The first is that you have a track record for success on the same type of project and are the lowest risk compared to the other service providers.
Your job as a freelance professional is proving that you can do the project, the way I achieve this is by building all of the projects I want to do for my clients, for myself. For example, I make sure that if I want to do eCommerce projects, I have eCommerce on my website, and if I want to do Copywriting projects, I have plenty of Copywriting on my website.
Your portfolio section is a great place to prove to your clients that you can do the work you sell. Proving your talent to the client will make it much easier to secure new projects and gain client trust. Whether you work as a designer, in data entry or as a writer, this is key to building a long-lasting relationship with your customers.
How do I get Top Rated on Upwork?
Maintaining a high job success score is key to getting verified on Upwork as a Top Rated freelancer. Building a high level of customer satisfaction is the only way to receive this ranking.
Projects don't always go well, I've had my share of failures over thousands of projects for hundreds of clients, but I always try to leave clients feeling they received outstanding service.
Five star reviews are, of course, the key to building a higher Job success score, so make sure to balance your customer service with a great project finish quality and excellent project management. By ensuring a well-rounded service, you can almost always ensure a five star rating.
How do I stand out on Upwork?
Building a winning Upwork profile isn't as difficult as you think, one key to it is to give your client the feeling that you know them well and are interested in solving their problem. If you focus solely on getting paid, you will lose many prospective clients. Focus on solving problems first, and you will be a successful freelancer on Upwork.
As a successful freelancer on Upwork, it is important to demonstrate your skills, communicate the benefits of working with you, and show that you are the lowest risk, highest reward option. Make sure to do your research with other Upwork profile examples and look for high earners to get ideas on how you can improve your profile.
Are you looking for freelance coaching to write a better Upwork profile and get invited to more projects? I'm your freelance coach!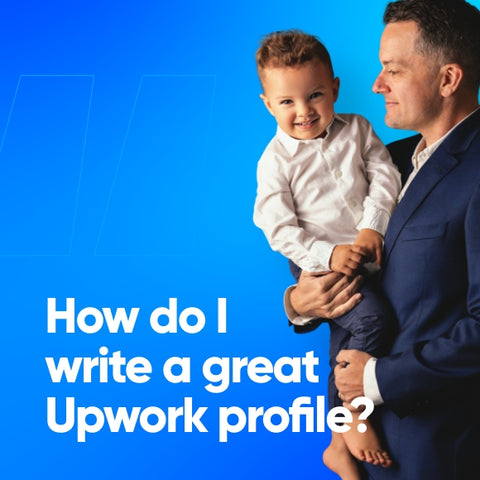 How do I write a great Upwork profile
Then, pick one of these:
---
Third, try these:
---