Logo Design is one of the first steps to building your own brand. One you have picked a name, it's time to start designing and one of the initial considerations and a question I receive most is about Logo Design cost.
In this article you will learn how much it costs for your Logo Design.
You want a professional logo design, one that stands out and differentiates your brand from the crowd, a unique logo design to be part of your brand identity. There are a massive amount of variations in Logo design cost, and understanding what makes a great Logo design project will give you a thorough understanding of the logo design process whether you are looking for a freelance designer or a design agency.
Logo design prices vary, but one major consideration is making sure you get a custom logo that will stand out in a visual search.
How much does a Logo Design cost?
The short answer is $100 to about $4,000.
There are outliers on either end, you can get a logo design for free using a logo design contest, or a premium logo design by one of the major designers for about $150,000. So why not just get a free logo from a contest? Sure, that absolutely does work, but you'll be receiving a logo that has been used before, or something very similar, and when your brand grows you will have to re-design your brand, potentially losing existing customers, and starting all over from a brand recognition standpoint. Not to mention the legal repercussions of most likely copying a trademarked logo or another brand's intellectual property.
The old adage of pay for nice, or pay twice. One day your business will grow to be successful and if your Logo designer skipped the steps I'm mentioning below, all of the hard work you did with brand recognition will be lost.
What is the process of designing a Logo?
In twenty years of designing great brands, I have never had one of my brand designs sued for copyright or trademark infringement. Here is my process for designing your Logo that will last the lifetime of your brand:
Competitor analysis
Trademark search with the USPTO
Domain search
References
Visual Search
Icon Design
Word Mark Design
Revisions
Approval
Delivery
Whether you want to hire a branding agency or a freelance designer, whoever you hire should have a plan and process to make sure that you receive a high quality logo design and not something pumped out of a logo generator or logo maker.
More experienced designers will have higher prices, whereas the graphic design student you hire will have no process. Tread carefully with designers that do not conduct market research and just jump into Logo Design.
You want to make sure this is your own logo and includes quality design during the logo creation process. The Logo cost is reflected in the amount of time your creative teams or freelance logo designer takes during each step.
You can view my Logo packages range here. My prices range from $650-1,950 which is a great price range for most budgets and gets you a unique logo design.
Whether you have a small business just starting up, or an established business, a unique and high quality logo design is critically important.
Why do I need a unique Logo Design?
Let's do a little bit of history here to tell you why this is so important to have only professional designers with a strong plan and process in place to get your logo designed.
Vante Brands hired me to design the Logo for Wallet Ninja. At the time Wallet Ninja was little more than a consumer packaged goods product concept in the idea phase with no physical prototype.
To make a multi-year story short, Wallet Ninja went from my initial Logo Design to a #1 product on Amazon and a #1 seller on Groupon. This success was incredible and is not at all typical. It takes massive work to build a successful brand, and Wallet Ninja was a testament not only to my design of the Logo and all of the other communications and marketing materials but to the team who managed and sold the brand worldwide.
My complete brand identity design service includes a higher cost but is highly popular because of how thorough the process is. Wallet Ninja has sold over 30 million units and has millions of units in circulation.
If Wallet Ninja was sued for copyright infringement and lost, they would most likely have to destroy their current inventory, reprint the packaging, and retool the manufacturing molds to include the new Logo.
It may be expensive to have your Logo Design completed at the start-up phase, but becomes exponentially more expensive later on if you skip steps in the initial process in order to save cost in the beginning.
Should I use an online Logo maker?
No!
The reason is that these Logo makers are typically loaded with stock vector graphics from Shutterstock, Getty Images, and iStock Photo. As these are royalty free online logo makers, the next person using the online logo maker could very reasonably get the exact same logo design as you and if you're lucky enough to have a successful business you will have to redesign all of your marketing materials.
Using a free logo maker will give you a Logo that you will have to redesign shortly after, and will force you to revise all of your marketing and communications materials.
Should I use a Logo design contest?
No!
The reason is that Logo Contests are typically done by designers who can't get paying work and aren't professional designers. These designers are just starting out and don't have the experience to design you a unique logo that will last the life of your brand.
Should I hire a professional designer?
Yes!
With the correct plan and process in place, getting your logo designed by a graphic design industry professional, a brand designer, or one of many design agencies ensures that you will receive a great design process and will result in a professional logo design. Unlike a logo contest or a free logo maker, you will receive a design that can evolve slowly with your brand's and business success.
Should I hire a freelance designer for my Logo Design?
Yes!
By hiring a freelance designer, freelance graphic designer, or brand designer for your professional logo design, you will have access to a wide logo packages range that includes pricing from a few hundred dollars to a few thousand dollars depending on the level of complexity of your Logo and Brand design project.
Ready to start your Logo Design or Brand Design project?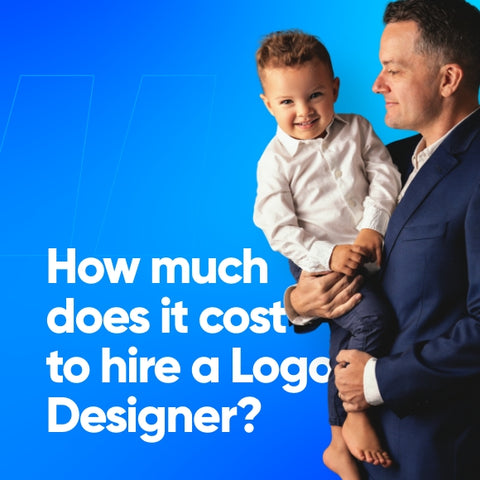 How much does it cost to hire a Graphic Designer for a Logo?
Then, pick one of these:
---
Third, try these:
---