What is eCommerce?
Commerce is the activity of buying and selling, especially on a large scale. So eCommerce is simply doing that online. eCommerce is the act of buying and selling physical products, digital goods, and services online. An eCommerce website is what enables this commerce, and an eCommerce business is the business model around this website. 
Non-eCommerce websites
As we said, you need an eCommerce website in most cases, but there may be reasons to create your own website where eCommerce isn't a requirement. These non-eCommerce websites are primarily used for informational purposes. Some of these cases are: 
Portfolio website
The most prominent case of a website without eCommerce abilities is a portfolio website. Portfolio websites have the primary purpose of showcasing work done by an artist or professional. This website generally includes a landing page, a work section, and a contact page. 
Most professionals at the middle level and above do offer consultation calls and other products like prints and templates online. In this case, an eCommerce website will be ideal. This doesn't mean that you start with a website with eCommerce capabilities. If you create your site with Shopify, you can choose to turn off eCommerce until you are ready to sell online. 
Personal blog
If you intend to start a personal blog, with informational or expressional intent; you don't need an eCommerce website. You need a landing page, a page for your blogs, and a page for the contact section. The blog content will be free and anyone can come to the site and read the content posted. Once it does start getting indexed by search engines (become visible) you may want to monetize this blog.
There are 3 ways to monetize a blog site. One is affiliate marketing, which will not require an eCommerce site. Since you would only send traffic offsite through affiliate links, you don't need an eCommerce site. The second being ads, so you can earn ad revenue from ads on your blog site. However, the minute you choose to sell anything on your blog site, which likely will be the case if your blog gets traction; you would need an eCommerce site. 
Corporate website
If you are building a site for a corporate business i.e a group of people acting as one entity. This may be an agency website or some other business where the sale does not take place online; you will not require an eCommerce site. The main objective is to get leads/customers to your site and have them place a call or email you. 
You can go without an e-commerce website long-term as well. Only new customers will find you through the website, while most existing customers will have a direct relationship in place. As long as you don't have to sell online, you're in the clear. 
Why you will need an eCommerce website?
As we have established in the previous sections, eCommerce is the act of buying and selling online. As soon as you decide to sell anything online, you will need an eCommerce website. By selling online we mean a place where customers can view, sort, and purchase products. The entire process of selling happens online. 
Physical products
If you aim to sell products online, you will need to have an eCommerce website. This would entail setting up a site complete with product images, descriptions, a cart, payment processing setup along with setting up the rest of the site. 
Sites like Amazon, Walmart, and BestBuy are all eCommerce sites. Just like that if you choose to sell anything online, you will be setting up an eCommerce store that is the same in principle. You would essentially be creating an online business. You would still need offline systems like mailing and/or logistics to support the online ecosystem.
You would also need dashboards and saved customer profiles for new and existing customers. This becomes possible with an eCommerce site.
Digital products
The retail of digital products is the same as it is for physical products minus the mailing part of it. It's where you sell a document, template, or file for a price. Digital products can also include online courses and consultation calls which can be bought and booked online. 
Many websites online have payment features within them so you may not need an eCommerce website. You can host your online course on sites like Kajabi and Thinkific and have a link on your main website leading to an external site. If you don't have a big personal brand, you can leverage these platforms on a profit-sharing basis. However, for a more integrated experience, and putting more money in your pocket, it's better that you set up an eCommerce site. 
Services
Most service-based businesses rely on external payment providers and software to provide their services. If you have a high-volume service business, you can consider using an eCommerce website to take bookings. This is true for physical and digital services. Both website designers and housekeeping businesses can use eCommerce to sell their services. 
Customers can pay online, and then expect the service to be provided. Remember for digital services, you would need convincing proof of work and impact to make customers buy on-site. 
On this site as well, we sell digital products and services online. This is a requirement for us even as a creative agency. So this site is made on Shopify, an eCommerce platform that enables us to host the site while also selling online. 
Conclusion
So do you need an eCommerce website? The answer is yes. As we saw in some cases you can do without eCommerce but the minute you decide to sell online, you will need an eCommerce website. Be it physical products, digital assets, or services, you can sell anything online. Our recommendation would be to set up your non-eCommerce site on Shopify and turn on eCommerce abilities when you need them. Shopify is a secure platform, with pre-set themes and a site builder which makes setting up a site a breeze.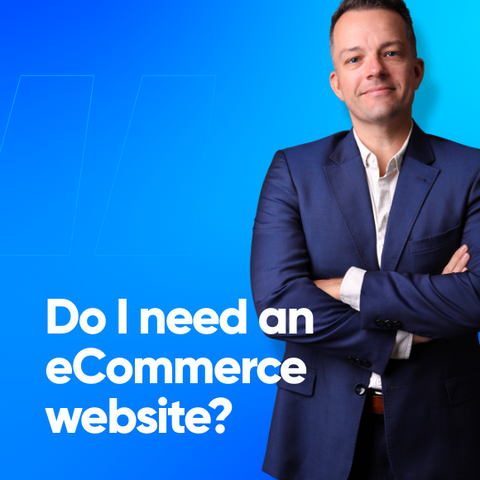 Do I need an eCommerce website?
Then, pick one of these:
---
Third, try these:
---