When I coach new freelancers, one of the first questions I get is, "do I need a website for freelancing?"
The simple answer is, Yes. Read the following article for a deep dive on everything you need for your freelance website and why you need it.
Here are the most frequently asked questions I receive from freelancers when discussing their websites:
What should I put on my freelance website?
How many portfolio pieces should I have on my freelance website?
Do I need a blog on my freelance website?
Should I show my prices on my freelance website?
How do clients find my freelance website?
What should I put on my freelance website?
Personal Contact Information
Personal information like contact information gives your website trustworthiness, which is essential as all clients want to take on the least risk when hiring freelancers. Clients often remark that freelancers "ghost" them, just disappearing one day without a trace.
You must give the client enough personal information to show them that you are easy to get in touch with, but ensure that you are also protecting your privacy. One way I do this is to have a separate phone number. I use a Skype phone number for my business and keep my personal phone number for my family and friends.
Services Price Lists
Your Services list and pricing are also essential pieces of the puzzle to putting together your website. Having an easy-to-shop site where your services and products are as easy to purchase as customers from Amazon has to be essential. By offering your services with transparent pricing, you can ensure that you will begin to earn organic orders.
These Inbound organic sales are essential as a freelancer. As an independent freelancer, I must reduce time spent on sales and administrative tasks and focus on producing work. Offering clear and transparent pricing that is easy to purchase allows me to reduce the onboarding time for new clients.
Professional services lists with pricing are essential items in 2022. Clients are all about speed now and know their budgets. They just want to ensure you fit their budgets and quality expectations.
As a freelancer, I understand that you want to maximize your profit by negotiating with each client about pricing, but trust me, it won't work. Every time there is a back and forth communication, you risk losing the client to someone with an easier-to-use website.
Project Processes
Your process is key to having comfortable client experiences. By clearly outlining the onboarding and project completion process, you will be able to give your client the confidence they need to choose you.
Domain name
I always recommend my coaching clients who are just starting out with their website to get a branded domain name and their full name as a domain name. This helps give your website a professional feel. Having the right domain name is even more critical when you need a website for your web development business.
Any gig worker who wants to work on websites needs their website to prove that they can handle any project the client could need. When clients see you have a great website, they have no problem hiring you on an ongoing basis to maintain their website.
How many portfolio pieces should I have on my freelance website?
Show your skills
Showcase your skills with as many portfolio pieces as possible. Some say 5 or 10 pieces is enough, but honestly, the more pieces you have, the better. Think of Instagram, Pinterest, and LinkedIn. It's all endless scrolling, and even if you may have only a few projects to start, add everything you can because you never know what may capture a client's attention.
Your portfolio should show the personality of your work. When applying to agencies, it's good to show your work as it is on flat screens, but showing freelance clients your designs in context helps them visualize your work. Whether a business card mock-up or a UI design on a phone mock-up, showing your portfolio pieces in contexts helps you sell your work as a freelancer.
Display a wide range of projects
Displaying a wide range of digital and print work you create helps show that you are able to help the customer on an ongoing basis. Clients don't always want to hire an individual freelancer for each piece of the project, so showing that you can tackle numerous other pieces of the overall project increases your chances of being hired.
Every freelancer needs a portfolio of work, and combining those portfolio pieces with client testimonials helps show that you are serious about your business and can help clients achieve goals in their business.
Do I need a blog on my freelance website?
Writing content
A lot of people find websites by search queries, this organic inbound traffic is essential for your success, so the more you write, the more you are found by potential clients. By using a tool like SurferSEO, you can increase your organic traffic by your ability to write content for both client understanding and search engine ranking.
You don't need to be a professional freelance writer to write. You just need to keep sharing whether personal stories about your career, business tips, or anything that can help clients understand who they are hiring and relate to you.
Help searchers find you with SEO
Google will be your friend when you have written articles on your website, and filling each page with relevant content that helps your viewers is a way to create value and earn money by being an expert in your domain. You will get better at SEO writing and creating content as you go. So don't be afraid to put the content out there, get reactions, see what people respond to and keep tuning your next content.
Show how creative you are and offer tips and tricks clients can use to achieve their goals. If clients see that you are creating content that is helpful to them for free, they will view you and your site as a resource. If your content becomes an essential service, you will be considered for every project your potential clients see as a fit for their needs.
A blog is a great place to write content to rank for keywords on Google if you're a writer, designer, or creative freelancer. Your blog demonstrates your style and tone, just as your topics show what type of person you are. Clients often hire people they align with, so having blogs on a wide range of topics is a great idea to grow the content on your website.
Social Media
A great way to also increase your inbound organic traffic that is relevant to building traffic for your website, whether you are a freelance writer, designer, developer, or virtual assistant, is through publishing content on social media.
You build your organic traffic and sales by linking your social media content to your website.
Should I show my prices on my website?
Pricing and tiers
Clients looking to hire you to want easy access and answers when it comes to pricing. It's incredibly annoying spending an hour talking to a freelancer just to learn that they are priced too low or too high.
By offering clients 3 pricing tiers on each service, you help them make a choice and make sure they choose your freelancing business as the right fit for their business. By writing a professional price list and great product descriptions for your business and ensuring every page adds value to your clients, you create a great way to help lead the client to the answer they need.
Worried about competition?
Competition won't care about your pricing, but clients will love the transparency. You may think your competition may "steal" your pricing, but I have news for you! I guarantee there are other freelancers with the exact pricing, much lower than you and much higher.
You are trying to fit the client and network by giving your clients exactly the price range they want. As mentioned earlier, it's okay to lose potential clients who aren't the right fit instead of wasting each other's time.
Your goal is not to work with every client. Your goal is to work with the right clients. As a freelancer for over twenty years, I can handle about 20 ongoing clients and about 180 off-and-on clients.
There is plenty of freelance work for everyone
Each year there are 75,000 new businesses created in the United States. There are thousands of clients for you, and you only need a handful to have a successful freelance career. Make your site easy to use, address the client's problems, and show them that you are the best way to reach their goals.
Each freelance platform shows transparent pricing, Upwork shows the ranges, Fiverr, Amazon, it's all transparent in 2022. You're sure to win new projects when you create a site that shows you as an expert in your domain and has transparent pricing and a portfolio to demonstrate your skills.
How do clients find my freelance website?
Customer testimonials
Client testimonials are as important on your website as on freelance platforms like Upwork. Testimonials are a great way to demonstrate your skills and show that you care about your clients.
Adding business names and client names to your testimonials helps you get found on search engines by adding relevancy. Adding links to the work you did to earn each testimonial is an excellent way of marketing your skills and creating the confidence your potential clients need.
Potential clients will find your website through search and social media generally, you want to publish relevant blog posts and have content that resonates with your audience, which will attract great clients to your online portfolio sites.
Expertise, authority, and trust on your freelance website
By adding expertise, authority, and trust to your website, you dramatically increase the chances that clients will be able to find you. Freelancers often ask me when the best time to post content is, and my answer is any time and as often as possible. Even if an article or blog post doesn't rank on Google or get many likes, you never know when it may take off and go viral.
The more content you add to your website, the more opportunities you will have to stand out. Besides, much of the internet is only written by a small percentage of web users, so your voice and style can reach millions of potential clients simply by posting large volumes of content. Each piece of content you add to your website is your way of increasing your chances of going viral.
Need help finding clients? I'm here to help as your freelance coach!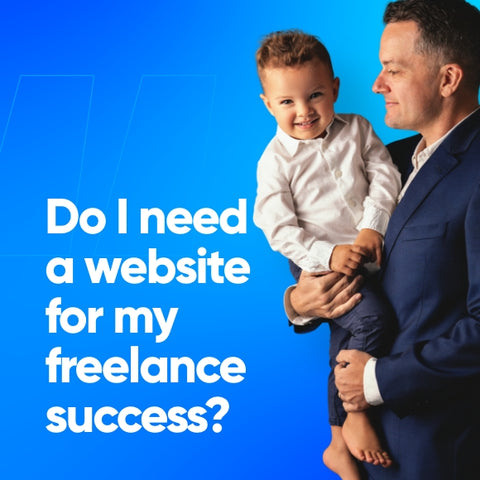 Do I need a website as a freelancer?
Then, pick one of these:
---
Third, try these:
---