Rockstar Graphic Designer with Backup Singer Pricing
Before we dive into the specifics of freelance graphic design, I want to introduce myself first. If you don't know already, I am Scott Luscombe; A rockstar freelance graphic designer. Over my 20-year career, I have worked on virtually all types of Graphic Design projects under the sun. From print design to UI/UX and everything in between. For most of my career, I have been working freelance. 
Going back to my Art School education at Sheridan College, I started from the job board at my college, taking up freelance design jobs. 20 years later, I run Creatibly, a design powerhouse with clients like Nescafe and Coca-Cola entrusting their design requirements with me. In this guide, I will share my learnings over my career, the rewards, the challenges, and how to navigate the world of freelancing as a graphic designer.
At Creatibly, we offer a whole set of Graphic Design services:
Digital and Social Media Content Design
Motion Graphics
Marketing and Advertising Design
Website and UI/UX Design
Design Systems
What is freelance graphic design?
Freelance graphic design in essence is self-employment where the designer is not tied to one single employer. They usually have multiple employers (clients) with who they split their time. They largely work on their own schedule, from their own home or a shared workspace. I run my Creatibly from the comfort of my own home, I have a home office setup. This allows me to focus on my work while being able to spend time with my family. 
On the flip side, an in-house graphic designer is someone who works for one single employer full-time or part-time. While in-house designers may be freelance designers, in their in-house roles, they are tied to certain hours of work that they need to put in. They are typically producing work for one single employer, or the clients of the employer if they work at an agency. 
Apart from the freedom of time, a major difference between freelance and in-house designers is that freelance designers have greater freedom over the projects they work on. They also have greater creative freedom over design decisions. In-house designers enjoy a steady stream of projects from their employers, while freelancers have to find and manage clients on their own. This means that in-house designers may have stability but they are limited in terms of earnings per month. Freelancers can however have *limitless* earnings, as they can set their own hours and hourly rates. 
Read How to make 6-figures in your first year freelancing?
Advantages of being a freelance graphic designer
Freelance graphic design is a highly rewarding career, as we discussed in the introduction to this blog post. Let's take a deeper look at why this is the case and if these advantages are good enough for you to take the plunge.
Flexibility
Pretty much the first advantage someone can think of when working freelance, flexibility is a great perk of freelance graphic design. When you're not tied to any employer, you can work as much or as little as you want. You can balance personal commitments and work very well, and tweak your workflow accordingly. 
That being said, flexibility is a slippery slope if not treated cautiously. Without a good structure in place, you will find yourself struggling to keep up with your current commitments. When you are not aware of how you are spending your time, you have little control over it. Something we will discuss during the challenges section of this post. 
Creative freedom
Freelance graphic designers enjoy a high degree of autonomy and creative freedom. They get to pick up a variety of projects in different graphic design niches including branding, packaging, web design, UI/UX, and others. As a freelance graphic designer, this allows you to sample different projects and see what you wish to specialize in. 
This also entails greater control over projects, often working as Art Directors as well, freelance designers are a one-stop creative hire for most clients. 
Working from anywhere
Freelancers can work from anywhere in the world. Platforms like Upwork and Fiverr have made it possible for companies to hire overseas talent extremely easily. Freelancers have also leveraged this opportunity to work as digital nomads, often traveling as they work. I frequently travel between Canada and Brazil, and I take my mobile office with me everywhere. An iPad Pro, a travel stand, and I am good to go! 
Control your workload
This builds on the creative freedom point. Since you can pick what projects you work on, you can also choose how many projects you want to take up. Based on what your personal and professional commitments involve, you can scale up or scale back. This is a really strong advantage, as you can take up courses to upskill when you feel that you need to upgrade your skills. 
This can also help freelance designers create their own work-life balance and keep burnout at bay.
Higher earning potential
This is the greatest upside for freelance graphic designers since they aren't locked in with an hourly rate with an employer. As a freelance designer, you can work more hours or charge a greater rate for your projects. In my freelance success coaching, many of my students earn over $100,000 a year, and it's possible with the right effort and structure. 
Want to learn the ropes? Check out Freelance Coaching. 
Networking opportunities 
With a varied client base, freelance designers get to meet and work with new people every other week. This means that they know more people in industries other than their own. This means that there is a high rate of referrals from past clients if the designer is good. This means with time, a freelance designer can build a regular flow of work, each time charging more and upgrading their income. 
Continuous learning
Freelance graphic designers need to keep up with the latest trends in the industry without which they run the risk of becoming obsolete. This is an advantage, as this can lead to a fulfilling career with a lifetime of learning. 
Most freelance designers are often learning on the fly, every new project presents a new challenge. With every challenge they overcome, they have a new skill to show for it. 
Challenges of freelance graphic design
With all the rewards mentioned above, there are also multiple challenges to being a freelance graphic designer. Throughout your graphic design career, there will be times when you face one or more of these challenges. It's essential to understand that all of these are surmountable with the right approach. 
Finding clients
I have personally coached several freelance graphic designers and the common thread between most of them is that they struggle with finding clients. If they are finding clients, they aren't of high quality. 
Its important to know that getting a constant supply of high-quality clients takes time, and you have to build a reputation for yourself with projects and the work that you do. That being said, platforms like Upwork help alot in the early stages of your career and even after that. With outbound proposals, you can win projects by directly reaching out to clients who are looking to hire. We will discuss this detail in the freelance success section of this post. 
If you are struggling to find and convert clients, check out Daily Freelance Business Leads and Coaching. You can find new freelance jobs here as they become available with clients looking to hire!
Managing finances
For those not familiar with financial management, this can be a difficult challenge to navigate. You are responsible for invoicing, accounting, and taxes. Freelance graphic design is very much like running your own business as a solopreneur, so the buck stops with you. 
My recommendation would be to hire a virtual assistant and accountant as soon as you can afford one of each. They often work part-time, and they can offload a large number of responsibilities from your plate, so you can focus on your business. 
Unpredictable workload
Freelance graphic designers early on in their careers run into unpredictable workloads. Some weeks can be really busy while others can be extremely slow. This means that their schedule can have a greater chance for volatility and so does their income. 
My recommendation for this would be to take on hourly gigs with a fixed hourly requirement per week or work at a fixed rate. Even for fixed-rate projects, have a process in place, so that by the end of your job, you are getting paid for the hours you worked for. 
Competition
Many designers complain that clients only choose to work with a select few designers. This is because there is a great degree of competition in the graphic design industry. If you are working online, you will have to find clients in a highly competitive market. The good news is that clients want to hire designers for all different budgets and specialties. This means you can dominate a niche and control pricing as long as you are willing to put in the work. 
Setting prices 
Freelance designers are responsible for setting their own prices. If they are too high, you can turn interested clients away while with low prices, you will often be overworked and underpaid. This can demotivate you really quickly.
Time management
This is a bottleneck for many freelance graphic designers. When you are your own boss, it is up to you to keep yourself accountable. Good time management tools can help mitigate alot of the concerns around time management. A dependable daily routine will also go a long way in aiding time management. 
Client management
Freelance designers should be able to manage client communications, feedback, and revisions with predictable deadlines. This is what ensures client satisfaction and leads to future referrals. This also includes advising clients on best practices for their business, which pushes you forward into the role of Creative Director. 
Keeping up with technology
Freelance designers are expected to keep up with software and technologies in the creative industry to apply new solutions to achieve business objectives. This requires continuous learning, which can be time-consuming, and that is why we hear about skill stacking so often within the freelance design industry. 
Freelance success
As a graphic designer, freelance success is possible but only with a solid plan, hard work, and consistency. Here is a rundown of how you can become a freelance graphic designer as well:
Develop skills
To be a successful graphic designer you need to have high proficiency in all Adobe Software, primarily in Illustrator, Photoshop, and InDesign. You should also be on top of new software like Figma, XD, Canva, and any other one that springs into popularity. Most of them are similar in principle, so learning from one is largely applicable to the other. Along with this, you can build development skills to break into web design and development as well. 
You also need a strong understanding of design thinking, know design principles and have an eye for aesthetics. Consider taking courses for one or all of these skills. My recommendation is to go to design schools, as you learn all of these skills along with collaboration, applying feedback, and delivering a successful design project. 
Build a portfolio 
This is what will get you hired. At the beginning of your career, you can use a website like dribbble or Behance. In the long run, you will need your own website. Whenever a client would want to hire a designer, they would consider the designer's portfolio. Even for in-house designers; this is a requirement. 
You should have all your graphic design projects prepared in a presentation style to present individually, on a portfolio website, or on your own personal site. Use mockups and other design assets that are consistent with your design and its general theme. It is also important to show breadth in your work, so ensure your portfolio has a good mix of skills and design styles. 
If you are working through a freelance site, have a curated portfolio there as well. Most clients will not wait to get in touch and then view your portfolio. They want to make a decision quickly, and the portfolio that they like will be the designer that is interviewed. 
Set up prices
Setting the right prices will be a crucial step in starting out as a freelancer. When in doubt, do a little market research to find out what successful freelance graphic designers in your niche are charging. Based on your proficiency you can get an estimate of what you should be charging. 
For fixed-price projects, try to complete passion projects from start to finish and then see how long it takes for you to complete them. Based on the time taken and your hourly rate have a basic pricing menu for your business, this help reduce any negotiation with prospective clients. Set your rates, deliver quality work and stand by what you do. 
Networking and finding clients
This will be a crucial step to growing your freelance design business. A regular flow of clients through outreach and networking means more work and more cash flow. Building a reputation with networking will take time so start as early as you can. LinkedIn will be the best platform to start prospecting. 
Looking to get freelance work on LinkedIn? Check out our 3 easy step process to find work on LinkedIn. 
For outbound prospecting, Upwork is an excellent freelance platform to land clients early on in your career. For both inbound and outbound efforts, it is important that you have a portfolio in place. Clients will want to see this before they hire you. 
Learn more about Upwork, read How to get work on Upwork? The freelance success guidebook.
Workload management
At many points in your career, you will observe fluctuations in your workflow. It's important that you make systems that you don't negotiate with. 
Start with using project management tools like Monday or Trello. Block out times for client work, prospecting, and your business tasks (Invoicing, Accounting, Content Generation) as well. Only then accept new incoming work and schedule it accordingly. Remember, there is no such thing as a design emergency. Good design takes time and consideration, perform due diligence. 
Our recommendation is Monday, an all-rounder project management tool for freelancers!
Continuously improve
As we discussed in keeping up with new technology, you must constantly educate yourself as a designer and stay ahead of the curve. Recently, AI has taken over social media and other online platforms. Those who were ahead of the curve have built audiences and businesses around it. 
You can also leverage AI in your workflow and share your learnings as you go. This is just one example. You should also be upgrading your skills to learn new software and getting faster at the ones you already know. 
Even after following all these steps, are you still struggling to grow your business? Hire a freelance success coach, to help grow your graphic design business. 
Conclusion
Freelance graphic design offers a world of opportunities and freedom to those who are brave enough to pursue it. That being said, like any other field, it has its rewards and challenges, but with the right mindset and work ethic; they are all surmountable. By developing strong skills, building a portfolio, and applying business fundamentals; you too can be a freelance graphic designer. Remember, to stay positive, passionate, and curious in this pursuit.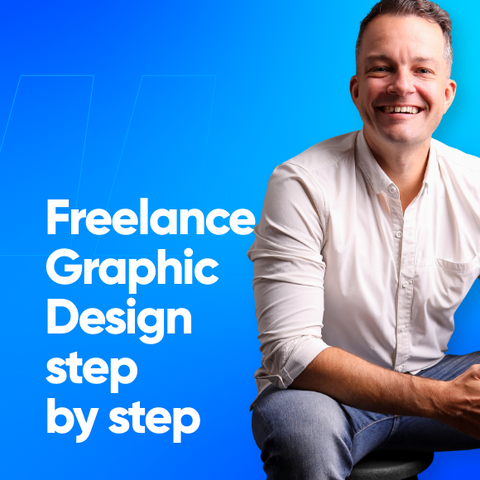 Freelance Graphic Design Step by Step
Then, pick one of these:
---
Third, try these:
---