How to hire a Shopify Expert in 2022? This is a common question I receive, and the answer is fairly simple, you have found your Shopify SEO specialist here! SEO, or Search Engine Optimization is one of the most critical steps to reaching the holy grail of marketing, organic traffic. If you are still not convinced, you can read How do I rank on Google with SEO writing?
In this blog article I will teach you how to find, hire, and what you need in an SEO expert for your Shopify website.
Your eCommerce store requires traffic to grow, and driving relevant organic traffic with a Shopify SEO Expert is essential to success.
Clients often come to me looking to separate the positions of development, design, and marketing when working on their Shopify store. I believe the Shopify developer, designer, and marketer should be one, with team members that have particular skills to build online stores with the functionality you require while simultaneously making sure that your Shopify store is SEO friendly.
A Shopify specialist or expert can come in all shapes and sizes, some focusing on one particular task, but finding one to provide for all of your Shopify platform needs is critical to your business goals.
Here is the essential skill set your Shopify SEO Expert must have:
Keyword Research

Google Analytics

Marketing Initiatives

Conversion Rate Optimization

Driving More Traffic

Product Descriptions Writing

Content Writing

Blog Post Writing

URL Structure

Meta Descriptions
To optimize your project and increase rankings for your Shopify eCommerce platform you require developers, designers, and marketers who are highly experienced in building their own brand so you know that they can make themselves successful in their own market. 
Searching for a freelancer who can achieve the business goals you are aiming for can sometimes be a daunting task as there are so many particular tasks that require attention for success.
Keyword Research
Finding your target audience starts with keyword research. This goes far beyond simply listing services and products that your business provides. Keyword research dives deep into the emotions and common sense of your customer and identifies how they search, and why.
Google Analytics
Your Google Analytics implementation sets the baseline for analyzing your traffic on a daily basis and making sure that you are making decisions that are increasing the tasks that drive traffic to your Shopify store.
Marketing Initiatives
Having a plan in place is critical to your success and this is built by designing correct marketing strategies, tackling the low-hanging fruit first, then expanding into the details of the site structure, from the main navigation to content writing, keywords, and URL structure.
Conversion Rate Optimization
Product pages, and especially product descriptions will move the needle on your conversion rate optimization tasks (also known as CRO). Conversion rates increase with customer trust, speed to purchase, price, and numerous other tasks. Making sure you are checking all of the boxes is critical to your business development on Shopify.
Driving More Traffic
Everyone wants more traffic, it's critical to achieve your business goals and showing off your products and services to increase sales as the primary goal. The main goal of every business is to increase sales, and even if your CRO isn't perfect, increasing rankings on search engines will help drive traffic to your Shopify store.
Product Descriptions Writing
Visuals, price, and trust help customers buy with confidence, but writing product descriptions that are highly effective in returning search results on search engines is the first step in getting sales.
Your primary goal when getting product pages up and running and producing sales on your Shopify store is to write keyword-rich product descriptions that are high in relevancy to drive organic traffic.
Content Writing
When considering on page SEO, content writing is key. Content writing includes landing page writing, blog, and article writing in long form. The vast majority of Shopify websites don't rank for the keywords they need to be ranking for to become successful, this is often because their content scores are so low.
When I write content for Shopify stores I start with keyword research and analytic tools such as SurferSEO to find out exactly how much content I need to write and what topics to include so businesses increase organic traffic.
Blog Post Writing
Writing blogs has been around since the beginning of the internet, and they are still a critical component of your on page SEO strategy when hiring a Shopify SEO expert. This service includes writing blog posts that are 3,000-5,000 words.
Proper blog post writing is much larger than originally thought in order to really move the needle on organic traffic. Making sure to hire a Shopify SEO expert, with the expertise to create marketing strategies for your store and website while being able to optimize the content correctly is critical to success.
URL Structure
On page SEO with your Shopify SEO Expert extends all the way to your URL Structure and making sure that it matches the content on the page helps not only with sales on product pages but with building organic traffic which will help you rank for keywords and make sure your page and Shopify store gets noticed.
With an initial analysis of many client Shopify sites, I find that they often neglect this important SEO practice, therefore reducing the page's relevancy and damaging the search results in the process.
Meta Descriptions
Your online store will also need correct Meta Descriptions as part of the marketing strategies and optimization for keywords. The Shopify platform has many great SEO tools and features that can help you slowly increase your rank, generate more traffic to your store and in turn increase sales.
If you simply follow the key projects listed above you will move the needle on SEO for your brand and start achieving the goals of bringing more customers to each page on your Shopify site.
My goal for every business, especially with eCommerce on Shopify, is to make sure that they are using the best SEO practices and getting the expertise needed to help rank on Google and other search engines.
These SEO practices and projects extend beyond just your Shopify website as well. SEO should be implemented with all of your online communications as it will help Google return search results that help bring clients to your Shopify store.
Your Shopify SEO Expert
As a Shopify SEO Expert, I can help your business navigate all of the SEO best practices for your Shopify eCommerce site and create the correct marketing strategies that will make your project successful.
Any Shopify SEO Consultant will tell you that SEO isn't a quick fix. It takes a few months for these changes to take effect and should be looked at as a long-term ongoing marketing project for your Shopify business.
Using a combination of Google Analytics, Google Search Console, SurferSEO and other marketing strategies will dramatically improve sales overtime on the Shopify platform. As your SEO expert, I will work with you on a daily basis to help make sure your SEO content writing on each page is perfected.
Shopify SEO for your online store starts with web development, web design, and content structure to make sure you have templates for the amount of content you require on each page and product description to make sure your online store stands out in the crowd of millions of other websites.
My website, the one you are reading right now ranks in the top 0.05% of websites online, with no backlink focus, it is simply at a greater level because of correct SEO planning and content writing for this online store.
Your online store will benefit greatly during the SEO process as you will be able to reduce or altogether eliminate daily Display Ad marketing budgets, and even start earning money through paid ad placements.
One SEO piece I didn't mention yet is backlinks. Search engines are now penalizing the purchase of backlinks so this should no longer be part of your strategy for SEO. Only backlinks that are achieved organically are used to help increase your rankings on search.
If you purchase backlinks you run the risk of having a penalty on your search engine results which should be carefully negotiated by contributing content to other sites. However, it is often much more logical and beneficial to have original content on your site versus contribution on other sites.
The goal of content writing is to make it so great that people will naturally want to link to it.
By writing content that is SEO friendly it will complement your web design, web development, sales, and eCommerce traffic to your site. If users can't find your site, it doesn't matter how beautiful the site is designed. 
Perfecting the content on each page to effectively increase conversion rates is critical to the success of businesses. By using my content writing and SEO service you will increase the organic traffic to your store, website, and each individual page.
Expert developer and designer
Looking to hire Shopify expert developers and designers? That search stops here too. Your Shopify developer, designer and SEO expert is here, all at Creatibly. No need to build a Shopify freelancer team. 
We create high-quality Shopify sites. Including all stages of design and development. We can modify themes to represent your brand, or build a new site from the ground-up with bespoke design work. Our processes are built to integrate with your internal teams, so you can choose to build projects the way you want them. 
Ready to hire a Shopify SEO Expert?
Need Shopify Website Design? View Freelance Shopify Expert Developer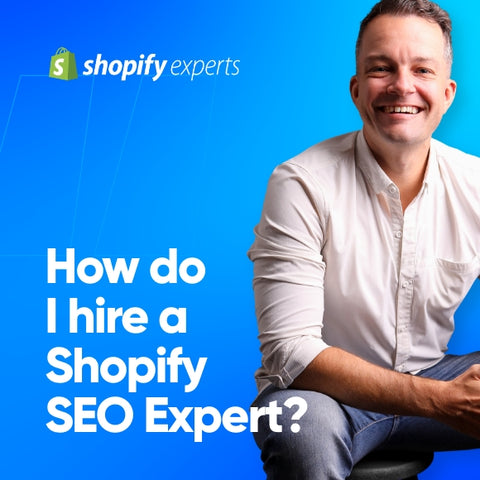 Hire Shopify SEO Expert Scott Luscombe of Creatibly
Then, pick one of these:
---
Third, try these:
---