Where do I start when hiring a freelance graphic designer?

Hiring a freelance graphic designer can be a confusing, and time-consuming process if you don't know the steps to find the professional graphic designer you need for your projects. The best way to ensure you are hiring the right freelance designer is to define your goal for the project and work with your designer to build the process and pieces you will need to achieve your goal.
Where do I start when hiring a freelance graphic designer?
I have been a freelance graphic designer, website developer, copywriter, illustrator, and digital marketer for over twenty years. I have picked these skills up as I have helped clients like you achieve their goals. My understanding of the complete process came from clients requesting more complex projects throughout the past decades. With my career spanning many different industries, my overall style suits freelance design for consumer packaged goods brands.
Freelance graphic design services: 
Digital and Social Media Content Design
Motion Graphics
Marketing and Advertising Design
Website and UI/UX Design
Design Systems
These are the core competencies that the freelance graphic designer that you hire should have, and their portfolio should reflect these disciplines. It takes years to develop these competencies, and you must decide how much you want to direct the project with the designer you hire.

Entry-level designers are inexpensive but often make mistakes, which are costly to your reputation with digital design, and can be expensive when you need to reprint jobs.

Intermediate designers will have a better balance of cost versus professionalism. However, they will still need guidance and may not have the business acumen that an expert freelance graphic designer will have.

Expert designers can go beyond design and build your business by recommending projects with the best return on investment and can help design marketing strategies that can help your business.

An example of this is with Nestlé's Nescafé brand, where I developed the Something New is Brewing Campaign which helped launch their new packaging but also helped start the Nespresso brand, which is now a multi-billion dollar brand.
Type "freelance graphic designer" into Google and you will get millions of results, from freelancers to agencies, to platforms hosting freelance graphic designers such as Upwork, Fiverr, 99Designs and on the list goes.
But how do you hire freelance graphic designers who know what they're doing?
This is a common question I receive from clients looking to hire the best graphic designers for the right price.
What else can your Graphic Designer do? Do they have a wide range of skills that can support your brand?
Here are service categories you will need to build a successful brand:

Start with your creative design brief
Your creative brief should include the Project title, Project scope, Estimated deadline, and Estimated budget.
The Project Title is the easiest place to start and can be something simple like "Brand Identity." Finding a professional graphic designer with creative ideas and design services to match requires a specific hiring process that you can develop through the Project Scope.
The Design Brief is more specific and will outline the creative services you want, whether it's the "Brand Identity" design, or "Social Media Graphics" you will need to be much more specific and understand some of the technical aspects of each of the design services and design process.
Here are the first questions you should ask yourself, to craft the job description for your design project:
What format will this be based? Digital media or Print media?
What color format will this use? RGB for digital, and CMYK or Pantone for Print media.
Is this graphic design a print project?
If the design services you are looking for are to be printed, such as a business card, magazine design, logo design, marketing materials, or other promotional materials you need to define this as a CMYK project.
Bleed size 
The next step is to determine what the technical aspects of the project are. With Print projects, this includes Bleed Size (the amount of extra design beyond the size the print media will be displayed). For instance, if your design services request for your freelance graphic designers is an 8.5 x 11" letter size document, you will typically need 0.125" Bleed all around. Your Bleed size in this case would be 8.75 x 11.25".
Trim size
This size is the actual size the visual design will be displayed, complimenting the above example, this trim size would be 8.5 x 11".
Gutter size
If you hire a graphic designer for a magazine, they will need to know the Gutter size, this information is supplied by your printing company, but is typically defaulted to 0.25". To understand Gutter size, think of the space in the middle of the magazine, known as the spine, but from looking at the magazine from the inside. 
The Gutter size is the space that is difficult to read text, when you hire a graphic designer they will need to know whether this is on the left or right side of the magazine design in order to leave enough space, or margin, so that your entire visual design can be easily read, with nothing hidden.
Safe area and mechanicals
When hiring a graphic designer for freelance graphic design, in a medium such as a Vehicle Wrap, or Large Format printing, safe areas, and mechanicals come into play. These mechanicals could be windows, vents, screws, latches, or other areas that can interfere with your design. 
The best designer will request this, but in order to ensure high quality graphic designs, it is important that you take the initiative to find any templates from your printer, or media company to ensure your graphic artist has all of the information they need. As an example of this, you wouldn't want your Logo to straddle a window on a bus, because if someone opens that window, your Logo could be distorted for the entire day, rendering your design ineffective.
A professional designer will typically request this, but it is better that you understand this in the beginning, then wonder why no one is responding to your add because important contact information is broken because of safe area or mechanical issue.
Is this graphic design a digital project? 
The best freelance graphic designers will request these specifications, but understanding design principles will help you invite designers effectively. Very few top graphic designers will respond to you if you simply request their help without a creative brief and understanding of what you want.
Hiring the best designers is important because the old adage "buy nice, or buy twice," comes into play. I always tell clients that I am the second graphic designer they will hire, the first graphic designer will be cheaper, but I will need to fix the problems, and most likely start over. Hire the right graphic designer first, and save your time and money.
Digital marketing requires the perfect graphic designer who understands all the deliverables including dimensions, formats, file sizes, and platform limitations. Hire graphic designers who know the ins and outs of these platforms and have the portfolio to prove it.
Even experienced designers may not be up to date on all platforms, but if you like their design services they will often be able to design for whichever new platform is out there. There seems like there is a new platform released every few months, and top graphic designers with great communication skills often take the lead on design tasks and produce excellent design concepts.
Social 
Digital design services can include a social media pack, whether for Facebook, Instagram, LinkedIn, Tik Tok, etc., or banner ads for Google Display ads or particular websites.
Search for Web designers, Social media pack logo design services, freelance sites for graphic designers, and even design contests (although these can be very slow processes, with very low-quality work).
Design contests are popular now mainly because clients often don't know what they want until they see it, but as a business owner, it's not a great idea, design contests often result in hundreds of low-quality projects and waste countless hours. If you have plenty of time on your hands, go ahead, but if you're a professional business it is better to hire the right freelance designer first, then allow freelance designers to duke it out in a design contest.
Search
Search for Graphic design services to find an independent graphic designer who uses adobe creative cloud, adobe photoshop, illustrator, or adobe XD to take on your digital project. Graphic Designers who use software such as Canva aren't the best freelance graphic designers you need. 
These template-based design software companies are great for outputting a lot of content but often don't give you the result you want, and leave you with work that looks the same as many other brands.
Your creative brief, continued...
Now that you know what graphic design specifications you need based on technical designs, it's time for content and goals.
Content
How many images and illustrations are you expecting?
Understanding what type of photography, illustrations, icons, and specifically how many you envision for your project is highly important for the graphic designer to understand your graphic design project.
What text, also known as copy, do you want to be included?
Depending on the graphic designer, you may find one that is also a copywriter (like me!) and that way you can adjust copy for your graphic design project to really make something beautiful.
Do you also need a copywriter?
When you hire graphic designers, your freelance graphic design project is often something that requires copywriting to communicate your message. If there is a large amount of copy (you can hire me as well!) you may need a copywriter and editor to work with your graphic designer to make sure your graphic design communicates correctly.
Where do I find graphic designers? 
The obvious answer, is you have already found your freelance graphic designer, me, Scott Luscombe, at your service! I offer a huge range of graphic design services and am ranked in the top 1% of worldwide graphic designers. As a freelance graphic designer with over twenty years of service, I can tackle any project you have, large or small!
But, if you must continue your search for graphic designers, there are graphic designer portfolio sites such as Dribbble and Behance. Which are great for visually searching graphic designers by their design style. If a graphic design stops your scroll, it's a safe bet you like that design designer so reach out!
Visual social platforms such as Pinterest or Instagram are also great ways to find your freelance designer. Your graphic designer will be posting their graphic design services there, and they are great places to search graphic design by style.
Software
The most professional graphic designers use Adobe creative cloud, as this is the gold standard for design, you may also be familiar with the name Adobe Photoshop, Adobe Illustrator, Adobe Indesign, etc., your perfect designer should be well versed in this software and offer design packages that individual designers using software such as Canva won't be able to provide.
Past work
You have searched designer profiles, and have found an individual designer based in the region that aligns with your work schedule, now it's time to review past work and testimonials from previous clients. It will be rare if you find a single designer who checks all of the boxes on what you need for your graphic design.
However, if your graphic design requires brand identity, which would also include a logo design, and a business card logo design, and the graphic designer you have selected has a wide range of styles in their past for previous clients, it is a safe bet they will get to the result you want.
Some graphic designers specialize, they may only do a social media pack or business card design, and these graphic designers are great but may be early in their career and not able to help with other graphic design you require.
Concepts 
It is important when hiring a graphic designer for your graphic design that they have great communication skills and understand if you want multiple designs included in your project. It is important to give your graphic designer this information in your brief as a logo design may require multiple designs to get to the logo design you want.
Revisions 
Revisions are different than concepts, a revision is a small tweak to the design, such as adjusting the color of the brand identity, adjusting letter spacing on a logo design, or editing copywriting in your graphic design.
Revisions are typically communicated in what are called "rounds." These rounds of revisions often include an hour or so of work per page of graphic design. Some logo design projects have 3-5 revisions included, but graphic design may require 20 or more if you are dealing with larger graphic design documents such as a magazine.
Hire a freelance graphic designer who includes at least 1 round of revisions, but know that you will need to be very specific in your feedback when viewing your graphic design. Communication skills are important for your new logo or web design because as the client you will be able to get what you want in your graphic design, without frustrating your freelance graphic designer.
Attitude
Graphic design, whether it is a logo design, brand identity, or web design, requires both the client and the freelance graphic designer to have positive attitudes. If one, or both sides become frustrated, you won't receive the graphic design you want, and you'll often have to find a new graphic designer.
Remember that as the client, you hire freelance graphic designers because they can do what you can't. Your job as the client is to run a successful business, your professional graphic designer is there to help you reach your goals. It is very much a team effort.
Ready to hire a freelance graphic designer?
Want to learn about digital marketing next?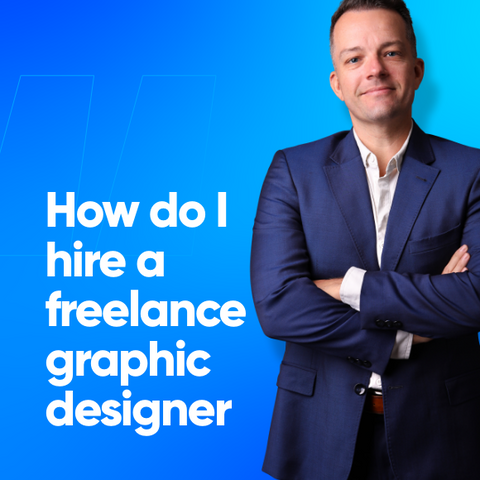 Learn how to hire a freelancer in 2022 by Scott Luscombe Creatibly
Then, pick one of these:
---
Third, try these:
---