Your business has a message to send out to your customers, and ensuring that your message converts that initial conversation into a sale is critical for your success. Graphic design makes your message stand out the first time.
From visual communications, marketing materials, brand identity, and every visual image that will elevate your business above the competition, graphic designers make your business stand out.
What does a professional graphic designer do?
Your brand requires excellent visual communication to be trustworthy to your clients. Do you know the feeling when you walk into an Apple store or a Starbucks when all of the visuals come together to create a brand? Much of that comes from Graphic Designers defining the Branding, Colors, look and feel, packaging, signage, and numerous other marketing communications which make you feel comfortable spending money.
Graphic designers produce a wide range of design elements in various mediums. All of these mediums come together to form a brand, and it's this brand that allows customers to trust a business. Increasing your overall brand authority and trustworthiness, you are helping the customers decide to buy. The more appealing your brand, the more customers will spend.
Hire professional graphic designers to bring together all of your branding and give customers the confidence they want in your brand.
Here is what graphic designers can do for your business:
Print Design

Digital Design

Social Design

Logo Design and Brand Design
What marketing materials can a graphic designer create?
Graphic designers create a wide variety of marketing materials and visual communications for your business. The major mediums are Print and Digital graphic design. Print includes graphic design from brochures to business cards, and Digital graphic design includes everything from Google Display Ads to Social Media posts and content.
Hiring graphic designers will take the guesswork out of your decisions regarding what type of graphic design pieces you need. Hiring a graphic designer for this work allows you to focus on your business and worry less about knowing the specifics of what you need.
When you hire a professional for graphic design projects, they will often start with an analysis of what you have for your business and recommend the graphic design projects you should take on to give clients confidence in your business.
Essential to your company's success, graphic design will move the needle for sales within your business. Sales are the lifeblood of your company, and making sure your company increases the sales pipeline is the job of the marketer. Still, the marketer can't be effective without graphic design-based visual communications.
Here are the main marketing materials a designer can create:
Print Brochures

Social Media Content Posts

Presentation and Pitch Deck Designs

How do I reach my target audience when hiring a graphic designer?
Ideas for your business are essential to reach your goals over the long term. Adding graphic design to handle communications for your company will give you creative ideas for branding or your website.
Hiring a graphic designer for your brand's website is critical to give your company a lasting impression online. Undoubtedly, most customers' interactions with your company come through a computer. Having design work that creates a trustworthy company feel is essential for success.
Communication through visual graphic design is important to your company's success as it sets the tone of your brand's identity and reinforces it whenever the viewer interacts with a another company's marketing. For example, when you see a particular color, such as red, and are also thirsty, you may think Coca-Cola, or want coffee and see green, you may think Starbucks.
This brand awareness for businesses is wildly important to your company's success and will allow your company to stand out from the competition.
Here is how to reach your target audience:
Define your customer personas

Write content to solve the customers' problems

Design marketing communications to present your business
Do graphic designers do website design?
Yes, graphic designers do web design. Website design is a design profession within the graphic design industry.
Here are the graphic design disciplines that focus on web design:
UI/UX Design

Landing Page Design

Product Page Design
How does a graphic designer create a lasting impression?
Your designer helps visually relate to your target audience the first time. Using branding to communicate with your customers, we help them remember your business as the solution to their problems. Whether that problem is simply wanting a cup of coffee or plastic surgery, every business must use graphic design to communicate visually.
Graphic designers can help assist from designing an icon to raising millions of dollars with beautifully designed pitchdecks. 
How do I work with a graphic designer in the long run?
Your business requires graphic designers, and ensuring that your company has access to graphic design on an ongoing basis is incredibly important to continually evolve your brand visually.
How to work with a designer on an ongoing basis:
Create clear project briefs

Set progress meetings often

Pay on time
Does a graphic designer do social media design?
Hire a graphic designer for your social campaigns to ensure that when viewers stop scrolling, they interact with your posts, this interaction is critical to your growth as a brand.
Hire a graphic designer who understands the latest technology
Technology changes continually, and graphic design help you produce content for the existing and emerging platforms.
Designers help your brand stand out from competitors
Competitors are everywhere, and creating the right graphics and image for your brand is of paramount importance to ensure your business's success in the long term.
Convey the messages your business is trying to communicate by creating striking visuals will increase your sales, leading to more recognition within your industry. As your business grows and captures market share, your designs will have to extend into various mediums such as both print and digital.
Visually communicating your brand on various platforms is a necessary form of business success and can save sales and marketing teams from having to take a do-it-yourself approach.
Here are the services a graphic designer can help you with your social media campaign:
Social profile design

Content design

Social template designs
How do I know if I am hiring a good graphic designer?
When hiring a designer, it is essential to know their background and make a knowledgeable hiring decision.
Real world experience in a variety of design projects
Real world experience in a similar job to your project ensures you have the best chance at succeeding and getting what you want. By setting clear goals and aligning a designer to those particular tasks, you can significantly increase your chances of success.
Hire for specific graphic design skills
When you hire a graphic designer, you must ensure they have the necessary skills for your projects. There are numerous individual skills that your designer may already have, but making sure that you communicate precisely what you need to accomplish is critical to creating a successful design.
Here are three easy ways to find out of you are hiring a good graphic designer:
Your graphic designer has excellent testimonials

Your graphic designer is easy to find

Your graphic designer has a social presence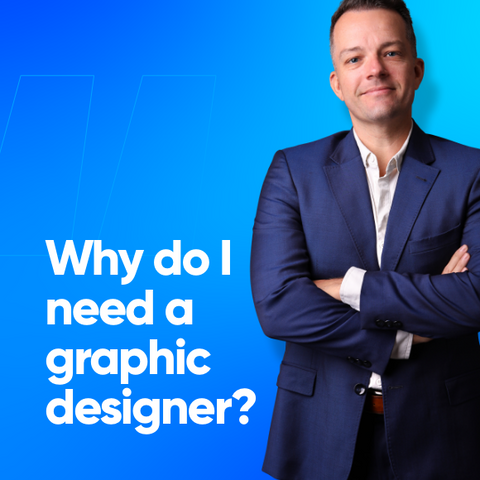 Why do I need a Graphic Designer?
Then, pick one of these:
---
Third, try these:
---