I have always had a foundation for copywriting in my freelance career.
Coming from a design background, I always needed to present my work to professors and, later on, to clients. While a design or copywriting background isn't essential to being a freelance copywriter, a media or communication background helps.
Here is a list of Copywriting services:
Almost every industry under the sun requires a copywriter at some stage of building their business. This is where individuals within a marketing team or freelance copywriters come in to write copy for a website, social media, print media, or anything requiring text. Besides, good writing skills are in demand outside the advertising industry. If you are reading something or listening to dialogues, they were written by a copywriter. Even this one ;)
To understand what a freelance copywriter does, we first need to understand who is a freelance copywriter.
What's a Freelance copywriter?
Freelance copywriters write copy on a contract or project basis and get compensated for their ability to meet the required intent and express their thoughts, ideas, or emotions clearly. This can include advertising copy, web pages, blog posts, and digital media (movies, video scripts, games, etc.) The copy will also have a specific aim like discoverability on Search engines which is SEO copywriting, technical writing for relaying directions, advertising copy to promote or sell a product, etc.
In addition to the copywriting responsibilities, they also need to run a successful copywriting business. This includes reaching out to prospective clients, onboarding them, overseeing accounts, meeting timelines, promoting their business, and more. Being a freelance copywriter means running a service-based freelance business whose core offering is copywriting services. This means everything from the Product (Copy) to Enterprising to Sales and Marketing.
The difference between a copywriter and freelance copywriter is that freelancers can work from anywhere for anyone. You could be in the US, India or in Bali while working for a global network of clients. As long as freelance copywriters write good quality content and run a successful business doing that, anything is possible. 
Next, we would look deeper into some major niches within copywriting and how freelance copywriters work.
The Skillset of a Freelance Copywriter
Some believe that freelance copywriting only needs the ability to push some fancy words onto a piece of paper and call it a day, while new clients just rain from the skies. Copywriters and businesses hiring freelance copywriters know well that high-quality writing content is not child's play. A skilled individual must write with intent, deliver quality work, and seek potential clients. Now, we will take a deeper look into what makes a good freelance copywriter and how these affect specific sections of the industry.
Understanding Intent
Writing without intent is like running on a treadmill with a blindfold and earplugs. You don't know where you are, what is happening, or where you're supposed to go, and you (your writing) will probably fall flat on your face. Intent dictates what you will write, why this needs to be written, who you will write it for, and what the intended outcome or takeaway is from your writing samples.
An SEO copywriter will work primarily with ranking their content on search engines. This means hitting the correct long-tail and short-tail keywords, which search engine crawlers will scan to identify the page's relevance. A Public Relations copywriter will craft press releases to find the most suitable way to release statements without facing backlash in response to the party or individual they are writing for. Marketing Copywriters will be working with persuasive copywriting on print and digital media to convince the consumer to make a purchase.
The intent dictates the tone, and the tone informs the writing style. A good writing style leads to good writing samples. Understanding intent is a major skill for a professional writer, contributing to real-world, needle-moving results.
Rock Solid Research
When freelance copywriters write for a business or individual, that entity lets its reputation be on the line when hiring a freelance copywriter. So if the writer lacks a solid research framework behind the information they are writing in the text, it hurts the business or the individual when it gets called out. Without proper research, writing becomes irrelevant or disingenuous because the source isn't sure of the statements made within the text.
Research is the foundation of solid writing work, and the kind of research required changes in each field. Content marketing means having clever but honest copy in marketing campaigns and social media posts. An SEO copywriter would need to do keyword research for the right keywords in their text while staying relevant to their topic. Technical copywriters need to understand the product or service offered to translate jargon-like language into understandable chunks of text and numbers.
Research that too effective research is the bedrock of the content writing industry. Research helps build on top of the intent to further understand the technical requirements, the reader, their pain points, and the intended action. It provides input toward headings and subheadings, consequently defining the structure of the text. If the intent is the skin of a body of text, research is the bones.
Avoiding Plagiarism
On average, copywriters write 60-90 words per minute, and some even more. So now think of that and expand that across hundreds of industries, thousands of companies, millions of copywriters, and billions of words written daily. Now add all the words written online to that point, and the sheer scale is immeasurable. With so much content written, avoiding plagiarism when you are actively trying to do so is not easy.
Plagiarism can be wrong for any business and especially for a freelance copywriting business. There are guidelines for how much plagiarism is acceptable, and freelance copywriters must create original content with this guideline in mind. This applies to almost all copywriting niches, including content marketing copy. Online copywriting has made this easy to check with nifty tools that give a percentage of plagiarism with a limit of 25% and a general allowance of around 14%.
Plagiarism is a significant concern for most copywriters and should be something that all freelance writers watch out for. There are billions of words written daily, and plagiarism, to a certain degree, is permitted as it is inevitable. In a "literal" body of text, this would be the spirit, original and one of a kind.
Command Over the Language
This is where most quality copywriters begin, with a command over the language. For simplicity, we would only reference English as its the most widely spoken language, and you are likely reading this in English.
A copywriter's work is good grammar, an expansive vocabulary, and the ability to articulate sentences and connect thoughts. To pursue a freelance copywriting career is by far the most cardinal skill set out of all. Putting thoughts into verbal and written expression takes a high level of proficiency. You can build this proficiency by creating writing samples for a particular sector that interests you and go from there.
English is a powerful and relatively expressive language governed by rules for grammar, spelling, and sentence structures. Whether SEO copywriters, Technical Writers, B2B writers, B2C writers, or any other freelance copywriters imaginable, all have a strong command over the English language and are very articulate with how they write.
Good command of the English language is a starting point for many copywriters and is an omnipresent requirement across sectors. With this command, copywriters can articulate thoughts and ideas very well and, in the process, also build their writing style.
Business Skills
This is a curveball. This skill set is what adds 'freelance" to the freelance copywriter designation. In addition to being a good copywriter, freelance copywriters need to have or develop business acumen. Being your boss is nice, but you're also your accountant, marketing team, HR, and your own Intern. Freelance as an idea may seem nice and rosy, but without business sense, it's almost impossible to run a successful freelance practice.
This doesn't mean creating an elaborate business plan but rather having core business requirements in check. The 4 general core requirements are Product (Copy), Enterprising, Sales, and Relationships. A freelance copywriter needs to have the quality of these 4 elements in check from the very first day. This means the quality product, dependable internal infrastructures (templates, invoicing, bank accounts, home office, legal registration), sales (current, previous, projected, marketing), and last relationships (other freelance writers, other service providers, and clients).
The 4 broad core requirements translate to many detailed tasks that require time and attention, which can be built as you advance your career as a freelance writer. Some of these challenges would be first to have your website share samples and testimonials, deliver a quality product with dependability to retain a client's business, manage multiple projects simultaneously, and collaborate with other copywriters and agencies. Doing all this while turning over a profit seems complicated, and it should be. But, with time and practice, anyone can become a freelance copywriter.
Business skills are one of the main requirements for a copywriting freelancer, and it requires a lot of business acumen, which can be built with time and effort. The 4 broad-level core requirements would be to deliver a quality product, manage clerical tasks, find new customers to sell to, and foster relationships. Freelance writing is an arduous undertaking, but it can be a good career choice with time and effort.
Who hires freelance copywriters?
We hope that you understand that freelance copywriters' skillset and responsibilities extend far and wide beyond the ability to use Microsoft Word. Now we get to the fun part, who are these clients who seek to hire freelance copywriters for writing jobs? Since copywriting is a requirement in almost every industry, we can't do an industry-specific breakdown of copywriting jobs but instead based on scale and designation. Here are some of the potential clients for a freelance copywriter:
Startup founders
Startup founders probably top the list when hiring freelance copywriters of the most varied niches. Startups can't afford to hire full-time writers in the early stages of a business, with the capital being in short supply. The budgets are low, and usually, most of it is spent on inventory or development talent in the case of digital businesses.
Startups need copywriting services for their landing pages, blogs, social media, SEO, and everything in the content marketing spectrum. Based on the industry, they may even need written content for print marketing materials like sell sheets, posters, and brochures. Technical writers might also find themselves writing product descriptions and instruction manuals for startups. A virtual assistant may also be expected to have some copywriting skills, so your management and writing skills can be applicable toward the same job. 
A startup is a new business, which means they have little to nothing in terms of pre-existing content. They want to keep the costs low, but with a high requirement for content, they resort to freelance copywriters. 
Small Businesses
A Small business may seem small in operation and scale, but they actively hire freelance content writers to write content for them. Their requirements are harder to pinpoint because there are too many variables regarding small businesses. Most small businesses require a copy on an on-demand basis rather than a constant need for writing copy.
Working with small businesses is lucrative, although their low requirement is the ability to form a relationship with a founder or senior staff member. In addition, you would also find that small business refer to other small businesses, making them good points to generate hot leads for your business. Most small businesses are business-to-consumer in nature and would require copy for social media posts and print collateral. Cosmetics brands in particular, may have product descriptions and how-to guides as some of their copywriting requirements.
Small businesses have spotty requirements for copywriting but can span the entire spectrum of copywriting skills, including but not exclusive to menus, instruction manuals, product descriptions, and printed marketing collateral. They allow the writer to build relationships with founders of a successful business and leverage their network with hot referrals.
Advertising agencies
Advertising agencies are major clients for most copywriters. Generally hiring a freelance copywriter due to excess overflow of work or to supplement an in-house team in various possible roles. Advertising agencies seek freelance writers when they aren't looking to hire a full-time employee, usually at the end of a financial year when projects are due, and funds are in short supply.
This is when having your blog or web page comes in handy. Recruiters looking for freelance talent often begin their search online, and if you are a good writer, you will be in the top results ;). They can hire a freelance copywriter for any specific requirements based on the needs of their clients. SEO copywriting, content marketing, website content, and filler content to just complete a certain requirement; pretty much anything is a game.
Working with agencies does come with its own set of perks and challenges. You will get paid on time at a predetermined date without fail if it's contractually agreed, but they will also be swift and blunt with negative feedback if the work isn't up to their expectations. As a content writer at an agency, you will have to be aware of the benchmarks that you need to meet, or they will find a replacement. It's high pressure, high reward. 
Agencies make for great clients for anyone offering freelance copywriting services. An online web page and blog will be beneficial for attracting agency clients. In addition, attending networking events would allow for a more personal introduction to marketing teams. You will be compensated well and on time but may be subject to uncertain feedback practices, which may differ from your current system.
Conclusion
Freelance copywriting is an excellent career choice for anyone. Every industry requires copywriting services, and with content marketing sitting at the forefront of many of these requirements, this demand will continue to grow for the foreseeable future.
Being a good freelance copywriter entails many responsibilities, including writing copy, maintaining standards, and sustainably growing a business. With an increasing demand and new businesses being built almost daily, there is virtually no shortage of clients with some industries hiring writers more than others.
Hopefully, we were able to answer the questions about what does a freelance copywriter do? In the process, maybe even inspired you to become a freelance copywriter. With the roles virtually infinite and clients aplenty, only a few career choices provide this level of flexibility to work in multiple sectors.
So what are you waiting for? Start writing that first draft and seek your first client to begin your freelance copywriting journey.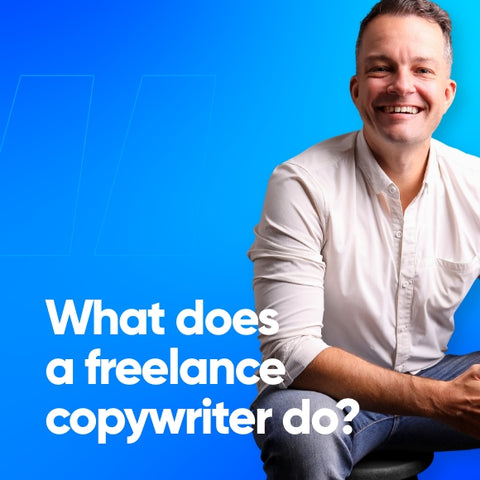 What does a freelance copywriter do?
Then, pick one of these:
---
Third, try these:
---