Where to start finding a logo designer to hire
Type "freelance logo designer" into Google and you will get millions of results, from freelancers to agencies, to platforms hosting freelance graphic designers such as Upwork, Fiverr, 99Designs, and on the list goes.
But how do you hire logo designers who know what they're doing and can encapsulate your brand's ethos in a simple and recognizable logomark that you can use universally?
This is a common question I receive from clients looking to hire designers for the right price. Here's how to go about seeking the right logo designer. 
Start with your Creative Design Brief
Your logo design brief should include the Project title, Project scope, Estimated deadline, and Estimated budget. The Project Title is the easiest place to start and can be something simple like "XYZ Company Logo Design" Finding professional logo designers with creative ideas and design services to match requires a specific hiring process that you can develop through the Project Scope.
The Design Brief is more specific and will outline your expectations. Here are the first few things to consider when creating your design brief:
Begin with a company profile
If you know anything about logos, it is quite apparent that logos are simplified encapsulation of a company or brand's industry or ethos. Before you get your logo designed, you need to go over your company profile or create a small profile that tells its customers who you are and what you do. This will help the chosen designer to create logo designs that are unique and on brand.
This can go like this, "We are XYZ Real Estate Consultants and we help high net-worth individuals find luxury properties". This is just one case and we can already tell what kind of elements can be included in a new logo for this company. Also, add your core values to this section: "Upscale, White Glove, Bespoke, etc"
You can also include if the project is a rebrand of an existing business and your willingness to share the current logo with the designer.
Search the Internet for References
When creating your design brief, you must look for visual references online. You can use graphic design portfolio websites like Behance and dribble or Pinterest for a more abstract collection of images.
Remember, a professional logo designer will do his or her visual research as a part of the creative process and advice on the best practices. This visual research is moreover for you to communicate what you like about certain designs and if you would like something similar. Stay within or around your niche so the designer can get a better idea of what you do and the kind of solutions you offer. Stick to picking what you like and discarding what you don't.
You are seeking a professional to help you with your project so don't be too adamant about your choices and decisions, rather focus on the objectives for this project and let the designer run point on your logo project.
Summarize your observations
Once you have seen some visual references online, summarize them to the best of your abilities in a text format that you can share with a designer. These observations may be crucial in picking the right designer. Most professional logo designers are versed in all kinds of logo designs from minimal contemporary design to something as complex as an illustrative mascot. However, if you are seeking a more human-like design with sketches or brush strokes in it, you will have to seek a professional logo artist.
The best logo designers will be able to provide any type of logo solutions that you seek but it's best that you summarize your observations and then cross-reference them with a designer's portfolio to see if they have a similar logo design style to the one you seek.
The intended usage
You don't hire freelance logo designers simply to design a good-looking logo but also to design a functional one. If you have an idea of where this newly created logo will be used, inform your designer about the same.
Logos should ideally be functional on the smallest piece of collateral to the largest one like a billboard or an airplane even. But based on its primary use case, the color choice and selection will be impacted.
What else do you need?
A logo is just the foundation stone of your brand's visual elements and there is a plethora of design collateral that you may require once your logo design is complete.
With complex offerings like brand guides, marketing materials, sell sheets, packaging, and product design, you would ideally want to have them done by one designer or graphic design company. You don't want to split these processes across multiple service providers as that could entail delays or worse, a dilution of your brand identity.
Ensure you have a fair idea of at least the initial set of creatives and hire a freelance logo designer who has a proven track record in the type of deliverables you seek. At Creatibly, you can get an exhaustive set of graphic design and branding services, all under one umbrella, created by one highly acclaimed Creative Director.
Assemble the Creative Design Brief
After running through the previous steps, you should be able to populate your creative brief with the following:
An introductory line with a short background on the company and the target audience

Few brands and brand logos that you like within your niche

A small summary consisting of your likes and dislikes

The intended use case

Any additional collateral that you may require
With the above steps complete, you can confidently reach out to freelance logo designers and provide them with your design brief to make the process smooth and hassle-free for both parties. Even though you have a detailed design brief and that's great, there's a lot that goes into designing logos that makes them unique and bolsters brand recognition.
Where do I find logo designers?
The obvious answer, is you have already found your freelance logo designer, me, Scott Luscombe, at your service! I offer a huge range of graphic design services and logo design is my forte. I am ranked in the top 1% of worldwide graphic designers. As a freelance graphic designer with over twenty years of service, I can tackle your logo design project with ease and deliver a unique custom logo design for your brand. I can then also support you with any other graphic designs that you may require after that point.
View Creatibly's Logo Design Portfolio and Logo Design Service
But, if you must continue your search for logo designers, there are graphic designers' portfolio sites such as Dribbble and Behance. Which are great for visually searching graphic designers by their design style. If a logo design stops your scroll, it's a safe bet. You like that designer so reach out!
Visual social platforms such as Pinterest or Instagram are also great ways to find freelance logo designers. Your logo designer will be posting their design services there, and they are great places to search for logo design by style.
Software
Top logo designers use Adobe creative cloud, as this is the gold standard for design, you may also be familiar with the name Adobe Photoshop, Adobe Illustrator, Adobe Indesign, etc., your perfect logo designer should be well-versed in this software and offer design packages that individual designers using software such as Canva won't be able to provide.
Past work
You have searched logo designer profiles, and have found an individual designer based in the region that aligns with your work schedule, now it's time to review past projects and testimonials from previous clients. It will be rare if you find a single designer who checks all of the boxes on what you need for your logo design.
However, if you find a freelance designer with a proven track record in logo design, brand identity, print design, and web design they are the most ideal candidate. As they understand the complete usage of logos and can design a logo that works on all levels across mediums.
Some graphic designers specialize, they may only do logo design, and these designers are great but maybe early in their career and not be able to help with other graphic design you require. You need a logo designer but there's a lot more that goes into graphic design for a new business and you need one dependable designer to be able to deliver on most of those requirements.
Concepts
It is important when hiring a graphic designer for your graphic design that they have great communication skills and understand if you want multiple designs included in your project. It is important to give your graphic designer this information in your brief as a logo design may require multiple designs to get to the business logo you want.
Revisions
Revisions are different than concepts, a revision is a small tweak to the design, such as adjusting the color or letter spacing on a logo design, or editing the spelling or the tagline.
Revisions are typically communicated in what are called "rounds." These rounds of revisions often include an hour or so of work per concept. Some logo design projects have 3-5 revisions included.
Hire a logo designer who includes at least 1 round of revisions, but know that you will need to be very specific in your feedback when viewing your logos. Communication skills are important for your new logo because as the client you will be able to get what you want in your logo design, without frustrating your freelance logo designer.
What files to expect?
At the end of your logo design project, your designer will provide you with a whole logo design kit complete with a black, white, and colorized logo. They will be provided in multiple file formats for web and print.To see what a professionally designed logo looks like, view Creatibly's Logo Design Portfolio.
Top logo designers also provide a set of initial mockups which is a digital images that visualized designs on a piece of collateral for reference and stakeholder review.
Attitude
Logo design requires both the client and the freelance graphic designer to have positive attitudes. If one, or both sides become frustrated, you won't receive the logo you want, and you'll often have to find a new graphic designer.
Remember that as the client, you hire freelance graphic designers because they can do what you can't. Your job as the client is to run a successful business, your professional graphic designer is there to help you reach your goals. It is very much a team effort.
Avoid these at all Costs
When seeking logo designers, don't make the budget your primary motivator for selecting a designer. There is a reason why professional logo designers charge what they charge. Designers at the lower end of pricing won't be ideal to create a custom logo that is unique to your brand.
Don't fall into the trap of setting up a design contest for your logo design. Even with the creative brief set, logo design is more about the design process rather than the final piece. The inputs and the decisions are what make the final logo a masterpiece. Not to mention these are generally created by entry-level designers with a basic set of design skills.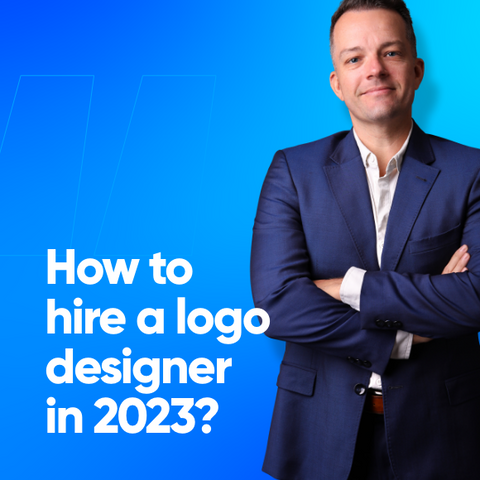 How to hire a logo designer in 2023?
Then, pick one of these:
---
Third, try these:
---