Yes, I set up Shopify sites for free! 
"Wait, I thought you build Shopify sites from $1,500-20,000?"
Yes, that is also true.
"How does it all work?"
You start by emailing me at scott@creatibly.com, and I will set up your Shopify for free. Included in this free service is the initial account setup on my Shopify Partner account, and you can get started with an unlimited trial.
...No more rush to complete your Shopify website in 14 days on the free trial. 
You can now tweak and tinker with your online store for as long as you want without paying for a plan. You would only pay for the monthly subscription fee to Shopify when you want to connect your domain name and start accepting orders.
Why do I set up your Shopify eCommerce website for free?
It's simple, Shopify pays me a small commission for each website I build on the Shopify platform through my Shopify Partner account. When you pay for a subscription, I receive a small payment from Shopify as a commission. You don't pay this commission, and it doesn't affect the cost of your ongoing plan.
It's in my best interest to ensure that you are a successful Shopify merchant. If you get up and running or your Shopify online store fails in the future, I will retain my commission. 
Ensuring that I guide you on the right path is critical to your success, as many new Shopify merchants set up an account with no idea where to start, how to finish, or how to run a successful eCommerce business. 
I help you as much or as little as you want.
How does getting a free Shopify eCommerce website work?
It's simple to get your free Shopify site. Here is the step-by-step guide to getting your free Shopify site up and running! 
Email me at scott@creatibly.com with your full name and the name you want for your store.

I set up your Shopify account and send you an invite to edit your Shopify website

You log in to your Shopify site and start working

Send me any questions you have while you go for complete support

Once you're finished with your Shopify site, I transfer it to you, where you pick a plan and start your eCommerce empire
What's included in the free Shopify eCommerce website setup?
As I mentioned above, it's in my best interest to ensure you are successful, so I am here to answer your questions seven days a week. Here is what I include when you set up a Shopify account with me:
Complete account setup

Support as you build your site

Go-live assistance to ensure a successful launch

Domain name connection and payment gateway setup

Support once your website is complete and accepting orders

Marketing, design, and development advice

Shipping and fulfillment advice

Distribution, drop shipping, and omnichannel advice

Physical, digital, and subscription product advice

Business sales and exit strategy advice
Why should you set up your free Shopify site with me?
Aside from the unlimited time you get to set up your site and ongoing advice. I'm an expert at eCommerce, launching numerous brands from the initial idea to exiting the business through the sale of the company.
In 2017 I was featured on The Dragons' Den TV Show which you can watch here: https://www.cbc.ca/dragonsden/m_pitches/dawg-grillz where I sold my Shopify-based eCommerce business called Dawg Grillz.
I also helped build a client brand called Wallet Ninja, which has sold millions of units, stayed at #1 on Amazon for Multi-tools, and received a #1 position on Groupon.
Throughout the last decade, I have designed, developed, and set up Shopify-based businesses for clients. Many of these have achieved great success. 
Many have succeeded. Many have failed. I aim to help everyone succeed.
The reason Shopify-based eCommerce businesses fail is entirely based on experience. Inexperienced merchants need help at every step, or they often are forced to learn from zero at every step. This struggle is painful, and I aim to change that with expert advice.
I'm ready to get started with my free Shopify eCommerce website!
That's great! It's only going to require some elbow grease in the beginning, but it's your start to building a full-fledged business or a side hustle that gives you some extra cash on the weekend.
Regardless of your intention for your transition to entrepreneur, I highly recommend working together and being open about your eCommerce goals and putting together a plan to achieve it!
Why should I set up my eCommerce store on Shopify?
As a company, Shopify is a behemoth and is being talked about in the same league as Apple and Google. When you set up a Shopify store there is a multitude of features available to you so you can start selling, fast: 
Website Creation

A host of free themes to choose from

Choosing a domain name associated with your product or service

User-friendly back-end to drag and drop product images and descriptions

Receiving and processing orders

Several ways to accept payment 

The ability to provide discounts to customers 
And a host of other features that make Shopify a secure and dependable eCommerce platform. Far more desirable than any of its competitors.
Step by step instructions to get started on my partner account? 
So you have a product or service in mind and you are all set to take full advantage of the platform and build a Shopify store. Let's get started!
Registration in the Shopify Systems
This is where you usually get onto the Shopify site and create an account and then start a free trial. Here's where I come in and add your store name to my Shopify Partner account. All you have to do is email me at scott@creatibly.com with your full name and the name of the store.
I then invite you to edit your store wherein you add your personal data. Your store is now registered, and you can start adding products!
Adding products to your Catalog
In the site admin panel, you can see all the essential items. You will also see the Add Products button. If you have the product images, then simply upload or drag and drop them into the page. 
You will need to write the names of the goods or services followed by product details in the description box. You will also have to indicate the cost of the product. Add as much information as possible, that you think would be useful for your prospective customers. 
Be accurate and thoughtful in your product descriptions. This is not the time to be salesy. Based on what you are selling, the customers will need specific information about the product. Use the images to "sell" your product, the description should simply state what it does or what to expect.
Customization
This is the fun part and on the surface pretty straightforward. Go to the admin panel and click "Customize the Look of Your Website". You can choose from some of the best free Shopify themes or purchase a premium theme. You can then modify the theme to your liking with your own logo and colors. Be patient with this phase, as it takes time if you do it by yourself. I can help customize your website, if necessary. Check out: Shopify Website Design and Development. If you choose not to work with a free theme, you can choose a premium theme and then modify it, to make the site really unique.
The stage of adding products and customizing your site will likely take you more than 14 days, hence the free trial will not suffice. This is where you benefit from being on my Shopify Partner account. You can decide to take alot or as little time as necessary without having to pay until you are ready to go online. 
Purchase a Domain
Going online! The exciting part. You have decided to take your store online and that is truly fantastic. This is where you will need to purchase a domain for your business and transition to a paid version of Shopify. 
To add a domain, in the admin panel, click "Add a Domain" and follow the next steps. After you activate, your site will appear on the internet and you can go to it and test out your online store.
At the end of this step, I will transfer the store to you and you can hop onto a paid plan and further build your online empire. You will have to set up your currency and add the tax rates in your country at this stage. Finally, you select how many products you'd like to list on your Shopify store. This is not a commitment, you can always change this later.
Payment Systems
On the left side of the Admin panel, you will find the Payments button. By clicking it, you can configure integrated payments. Shopify will help integrate these with ease. Once you complete the integration, you are ready to accept payments from your customers. 
Once you have completed the above steps, you can click Launch Website. Now you have a complete online store, where you took your time adding the products and customizing the theme. The only time you started paying for Shopify is when you were up and ready to make your first sale!
Brand development, marketing, and advertising
As the owner of a brand-new online store, you need to drive visitors to your site. You need to start marketing your products through some of the most popular marketing and advertising channels available to you. Thankfully most of these are free or don't really cost much. Content marketing, social media, and PPC advertising are one of the most popular methods to achieve this. This will help drum up traffic to your store, and in turn, increase sales. 
Get business accounts on Facebook and Twitter where you can network with popular creators and brands. You can also share fun and useful content about yourself or your products. Don't just share photos and call it a day, communicate with your audience. Also, share any customer feedback or reviews that positively highlight your product. Platforms like Instagram and Pinterest can also be useful. Most of the platforms you use will allow opening an external site, which is this store of yours, where your customers can transact. 
You can use these sites to first post quality images of your products, and your buyers can then share these products on their feeds. As a result, you build a strong community around your product or range of products. Just remember, this is not a switch that you turn on, It takes careful planning and execution. So make sure you do your due diligence if you are doing all this by yourself.
Patience is a virtue
Chances are that you won't find success on day 1. But just like most things in life, have a plan for your online business and operate it with conviction and consistency. You need to be confident in your abilities or hire external talent if you need help with certain tasks. Be patient, success will come, you just have to show up for your online store, day in and day out.
Think strategy on day one
When you open an online store, think about how you will operate and expand it. You don't need to hire 20 people or find a manufacturer in China. What you do need, is a plan. How you will promote your store, and its products? What discount offers can you run and at what time? To then get a promotional banner or social media post created for it. Again talking about consistency, have days where you strategize and days where you work on implementing said strategy. You should have a plan of what needs to be done and when, that is the only path to success.
What are you waiting for?
Let the entrepreneur in you take control. Fire up your email and send an email to scott@creatibly.com with your full name and a name for your online store. Combined with the integrity of an eCommerce platform like Shopify, free themes and registration start your virtually free site today! Only pay when you are ready to make the first sale on your new online store.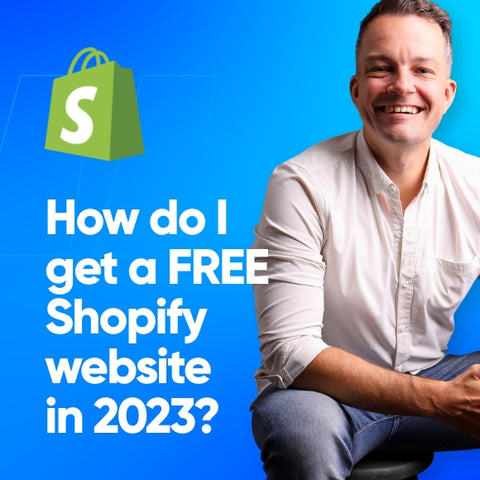 FREE Shopify Website
Then, pick one of these:
---
Third, try these:
---