Studio
Wood Headphone Stand
Creatibly Studio's wooden headphone stand is a beautiful compliment to your workstation. We spend our entire day listening to music and attending video calls. Protect your headphones by giving them a place to hang out for the night.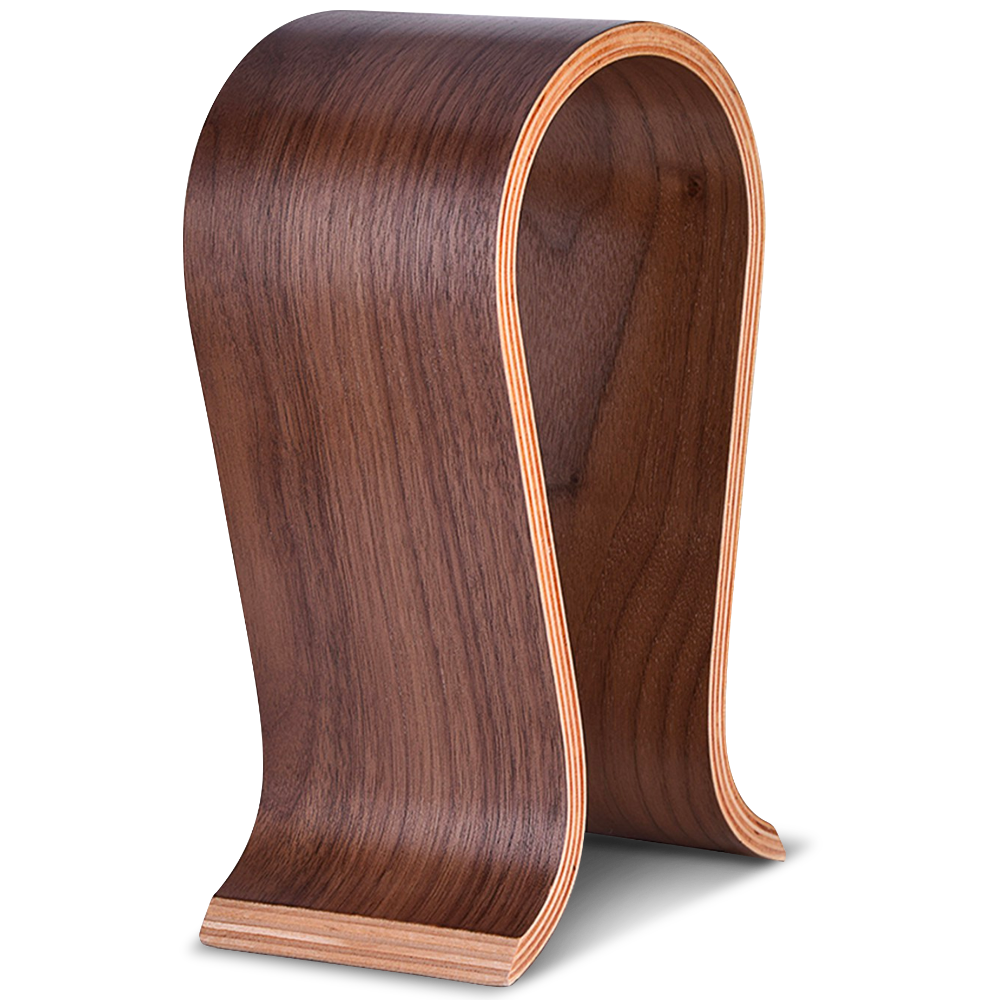 Product Description
Get your Wood Headphone Stand and protect your investment.
You spend a lot of your headphones. KEEPING your headphones safe and looking new is essential.
If you're into tech like I am, having the latest and greatest gadgets comes at a steep price. The feeling of dropping the new iPhone or leaving your AirPods Max lying around to get scuffed just isn't cool.
This eco-friendly walnut wood headphone stand gives you a visually appealing piece of art to hang your headphones from, keeping them safe from falls, scratches, and dirt. Your headphones touch your face all day. This stand with a wide base lets you store and display your headphones and keeps them clear of dust.
Once you're finished for the day and hanging up the headphones for the night, hold your headphones as if you were placing them on your head and clamp them onto the headphone stand. This headphone holder has smooth surfaces to protect your headsets and high-quality material, giving you a convenient way to add style to your station without a high cost.
Dimensions:
9.75 x 6 x 4.5" (25 x 15 x 30cm)
Your beautiful walnut wood headphone stand:
A blue more at home deep in the ocean. When your work requires depth of thought, this color inspires.
You can perfect your home office setup with your water-resistant, real leather desk pad to give your workspace that new desk feels. This full-size leather desk pad is a great alternative to the cold, hard surface of your wood or glass desk. The incredible attention and one-year warranty mean that your leather desk pad is durable and resists scratches.
The simple design gives you a sturdy, stylish, and long-lasting place to store your headphones and clear up valuable desk space for your next project. The minimalist design and premium construction give you the perfect balance of form and function whether you're going for the win gaming or knocking the next project out of the park as a freelancer.
Frequently Asked Questions about Walnut Wood Headphone stands
Will this work with my headphones?
Yes! I've tested it with even my heavy Apple AirPods Max, and it works perfectly and is a visually appealing addition to my workstation.
Will this wood headphone stand tip over?
When used on a flat surface your wood headphone stand won't tip over. When I use my headphone stand, I hold both sides of my headphones and put them on my wood headphone stand just like I would put them on my own head. The headphone stand is a great way to charge your headphones and store them when you're not working.
Will this wood headphone stand scratch my headphones?
No! The naturally walnut wood veneer on the headphone stand is softer than your headphones and will give your headphones a safe space to relax after a hard day of freelancing.