I have compiled the best online business ideas for you to build a successful online business in 2023.
Whether you are just getting started and want a low barrier to entry such as a Virtual Assistant or Copywriter (which can be done right on your phone, just like this blog post) there has never been a better time to turn your online business idea into reality.
You can also easily choose from multiple career paths and build them together much like I have done as a freelancer. I highly recommend graphic design and website development, as well as coaching and consulting to round out your career and build a stable business through a diverse amount of businesses.
All of the online business ideas below can be done as a solopreneur with only SaaS businesses requiring a higher level of technical knowledge. I have marked each career path in a number of ways in order for you to making an educated decision when developing a great online business idea.
Use this comparison chart to analyze which online business is best for you to start in 2023:
Skill (How difficult this online business is to learn)

Competition (How crowded the market is for your online business idea)

Cost (The expenses required to create your online business idea)

Risk (The level of failure and potential loss of income for your online business)

Time (The time required to continue the business idea on an ongoing basis)

Scalability (How easy this business idea is to grow)
There is a balance needed in every business idea, from building a highly technical digital product to selling physical products on your online store, or selling your time as a service provider in a freelance career.
Here are the most popular online businesses to start in 2023:
Freelance

SaaS

Coaching and Consulting

Digital products

Physical products

Drop shipping

Content Creator

Affiliate Marketing
If you would like coaching on any of these ideas, I'm here to help!
Building an online business is easier than ever in 2023. The cost for many of the online business categories has dropped significantly, with the exception of physical product businesses which have seen increases in raw materials and shipping costs due to COVID-19 and inflationary pressures. The flip side of this is that if you are willing to wait, and be patient, it can also have high profits.
Consistency is key to your successful online business
Developing your online business ideas is quite easy, only requiring consistency. I suggest spending at least 2 hours per day on your online business idea when you are starting out. This may seem like a small amount of time, but as a starting point for your online business it will be easier to remain consistent during the start up phase as you will avoid burnout.
What type of online business is the best to start in 2023?
In terms of popularity, becoming a content creator takes the gold medal.
All you need is a basic device to get started (this blog post was written on my phone). With low start up costs combined with the ability to choose the specific niche you want, being a content creator in 2023 is a great idea.
I suggest starting with the lower barrier to entry online business ideas
You don't need to choose just one online business either, you can have a couple of businesses building up at the same time and divert your energy to the one that gains the most traction.
That's the beauty of having an online business in 2023, you can diversify and have a wide range of income streams, often combining them to help feed each other and grow together.
When starting your online business there will be a lot of competition, but from my experience, most people give up after a few months and waste potentially great online business ideas.
Should I start a SaaS business in 2023?
Answer: only if you are a technical founder and can build the majority of it yourself.
SaaS or "software as a service" brands are an excellent way to build a highly scalable digital products, usually in the form of an app. An amazing feature of a SaaS brand is it's ability to cost the same to run whether there is 1 user or 1,000 users.
The only downside of a SaaS business are the high start up costs for non-technical founders. If you are thinking of building a SaaS business I highly recommend educating yourself in low code or no code tools to start and at minimum understanding what tech stack you will need to build your SaaS business.
You can hire agencies to build your SaaS business and these projects typically start at $300,000 and quickly increase in price.
Should I start a freelance business in 2023?
Answer: only if you have a digital creation skill such as writing, design, development or marketing and can take projects to completion on your own.
As a freelancer myself for over twenty years, I highly recommend having a freelance career as a foundation to any other business you are building. If you can use a computer, you can freelance. From easy to start freelance Virtual Assistant careers helping others with their daily tasks, to becoming a Copywriter, these are simpler careers to begin and you can be up and running in the same day.
The more technical freelance careers of Graphic Design and Website or Software Development may take longer to start up because if the education involved, they are still fairly simple to start. I began my career as a Graphic Designer while still in High School at 14 years old.
You can expect to earn $10-20/hour as an entry level freelancer, and over $150/hour for advanced level freelancers with high level technical skills.
Should I start a coaching and consulting business in 2023?
Answer: only if you have made yourself successful in the profession you're coaching.
Coaching and consulting are excellent online careers which can easily earn you $50-200/hour for one on one coaching, and up to $2000 for high quality courses. The amazing thing about coaching and consulting is you can build downloads for lead capture, digital downloads which you charge for, and coaching courses that you can have clients access for a monthly or yearly fee.
The problem arises with many coaches and consultants not having the experience to adequately help clients. I would suggest that you first learn the subject matter you are coaching in a high level of detail, then offer your services. If you only have a few months of experience you are too early and this can have many negative consequences for your clients as you will most likely send them on the wrong path.
I suggest having 5 years of experience and aim to coach people who are still at the beginning where you started. On emerging technology, you can have limited time experience as it may be a new tool or technique, but ensuring that you're an expert in the topic will help your coaching and consulting clients greatly.
What should I do as a coach or consultant?
Online courses

Digital eBooks and Print Books

One on One coaching
Should I start a digital product business in 2023?
Answer: only if you have knowledge that you can package and sell.
Digital products are another highly scalable business model, whether you sell 1 digital product, or a million, once you have built the digital product you don't need more time to scale the quantity.
I would suggest starting with smaller digital downloads like a tips and tricks guide which is a few pages long, see how it does and if people are enjoying it, then moving to larger digital products once you have confirmed the market for your product.
What type of digital products should I sell online?
Online courses

Digital eBooks

Digital Assets

NFTs
Should I start physical product business in 2023?
Answer: only if you have $50,000+ to begin as you will need product design, molds and manufacturing.
Physical products or consumer packaged goods are great online business ideas in 2023. There will always be space for your product as newcomers to the market are always interesting additions to retail.
The downside of physical products is that you need to have a wide range of skills and be a great generalist. The ability to look at an existing problem and ask "why has no one done anything about this?" Is a great place to start with your online business idea in physical products.
When I built Dawg Grillz, my dog toy business (which I sold a couple years after founding the brand), I really enjoyed learning about online business strategies, manufacturing, distribution, and social media marketing.
What physical products should I sell online?
Consumer packaged goods

Food and beverages

Toys and Educational Products
Should I start a drop shipping business in 2023?
Answer: only if you are looking for supplemental income as the profit is low for the amount of work.
Drop shipping has been very popular for the last decade as an online business idea. It is extremely easy to start an online business for drop shipping giving you the opportunity to be up and running within a week.
The major problem with drop shipping is also its major benefit, the easy, giving others the ability to copy your business as drop shipping has no proprietary products. With drop shipping, you simply act as a "middleman" where all you do is process orders and send the order for fulfillment direct to the consumer.
Should I start a content creation business in 2023?
Answer: only if you have a strong opinion and are comfortable being the face of your brand.
Being a content creator or "influencer" is a great way to earn money online in 2023. Content creation is one of the best online business ideas as you have to do it to make any of the above careers work well.
Known as "influencer marketing" you become the face of your online business idea. Showing off the process as you go and interacting directly with your customers on a daily basis.
You can do everything as a content creator, from writing a blog like this, to videos on YouTube and TikTok, and posting on LinkedIn for business to business customers.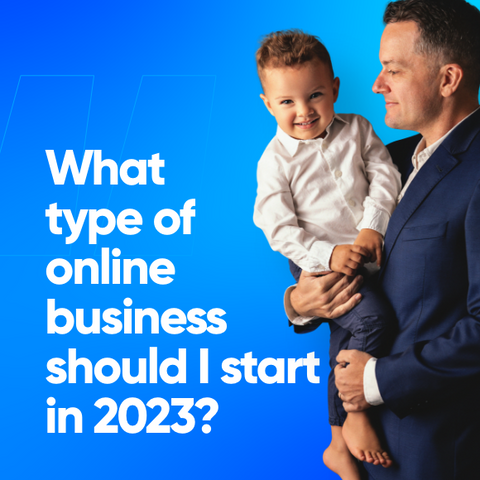 What type of online business should I start in 2023?
Then, pick one of these:
---
Third, try these:
---