With the shift to working from home, almost everyone is looking to maximize their newly unlocked free time.
To indulge in a passion, people look towards starting or reviving their small businesses. In addition, so many small business owners are pursuing their passions and working adeptly towards building and scaling a profitable business. A small business coach can ease many challenges you may face as an entrepreneur.
A small business coach provides specific advice to your small business, helping your business grow. This is not standard business advice. The business coach works with all phases of your business, including strategic planning, creating a business model, and helping you navigate any other challenges you may face to become an established business owner.
What does a small business coach do?
A small business coach is almost a co-founder, life coach, psychologist, and sounding board all in one! Beyond the primary roles that you'd expect from a business coach concerning making your business profitable, they are also impartial judges towards making business decisions and pointing out problems as they arise.
Think of the small business coach as someone who helps you self-actualize and grows as an entrepreneur as you grow your business. A small business coach knows the ins and outs of the company they are working with. This includes but is not limited to being a better entrepreneur, handling the stress of running a business, finding additional revenue, and increasing your company's sales.
All small business coaches offer baseline services, including constant motivational support to help overcome personal blockers towards running a business. This is not surface-level motivation but highlights the positives within your specific life issues and how to deal with them.
What do they bring to the business and the business owners?
Most small business coaches often run successful businesses themselves where they navigate challenges similar to yours on a daily and often have years of experience to back them. This is what makes them truly valuable. They bring their expertise to act as a guiding light to you. They share valuable insights and point out potential directions for growth that you may haven't thought about yourself. A business coach can help you get on top of the business essentials like a business plan, project management, employee management, human resources, marketing plan, and so much more. Let's see their role in a little more detail:
Setting up a path for your professional growth
A good business coach helps their clients, i.e., the business owner, identify the gap between where they are and where they want to be. They would provide specialized input toward what needs to be done to close the said gap. They will help you build a solid strategic plan to address your concerns and how you can go about fixing them. This could provide you with additional knowledge and tools or help you find your first hire. They allow you to define a destination and do everything to get there.
Discoverability and clarification of your vision
New business owners often struggle with defining their core values and business vision. They also find it hard to align their importance in a commercially viable form. This means that there is a disconnect between why someone wants to start a small business and if what they want to do can make money sustainably. A business coach can navigate this disconnect and help align personal values to commercial viability. Having a solid vision and core values are key to achieving your goals in time, providing a greater level of fulfillment, and genuinely helping you own your dreams. A business coach can certainly help with it all.
Providing customized expert coaching advice
No one knows the characteristics of your business better than an executive leader. No book or podcast can come close to the value a business coach brings. Some workshops cater to your niche or business style, but even then, you can't get the one-on-one sessions you may need to succeed.
There are two things that business coaches bring towards this that can help you reach your business goals. Firstly, they get their invaluable experience of working with other businesses and growing their businesses as well. You can have an all-access ticket to business success with the right business coach.
Second, they can combine their credentials with executive coaching certificates. This makes business coaches indomitable as they can offer customized advice and highly tailored plans. This acts as gasoline on the fire, rapidly accelerating growth for the business owner. This leads to exponential personal and business growth.
A safe space for vulnerability and growth
Your relationship with a business coach is complex but built on complete and utter trust from both parties. People often compare business coaches to a therapist, and rightfully so. Though not licensed, entrepreneurs share their deepest thoughts of doubt, ridicule, and humiliation with their coaches.
The aim to do so is to navigate the emotional challenge of running a business. It's not new that people need to keep their mental health in check to run a successful business. You can be struggling financially, have a personal issue that demands more of your time, or have an emergency. That is life.
Business coaching provides a judgment-free zone where your coach can help you gauge your priorities and objectively provide you with the right solutions for your problems. Running a business is a personal endeavor as much as a professional one. A coach helps you excel on both fronts.
The emerging unfettered business owner can now understand their priorities, explore ways to adjust their life to incorporate them and work towards building a business that supports this life that they aspire to have. This helps build confidence and consequently impacts growth, company vision, and culture.
Motivation and accountability
Business coaches unlock a higher level of accountability for their clients, which trickles down into the culture of the company or business. When you feel responsible for something, you act on it because you believe you have the power to influence it. This means clients and their teams are more likely to take action on things that intimidate them and reach far and out to seek growth opportunities.
What to look for in a small business coach?
Before you think about investing your time and money with a business coach, you must be thorough in your search. Not all coaches would be the right fit for you. Here are a few pointers for finding the right coach for you.
Look for other business owners and entrepreneurs who have worked with the selected business coach. Testimonials are the real deal here! They will give you an accurate picture of what it's like working with this business coach.
Consider how many years of experience the business coach has. If you have ten years of experience in a field, you wouldn't ideally want advice from someone who has been in business for three years. Their experience may not be helpful to you. While this will be the case in most scenarios, a younger perspective can sometimes help small business owners since they may help you leverage new trends and technology.
See if they have any coaching credentials. These aren't a make or break, but a coaching credential promises that they know how to coach people rather than simply being a silent partner. You are starting a professional relationship here, so weigh everything you see carefully.
See if they offer a free consultation call or any low-priced assets that can help you get a feel for their personality and coaching style. Most coachee and coach relationships span a timeline of years, so it's ideal that has an initial consultation call. Most successful coaches won't have a free consultation call, but the small fee is well worth their time since they can give you a good overview in that time.
The coaching should be aligned with what you are looking for. Many entrepreneurs need life coaching, where the coach can advise on things like personal values, build a positive mindset and inculcate thought leadership. On the other hand, you may need only business coaching centered more around professional guidance where they would focus on business growth by scrutinizing things like business planning, online marketing, cash flow, etc. As a small business owner, you must be self-aware to understand what you want or, at the very least, ask the right questions.
What does a business coach teach me?
From the get-go, we can't pinpoint what a business coach teaches their clients, but on a closer look, we can say that business coaches help build hard and soft skills. Both are equally important for successful business owners.
Soft skills
Self-awareness: Small business owners are made to question their beliefs and treat everything pragmatically. This is crucial for small business success. A leader lost in his or her world will rarely ever be successful.
Emotional Intelligence: Emotional intelligence is a superpower that business coaches help you uncover. The ability to read a room and lead with empathy is crucial for business owners. At the same time, gauging someone's emotions and intent is also vital. Many small businesses fail simply because the owner is ignorant of the emotional requirement of customers and employees.
Confidence: Many people who have used business coaching services feel they leave their sessions more relaxed, organized, and confident. This is the direct result of the understanding that the coach builds with the client and helps them break down their personal and professional issues into actionable steps.
Optimism: Business coaches help you see the upside in every situation, no matter how dire. This is a crucial skill, for the true leader is the one who emerges when things are looking down. Optimism will take your small business to great heights.
Hard skills
Strategic Planning: The greatest coaches are champions of strategy. As a result, they help small business owners craft and execute brilliant strategies. They know what to do when to do it, and how. With a coach, you can build a step-by-step process for the next quarter, a year, or five years.
Analytical Skills: Data is the modern-age currency and is being monetized every single day, with companies like google making their significant revenues from data-based advertisement. A business coach can enable you to collate this data, assemble insights and deduce actionable from the senses. It's not all raw motivation when running a small business, and it's a careful structure that fuels that motivation. Analytical skills are a significant addition to that structure.
Marketing: Business Coaches do plenty of research work, possibly even before they onboard you as a client. Primarily the brand and marketing dynamics of your brand. This helps explore new marketing practices. Before they advise you on investing in new marketing opportunities, they have their action plans peer-reviewed by other professionals in their network.
Speaking and Presentation: Not every business owner is a natural speaker or presenter. Some have both or don't have either of the two. Some may have stage fright, be nervous or suffer from imposter syndrome. Personal business coaching can help you get rid of these blockers and speak or present with confidence.
What can small business owners get out of business coaching?
Small business ownership can be daunting, and you will likely want a clear picture of ROI within your own business once you have made the initial investment. Here's what you can get out of small business coaching services:
Boost in Revenue: Boosting revenue and sales growth is the primary reason why small business owners seek business coaching, to begin with. Coaches can navigate spreadsheets like champions and remove limiting beliefs within the founder and, by extension, within the employees. This will lead to skyrocketed growth across different avenues of your business and directly impact the bottom line.
Resilience: Growing and scaling are all exciting terms when talking about small business coaching, but that's just one side of the coin. A business coach is not insurance, and you will most likely have setbacks in your business. Business coaching helps entrepreneurs build a positive mindset and have the resistance to bounce back from the roughest of knocks.
Leadership: Many coaches aren't just effective teachers but have worked in positions of authority. They likely have an established small business or a larger corporation if they have a strong record. They can effectively teach you how to be a leader and act similarly.
Team Building: When it's time to start building a team for your business, such services can prove beneficial since they can identify the gaps between your skillset and the company itself. Whether it's product development, marketing, or the sales force, small businesses benefit from a business coach as they can help establish a solid overall dynamic within a small business and interview prospective employees.
How much do small business coaching services cost?
A business coaching service isn't cheap. A seasoned business coach brings with them years of business experience and has built businesses in the real world. Their knowledge isn't widespread and most of the time is bespoke, so the expert advice comes at a cost.
To work with someone with a solid track record, you can expect to pay over $1,000 monthly to $3,000 daily. Yes, you read that right. Some work on hourly contracts, charging between $100 to $250 per hour. The good news is that you will likely find a great coach on a reasonable budget. The higher end is reserved for large corporations and is overkill for a small business.
Small business owners should prioritize their budgets and find business coaching services for the money they are willing to part ways with. You may have to meet multiple coaches before you zero down on the right one, but when you do, it'll all start to make sense.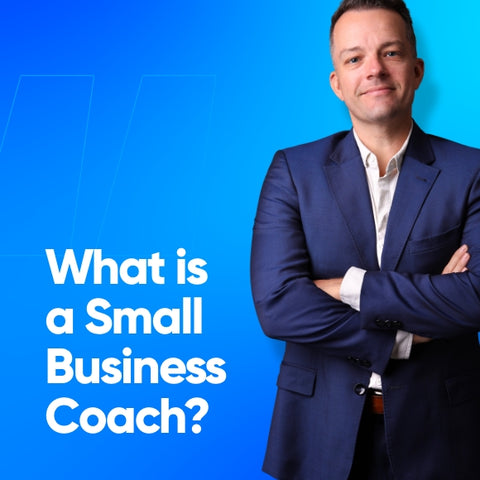 What is a small business coach
Then, pick one of these:
---
Third, try these:
---