It's 2022, and your business needs a pitch deck. This presentation format is easy to send and read to give potential investors and prospects an overview of your business.
As a business person, you hear "pitch deck" you can even review my pitch deck here for an example. Your pitch deck presents your business model to potential buyers, investors, and even vendors who may be interested in your business.
What is the difference between a presentation and a pitch deck?
Marketing and sales use both presentations and pitch decks to build businesses. The distinction between the two is that the Presentation deck is more specific information presented during the sales meeting, and the Pitch deck is to arouse interest in your business to begin the process. Pitch decks are Step 1, and Presentation decks are Step 2.
How do pitch decks help?
Each pitch deck needs to get to the point quickly and shouldn't be too wordy. By keeping the information clear and concise, you're giving your audience an at-a-glance opportunity to understand your business model and, more importantly, how this business model benefits them.
Your pitch presentation is the easiest way to distribute more in-depth information about your business to potential investors and customers in a closed format. Instead of getting your prospects to go to your website, you can simply email them an attachment, and you're ready to start selling.
I recommend using the PDF format to distribute your pitch deck as it requires no special software and can easily be opened on a mobile device.
Another excellent pitch deck delivery system is Google Slides, shared from Google Drive. I recommend setting the access to Restricted as you gain the added advantage of collecting viewer information such as their email address when they request access to your pitch deck.
The only downside to sending your pitch deck as a link is that it adds one more step of complexity to the delivery. Many organizations ignore outbound links that arrive via email because of security concerns.
Here are the elements I would recommend ensuring are included in your pitch deck:
Business model
If you are doing a startup pitch deck, adding your business model clearly and concisely is an excellent way for viewers to quickly understand your company.
I always suggest formatting content with Heading, Subheading, 1 Paragraph of copy, and a few bullet points. This ensures the pitch deck is easily scannable by the viewer who may be looking for specific information.
Value proposition
The value proposition is a simple way of communicating how your product or service benefits customers and why they should choose your company over the many others out there.
Remember that millions of entrepreneurs vying for eyeballs on their pitch deck, so make sure you give the viewer what they want to see and clearly communicate the problem you solve for them.
Use of funds
If you are a startup looking for funding from investors, it is a best practice to add a "use of funds" slide in your pitch deck that clearly outlines how you will use the money to give the viewer a return on their investment.
One mistake I see with many pitch decks is the startup will outline how they will use the money to grow their business, whereas an investor wants to see that you are using their money to grow their investment in your company. Although similar, the communication difference is critical to get right for the success of your fundraising round.
Traction
The traction slide is essential in your pitch deck because no investor in 2022 wants to see an idea in the conceptual phase. In 2022 it's critical to show that you have started building your company and are already onboarding clients.
If you are not generating cash flow, you are too early to start asking for money. No investors are investing in idea-only businesses in 2022.
You must have already put your money where your mouth is and begin creating your idea with your own money. Besides, what investors will put money into something you want to put your own money into, it's far too easy to spend other people's money, and everyone has ideas.
The execution is the hard part. Put in the work and get traction first.
Market size
Knowing the market size is vital to giving your investors an idea of the opportunity. This slide is often straightforward with overall market size and realistic estimation of how deeply your startup can penetrate that opportunity.
Investors want to know that the market can support another player and can reasonably estimate how much they would have to invest in your company to give it the best chance at success.
Product or service
Your pitch deck is an overview and should be a general summary of your product or services with related technical specifications as long as they are easy to understand. Often pitch decks will be sent to multiple people within an organization, and it is essential to make all of your pitch deck writing easy to understand.
You can add much more technical information when you are invited to show your presentation. One great rule of thumb is to write for your audience how they write. An easy way to understand this is to research about 5-10 people who would be your audience. Then read how they write and incorporate this into the content for your pitch deck.
Business plan
Your pitch deck presentation should always include your business plan, but as mentioned earlier, keeping this clear and concise is the name of the game. Breaking down your business plan simply to what you will do in the next 90 Days, 1 Year, and 3 Year steps is a great way to break it down.
This breakdown of the business plan shows that you're forward-looking and have a plan for the future and can also give your investor clarity as to the significant milestones you are expecting to meet during your company's growth.
Month over month growth
With all startups, it's essential to show month-over-month growth. At the beginning of your company, investors want to see massive growth, especially as these are often high-risk investments, and investors expect a high potential for excellent gains. If you're not growing, you need to figure that out before you start raising money for your company through a pitch deck.
Investors don't want to fund growth. This is done by onboarding new clients and ensuring you are doing everything possible to reduce the churn rate (the rate at which users start leaving your company).
Team slide
By showing your audience your team slide, you demonstrate the professionalism and ability that your team can take on the task of providing a product or service or make sure that investors see potential growth with their money.
Investors want to see that your team includes people that have done this before and that their investment has the best opportunity to grow. People don't invest in food delivery apps because they're passionate about food delivery. They're passionate about watching their investment grow. Your startup pitch deck should demonstrate your ability to tackle the opportunity you're targeting and make it work to benefit your investor's pockets.
Contact
You would be surprised at how often I see the initial content for a pitch deck that doesn't contain contact information or enough of it. Many people get too caught up in the development and writing of the high-level portions of the pitch deck like the story, metrics, and financial items that they forget to have a detailed contact page. Without this page, you risk missing out on the opportunity.
Should I make a sales presentation deck?
Your startup pitch deck should come before your presentation deck. Completing your pitch deck first, testing the appetite of your investors, and collecting more information for the sales presentation is the optimal approach. This way, you don't waste time getting your product or service in front of viewers for initial reactions.
The sales presentation you produce should include the solution and benefit your audience will receive from your company. Think of the solution as the emotional reason why your customer will need your business and should satisfy potential investors by demonstrating that you understand your audience's issues and that you have positioned your company as the business to solve these problems.
Standing out from the competition is essential to designing an excellent sales presentation deck and is the core reason you should not purchase a pitch deck template. These templates are often overused, and getting a bespoke pitch deck presentation is optimal.
However, any pitch deck is better than no pitch deck. A pitch deck template might be helpful in the lower levels of investment fundraising. However, seasoned investors want to see the brand built, not templates.
Should I use a pitch deck template? I recommend a bespoke presentation however, if you really can't afford it, a pitch deck template is your only option, and sometimes it's better than nothing.
Keep in mind that a template won't work on an institutional investor. They'll most likely see numerous pitch decks with the same template being used, and it is an easy way to get your pitch deck skipped.
Remember earlier how I mentioned that if you are not willing to invest your own money in your business, you will not get investment.
Do I need an investment pitch deck?
Giving your audience an insight into your business and a demo of your product or service is an optimal way of giving them a quick understanding of what you do. On average, my $3,500 pitch deck design returns over $384,000 in sales annually. A professional pitch deck is essential to marketing communications and will be the difference between being overlooked or booked for new business!
If you want to raise money for your company, a pitch deck is a core component for communicating your business model that is easy to share. Your pitch presentation can quickly follow your pitch deck and give your audience a deeper dive into your company.
Securing the next meeting is the goal of your pitch deck, and having a well-written, nicely designed pitch deck is essential to communicating your business.
Although I'm biased because I design presentations, I'm here to help with your pitch deck!
How to create a pitch deck?
Adobe InDesign
Adobe InDesign is a great way to design a great deck and presentation to show your company. However, InDesign does require professional expertise to use well. InDesign is my preferred software for your investor pitch deck and allows me to produce a highly detailed and pixel-perfect design that is on brand and beautiful to view.
Google Slides
Google Slides is another excellent cloud software that is free and easy to share. It's accessible for everyone and requires only basic knowledge of cloud software and word processing to using well. My tip for using Google Slides is, as I mentioned earlier, to share it as a restricted document, so users must add in their emails to access your pitch deck. This gives you a great way to build your contact list for future distribution.
Microsoft Powerpoint
Powerpoint is standard presentation software that everyone has now. I find it slow to use and doesn't offer as much detailed adjustment as Adobe InDesign. However, Powerpoint is great for sales teams at it allows them to customize documents easily. That is a double edge sword, though, as your brand should be maintained by a professional graphic designer and marketing team instead of sales who may not have access to your brand guidelines.
Apple Keynote
Keynote is presentation software very similar to Google Slides and Powerpoint that is free to use on all Apple computers and offers pixel-perfect adjustment. I have designed pitch decks that have received over $5 million in funding with Keynote, so there is no downside to using this software. It is very good software.
Do you need help designing your pitch deck or sales presentation? I'm here to help you!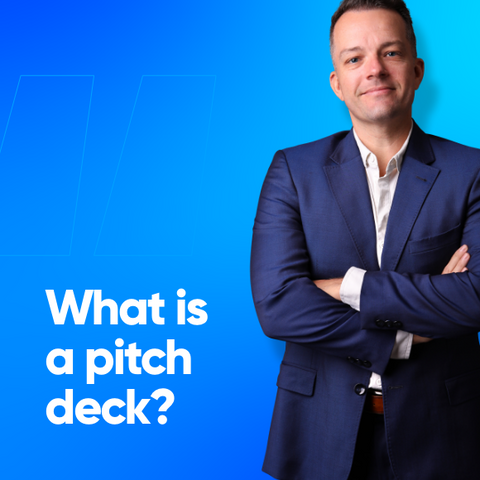 What is a Pitch Deck?
Then, pick one of these:
---
Third, try these:
---