For Upwork freelancers in 2022 and coming into 2023, the big question seems to be, "should I boost my proposal on Upwork using connects?"
In 2022, Upwork added a feature that allows freelancers to boost their proposals to bump them up the list for visibility by the client. Upwork's change to boosted proposals through bidding has led to massive frustrations with new freelancers with limited resources who can't afford to boost their bids.
Should you boost your Upwork proposal using connects? My answer is "No." Here's why you should not boost your position on proposals to win them.
On average, there are usually over 50 proposals for each available job on Upwork, it's flooded, and people are boosting their bids on every job I see posted. On the popular jobs, I've seen them in the 100's of connects per boost. It's become a little crazy.
Boosted proposals for each job post tell me one thing, that there is a desperation with freelancers thinking if you do not boost your proposal that you will lose the project to other freelancers.
I personally haven't seen any evidence that boosted proposal increases my chances in receiving the project contract. I prefer to use these additional connects to increase my proposal volume of with other job posts.
Worrying about what other freelancers are doing is difficult, and often detrimental to your own well being, so my advice is not to worry about getting your proposal declined. Even after twenty years of freelancing, every day a I get a proposal declined by a potential client, but the fact remains, I got out there, I tried, and gave it my best shot.
I hope the best for you, and hope that you will follow my lead and save your additional connects to increase your proposal volume on the world's work marketplace.
Check out How to get more Upwork connects for free?
What is customer acquisition cost?
Customer acquisition cost, in basic terms, is how much it costs you to get each customer.
As a successful freelancer, I incorporate this cost into all of my bids by asking this question:
"What were my costs for getting this project?"
I currently charge $85/hour on Upwork, with an average flat rate project price hovering around $10,000. If it takes me 3 hours to get each project, sales meetings, time to understand the project, refine my estimation, and even items down to how much time I took refining my presentation or adding a portfolio item to my website.
These are all customer acquisition costs, also known as "the cost of doing business."
So when I see many freelancers spending +100 connects on each potential project, I calculate a high customer acquisition cost. I've seen 100 connects spent boosting a proposal on a $200 project as part of my research. It's kinda nuts!
If you calculate $30 in connects ($0.30/per connect X 100 = $30) plus 2 hours at $85/hr = $170, it wouldn't make sense for me to bid on a $200 project.
I add about a $350 customer acquisition cost to my projects created through outbound marketing. It allows me to build my portfolio, add new content to attract new clients, and build better presentations.
I define outbound marketing as "projects I get by contacting potential clients." Outbound marketing has a very high customer acquisition cost. When you add bidding through using connects, it becomes incredibly expensive on Upwork.
How to understand proposal boosting with Upwork connects into perspective?
Some freelancers I've coached have reported a less than 1% conversion rate, and even after twenty years of freelancing, my conversion rate is only about 10%.
Newer freelancers can expect to bid on 100 projects before getting one. The problem with bidding using Upwork connects is if a new freelancer wants to get their proposal to the top of the list, they will be spending $15-30 on each proposal with boosting.
When reviewing each job posting make sure to understand the client's requirements, and ensure that you are among the qualified freelancers by way of proving your experience freelancing.
When you factor in conversion rates, that $15-30 connects boost per proposal can turn into a $1500-3000 customer acquisition cost for every project a new freelancer could get.
The freelancer who is chosen is rarely the highest bidder in terms of boosting their proposal. I know this simply by winning numerous contracts where I see others spending 100+ connects boosting their proposal.
Customer acquisition compounds because you have to include your losses. As you can see, if I'm averaging a $10000 flat-rate project, it's ok to have a $1500 customer acquisition cost, but if you're new and can't handle larger projects, these costs become prohibitive.
How do I win Upwork proposals without bidding with connects?
Here are the 5 pieces I use to ensure a higher conversion rate with my proposals and increase my chances of winning Upwork projects without bidding using connects:
Proposal Writing

Presentation Design

Pitch Writing

Proposal Volume
I've noticed no difference between whether I bid using connects or not, making me believe that customers see proposal boosting with Upwork connects as unimportant. Clients still want the best freelancer for the job and don't care whether you are at the top of the list.
I can also personally attest to this as someone who hires freelancers to assist on projects through Upwork. I read most of the proposals, and instead, I go with the freelancer with the best customer service and project history to back it up.
I recommend spending your time refining the above four pieces to optimize them for each project. It's much better to spend an hour of your time and get the proposal perfect than to copy and paste it, then boost it for visibility.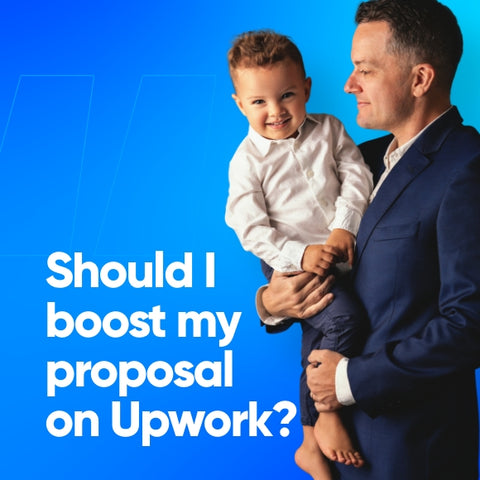 Should I boost my proposal on Upwork?
Then, pick one of these:
---
Third, try these:
---