Free to sign up
Like most freelance platforms, Upwork is free to sign up for. Except for an approval process, there are no barriers to entry. Anyone with a skill set that can be performed remotely, can create an Upwork account and start offering their services. If you have a great profile, you will find visibility on the platform.  
Upwork also provides a new freelancer with 30 connects to start applying for jobs, and land your first job on Upwork. On top of this, Upwork also provides 10 connects every month to use towards applying for jobs in the future. Let's look into the connects system and see how Upwork monetizes it.
The connects system
Upwork connects is like an on-platform currency, similar to what you would see in a game. Upwork uses these connects as enablers, freelancers with connects can apply for jobs. 
All jobs on the platform require connects to apply to them. The required connects can range from 1 to 6 depending on the client's history on the platform and the compensation offered.
When you receive an invitation to interview after applying for a job, Upwork provides you with 10 free connects, which essentially means that the connects used for that job post are refunded, and anything extra is a bonus. 
What happens when you run out of connects?
The next obvious question is, what if I run out of connects and don't get interviewed by any clients? Well, in that case, there's little you can do without paying Upwork to buy more connects. Even though the connects are relatively affordable, new freelancers wouldn't want to pay for a service that they aren't sure they will get value out of. 
The free approach would entail profile optimization to enhance discovery on Upwork so clients can discover you instead of you reaching out. This may be an empty pursuit for some because clients don't want to hire freelancers with no work history on Upwork. In which case you can wait the month out to get your free connects and apply again. 
As you can see, the wait time on free connects is unacceptable to most, and you will have to buy connects from Upwork. Upwork connects are relatively affordable. Upwork offers bundles of connects, which are of the same value per connect no matter how much or how little you buy. The cost of each connect comes to $0.15 and the minimum you have to buy is 10 connects. 
So as you can see, there is no escaping the connects system because you need sonnets to apply for jobs, and while Upwork is generous with connects, when you do run out of them, there's little you can do other than buy more from Upwork.
Boosted proposals
The controversial move from Upwork recently is having the ability to boost proposals. Up until the middle of 2022, connects were only used to apply for jobs, you spend between 1-6 connects per job. This meant that if a freelancer has 30 connects, they could apply for at least 5 jobs. 
This is still true in concept, where you aren't required to boost your proposals but the freelancers who choose to do so will receive a higher spot in the candidate pool for a job post. The client can still see all the proposals for the job, it's just that the boosted ones show first. 
This has however been looked upon by freelancers across the globe, simply because it gives to successful freelancers a stronger advantage over the ones who may be new to the platform or early on in their careers. Also, there is no limit to how many connects one can use on a single proposal, so it's a bidding war amongst freelancers, one which new freelancers can't afford. 
There have been instances where people use over 30 connects on top of the original 6 to have their proposal on the top. This isn't sustainable for most, hence the backlash. As you can see with competition being so fierce that people pay for a job (in essence), you can run out of connects very quickly. This means you buy more credits and if you choose to boost, you apply for fewer jobs. On a platform like Upwork where it's a game of volume, this can be discouraging to many. 
The commission
This isn't something new, but a cost of doing business on Upwork. Connects are also a cost of doing business but it's minuscule in comparison to the fees that Upwork charges from clients and freelancers on the platform. Upwork doesn't earn as much money from the people on the platform, but rather it monetizes the work being done through it. 
The client end
This post is meant for freelancers but you must be aware that Upwork clients get charged for hiring freelancers as well. The flat fee is 5% of the value of the job for every job and a reduced 3% if they are US based and have a checking account. So if a client hires for a job with a value of $100, they pay $105 to hire the freelancer.
Upwork enterprise service subscriptions come at a higher fee of 10% for clients, for which clients get access to top-tier talent selected by talent managers at Upwork. 
Clients can also attract more freelancers to submit proposals quickly, by featuring a job post. Essentially paying Upwork to boost their job post as a featured job. These featured jobs come with a reduced fee for badge holding freelancers, so they are incentivized to apply for them.
The freelancer end
This is where things get a little more complicated, and where Upwork makes serious money. This payment to Upwork comes in form of Upwork fees. When freelancers apply for a job, right away they are informed that Upwork will charge them a 20% commission up to a billing of $500. So a project with a $100 value means that you receive $80 and Upwork gets to keep 20%. 
Up until the middle of last year, you could take a test called the Upwork readiness test, to get a rising talent badge when you start out on the platform and get access to 10% fees on all featured jobs. This was great for new freelancers on the platform but has since been discontinued. As a new freelancer, you will pay 20% on all contracts when you start working.
When the freelancer crosses the $500 threshold with a client, that is when Upwork will reduce the commission to 10%. So let's say you complete a project that is $600 in value with a new client, the first $500 will undergo a 20% deduction, and the remaining $100 will be subject to a 10% deduction. So for $500, you will receive 80% of $500 which is 400, and 90% of $100 which is $90 for a total of $490. You paid Upwork a fee of $110 which is 18% of $600.
When you cross $10,000 with a single client is when this fee gets knocked down to 5%. From the initial $500 to the $10,000 threshold, the fee is charged at 10%. So on an $11,000 project, you would receive you will receive 80% of $500 which is 400, 90% of $9500 which is $8550, and 95% of $1000 which is $950 for a total of $9900. In this case, you paid a fee of $1100 which is 10% of the total amount. 
When you choose to withdraw the funds from your Upwork account to a bank account, you will be subject to conversion fees from USD to your local currency, on top of which you can expect a $0.99 service fee per withdrawal. 
From the commission structure above, we can see that Upwork incentivizes freelancers to do more work on Upwork with the same clients, rewarding a lower commission if they work more. The fees apply to both fixed-price and hourly projects. These fees can seem steep, and they are, but that's the cost of having access to clients and freelancers from 180 countries. A compromise many make. 
Upwork Plus
If you don't wish to keep buying connects as you need them, you can subscribe to Upwork Plus. In my opinion, you don't need Upwork Plus, the Basic plan provides everything essential for succeeding on the Platform. 
For $14.99 a month, you get everything you get in the Basic Plan, except your monthly, connects go from 10 to 80 per month. You can view the competitor's bids for any project, and get extended reports on your Upwork profile. You can also set your project earnings to confidential, which can otherwise be publicly viewed on your profile. In addition to these, you can also set a custom URL for your Upwork profile, and your profile won't be hidden due to inactivity. 
If you are serious about Upwork, this may seem like a good deal at the beginning, but I don't recommend anyone to get this plan. The only thing helpful is the reports, which will be useful to freelancers at the very highest level, trying to compete with the best of the best. You can get 100 connects for the same value, more than what the plan offers. As far as setting earnings to confidential is concerned, I think you should have them publicly available so only qualified clients invite you to projects. 
All other features aren't very useful unless you are a highly revered freelancer on the platform, in which you can expect to get invited to more jobs as a given. 
Conclusion
So is Upwork free for freelancers? Yes and no. There are no fees to sign up, and anyone can get on the platform barring the approval process. However, over time you are bound to pay fees when buying connects. With boosted proposals, it's harder to use connects efficiently, so in many cases, you will find yourself paying for connects. 
Upwork also charges hefty fees from clients and freelancers for every job completed on the platform, which is the main revenue source of this for-profit company. In addition to which freelancers can buy Upwork Plus, a plan that gives you some added benefits over the basic plan.
My take
Upwork is a force to be reckoned with, there are no two opinions about it. It makes a strong case to be a tool in any new freelancer's toolkit. All freelancers consider working on Upwork at some point in their freelance career and rightfully so. It brings clients from 180 countries. The fees are high but Upwork offers features like payment protection and hourly or fixed-price contracts. The visibility alone is worth the price you pay for it. 
Agreed that the Upwork service fees and boosted proposals aren't ideal, far from it. But, that's the cost of doing business on Upwork. If you are starting out, the exposure that Upwork provides with its invaluable opportunities is nothing short of career-altering. My work on Upwork still feeds into my current freelance business to this day and is a major part of its revenue. 
In my opinion, paying for connects, boosting proposals, or getting Upwork Plus is not worth it. I have spent years on the platform without these features, making over $400,000 in earnings. I have previously discussed each of these in detail. You can find links to the articles below. 
Should I boost my proposal on Upwork using connects? Read here.
How to get more Upwork connects for free? 3 Steps! Read here.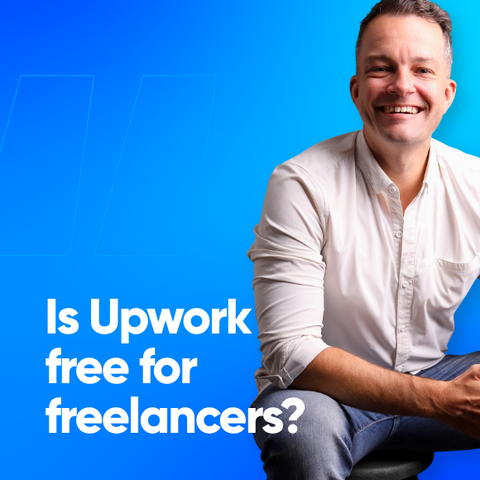 Is Upwork free for freelancers?
Then, pick one of these:
---
Third, try these:
---