Have you hit send on your pitch deck, only to wonder whether it was effective?
If you have any hesitation in sending your Pitch Deck, this article will help you break down the 10 steps to ensuring that your Presentation is written perfectly with the best chance of success.
An effective pitch deck for investment or sales needs to ensure that it is the best pitch the viewer will see to stand out from the crowd. When I create a pitch deck, I always ensure I am following the below process I have proven to make your startup pitch, investment pitch, and sale presentation for your product or service unique and memorable.
Each pitch deck I design, I give it a theme, not as in a template, but to tell the story of your brand, the business model, business plan, value proposition, and key metrics that will stand out to potential investors and present the information in a visual way that investors want to see.
This format of your pitch presentation ensures you tell a story that resonates with investors whether they are in silicon valley or not. Your presentation must communicate perfectly to get investors on board with your idea and potentially raise significant investments.
What are the steps to writing a killer pitch deck?
Understand your Audience with Customer Profiles
Take your Audience on a Journey
Understand why Investors should invest
Create a Map of your Content
Write a Compelling Pitch
Use Images and Illustrations
Use Infographics for Data Presentation
Keep it Short and Concise
Make sure there is Contact Information
Produce it in Multiple Formats
Understand your Audience with Customer Profiles
The first step to writing great pitch decks is to understand your customers emotionally, enabling your story to resonate with the reader perfectly and give investors the benefits they are looking for.
It's not enough to simply communicate features. Your pitch deck must demonstrate your competitive advantage through benefits to explain "why" your startup is the company in which to invest.
To write Customer Profiles for your pitch deck, I recommend following this format:
What is the problem you are solving?
What is the opportunity?
What is the unique value proposition?
Who will be using this product or service?
Why is the product or service important?
By answering these above questions on an emotional level, by giving the benefit, you can make sure that investors will be much more attentive to your content.
Take your Audience on a Journey
All great pitch decks tell a story, and like every great story, your pitch deck must move the viewer through a series of steps to navigate their first impression of your company. Investors want to see your business's financials and technical aspects, but captivating your audience is essential to ensure your pitch deck gets shared and keeps your reader interested.
Once your pitch deck captivates your audience, you can proceed to the deal phase, where investors perform due diligence, but if you don't stand out, you will never get to that stage.
How can a pitch deck tell a story?
Start with a hook
Prove that you are the company in which to invest
List the emotional benefits to your company
Demonstrate your competitive advantage
Show the market size and opportunity
Present your Team
Show your progress with a traction slide
Present your Founder
Show that you listen to the Customer
Leave investors with clear next steps
Understand why Investors should invest
Investment isn't to make you grow and get rich. It's for the investors to know that you have the resources to grow your company and ensure that your business model has the chance to survive and thrive.
Think of your business from the position of the investor. Why should they invest? What will you do with the money, and prove how you have already made progress toward your goal. Your deck design should accurately show what you intend to do with the funding. What solution are you providing your customers, and why will your company become essential to its customers.
Create a Map of your Content
I always start each pitch deck design with writing, and before starting to write, I map out the overall purpose of each slide. Every business model is different, and each pitch deck design will have a different structure. There is no one size fits all approach to writing a compelling pitch deck.
To keep yourself on track, use a product like Lucid Chart to quickly map out the structure and understand the journey you will take investors on to secure investment.
When I write a sales pitch deck, I will format the content differently, focusing more on the product or service with transparency to give the viewer the best chance at making a decision.
Write a Compelling Pitch
Compelling pitch deck writing will require you to tell your story and keep it personal, so the investors feel that they can relate to you and your company. If you are a startup, you will be unknown. This is a perfect time to get personal and show that you are a brand to which customers can relate.
If you can capture the attention of investors and keep them reading, investors will be confident you can do the same with your customers and will be happy to invest.
Use Images and Illustrations
Using images and illustrations makes reading content more effortless. It stands out and captures the reader's attention, and if done strategically, can give the viewer understanding of the content on the page visually. Visual communication helps time-crunched investors understand your company and makes your presentation more appealing and effective.
Use Infographics for Data Presentation
Infographics are a great way to tell a story and lead your audience through complex information clearly and concisely, which helps the investor visualize the summary of your company.
Whether the infographics are used for financial information in your pitch deck or to explain your product or service visually, they are great ways to help investors visualize your business.
Keep it Short and Concise
No investor wants to read a novel. By creating a map and using visuals to explain your business, you can help the investor or viewer understand your business quickly.
Try formatting your contact like this:
Headline: What is your viewer's pain point (problem)? 1 sentence.
Subheading: Why does the viewer need this benefit (solution)? 1 sentence.
Content: What are the features of this solution? 2-3 sentences (1 paragraph)
Summary: 3-5 bullet points
Make sure there is Contact Information
You have no idea how often I have been provided with information that has left out critical contact information and a call to action for the next steps. Although this may seem obvious, having this on your checklist is essential as you develop the initial content.
Produce it in Multiple Formats
Your pitch deck will be shared multiple times, often through e-mail, so making sure that your first version is a PDF is vital. PDFs are small and easy to email, whereas Powerpoint pitch decks are often quite large in file size and can often get hung up with virus checkers. I've never had an issue producing a PDF pitch deck, so I always default to this format.
Do you need help designing your Pitch Deck?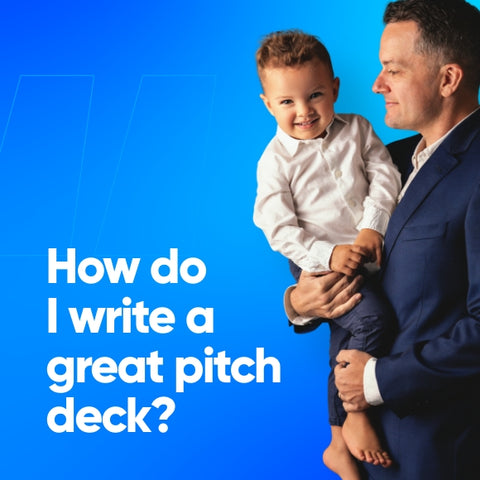 How to write a great pitch deck?
Then, pick one of these:
---
Third, try these:
---

Start Designing with Adobe

Best Writing Tool