Apple makes one of the best smartphone cameras in the world, but for some reason, they choose to install subpar HD sensors with low video resolution in their laptops.
Fear not, a solution, a rather splendid one, is here. With MacOS Ventura and your current iPhone 12 or later, you can your iPhone camera as a webcam. Why? Because with Continuity Camera, you can have stellar video quality; with center stage, the camera follows your face.
Why use Continuity Camera?
Because it's simply the best. It's high quality, latency-free, and easy to set up. It is changing video calls for the better, and we are all for it! All you need is an iPhone, a Mac computer, and a MagSafe mount.
How to set up Continuity Camera?
The Continuity Camera feature is easy to set up without using any third-party iPhone webcam apps. Before we get started, ensure your Mac and iPhone are on the same Wi-Fi network and registered with the same Apple ID.
How to use your iPhone as a webcam?
We need an iPhone (12 or later) with iOS 16, a Mac running MacOS Ventura, and an iPhone mount with Magsafe.
Step 1: Install an iPhone mount with Magsafe
Unbox your iPhone mount and remove it from the packaging. Based on your Magsafe mount, you would need to remove or peel the plastic covering the metal ring. We are using Creatibly Studio's MagSafe Continuity Camera mount. Simple, dependable, and costs less than a meal for two.
Gently move the mount closer to the back of your phone, and it should snap in place. Using the magnets in the mount and behind the glass of your phone. Moving it to the middle of the phone may need some adjustment. Your phone screen will flash a ring on the display, letting you know that the mount has been connected. Once secured, move on to the next step.
If you are using a MagSafe-compatible iPhone case, you should be able to place the mount directly on the case. Otherwise, it is recommended that you remove the phone case before proceeding.
Step 2: Enabling Continuity Camera in your iPhone settings
Open your Settings app from your home screen and then tap General followed by AirPlay & Handoff. The fourth option from the top should be the Continuity Camera. Just flick the button on, and it should turn green. Then, exit settings.
Step 3: Mounting the camera
Mount your iPhone onto the top of your laptop or monitor using the rubber tab on your mount. Just pull the rubber tab out gently and place your iPhone on your Mac with the main camera facing you. Your laptop screen should be secured in the indent on the rubber tab. For best results, the phone and mount should be centered on the screen with the rubber tab covering your inbuilt Mac webcam.
Step 4: Open the video app you would like to use
On your Mac, open the video app you want to use. And, yes, it also works on the free version of the most popular video conferencing apps.
Based on the app, go to the settings where you select the camera source. It should be in the bottom left for both Zoom and FaceTime. Your iPhone will be visible in both the Camera and the Audio source. Once you click on the name of your iPhone, you should see your video from your iPhone's camera.
That's it. You should be good to take video calls with your iPhone camera as your webcam. Now let's review some neat tricks you can do with this iPhone and MagSafe mount setup.
Maximizing the Continuity Camera
Now that your iPhone camera is secured on your laptop using a mount let's check out some neat tricks that will blow your mind!
Using Desk View
Out of the 3 camera sensors on your iPhone, DeskView uses your iPhone's Ultra Wide camera to simulate a top-down view of your desk while also using the main camera to capture you. This way, you can hold a conversation while giving a demonstration simultaneously. This feature can be turned on on a MacBook but doesn't capture the keyboard. Currently, it's ideal for desktop users only. If you are an artist, you can show your handiwork as well.
To enable Desk View, you must have Continuity Camera enabled and running. Open the control center on your Mac. A small icon in your menu bar should look like toggle buttons in iPhone apps. Then click on Video Effects, and a menu will appear. From that menu, select Desk View. You can use the same steps to turn off Desk View.
A Desk View app should launch, and you should be able to see a top-down view of your desk. You can then tile the new window on your screen and continue with your demonstration
Center Stage
Center stage was first launched in FaceTime for iPhones, a feature that uses the iPhone camera to keep the subject in the frame even if they move around the room. Giving them, the Center Stage. Now that you are using your iPhone as a webcam, you can do the same in your Zoom calls too.
From the control center you used for Desk View, enable center stage. Control Center > Video Effects > Center Stage. Now move your head around and see your iPhone camera follow you around on a Zoom call too!
Portrait mode
Now you don't need an app to support background blur while doing a bad job at it. With portrait mode enabled, you can actively blur your background when your iPhone camera is constantly measuring the edges of your face. So the next time you're in a coffee shop and a barista spills the coffee in the background, the focus will still be on you. Literally!
To enable portrait mode, click on Control Center > Video Effects > Portrait
Studio light
Studio light makes taking video calls in dimly lit or dark environments a breeze. It uses the iPhone flash as a light to brighten up your picture when using Continuity Camera. With that and Center Stage, even the long nights can't stop you!
Follow the same steps as Desk View and Portrait mode to enable Studio light. Control Center > Video Effects > Studio Light. Once clicked, your iPhone flash should turn on, lighting up your general surroundings. Also, the flash has been calibrated for this feature so it won't be extremely bright that it blinds you.
Disconnecting Continuity Camera
To disconnect Continuity Camera, close the app you were using and the iPhone will either show a prompt or automatically disconnect. If a prompt shows up, tap the red button that says disconnect, and it's a handheld again. With the mount still on, it's now a cool ring mount, which helps you better grip your phone!
Removing the mount
If you are using the Creatibly Studio MagSafe mount, you should be able to gently slide off the mount from the back of your phone.
The Creatibly Studio MagSafe mount
For using Continuity Camera with your Mac and iPhone, we highly recommend the Creatibly Studio MagSafe mount. Unlike the mounts created by Belkin, our mount is multipurpose and mobile.
While most mounts are built with a single purpose in mind, our mount turns into a ring mount, making it easier to capture and stream stable video even when you are away from your desk. The metal ring also doubles as a kickstand for placing your phone on a flat surface for video calling, charging, or watching Netflix. It folds flat when not in use.
No more faffing around with a complicated arm with a MagSafe connector or the need to buy a separate mount for your office and home setup.
FAQs
Does Continuity Camera work on a windows PC?
Yes and no. There is no native support for using Continuity Camera on a Windows PC. You can, however, download third-party apps like Camo, which can help you use your iPhone's rear camera as a webcam. Camo also has an app for Android phones if you want to use your android phone as a webcam. This would require driver installation and a setup.
With Camo, You would miss out on features like Desk View and Center stage. The free app is available on the App Store, but most of the features like overlays and virtual-camera are behind a paywall. It is, however, a no-brainer for professionals using older versions of iPhones and Mac computers.
Do you need a continuity Camera mount?
It is highly recommended. The feature will wirelessly work out of the box on your iPhone and Mac. You would need to mount the phone somewhere to keep both your hands free during your calls.
Does Continuity camera work with an external monitor?
Yes, it does. Continuity camera uses your iPhone as a webcam for your Mac computer. If the phone is within Bluetooth range of your computer, you can mount it on the monitor or place it down with a kickstand.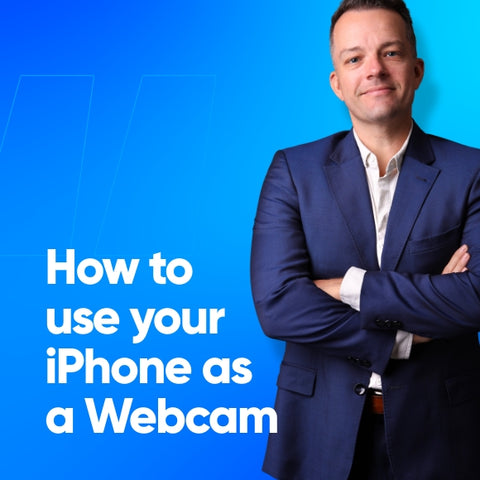 How to use your iPhone as a webcam for your MacBook Pro and Air?
Then, pick one of these:
---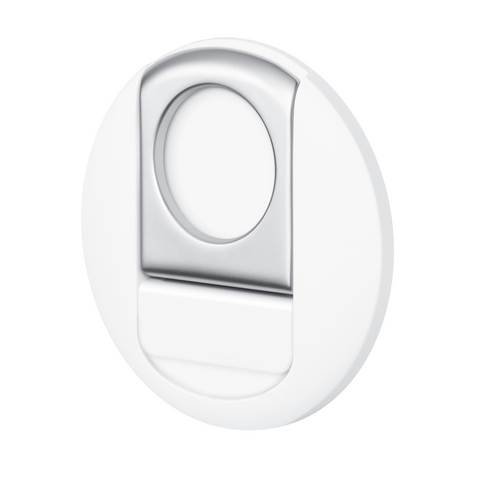 Creatibly Studio MagSafe Continuity Camera Mount
Third, try these:
---
Design your future with these tools!