Many clients ask me, "How can I quickly get to page one on google?" when you get on the first page of Google, your visibility increase exponentially. This has a direct effect on your income.
From local businesses to digital nomads, you want to rank on the first page of google. Search engine results are the path to organic traffic to your website, a massive saving on ad spend, and a relief on your budget.
By focusing on ranking on the first page of Google, you can build an ongoing content plan and work your way there. On keyword difficulties under 50, you can expect to rank on the first page of Google within a few weeks. Over 50, especially over 80, it takes another level of complexity and a great plan to get your website pages ranking.
Why the first page of Google?
It's easy to understand the benefit of getting on the first page of Google, rarely do Google searches go beyond the first few pages, and Google's algorithm has refined itself to return excellent results. This has made Google the top search engine and the default on all popular browsers.
By achieving a top ranking organically, you don't need to continually pay for ranking on the first page of Google with ads. This can get extremely expensive, quickly running into the millions of dollars for high competition keywords.
Often, it costs around $3000-5000 to achieve results with organically building content correctly to save around $8000 per month on ads.
Content Writing
Writing the correct content, whether the content is for Landing Pages, Blog Articles, Product Pages, and descriptions is integral to ranking for your target keywords. By writing quality content that benefits users, you will have the added benefit of increasing the chances that you will begin to show up on Google, which is the first step in achieving a first-page ranking on search engines.
Read: How do I rank on Google with SEO writing?
How much content do I need to start ranking on the first page of Google?
This is a common question; I believe it is around 30,000 words in any given subject if the keyword score is less than 75. Above a keyword difficulty of 75, you will need hundreds of thousands of words I have experienced.
How much content should I write each month to rank on the first page of google?
To put the amount of content into perspective, I write about 30,000 words per month of content. My average post and page content is roughly 2,000 words, and I write a new page every two days. Some days I may write 10,000 words, others zero.
If you stay on track for over a year of writing content for the search engine results page you are aiming for and write at this level. You will be able to rank within a year.
Long Tail Keywords
For example, a long tail keyword is a question like the title of this blog post, "How to get to page one on Google." Typical keywords are 1-3 word phrases like "Graphic Design" or "Website," but are much harder to rank for.
Keyword Research
What is Keyword research?
Keyword research is an in-depth look into what users are entering into Google's search engine and then using those results as the foundation for content on your website.
How to do keyword research correctly?
When starting research into keywords, I recommend looking at the Google search results as you naturally type. Instead of choosing a keyword, you want to rank for, then trying to rank for it, start typing your keyword into Google search and see what results extend down from the drop-down. This will give you an excellent insight into what users are looking for.
The next step is to choose one of the keyword results in that drop-down, then, on the first page, look at the content ranking on the first page of Google.
What keywords should I add to my content?
With almost every Google search (unless it is a very vague search), you will see an accordion menu of various questions frequently asked regarding this keyword's search engine results. By incorporating your variation to these answers into your content writing, you can dramatically increase your ability to start the journey to rank on Google's first page.
Google Search Console
There are plenty of excellent search analytics tools out there, such as SEMRush and ahrefs, but Google search console and Google analytics are the primary ones you will be using. Even with sites receiving hundreds of thousands of visits per month, these tools are often adequate to understand if your website is trending in the right direction to rank on Google.
These two tools will also inform you of any errors or issues on your pages that may prevent them from ranking on the first page of Google or not displaying the information you want to rank for.
Google Ads
Google ads are an excellent way to jump the line and get your website to the first page of Google. It's easy to see why paying for traffic moves you to Google's first page, as you are paying to compete with other websites for the opportunity to rank on the first page in a Google search.
What will $50/day get me on Google Ads?
The issue with Google ads is that they can be expensive. There were many books published about ten years ago (it's 2022, by the way) that always talked about how easy it was to make a digital product, and spend $50/day on ads (the 4 hour work week for example), then sit back with your feet up and watch the money roll in.
With twenty years of advertising experience, I have never seen this as true. It may have been in exceptionally rare circumstances where the person hit the perfect niche at the perfect time, but any gains like this would be short-lived. As soon as other people see the opportunity, your Google ads become more and more expensive, and now in 2022, $50/day on Google ads won't move the needle. You will see a small bump in traffic, but nothing you can pay for lunch with.
You can expect clicks with Google ads, but conversions are a different ball game in 2022. With the privacy revolution starting in 2020, which hamstrung Facebook with Apple's iOS 14, and an equal privacy option for Google coming this year, you can expect your Google Ads to be less and less effective.
How do I lower my customer acquisition cost for my eCommerce brand?
I have seen direct-to-consumer brands (eCommerce sites that sell the product they manufacture directly to the consumer) increase their cost of acquisition per customer (CAC) from the low $20 range to over $125. If your average order value is anywhere in the $50-100 range, I would personally move as much of your marketing budget to develop content and post it versus spending it on ads.
There are huge benefits to posting content versus spending money on advertising on search engines and social media platforms. You have an opportunity for a customer to engage with your brand for a much longer time and help teach your audience valuable lessons you have learned. As an example, most ads receive merely a brief glance of a few seconds maximum, whereas a long-form blog post like this one averages 5-10 minutes of engagement with my audience.
Featured Snippets
The featured snippets on the first page of the Google search results page is typically displayed when a user types a question into Google. Google's team has found that your answer is insightful and pulls a block of content that they feel answers the user's question.
How do I get on Google's Featured Snippet?
To be seen on Google's Featured Snippets, you have to have the search engine's best answer, so the quality of your content must be extremely high.
There is no way of ensuring you will receive a Featured Snippet. You can only write the best content and use your expertise on a topic to give the viewers an insightful answer that will prove very high authority.
Search Results
Getting on the first page of Google is working against the entire internet to give the search user the best possible user experience you can. There is a massive amount of content on the internet, and ensuring you get your website to move up the rankings should be the first goal of your website.
How do I get my website to rank on Google?
When you have a new website, often considered less than one-year-old, you will have difficulty ranking on the first page of Google quickly. The way around this is to simply build an extensive content library and hit publish.
How much content do I need to write to rank on Google?
I have found that you need to write somewhere around 30,000-50,000 words on your website to get it to rank on the first page of Google. This may sound like a lot, but it should be around the monthly amount of content your brand produces.
The great thing about writing this amount of content for the Search Results page rankings is that you can use it as a basis for all your content, regardless of the platforms you are posting it to.
Blog Posts
What should I write on my blog?
Your blog posts should be relevant to the keywords you are trying to rank on the first page of google for.
How do I come up with ideas to write for my blog post?
The simplest way to think about writing content for your blog is to be an expert on a topic that relates to your website, specifically. When your Home Page, Contact Page, About Page, Blog Post, and Product Pages have content that relates to one another and has internal links that allow the viewer to naturally move through the website, you will have high relevancy.
What is relevancy and topical authority?
Relevancy and topical authority seem extremely important in 2022 for search results. By choosing a topic that relates to your brand in a highly specific manner, then linking to other valuable pages and products within the same website with highly related content, you will establish relevancy and help guide your decisions on what to write on your blog.
Blog posts are incredibly important, as they are often the organic traffic entry points onto a website, instead of through the home page, which is typically direct traffic driven. By being found through the blog posts first, you're establishing your brand as an educator first, then selling your product, allowing your customers to have greater trust in your brand as the one to pick.
Make sure your Meta Description, Title, Headings, and Paragraphs are all correctly formatted to get to the first page of Google. This helps on mobile devices as well as you are often dealing with a much smaller display area for results, so making sure you have checked off all of the fundamentals in your blog posts will increase your organic results tremendously and ensure you are on your way to the front page of Google rankings.
Internal Links
Internal links guide your user experience and set the path forward while allowing for natural movement throughout the website.
One key to consider is that at any point through the customer's journey through your site, they should be no more than three clicks away from where they want to end up.
Ensuring that you have adequate internal links on each page facilitates the natural need to explore a website but also allows for Google to index your page and demonstrates that you have the relevancy needed to increase your search engine ranking.
Search Intent
There are four main categories for search intent in search engines:
Informational - How do I do something?

Navigational - How do I find a specific brand?

Transactional - How do I buy a specific product?

Commercial - What is the best product?
When choosing your keywords and writing content for your website, it is important to consider why the user is finding your site and their intent.
If you can align your content and the subsequent navigation through your site with the user's search engine intent, you are much more likely to achieve the goal you have set out for with the traffic you get to your website.
When Google is ranking your content, it will also seemingly understand the search intent of your users and how you are delivering them to their destination. This seems to be a core analysis for ranking your website on the first page of Google.
Google's first page is where all searches begin and most end. If your website is not on Google's first page, you will significantly reduce your visibility on search engine results for each page after the first page of Google.
What is Informational search intent?
Informational intent is centered around a user's search for information about a product, service, or topic. An example of a long tail keyword search with Informational search intent may look like:
"How do I change the oil on my car?"
This often triggers an accordion style frequently asked questions list, including the answers to these long tail keywords search will help you move up in the Informational search intent results. If you are able to get the accordion you are ensured of appearing on the first page of Google.
What is Navigational search intent?
Navigational intent is focused on a user's search for a specific brand, product, or service. An example of a long tail keyword search with Navigational search intent may look like:
"Technical specifications of a 2022 MacBook Pro"
This search often triggers Featured Snippets in the search results, where there is a one paragraph opening line and a link to the page containing the information. To rank for these searches, it is important to give direct answers to questions. Focus on the direct answers to have the best chance at the first page of Google with a featured snippet.
What is Transactional search intent?
Transactional intent is considered when a user is looking for a particular product or service and wants to buy now. An example of a long tail keyword may look like:
"Buy motor oil for a 2022 BMW 5 Series"
This type of search often triggers a list of products or services depending on the long tail keywords search queries and typically displays a horizontal list of products you can purchase directly from the first page of Google.
To move up the rankings with this search term, it is important to have easy to purchase products and services with pricing, product descriptions, and eCommerce.
The first page of Google is only a few steps away when you have amazing product offerings, and have covered the on page fundamentals for your product including long tail keywords related to your offering.
What is Commercial search intent?
Commercial intent is when a user is looking for a particular product or service and wants multiple options to choose from. An example of a long tail keyword search may look like:
"Men's barber near me"
This type of search often triggers a Map with markers on it to display the various options in your area. In order to increase your chances of being in the top 5 featured map markers, it is important to have your Business with a map marker on Google results as well as complete reviews, a website, images, and your business details completed correctly.
Aim for the first page of Google by having a perfectly completed business profile with a physical address (a PO Box does seem to work fine).
Web pages optimized for user experience
Google my business is a great way to get your website ranking on Google's first page. By having a Google my business profile, you give your brand a way to get your website to authenticate with Google and be seen as a verified resource.
It is unknown whether this has a direct effect on your goal of achieving results on the first page of Google, but from initial research and general common sense I would say that there is a positive benefit. Even if that benefit is only another way for a potential customer to find your business.
Ensuring that your business shows up in the search results of numerous platforms is a sure fire way to move you up the rankings as it adds just another channel that can verify your brand as an authority.
Should I optimize my website and make it mobile friendly?
Web pages must be mobile friendly in order to get on Google's first page. We're in 2022, and if your experience isn't mobile friendly you are leaving a lot on the table in terms of search results. The pages that are ranking should be lightning fast on mobile and look polished. There is no longer an excuse to have a site that isn't compatible with all devices.
Google will seemingly penalize businesses that don't optimize their user experience by having a fast and responsive mobile friendly site. I have noticed that if your site takes longer than 10 seconds to load on mobile, you will experience adverse effects on your Google search results appearances.
Does page speed effect my Google search ranking?
I have however, noticed that a lightning fast site with a less than 1 second load time doesn't make as much of a difference to search results versus a 5 second loading page. This leads me to believe that Google might be judging the overall design and visual appeal of a site as well in their search rankings.
Having lots of images may slow down your site, but it will also make your site more interesting, and if more images increases a user's time on your site this may be a good indication to Google that your content is better, even if it loads slower. There is a Google algorithm change sometimes daily so this may change at any time, but as of this writing it is what I have noticed when doing SEO projects for client websites.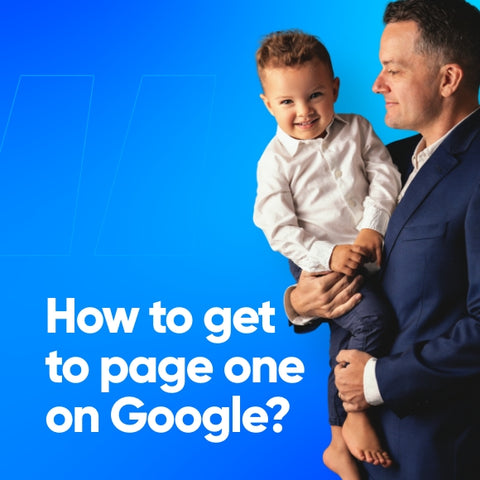 How to get to page one on Google search results
Then, pick one of these:
---
Third, try these:
---