What does Upwork do?
Upwork is essentially a job board that connects freelancers with prospective clients from around the world. Clients who wish to hire freelancers can post jobs on the platform with a job description and a budget. The freelancers can then submit proposals to these job posts, with a budget. Once hired, Upwork provides all the necessary tools to help with contracts, invoicing, project management, and payment.
The number of job opportunities on the platform is high, with thousands of jobs posted daily, so there's no shortage of work. An unofficial number puts the number of freelancers on the platform close to 20 million, so there are multiple options for clients as well. All of this combined with features like payment protection and project milestones, make it a fantastic platform for freelancers and clients.
Your Upwork profile
The Upwork profile is the highlight of your Upwork account. It is the best place to showcase your skillset, the services you offer, your past work, and a little bit of personality. As someone starting on Upwork, you should have a complete Upwork profile with a profile picture. A complete profile also makes you eligible to receive Upwork badges, which recognize top freelancers on the platform.
The search feature on Upwork works in a very similar way to how google and Youtube work, which is based on keywords, so it is important to have the industry keywords on your profile. This way, clients can find you in search, invite you to interview, and hire you if you fit the bill.
For a more detailed overview, read How do I write a great Upwork profile?
Type of jobs
Upwork is a more generic platform, compared to some other platforms which are created for different industries. Contra and 99designs are primarily meant for designers, and almost exclusively are used by designers. Upwork on the other hand, hosts jobs, and talent from all industries where remote work is possible. Upwork is the jack of all trades, quite literally. It offers a platform for jobs in all industries at all skill levels. (All industries where remote work is possible) It's the reason why it has become a behemoth, and almost synonymous with freelancing in general.
The jobs on the platform are split based on skillset proficiency, the three levels are; Entry Level, Intermediate, and Expert. Apart from industry and proficiency level, jobs also differ based on how compensation is provided.
For a list of 3 best freelance jobs for beginners, click here.
Jobs based on skillset
Upwork celebrates the spirit of freelancing in this aspect. They host jobs for virtually 100s of careers, which freelancers can explore, apply to and work for. There are jobs for almost all industries at all levels of skill. Some of the popular jobs on Upwork are for Web Development, Graphic Design, Software Engineers, Copywriters, and Virtual Assistants. These are just the in-demand skills on Upwork, however, you can find jobs in Data Entry, Social Media Marketing and so many more. Give the search feature a whirl, and you'll find something for your skillset as well!
Entry Level
Entry level is a filter that you will find when you search for jobs on Upwork. When the job post is created, clients can select the proficiency that they are looking for. If a client selects Entry Level, in Upwork's terms, it means that the client is looking for freelancers with the lowest rates. These opportunities are ripe for anyone starting on Upwork as a young freelancer, with a basic level of skills in their fields.
However, some clients may lowball with $5 as payment for a relatively complex task. Upwork doesn't control pricing, so as a caution, stay away from such job posts. Do your due diligence, as some clients only use pricing as placeholders. At no cost accept work that is at extreme odds with your market rate.
Intermediate
The goldilocks compromise, in Upwork's terms, is when clients are looking for a mix of experience and value. Most freelancers on Upwork fall into this category. These are opportunities for freelancers who have a few projects in the bag and are on their upward journey into freelancing. These freelancers should have a portfolio of work to demonstrate their skillset and generally charge higher compared to entry-level freelancers.
You mustn't let these classifications misguide you. These skill levels are industry skill levels and not time on Upwork or Upwork skill levels. If you have your fair share of experience in the industry, you are an intermediate freelancer and not an entry-level one.
Expert
The third and the highest level of skill is Expert. In Upwork's terms, if a client selects Expert, they are willing to pay the higher rates for most experienced freelancers. Freelancers in this category are the ones who are making those high-six-figure numbers on Upwork.
I apply to and respond to invites only for Expert level jobs. Simply because I have over 20 years of experience as a Creative Director, it makes sense for me and the clients that I work with. If you fall into this category, you will find that the platform is an excellent way to replace a full-time income.
Jobs based on compensation
Based on compensation, there are two types of jobs posted on Upwork. Hourly and fixed-price projects. They are exactly what they sound like. Let's take a look at how they work.
Hourly Projects
Hourly projects are exactly what they sound like, you get paid by the hour. The more hours you work, the more money you earn. Depending on what the project type is, this may be an ideal way of working for you. Most Upwork clients and freelancers work on hourly projects.
Upwork has its desktop time tracking tools which enable freelancers to log time, and the client gets to see snippets of what you're working on while the time tracker is running. The tracker has a toggle switch to start tracking, and a work diary section, where you can write notes about what you are working on.
You will have to download the tracker onto your work computer, where it will take random screenshots, and also record keyboard and cursor activity levels. This is done so that the client can know if you were working on their project when you enabled that time tracker. In the beginning, this can seem a bit intrusive, but once you start working, it makes sense and fades away in the background. When working with people over the internet, a degree of transparency is necessary. Freelancers also benefit from this, something that we will explore in the payment section of this article.
Fixed-Price Projects
Fixed price projects are ones where you work for a client on a pre-determined compensation and set of milestones toward a project. As your client marks milestones complete, you get paid for them. As an example, a logo design project can be broken into, deposits, sketches, concepts, and delivery. Clients can set milestones for the freelancer; freelancers can also request milestones for the client to approve as well.
Unlike hourly contracts, you don't have to log time for fixed-price contracts. You can choose to do so if necessary, but it is not a compulsion. The trusted exchange is rather simplified, you complete the tasks, and you get paid for the work done.
Bringing external clients to Upwork
If you choose to do so, you can bring external clients, of your own to the platform and use Upwork's tools to run their projects. Upwork charges a small fee of roughly 3% on such contracts, which does make sense if you are using Paypal or other international payment providers; since 3% is considerably less.
If you use direct wire transfers with your current clients, then there's no monetary incentive, but you can leverage various payment protection features, including time tracking and milestones.
Applying for jobs
Using connects
Upwork operates on a connect-based system. When applying for jobs, freelancers spend connects to write proposals for a job post. Based on the project value and client history applying for jobs can use up anywhere from 2 to 6 connects per proposal.
Upwork also recently introduced a new feature where you can boost proposals to land in the top 3 when applying for a job. This just promises placement, and is not guaranteed to hire; the client can still see all other proposals. The feature hasn't panned out very well with freelancers. The top talent, who can afford boosts, set boost amounts at an exorbitant level. This makes finding jobs for new freelancers harder. This gatekeeping mentality has not gone down well, in an otherwise open marketplace. I don't use boosts and you shouldn't either.
Check out How to get more Upwork connects for free? 3 Steps!
Read Should I boost my proposal on Upwork using connects?
Receiving credits
When you start on Upwork, Upwork generously provides you with 20 credits to start looking for projects. Every month on the 7th, Upwork provides you with 10 free connects as well. If you are a rising-talent badge holder, you will get an additional 30 free connects from Upwork. Every time that a prospective client, invites you to interview for a job you applied for, Upwork awards you with 10 connects.
You can also buy connects for Upwork. There are multiple price points for connecting bundles. As of 2023, if you choose to buy connects; you pay $0.06 per connect. While you can, I don't recommend that you pay for connects, ever. There are plenty of ways to get connections for free.
Not sure what services to sell on Upwork? Learn about the easiest freelance career!
Feedback and review
Based on the kind of job you are working on, clients can leave feedback on your profile, about the kind of service you provided. Here's how the Upwork review system works:
Hourly Contracts
As established, hourly projects work on an hourly basis. This means that these projects can run for months, maybe even years on end. Upwork has a feature called mid-contract feedback which is useful for hourly contracts. Effectively clients can leave their first feedback, one month into the contract and can revise it every 30 days. If hourly projects end, they can also leave feedback at the end of the contract.
This mid-contract feedback, however, doesn't show up on the landing page of your profile. Prospective clients can only view it if they click on "jobs in progress" on your profile. This feedback also doesn't count toward your job success score (JSS) which we will explore in the track record section.
Fixed-Price Contracts
Feedback for fixed-price contracts works plain and simple. The client can leave feedback with a star rating for the work done. This will be visible to everyone who visits your profile and does get counted toward your job success score.
For both fixed-price and hourly contracts, the clients provide feedback to the freelancer and the freelancer to the clients. They also provide private and public feedback. Private feedback is used by Upwork to rank profiles, while the public is visible on their respective profiles.
Track record
Track record is a great deal on Upwork, simply because the more successful projects you complete, the more likely you become to get hired on Upwork. There are 2 ways that Upwork measures and rewards track records on the platform.
Job Success Score (JSS)
Your job success score (JSS) measures how successful you've been in completing past projects for clients. It collects information based on feedback from your clients, both public and private feedback to calculate a JSS every 2 weeks.
Multiple factors affect the JSS and Upwork doesn't fully disclose how they calculate it. What you need to know, is that you should provide your best service to all clients and the JSS will take care of itself. Now and then, you will find clients who aren't the most pleasant to work with, which might hurt the JSS. Simply concentrate on your work quality and don't let the score fall below 90%.
It's not the end of the world if your JSS falls a little. Most clients know the style and limitations of remote work. Your ability to solve the problem for a client will shine through at the end of the day, and one bad client doesn't make a difference in the long term.
Talent Badges
Talent badges on Upwork are a great way to get recognized for the work that you've done on the platform. Upwork freelancers with a strong track record of turning around successful projects can get recognized across different categories. These badges help you differentiate yourself from the crowd of millions of freelancers and stand out as a strong and dependable freelancer.
Rising Talent Badge
The rising talent badge is awarded to new freelancers on the platform, with great off-platform accreditation. If you are someone with a great level of experience, and happy clients before you got on Upwork; you can receive this badge. You would also need to have successful delivery (ideally 5 stars) with your initial clients on Upwork.
Primarily, you need a strong background in your chosen field, a complete profile, and any recommendations from previous employers on your profile. There is a section on your Upwork profile, where you can ask clients to put in Verified feedback onto your profiles. Your previous clients will have to share their LinkedIn profiles when sharing this feedback, for authenticity.
As for perks, you get a rising talent badge on your profile, reduced Upwork fees at 10% on Featured Jobs, a one-time 30 connect bonus and access to chat and email support with the support team.
Top Rated Badge
The Top Rated Badge, which was previously the highest level of accreditation you could receive is now the base tier but now is awarded to the top 10% of freelancers on Upwork. Now arguably, freelancers from across the world are on Upwork, and it is the largest marketplace on the internet right now. So to some degree, you are one of the top 10% in the world, if you have the top-rated badge.
To be a top-rated freelancer; you will have to maintain a JSS of over 90%, have consistency in delivering high-quality work for clients, have a strong earnings history, and have a complete freelance profile. The My Stats section also has top-rate eligible weeks, and out of 16, you need to have 13 weeks as a freelancer meeting the criteria mentioned above.
You then get a top-rated badge on your profile, reduced Upwork fees at 10% on Featured Jobs, the ability to remove negative feedback (conditions apply), invitations from talent specialists to submit proposals on jobs, faster payment on hourly contracts (5 days earlier), premium customer support and lastly a Job Digest email list that sends job opportunities to your inbox. All in all, this is a great place to be!
Top Rated Plus
In addition to the top-rated rating, top-rated plus is the same tier which as per Upwork is given to the top 3% of freelancers on the platform, and in some respect top 3% in the world. Talent at this level is making a full-time income from Upwork, and can very well be considered to be a successful freelancer.
To be a top-rated plus freelancer, you need first to have the top-rated badge under your belt. In addition to that, you must have income over $10,000 on the platform in the last 12 months and a large contract (over $20,000) completed in the last 12 months.
Apart from the top-rated plus badge on your profile, the benefits of top-rated plus are exactly the same as a top-rated freelancer. Although with a higher-tier badge, you get more recognition on the platform, and you have a better chance of landing high-ticket clients.
Expert-Vetted
The holy grail of Upwork badges, the expert-vetted badge attracts high-level Upwork business and enterprise clients.
To be an expert-vetted freelancer you have to undergo rigorous pre-screening by industry experts, be in the top 1% of talent on Upwork, possess exceptional skills in your industry, and also have great soft skills.
You get an expert-vetted badge on your profile along with a dedicated Talent Manager, who matches you to the right jobs. At this point, you are no longer searching for jobs, but they are being pre-screened for you. It's the made-it version of freelance on Upwork. Even though it's possible to get this badge as your career is growing, most freelancers in this tier have 2-3 decades of experience in their chosen field.
Payment
Now to the meat and bones of freelancing on Upwork. How does payment work on Upwork? How do clients pay and how does the payment get dispursed to freelancers?
The payment timeline differs based on the type of contract that you have, fixed price ones work differently from hour-based contracts. These are just general payment guidelines, as per your talent badge, these can change.
Hourly contract
If you have an hourly contract with your client, you use the desktop tool to log hours in your work diary. Your client can set a weekly limit on the hours, up to which point, you can work in any particular week. Upwork operates on UTC (coordinated universal time) and the week begins at Monday midnight and runs until next Monday.
At the end of every workweek, your hours are ready for review both for you and your client. If the client has allowed manual time entry, you can add hours that you may not have logged. The client can also review these requests and dispute any work they think they shouldn't be charged for. This is simply a protection mechanism for both parties, most clients and freelancers operate above board with a high degree of fairness. Both clients and freelancers have until the end of the work week to request changes to the hours billed.
At the end of Friday, Upwork charges your client's payment method for the amount and holds it for 5 days, during which period, the client can dispute charges. This is what they call hourly payment protection, wherein, if a party deals in bad faith, the Upwork team can disperse or refund funds based on how a dispute pans out. As a freelancer, it's good, because you will get paid regardless of the client being untrustworthy. Again this is a safety mechanism to prevent fraud, and protect the interests of all parties involved.
After the 5-day hold, Upwork then holds the funds in escrow for 5 more days, before releasing them to the freelancer. This escrow time is shorter for freelancers with top-rated and above badges on their profiles. From there the freelancer can withdraw the money.
Fixed-price contract
The payment for fixed-price contracts works similarly to hourly contracts, only that there is no hourly payment protection. The platform charges the client at the beginning of a project, which can then be released by the client at the end of a project or project milestone.
A similar 5-day escrow does apply to fixed price contracts as well, and badges don't reduce the escrow time, so the funds will take 5 days to become available. The freelancer can then proceed to withdraw money to their accounts.
Withdrawals
All payments on Upwork with a client up to $500 undergo a 20% deduction as Upwork fees, this fee goes down to 10% over $500 and down to 5% when you've billed the client over $10,000. These are the Upwork service fees, for hosting the jobs and providing the tools necessary to run the project. In addition to this, you also pay a $0.99 withdrawal fee, this is charged on the number of withdrawals and not per contract.
Upwork allows freelancers to withdraw payments to their bank accounts via a wire transfer, to Paypal and a US bank account. Each payment type is variable based on time and fee. The $0.99 fee is standard for most countries, where you then receive the funds in your local currency. You can also do a USD wire transfer to any bank in the world, and pay a heft $30 fee. Local US banks can be used for withdrawals without paying any fees whatsoever. Paypal withdrawal is also free but you will have to pay fees when transferring from Paypal to your bank account, this is only suitable if you hold funds in your Paypal.
Disputes
The bone of contention, the disputes section is a protection mechanism by Upwork to protect the interests of all parties on their platform, both clients and freelancers.
This is seen as a last resort, short of going to court when there is a disconnect between the freelancer and the client. As a freelancer, it's unlikely that you will not encounter something like this, it's inevitable.
If you are ever in a position where you have to file a dispute on Upwork, make sure that you present a detailed overview of the project, its requirements, and the work done. Be respectful to the client and the mediator. If you are in the right, you will find an amicable resolution.
Upwork community
The Upwork community is a forum page hosted on a separate domain by Upwork. This is like any other forum page by Adobe or Microsoft. You can ask questions to community members, seek opinions and look up solutions to common problems.
It is pretty straightforward in that aspect, you can find solutions to most issues here.
Conclusion
We just went through all the aspects of Upwork as a platform and for someone on the outside, it can be overwhelming. It even begs the question, is Upwork worth the headaches, of trying to figure it out? To that, I say, yes. Once you start using the platform, find clients, and deliver projects, you will find your groove.
Upwork is a powerful platform that makes freelancing easy for so many freelancers around the world. With the trend of freelancing evergrowing; freelancing is here to stay and so is Upwork. Not leveraging Upwork at this time is a missed opportunity, when you find clients and then build long-term relationships with them, you can then choose to transition off the platform as necessary.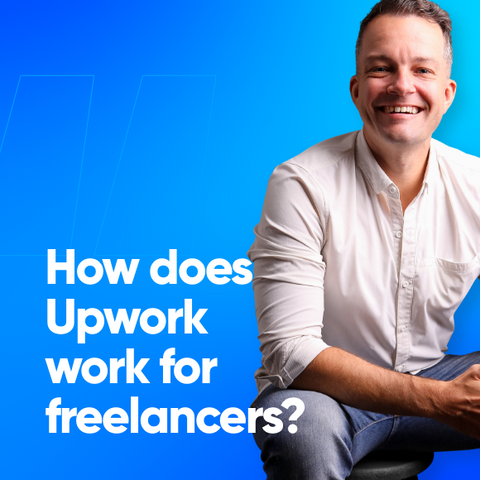 How does Upwork work for freelancers?
Then, pick one of these:
---
Third, try these:
---