Freelancing is a lucrative opportunity for a lot of full-time employees to generate additional income. The barrier to entry is also low with the easiest freelance careers.
Freelancing is the new hot word as layoffs increase across the globe. With the ability to work from anywhere and almost all skills being in demand, it's difficult to turn down the allure of working as a freelancer.
The COVID-19 pandemic has accelerated the freelancing industry as a whole and that has got everyone looking for the easiest freelance jobs to get started with. The easiest freelance careers are the ones that are easy to get started with, and simple enough to execute but to grow beyond a certain point would require complementary skillsets. In this article, we will explore these careers based on their ease to begin and execution.
Here is a list of 6 easiest freelance jobs for beginners:
Content Writer
When it comes to being a freelance writer, there are very few freelance careers that provide a low bar to entry, moderate time commitment, pay well, and also have some growth opportunities. There are a lot of talented content writers who have built a freelance career around this skill and also made a full-time income with it. It is probably the easiest freelance job out there.
Working as a content writer means having a good level of linguistic ability and writing skills to write content for blogs, websites, social posts, ebooks, product descriptions, etc. In the beginning, however, you will find freelance jobs in the article and blog writing niche, writing long-form content for brands towards their content marketing efforts. With more experience, you can expect to transition into technical writing, academic writing, and social media content as well. The sky is the limit with this one, as long as something requires written content, you can provide this service to them.
You can find multiple freelance writing jobs on various platforms across the internet. Starting is easy and you can expect to make $10 to $15 an hour, with the ability to earn upwards of $40 an hour later on. All in all a solid choice with an opportunity to earn a full-time income.
Virtual Assistant (VA)
Virtual assistants have a single task of freeing up their client's time by taking care of clerical tasks like replying to emails, scheduling meetings, managing social media, organizing travel plans, etc. Virtual assistants provide their time to a client to take care of these small tasks.
A virtual assistant needs to have great organizational skills and should be able to use the online tools required to book and manage appointments and create schedules. When it comes to easy freelance jobs, there's nothing that comes close to being a virtual assistant. The only drawback to this is that your earning potential is very time dependent and you can't scale beyond a certain number of clients.
Starting as a Virtual Assistant requires little to no background. All you need is organizational skills and some free time to put towards this. You can expect to earn anywhere between $8-$25 an hour, in the beginning, you would be at the lower end of the scale. Earning a full-time income is possible but not ideal when a city-based lifestyle is taken into consideration.
Data Entry
Data entry is a job that requires almost no background to get started. A basic set of computer skills are all it requires. This might be the best one, out of all freelance jobs for beginners. Data entry entails adding data to excel sheets, websites, or word documents. These can also include transcribing tasks like adding text from screenshots and images to an excel or a word document.
To work in data entry, you don't need to have a strong foundation in anything but over time will have to optimize your time by using automation and fast typing skills to reduce the time spent on each task i.e get more work done in less time. Most of the smaller jobs pay a fixed rate while larger jobs pay hourly.
Data entry is a good freelance career and you can find plenty of freelancing jobs for data entry, however, it can get quite tedious after a certain point of time. You can expect to make between $8 and $20 an hour for data entry jobs. Growing a full-time income through this career alone may be difficult, if at all possible.
Social Media Manager
Being a social media manager means that you get paid for creating posts, uploading them, and interacting with the audience. You will also be responsible for creating and running ads on social platforms of the client's choosing. Social media management does require some background in creating content calendars and working with content management systems like HootSuite or Facebook for business which is easy to learn. If you can run paid marketing campaigns, you would be transitioning into a social media marketing role which requires some knowledge of media buying.
With a basic level of experience, you can get started on your journey to be a social media manager. In addition to the basic skills, you will also be expected to have some level of copywriting skills and basic design skills within Canva. You can also work with a freelance graphic designer later on in your career. Unlike the careers before, this is a slightly more complex freelance career to pursue but doesn't require a lot to get started.
Getting a freelance job as a social media manager will not be too hard since there are plenty of jobs out there on freelance platforms. I would recommend that you should begin by growing a social account for yourself which you can then use as social proof to get more jobs. You can expect to make anywhere between $10-$25 an hour with opportunities to grow a full-time income if you manage social media accounts for multiple clients at a fixed rate.
Customer Service Representative
Working customer service jobs is one of the easiest ways to start earning a freelance income. This requires no background except proficiency in the language that you intend to provide customer support. Alot of manufacturing and tech companies hire customer support representatives to provide support for their products.
Companies that hire customer service representatives, often provide initial training to answer general questions about the product. You also work with a dedicated manager who can help you solve complex issues that may arise.
There are plenty of freelance jobs for customer service representatives with many of them posted online and even the largest of companies like Apple hire representatives for their customer service teams. You can expect to make between $5-$18 an hour. This job is likely to move towards a full-time job rather than a freelance career simply because it's not possible to do this for multiple clients at once.
Freelance Photographer
A freelance photographer is an underrated job when someone is thinking of freelance job ideas. It doesn't require a specialized skill as most of the work done, is for firms and brands for whom photography is a requirement rather than a priority. Especially in the automotive and real-estate sectors, people need freelance photographers to shoot and upload photos to online platforms.
This is an easy freelance job to get started with as it only requires a good quality camera or a dependable camera phone. You may need to get a car or a bike to commute to locations, to photograph them. If you combine this skillset with the ability to edit photos in photoshop, you can start doing event photography as well.
Getting a job as a freelance photographer isn't too complicated and you can start by going through your local job boards like craigslist and Kijiji. You can expect to earn between $15-$25 when you start, if you upskill and expand your service offering, you can charge upwards of $50 an hour.
Where to find freelance jobs for beginners?
So you have a freelance career that you'd like to pursue, the next step would be seeking your first freelance job in your niche or your area. Below is a brief introduction to finding freelance jobs for beginners, for a detailed look at how to find your first job, check out How to get my first freelance project?
Reach out within your network
Nothing works better than reaching out within your network or close family when it comes to finding freelancing jobs. You can volunteer or charge a nominal fee for an introductory task in any of the jobs mentioned above. This would be highly dependent on who you know and what they do, but if you can get your foot in the door and get professional experience with it, take the chance and don't pass up on it.
Working within your network might not be the best if you don't have strong ties or aren't willing to work at a lower rate than usual. Without experience, you will not be able to justify a full rate and that may not be ideal.
Learn how to leverage your network for your next freelance job. Read how to get freelance work on LinkedIn 
Local classifieds
Chances are that your city has a local classifieds page wherein people from your city post their requirements for a certain kind of freelance jobs. This may be a photographer, a freelance writer for a newspaper article, etc.
This is a good route for seeking jobs in your local area but make sure that you conduct due diligence in verifying the job post before trying to contact a lead. Even then, don't commit to anything till you know the full details, and never exchange money over these platforms.
Online job boards
Online job boards are a great way to seek companies and individuals who are hiring for your role. This can include Indeed, LinkedIn or Monster.com.
LinkedIn would be the ideal job board for this since people openly post about openings and requirements for a certain profile. From there you can connect with the prospect to start a conversation and land a freelance job. With this approach, you will have to relentlessly chase these new posts within the search and jobs section of the platform.
Freelance job sites
This is by far the most popular route to seek freelance work as freelance job sites are created with the intent to hire freelancers and not full-time employees. On most freelance websites, you can also use a filter to look for entry-level jobs.
Fiverr and Upwork are popular freelance sites, both with their own set of pros and cons, However using either can help you be a successful freelancer. My recommendation is to go with Upwork as it is more dependent on outbound outreach to get freelance jobs, especially for entry-level freelancers.
For more information check out Is Upwork a Good Way to Make Money?
How to get hired for freelance jobs as a beginner?
You know how to find easy freelance jobs and are also sure of what you want to pursue as a freelance career yourself. The next logical step is to reach out to prospective clients with a great pitch.
Volume is your best friend
Coming into the market with a freelance skill that has a low barrier to entry is great but you need to understand that many people are competing for the jobs that you are applying for. This means that you need to send multiple proposals every single day. The best freelance jobs aren't easy to get and the easy-to-get jobs aren't always the best.
Get used to sending out multiple proposals every day. Craft a perfect freelance pitch template that you can modify and alter for every job. Yes writing an original pitch is necessary but some things will remain standard across all your pitches.
Crafting the perfect pitch
When people or businesses hire freelancers, irrespective of the job profile or platform, they receive a multitude of applications. With easy freelancing jobs, this gets more intense. In such a case, a perfect pitch template is your best asset to surpass the competition and land a freelancing job. Below is an example that can be used by virtual assistants to create a pitch for themselves, and modify it as it suits you.
Begin with a short and succinct introduction about who you are, and what you do, followed by a line that reaffirms your expertise:
Hi, I am XYZ and I am a Virtual Assitant with 3-years of experience working as an office manager and customer service representative.
Next, build into one relevant experience and describe it in the most succinct manner possible. This step is crucial for seeking new freelance clients when you don't have an expansive track record:
Last year, at ABC Company I singlehandedly managed scheduling and clerical tasks for JKL Department. I also worked as a substitute Personal Assistant for the higher management at the company. My References are: Add a link or contact details to your references.
Next, build on the offering to provide them with the pricing for the kind of support they will get:
My pricing as a Virtual Assitant is different for different requirements. 1. Hourly $25/hour with a 20-hour minimum 2. Project Based $4000/month, and 3. Monthly Retainer $3600/month with a 3-month minimum.
Breaking down pricing like this helps the client understand right away what they will get and how much it will cost. This may cause a few clients to ignore your proposal but that's good as it saves time on your end, so you don't chase empty leads.
Last but not least is how to get started with the project with a CTA. You still don't need to be salesy but rather suggestive with this.
To get started, I need a 50% deposit, and can begin after we connect and discuss your requirements. What kind of tasks that you are looking to outsource to a Virtual Assistant?
For one-time jobs, make sure you provide a solid timeline and some middle steps in the process as well.
You can get started with a more concise template once you build a little more background and social proof as a freelancer. Until then provide these small bits of information to convince the prospect of your abilities to onboard, manage and deliver a successful project.
Create Work irrespective of you having a client
When it comes to the early stages of being a freelancer, a lot of practitioners miss the ball with this one. Whether you are a freelance writer, a freelance proofreader, a social media manager, or a photographer, Creating work and driving results is what gets you, clients. You need to constantly work on your business and passion projects to create tangible pieces of collateral, to then showcase on your profiles.
This is a way of showing proof on your profile of what a problem was, what did you create, and how it solved the problem. Some of these early careers may be difficult to make portfolio pieces for, in that case, you can write articles and case studies about the niche that you have chosen.
Take the liberty of sharing the work you created to all the platforms in a content piece that seems ideal for that platform.
Get a Website
Creating a website for your freelance service may be a step that comes later on in your practice, but the sooner you get one the better. With a dedicated site for your freelance offering, you can easily share a link with prospective clients to view and buy your services, see past work, and also schedule meetings.
The benefits of a website can be varying based on the field that you are in but having a website is a recommended step. What you add to it, is your discretion but I would recommend adding primarily your freelance work and past clients to your website.
Conclusion
As you may have seen that there is not much to getting started and finding easy freelance jobs, it's a game of volume and optimization through any platform of your choosing. These can include social media platforms, local classifieds, job boards, or freelancing platforms.
The first three jobs towards the beginning are the easiest freelance jobs while the rest are slightly more complex and come with a higher pay. Whats true is that the best freelancing jobs aren't easy to get and easy-to-get jobs aren't always the best. So focus on mastering your niche, and be relentless and smart in sending out proposals for freelance projects. Also, work on building a freelance portfolio or other content wherever possible.
If you are looking for 
Work on your freelance service promotion and marketing weekly and you will start generating income in no time. Taking action, is half the battle.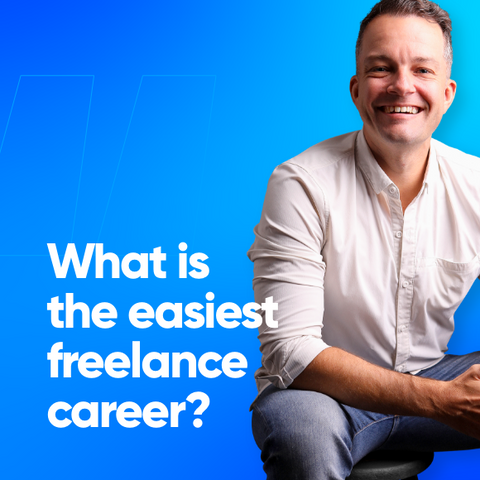 What is the easiest freelance career?
Then, pick one of these:
---
Third, try these:
---