Where to start finding a website designer for hire?
Type "website design" or "web design services" into Google and you will get not millions, but one billion results, trust me I checked. These can be from freelancers, agencies, and platforms hosting freelance graphic designers such as Upwork, Fiverr, 99Designs, and list goes on.
Also make sure to read: How do I rank on Google with SEO Writing?
But how do you website designers who know what they're doing, and have an understanding of everything that goes into building a successful, responsive and scalable site? The truth is that a great website is designed to convert and engineered to scale. A standard one or an eCommerce website, can't be put together well, without development knowledge and a solid hold on graphic design.
At Creatibly, we provide all Website Design and Development services you require to build a successful website:
Themes Developer
Migration Expert
eCommerce Speed Optimization
Make Site Mobile Responsive
The search for great website design services begins with the process of self-reflection and really focusing on your needs as a business or business owner.
What are you looking for?
Before you find someone to give a web design job to, you need to narrow down what the job is.
Type of Designers
3 types of designers create websites. The one that first comes to mind is a graphic designer who creates digital graphics and can be an ideal choice for a website design. the next is a UX Designer who focuses on the quality of interactions that your customers have with your site and products and the last is a UI designer who focuses on the technological interactions like buttons, forms, text arrangement, etc. A highly qualified web designer would have all 3 of these skillsets operating often as an Art Director or Creative Director.
What content management system (CMS) do you need?
A content management system or CMS, in short, is generally an online service that manages individual pages of your site. It's in the name, of content management. This is where you add content for individual pages like a copy, product images, and pricing. Think of a CMS as the feeding tray of a money counter, if the site is the machine itself and the digital readout is the front end that you see at your URL.
Based on your requirements, you may want to use a different CMS for your site. For an eCommerce site, we recommend Shopify as our go-to choice. It has automatic security updates unlike WordPress, so your site is safe for your consumers to transact on. For those who do not wish to build an online store, you can easily turn off the payment features, and you have a normal website. Being an Expert Developer, I recommend building all sites on Shopify. 
What is the timeframe?
This can be highly different based on what you require to be on your website. You should have an understanding of when you want to release your site. Building a site, especially for an eCommerce business is more of an ongoing task so you may want to consider hiring a designer on a fixed monthly retainer to make those changes and additions whenever required. This is to ensure that you don't have to deal with site updates yourself, after all, you're hiring web designers to do it for you.
Budget
Budget is a major consideration when it comes to website design. Website design is a valued service in today's market, so a qualified web designer won't likely be cheap. The good news is that almost all web designers have some sort of package for their design which includes a lot of basic and advanced features in them. However, the cost will slowly but surely creep up if you attempt to dump everything onto a site. So make sure you know what you want out of your site and how much are you willing to spend for it.
Payment
Like I said before, the cost can creep up on you if you are not cautious. You can hire a designer on an hourly contract or at a fixed rate for a pre-approved set of deliverables. If you want to costs in check, you can hire a designer for a fixed price. For eCommerce website design, however, an hourly or retainer contract will make sense once the basic build is through.
Where do I find website designers?
The obvious answer, is you have already found your website designer and creative director, me, Scott Luscombe, at your service! I offer a huge range of design services and web design is one of my top-ranking services. I am ranked in the top 1% of worldwide graphic designers. As a freelance graphic designer with over twenty years of service, I can tackle your website design project with ease and deliver a bespoke and responsive website that converts for your business. I am also highly proficient in web development, which means you reduce the back and forth between a web designer and a web developer. I have previously built multiple standard and eCommerce websites that have all gone to serve profitable businesses, both big and small.
View Creatibly's Website Design Portfolio
But, if you must continue your search for other designers, there are graphic designers' portfolio sites such as DesignHill, Dribbble, and Behance. Which are great for visually searching web designers by their design style. If a design stops your scroll, it's a safe bet. You like that designer so reach out!
Visual social platforms such as Pinterest or Instagram are also great ways to find freelance website designers. Your brand designer will be posting their web design services there.
Look at websites you love
Some websites have the web designer listed at the bottom of the website, you can then google their name and in all likelihood find their contact information.
Browse Freelance marketplaces
Browse freelance marketplaces like Upwork, Fiverr or Peopleperhour to seek freelancers who can work on your website design. Most of these sites have a ranking algorithm so you can filter through the results and find the right match for you.
The background of these designers will vary largely and you would want to hire someone who can meet your current demands and also new ones later down the line. For an eCommerce website, you would ideally need an eCommerce specialist who also offers other eCommerce solutions beyond the design part itself.
Ask for referrals
Referrals would be by far the best way to go for a web designer if you have someone in your network, who has worked with a web designer before, and you like their site, you can request contact details from them.
I would recommend using 2 or 3 of these methods to have at least 10 profiles of designers and then narrow down from there after reviewing portfolios and even interviewing them if required.
Skillset and Previous Work
The next logical step after narrowing down a few web designers is to examine their portfolios to understand their skillset and view previous website design work and see what works best for your goals.
View Creatibly's Website Design Portfolio
Services
Alot of web designers offer fixed package rates based on complexity levels for website design, they also provide monthly maintenance at a fixed fee which is great if you don't have the time or the skillset to maintain and update your site when necessary. Although you can have different designers for design and maintenance, it is better to work with just one throughout the process.
Skillset
Web designers should ideally have a whole slew of web design and digital marketing skills, especially because they can integrate all outbound and inbound interactions within your website's pages and other digital assets like social media ads, marketing display ads, etc. At the very core level, web designers should have 3 skills. First is Graphic Design, to design and create the pages for your site, HTML to set up the structure of each page, and lastly, CSS to stylize pages to resemble your brand assets.
Most CMS don't require a lot of coding skills, however, the knowledge of HTML and CSS makes it easy to understand how the site theme is set up and web designers can then alter its specific components to your desire.
Design
The site on which the designer has presented their portfolio is a great example to gauge their design principles. If their site isn't well designed and has little or no mobile optimization, their client work won't be much different.
Previous Work
If you do find a well-designed portfolio website, however, go through the previous work of that web designer. You should look for examples within your broader niche and design aesthetic. If your objective is selling online, then a few well-designed eCommerce website examples would be ideal. Remember, that web design is time taking task, so you may not find 100s of examples but 3 or 4 full-scale projects are good.
The ideal fit would be someone who has the skill set to achieve your desired output (landing page, eCommerce site) and design experience with companies or brands in your niche. This design experience may not be web design specifically, but rather someone who has the aesthetic sense and the technical know-how to achieve your desired output.
Reviews and client testimonials
This is the best giveaway if the designer is a great choice or not. Read these reviews and testimonials and then also google the brands or people these testimonials are from. See the kind of work the designer created for them and how those brands are doing today. You can also cross reference social media accounts for these companies to see the scale at which these businesses operate.
You can also choose to contact these website owners if you choose to understand firsthand how it was for them to work with the designer that you are considering.
Get in touch
The following step is to get in touch with the web designer or designers who made it through the vetting process before. Some designers that you may find would be on freelance websites like Fiverr or Upwork. These platforms are great but see if you can find these designers on the web and reach out directly. This way you can negotiate a custom rate with the designer if possible and also cut out any fees to these platforms as a result of your project.
Do not first contact a designer on a freelance platform and then offer to take the contract off the site. In most cases, the platform will charge a hefty fee to transfer the project or worse get you both banned from the platform itself.
When reaching out to a web designer, craft a small email introducing yourself and explaining key requirements from the designer. These at the very minimum should include:
Name of your Business and what you do

An overview of the functionality you need (static pages, blogs, eCommerce site)

Number of pages you want

The timeline

Your budget
Web designers are busy individuals, so give a couple of weeks for them to respond. Most likely you will hear earlier from them. Some designers may also offer a consultation on their website, where you can schedule a meeting to discuss your requirements.
The Contract
Congratulations! If you have reached this stage, you likely have narrowed it down to one or maybe two designers at the top, and it's time to negotiate contracts. The best freelancers would have a contract that they would supply themselves or you can propose a contract too. You would at least want to thoroughly read the contract before signing it.
The contract doesn't have to be too complex, and you should not be averse to signing one. A contract is legally binding but its also a gentleman's agreement of sorts, where both parties mutually agree to hold their ends of the bargain. At the very least, the contract should have:
Scope of Work

A section that outlines the scope of work and the deliverables that the web designer is expected to create. This would begin with the overarching deliverable (blog, eCommerce store, landing page) to then include specific pages, and the elements within those pages if required. The goal is to be crystal clear on the requirements from the get-go. If the individual page elements will be supplied by you, you may need to hire a different designer or photographer to take high-quality images for you.

Consult with the designer on the number of pages as well. For example on an eCommerce website, there will be individual product pages but there will be product category pages as well which you may not have factored in.

There should be no ambiguity in terms of what the designer is doing for you. The best web designers do offer graphic design and copywriting services as well. This is convenient but will cost you extra. So be extremely thorough in setting the Scope of Work.

Review and Approval

This is crucial. This outlines how the work will be reviewed and approved. This should include weekly or monthly check-ins, stakeholder reviews, and user testing of the website. There would be different stages within the process where you would be reviewing sketches, then design examples, and then digital assets. Make these stages as dialed in as possible.

You should also specify who would take the final calls on decisions about something. The meetings or check-ins can be accordingly set up.

Termination Clause

This may seem grim but all contracts should have a termination clause within them. This should include how long before the end date can either party terminate the contract. Also what happens to the work completed and the payment in that case? This safeguards both parties in case the project doesn't go as planned.

Copyright Information

At the end of the project who owns the project collateral and if the designer has shareable rights over the pieces of work created in the process? Unless it's necessary to protect your assets, you should permit the designer to share your website within their portfolio at the end of the project.
Holding your end of the bargain
As a client who is hiring a professional to build a website for them, you are expected to hold your designer to a high standard and expect them to deliver on those standards. This is not a big ask.
At the same time, you need to hold your end of the bargain. This applies to payments, collateral support, and feedback to be provided to the designer. Web designers are extremely talented individuals who can help build your next landing pages or a good eCommerce website design, what they can't do is read your mind. Provide all the support that you have promised in terms of content and images to your designer wherever necessary, and provide focused and timely feedback. This will create a great collaboration toward your desired output
Attitude
Web Design requires both the client and the web designer to have a positive attitude. If one, or both sides become frustrated, you won't receive the design you want, and you'll often have to find a new designer. Remember that as the client, you hire freelance web designers because they can do what you can't. Your job as the client is to run a successful business, your professional web designer is there to help you reach your goals. It is very much a team effort.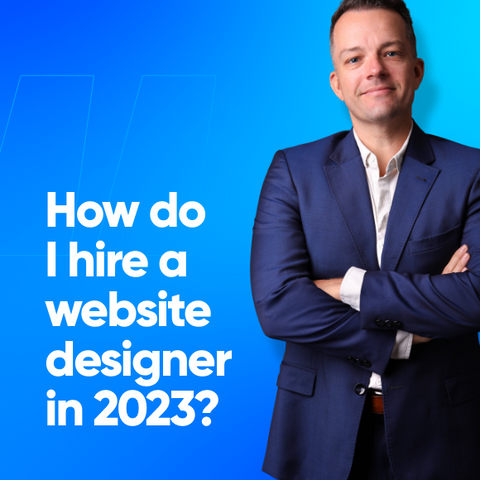 How do I hire a website designer in 2023?
Then, pick one of these:
---
Third, try these:
---