Where to find a print designer to hire
Type "print designer" into Google and you will get millions of results, from freelancers, agencies, and platforms hosting freelance graphic designers such as Upwork, Fiverr, 99Designs, and on the list goes.
But how do you hire print designers who know what they're doing, and have an understanding of the printing process needed to produce the marketing materials that you require?
Start with a design brief
Your print design brief is the greatest asset to a print designer irrespective of the collateral. This design brief would ideally be a detailed document with campaign details or objectives, collateral required, technical requirements, sizing, and any additional requirements. Unlike other digital design work, print designers work within the limitations of the canvas they have and have to respect it no matter what.
Make sure that the design brief is as detailed as possible. In case you aren't sure what you need, you can schedule a consultation with a print designer, who can advise you on the best practices.
Objectives should always be the prime consideration
Like every other design, the objectives are the first thing to consider for print design. You begin with what you want to achieve and how you would want to go about it. This is very apparent in some cases like within the publishing industry, the objective is to have a layout designer set up the pages for viewers to read and a graphic designer creates the cover artwork. In other cases, this may be a bit difficult to pinpoint, especially when creating sales and marketing materials that require special conversion tactics to influence the reader.
Whatever your objective is, craft a concise statement of what you want to create and why you're doing it. An introduction would be a great addition as well. "XYZ Company is looking to create a Poster design for its upcoming summer retreat, to encourage clients to attend."
Print design is a broader term for printed collateral of all kinds. Try to be as specific as possible with your objectives and requirements.
Collateral Required
The collateral requirements are an important consideration for a print design job. While this may seem like a no-brainer, think of the bigger picture. Take a step back to your objectives for a second and see if there's something else that may be beneficial beyond the one piece of collateral you are seeking. Also, consider any future applications, the design work for a poster may look very different from that of a billboard and you don't want that disconnect within the same campaign.
Understandably, this step may seem overwhelming and not being able to judge requirements will seem stressful. That's why the objectives are important. From the previous example, if clients will receive the poster in the mail, you may want a custom envelope with the poster but if they are reading it on a pinboard, that requirement doesn't make sense. Settle on the objective and the collateral requirements will populate themselves.
Sizing and Technical Requirements
Sizing is also a key consideration when it comes to print design. What you want to achieve and at what size will be primary when it comes to designing for print. A poster/flyer within the mail would have a different size to that of the poster in Grand Central Station or the supermarket near you. While there is standardized sizing for print collateral, it's better to see what's available on the printing end, to then relay information to the designer.
Technical requirements are one of the limitations that help your designer visualize the final quality of the printed materials. This can include the kind of paper and press that you'll want to use for the collateral and if you would want any spot colors within your design. If you don't know what a spot color is, speak to a designer after you hire one to see how spot colors can uplift brand recognition. The final piece may be bound or folded in places to make it complete.
These are important to predict the print quality concerning details in a design. Textile prints will be different from poster board and that will be different than looseleaf paper for flyers and brochures.
Timeline
The most underrated consideration when it comes to graphic design work is timing. This becomes even more crucial in print design, where you have multiple moving parts (quite literally) between the designer, printer, and logistics. This creative brief needs to include a tentative timeline so your design can create designs that can be created and printed as per the timing constraints.
Additional Requirements
Think of any additional requirements for your print design. Business cards may need specific textures, booklets can have die-cuts, and letterheads have special gloss and gold foils to uplift their quality.
All these additional requirements complete design work and push the overall appeal which is an additional step to accomplish your objective. Although a simple addition, it takes an even greater level of design skills to apply tastefully.
Assemble the Creative Design Brief
After running through the previous steps, you should be able to populate your creative brief with the following:
An introductory line with a short background, design objectives, and collateral required

The size and technical requirements for the final piece

A tentative timeline

Any additional requirements that will get you closer to your objectives
With the above steps complete, you can confidently reach out to a print designer and provide them with your design brief to make the process smooth and hassle-free for both parties. There's a lot that goes into the design work and the final printing process beyond the design brief so make sure you factor in the following.
Where do I find print designers?
The obvious answer, is you have already found your print designer and art director, me, Scott Luscombe, at your service! I offer a huge range of print design services and I also work with an in-house printing partner for a seamless print and design experience. I am ranked in the top 1% of worldwide graphic designers. As a freelance graphic designer with over twenty years of service, I can tackle your print design project with ease and have printed collateral delivered to your door with free shipping in Canada and the US.
View Creatibly's Design Portfolio and Print Design Service
But, if you must continue your search for print designers, there are graphic designers' portfolio sites such as Dribbble and Behance. Which are great for visually searching graphic designers by their design style. If a design stops your scroll, it's a safe bet. You like that designer so reach out!
Just make sure they have a bachelor's degree in design or a related field. A degree might not be relevant for other graphic design jobs but print design requires a level of technical and creative understanding, taught in a bachelor's degree program.
Visual social platforms such as Pinterest or Instagram are also great ways to find freelance print designers. Your print designer will be posting their design services there.
Software
Top freelance designers use Adobe creative cloud, as this is the gold standard for design, you may also be familiar with the name Adobe Photoshop, Adobe Illustrator, Adobe Indesign, etc., your perfect print designer should be well-versed in this software and offer design packages that individual designers using software such as Canva won't be able to provide.
For different print collateral, different software or set will be required. Illustration work for posters will require Adobe Illustrator while book covers and publishing work will require Adobe InDesign. Make sure the designer has this software in their skillset.
Past work
You have searched print designer profiles, and have found an individual designer based in the region that aligns with your work schedule, now it's time to review past projects and testimonials from previous clients. It will be rare if you find a single designer who checks all of the boxes on what you need for your design.
However, if you find a freelance designer with a proven track record in printed collateral, especially with work examples as an illustrator and layout designer, they are a solid choice. These would include print-ready book covers, greeting cards, posters, etc. As they understand the complete usage and application of print design software and design techniques.
Some graphic designers only specialize, they may only do print design, and these designers are great but maybe early in their career and not be able to help with other graphic design you require. You need a designer who can look at the bigger picture as an art director to effectively design printed materials from a marketing perspective as well.
Concepts
It is important when hiring a graphic designer for your graphic design that they have great communication skills and understand if you want multiple designs included in your project. It is important to give your graphic designer or creative team this information in your brief as a print design may require a couple of designs to get to the final iteration.
Revisions
Revisions are different than concepts, a revision is a small tweak to the design, such as adjusting the color or artwork positioning on a print design. The number of revisions required may be different for different projects.
Revisions are typically communicated in what are called "rounds." These rounds of revisions often include an hour or so of work per concept. Some design projects have 3-5 revisions included. Hire a print designer who includes at least 1 round of revisions, but know that you will need to be very specific in your feedback when viewing your print designs.
What files to expect?
Depending on the type of collateral, you can expect different file types that you can share with printers or directory publishers to then put to print. Print designers work within the Adobe Creative Suite, so you can expect different software files during the handoff. The textile design would require a Photoshop PSD file; illustrations will have an Illustrator AI file while publication layouts would have an InDesign file with them.
All print designers will share a PDF and JPEG file for quick viewing. They also share mockups to visualize the final product in a simulated physical setting.
Attitude
Print design requires both the client and the print designer to have a positive attitude. If one, or both sides become frustrated, you won't receive the design you want, and you'll often have to find a new print designer. 
Remember that as the client, you hire freelance graphic designers because they can do what you can't. Your job as the client is to run a successful business, your professional graphic designer is there to help you reach your goals. It is very much a team effort.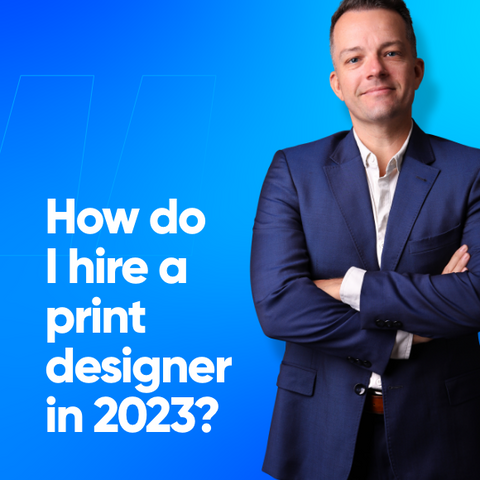 How do I hire a print designer in 2023?
Then, pick one of these:
---
Third, try these:
---