How do I hire a packaging designer in 2023?
Hiring a freelance packaging designer can be confusing and time-consuming if you don't know the steps to find the professional packaging designer you need for your projects.
Where to start finding a packaging designer?
Type "freelance packaging designer" into google and you will get a million results for different freelance websites, packaging designers, and graphic designers all with varying degrees of skills and different qualities in their portfolios.
But how do you find an experienced packaging designer who is the right fit for you? They may be good designers, but are they the best choice for your project?
These are the questions that clients struggle with the most when seeking packaging designers for hire. This article will help you search for and narrow down a qualified candidate for your project.
Start with your packaging design brief
Your creative brief should include the Project title, Project scope, Estimated deadline, and Estimated budget.
The Project Title is the easiest place to start and can be something simple like "Cosmetics Packaging Design". Finding a professional packaging designer with creative ideas and design services to match requires a specific hiring process that you can develop through the Project Scope.
The Design Brief is more specific and will outline the exactness of the style kind of packaging design you want, whether it's the "Cosmetics Packaging" design, or "Nutrition Bar Design "
Here are the first questions you should ask yourself, to add details to your design brief and craft the job description for your design project:
What industry am I in, or planning to get into?
What physical style of packaging design do I want to create?
What timeline am I working with?
What services am I looking for beyond packaging and graphic design?
Below, you will find how to answer these questions for your business.
Industry Fit
Industry considerations are ideally the first thing to consider when looking for packaging design services. Whatever market you are currently in, it will dictate the target consumer, industry standard and to some extent, aesthetic expectations. It is vital that this information is known to the designer to effectively design a solution that takes you closer to your goal.
Potential Customers
The end goal for any business is to drive sales and having a product that appeals to its potential customers is essential. A famous marketing quote says "If you're selling to everyone, you are selling to no one." it rings true for packaging design since it's the literal form of selling i.e product in exchange for money. You must aim to narrow down your target audience as much as possible to give a clear idea to your designer.
It should look something like "Our main target market is American Women between the ages of 30 and 45 shopping for anti-aging products."
You can probably picture a few brands in the space without having much information about the product. This allows points of inspiration for the designers, to check out the competition and innovate with the generally expected outcome of popular products in the industry.
This also helps you as a business understand how packaging design is adjusted to appeal to an intended consumer. In the example above, men are less likely to buy cosmetics products. Women younger than 30 wouldn't actively look for an anti-aging solution, any older would likely not change their anti-aging solution since they already have a dependable choice.
Aesthetic
When you think of packaging design, this is probably the first mental picture that you draw. It's either a minimal and contemporary aesthetic, a more detailed and maximal approach, or a sweet compromise somewhere in the middle. Given the expected aesthetic requirement, the selected packaging designer, can advise, innovate and design a product fit for the industry and also bring the individuality of your business to it. This is called art direction, which is the ability to supervise and unify the vision of artistic production, in this case, the packaging.
As for existing design collateral that you have or intend to create, you will need a brand identity complete with logo design, colors, and typography at the very least. This won't be the first requirement to hire a designer but will be eventually required. While packaging can be designed without one, it's not recommended. It might also be helpful to post this design collateral on job boards with the job, so only designers confident enough to deliver will apply.
Packaging Design is Digital Design for the Physical World
Whatever your industry or target market is, the final design is created with the intention to print. This leads to a few physical considerations, like dimensions and physical form. Top packaging designers understand these challenges all too well and your brief needs to clarify this from the get-go.
Dimensions and Die-cut
Packaging designs are generally created on a flat visual surface within software like Adobe Illustrator and later translated to three-dimensional forms once printed. Considerations for dimensions and die-cuts are important to accurately create and print artwork across different sides of the packaging.
Dimensions would include the overall size of the packaging design, measures of each face and flap, and lastly the fold lines. In addition to this, you should also be aware of the cut lines of the package and where the package ends, the flaps created to stick the packaging together, and cuts that allow the folds to sit flush with the rest of the packaging.
These requirements would be key to a successful design as it provides physical limitations to your designer with a set room for modifications. If you have a printer, manufacturer, or media business as your printing partner, more often than not they will be able to supply you with a sample file for your designer to use. If you seek structural modifications to this packaging file, you will have to run it by your printing partner to determine if they can meet your custom requirements. For example: Having a die-cut with a window to see the product from outside the product packaging.
Note: Printing partners provide die-lines for the products that they can print within their facilities and unless you are re-inventing something, you will find a die-line for the product you need. In a case where one doesn't exist, you can seek the help of an industrial designer to first make 3D versions to see what your design looks like. Packaging designers can then provide you with flat print-ready die-lines for that design.
Folding and Construction
This is where it all comes together. This won't be a physical requirement for the packaging designer since they can make out the folds and intended construction from the die-line. Although, a general idea of what the final form would look like will help create a truly creative solution. When the selected designer, completes your design, your printer or manufacturer will fold and construct followed by packaging the product in the outer packaging. It's essential for you to be on board with the physical form of the container.
By physical form, I mean the final physical space that your package takes in the real world. Now based on the desired output it can be a standard, 6-side box, a hexagon, a diamond, a cylinder; or pretty much anything that can be printed flat at scale and then constructed into a hollow container to house a product.
If there is no physical reference available, based on their abilities, some designers may be able to provide 3D mockups before you begin the design process. Sometimes clubbed together, 3d mockups before the design process begins, are not a part of the traditional packaging design process.
Your project brief continued...
You have an idea for a product and that's fantastic! You even found someone to manufacture and print it for you. This would mean you have a general idea about the market, the aesthetic you want, sizing, and form. Before you hire a packaging designer to bring your vision to life, you may want to consider what design collateral you will need. You may want to consider the following:
Logo Design and Brand identity
Before you begin the packaging design process, having a logo for your business and some base-level branding for it will be ideal. This would include the logo, color, and typography. This is not only maintains brand integrity across its collateral but also leads to smooth communication between you and your designer.
Packaging design professionals will always recommend against designing packaging first. Don't get me wrong, it can be done but it can't be done right.
Timing is Critical
Working with packaging and a packaging designer is all a matter of timing. The ability to deliver quality work doesn't simply include the work of the designer but rather a lot of moving parts.
The right time to hire a packaging designer is when you have the product close to being ready and a printing partner lined up to take the package design to print. Freelance packaging designers usually have connections with printing partners and can help offload that part.
Getting a new product to market in a timely manner requires a high level of communication and collaboration between you and the people you hire to work with you. A packaging designer can help smooth the experience to some extent but you need to have manufacturers, printers, packers, and co-packers in check.
Note: Some packers and co-packers usually have an internal design team with packaging designers working for them. More often than not, their design work may be sub-par since they do this at scale for a lot of clients, leaving you with a run-of-the-mill design.
Miscellaneous
Packaging Related
Great packaging isn't created by accident. It's a result of careful planning and consideration. With the package design complete, it's time to consider how you can elevate yourself beyond the competition.
This comes with miscellaneous requirements that further the unboxing experience. This can include a specialty label design, foils, gloss finishes and so much more. Your printers can help you apply these specialized techniques to your packaging but you'd need the packaging designer to tastefully apply them to packaging in line with the design principles.
It is these extra steps in your design that help build a unique name for your brand, its products and boosts customer loyalty by setting your brand apart in their minds.
Beyond Packaging
Running and growing businesses is hard work. A package design, albeit great; can't do that for you by itself. A vital part of this is considering all the requirements around your product. When hiring a packaging designer, you may need help with other design disciplines as well. This can include social media designs by a social media expert, help on building a website from a web designer, or a print design for print collateral like a sell sheet or business card as well.
Best freelancers who offer packaging design services are often graphic designers first and then have a specialization. It's important to reduce the number of freelancers that you work with to avoid disconnects within the different design disciplines. If you can hire one packaging designer, who understands your brand, it's packaging, and by extension its ethos and the people; you have a winner on your hands
Where do I find packaging designers?
The obvious answer, is you have already found your freelance packaging designer, me, Scott Luscombe, at your service! I offer a huge range of graphic and package design services and am ranked in the top 1% of worldwide graphic designers. As a freelance packaging designer with over twenty years of service, I can tackle any project you have, large or small!
But, if you must continue your search for packaging designers, there are graphic designers' portfolio sites such as Dribbble and Behance. Which are great for visually searching packaging designers by their design style. If a design stops your scroll, it's a safe bet you like that design designer so reach out!
Visual social platforms such as Pinterest or Instagram are also great ways to find your freelance designer. Your packaging designer will be posting their graphic design services there, and they are great places to search for packaging design by style.
Some qualifications and technical aspects to consider about your designer are:
Software
Most professional packaging designers use Adobe creative cloud, as this is the gold standard for design, you may also be familiar with the name Adobe Photoshop, Adobe Illustrator, Adobe Indesign, etc., your perfect designer should be well-versed in this software and offer design packages that individual designers using software such as Canva won't be able to provide. When checking for proficiency, in packaging design, try to find someone who is a senior designer or higher as they will have the highest level of proficiency in the above-mentioned tools.
Past work
You have searched designer profiles, and have found an individual designer based in the region that aligns with your work schedule, now it's time to review past work and testimonials from previous clients. It will be rare if you find a single designer who checks all of the boxes on what you need for your packaging design. Although someone with a similar aesthetic to your vision and proficiency in using tools to create real products before is good enough.
If your requirements are for logo design, brand identity, social media design, or other design collateral you may want to look for a designer with a vast experience in those fields as well.
Concepts
It is important when hiring a graphic designer for your graphic design that they have great communication skills and understand if you want multiple designs included in your project. Package designs often require only a single design concept but you should let your designer know that you are looking for multiple concepts.
Revisions
Revisions are different than concepts, a revision is a small tweak to the design, such as adjusting the color of the brand identity, adjusting letter spacing on a logo design, or editing copywriting in your graphic design.
Revisions are typically communicated in what are called "rounds." These rounds of revisions often include an hour or so of work per page of graphic design. Some projects have 3-5 revisions included, but the graphic design may require 20 or more if you are dealing with larger graphic design documents such as a magazine.
Hire a packaging designer who includes at least 1 round of revisions, but know that you will need to be very specific in your feedback when viewing your graphic design. Communication skills are important for your new packaging design because as the client you will be able to get what you want in your graphic design, without frustrating your freelance packaging designer.
Attitude
Packaging design, whether it is a logo design, brand identity, or web design, requires both the client and the freelance packaging designer to have a positive attitude. If one, or both sides become frustrated, you won't receive the design you want, and you'll often have to find a new designer.
Remember that as the client, you hire freelance packaging designers because they can do what you can't. Your job as the client is to run a successful business, your professional graphic designer is there to help you reach your goals. It is very much a team effort.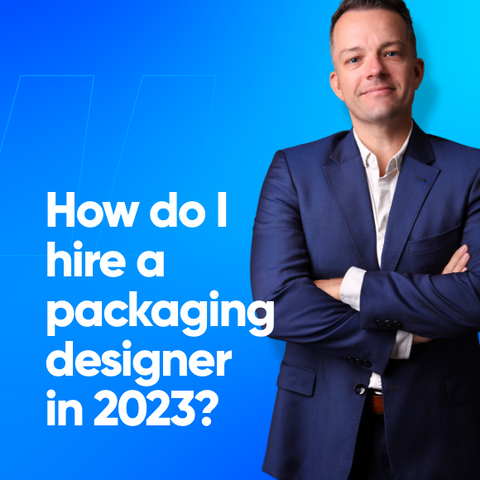 How do I hire a packaging designer in 2023?