This is the goal that many first-time Shopify eCommerce merchants discuss with me before starting their first eCommerce site. 
Is it possible to earn a full-time income in 12 months, starting at zero? Yes, 100%.
I did this with my brand Dawg Grillz, which I ended up selling the TV Show The Dragons' Den back in 2017 which you can watch here: https://www.cbc.ca/dragonsden/m_pitches/dawg-grillz One thing I have found is that nothing has really changed between 2017 and 2023 regarding how eCommerce works. The same principles I used 5 years ago are still working in 2022, and the core principles of supply and demand still hold.
In 2022 and beyond, it's important to diversify your income channels. What all Shopify merchants must consider is that there are far more ways of earning an income that go beyond simply adding their products to the eCommerce website and sitting back and waiting.
Let's get some frequently asked questions out of the way before we get started:
Do I need to understand coding to launch a Shopify store?

No.

Do I need to have business experience to run my Shopify store?

No.

Do I need to be a graphic designer to launch my Shopify store?

No.
Shopify has a very low barrier to entry, and anyone can get started and run a perfectly successful business. You don't NEED a load of experience to get started with a Shopify site that is live and online, accepting orders and earning you an income.
What type of business can I run on Shopify?
This is a really cool answer because when most people think of running a business, they think of a product or a service, and that's it, but selling online is extremely diverse. You don't need to choose only one; I'd recommend ensuring that your business eventually has all of these income channels.
Here are the income channels that I would recommend considering:
Physical Products

Digital Products

Service Products

Subscription Products

Ad Supported Revenue

Affiliate Supported Revenue
Let's put this into an example form, as these income channels have a wide range of subcategories which you can read about in other posts.
As an example, let's say that you want to open a Barber Shop on Shopify and you want a scheduling calendar to accept appointments. 
That's an excellent business model, and covers the Service Product income channel. You make your site live, and then you get traffic, and all of a sudden you're completely booked with appointments. Let's propose that you earn and average $50 per hair cut and each one averages 30 minutes.
You can do 16 hair cuts per day, and earn $800/day, which as absolutely reasonable and respectable income, but your time is maxed out. 
You now have three options to grow your business:
Add more employees

Add more income channels

Increase your pricing
Yes, you can absolutely add more employees, and increase your pricing, but for this scenario I want you to simply maximize your income channels to see just how powerful this strategy is.
I want you to ask yourself these questions:
What physical products can I sell that relate to my business?

What digital products (like courses or ebooks) can I sell that relate to my business?

What products can I make subscription services? (think about products customers may need to refill or maintain)

Where can I run ads on my website to increase my passive revenue?

What affiliate products or services can I link to where I can receive a commission?
In the example of a Barber Shop, perhaps you can sell these physical products:
Shampoo

Conditioner

Gel and Hairspray

Dye and Colorants

Blow Dryers

What else can you think of?
The beauty of your Shopify website is that you can add tens of thousands of products, you can literally list every type of Shampoo you can find. All of a sudden customers who go to you to get their hair cut, can now purchase products they need from you, a person they trust.
Now what about digital products?
eBook explaining hair care

eBook explaining hair regrowth

eBook explaining becoming a barber

What about digital courses explaining the above?
You can add digital products to your Shopify website just like you do physical products, but the amazing thing is that they are completely passive income once they are ready to be posted for sale on your website. The eBooks, courses, and downloads I sell here on my site are completely passive now, when someone buys one of these digital products I don't have to fulfill anything unlike a physical product where you have to buy the product, package it, ship it, and deal with returns.
Let's consider ads for a moment:
News, Media, and Social Network sites and apps are typically ad funded. Businesses use ad networks like Google Ads to place ads on a website, and pay the website owner a small portion of each ad that is displayed.
Here's what I usually hear:
"But, I don't want to run ads on my website…"
"I understand, typically businesses leave $50-10,000/month on the table when they don't."
"Ok, now I want to run ads on my website!"
As your website grows, you'll build traffic, and once you reach about 100 unique visitors per day you can typically start monetizing your website with Google AdSense. You may only make about $0.05-$5.00 in the beginning, but your site will grow with time, and as your site increases so does your revenue per thousand visitors (RPM). I've seen RPM between $5.40 and $18.77 on my own site, which is a nice little bit of extra revenue I do ZERO work to earn.
A simple formula is this: MORE CONTENT = MORE TRAFFIC = MORE AD REVENUE
What in God's green Earth is affiliate marketing?
Affiliate marketing happens when you display a product or service and you receive a commission when it sells. For example, you sell 100 different Shampoos on your Barber Shop website, but there are thousands of Shampoos. You can apply for Amazon Affiliates (and many other affiliate programs) and start selling those products on your site.
The beauty of this is that you don't have to fulfill anything, a user sees an affiliate product, buys it and you receive a commission. Depending on the affiliate structure and value of the product, you can earn a small fortune. On a recent affiliate transaction on this website I received around $300 because a user made an affiliate purchase. Once that product is placed on my site (takes about 20 seconds) it becomes a completely passive income channel.
Now you know about the power of diversifying your Shopify eCommerce income channels and have gone WAY beyond just selling a product or service!
As a disclaimer, while it is possible to earn a full-time income, it's very difficult to do if you only want to work an hour per day. This concept came from the 4-hour work week, and while it's possible, the data from that book I feel is outdated. It's no long possible to turn a $50/day ad spend into a highly profitable business.
With anything, you get out what you put in, and the amazing thing about eCommerce is that there is a definite relationship between how hard you work and how much money you receive. As opposed to a traditional career where some employees work much less than others and receive the same amount of income, the sky is truly the limit when building your online business.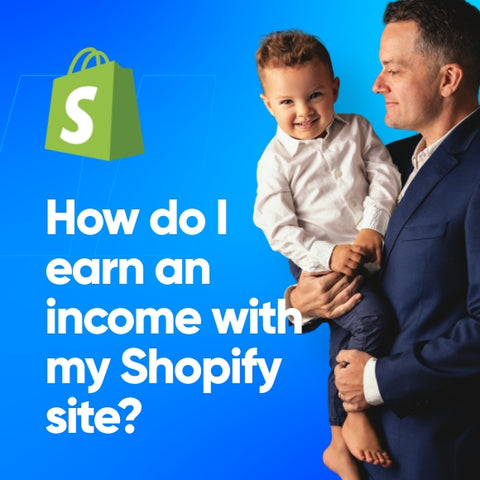 How do I earn a full-time income with my Shopify site?
Then, pick one of these:
---
Third, try these:
---