Here is how to get freelance work in USA.
In 2022, we often read on LinkedIn about some companies firing newly hired talent or simply rescinding offers from some of their candidates.
This has sparked fears of job security for tech and design talent worldwide. Given the pandemic and mass layoffs, there's a push to hire freelancers who work from home, rather than full-time talent inside many companies. This has also led to a lot of full-time job seekers and people with traditional employment, seeking a freelance job on the side. This can be for extra money or simply to entertain a hobby.
Anyone working as or thinking to work as a freelancer knows that the US market offers the highest value in terms of opportunities, project scale, and compensation. This makes seeking freelance jobs in the US, a lucrative offering for freelancers worldwide.
MUST READ: 3 Best Freelance Jobs for Beginners in 2023
In this post, you would see ways to optimize your profiles to attract quality leads and clients to your online pages. This isn't necessarily a list of things to attract clients from the US but rather higher-value projects irrespective of their country of origin. With the US being a market with those high-vale projects, this makes it relevant for anyone seeking clients there.
What are some of the Challenges?
Language
If you are an aspiring freelancer, seeking a freelance gig or job in the US, this will be the first challenge to overcome. Most of North America primarily speaks English. It doesn't matter if you are using LinkedIn's online job board or any of the freelance sites like Fiverr or Upwork; you need to have a good command of the language.
This article, I would not be tackling this challenge but it's important to mention it here. If you feel that you're proficiency with the language is good, this won't be a challenge for you and we can move into more advanced issues and how to tackle them.
Timezone
Anyone who runs a freelance business or has spent a considerable amount of time on freelance websites will tell you that American companies seek American freelancers to work with them. This is because this puts the individual in a similar location with a workable time difference and often can be contacted on a local phone number.
If the job postings you see, explicitly say that they need US-based freelancers, there's little you can do apart from considering a move to the US which isn't feasible for most. This is where navigating the following challenge can somewhat grease the wheels of your freelance career train to North America.
Transfer of Trust
I often tell my coaching students, working toward freelance success that they are a Salesperson before they are a Specialist. Sales is a practice of transfer of trust from the person selling the product or service to someone who is a prospective buyer.
When it comes to freelance design jobs in the US, for them to hire someone, irrespective of their location, they need to trust them. As a freelance graphic designer and developer with a 6 figure freelance business, being able to instill trust within prospects, that Creatibly and I will meet their goal, has been the greatest converting skill. This applies to freelance jobs irrespective of location, scale, and value.
In this article, we will focus on this transfer of trust process. We will be focusing on LinkedIn and Upwork, which are my specialty but they are also transferrable to any other freelance websites that you may be using. This is considering that you have a quality offering with a portfolio of work with you.
There is no silver bullet or limitless pill to freelance success, its platforms, people on those platforms, and how they use them.
LinkedIn: Its a tool first, a social platform later
Finding freelance jobs on LinkedIn is a fantastic place to start. This is where the professionals live and often where business is done. People who have been using this site for while knowing that LinkedIn is a tool before it's a social platform. If used effectively, you can say goodbye to all freelance sites that you may be using. Let's begin with some of the specifics of LinkedIn that can get you closer to freelance success:
Profile Optimization
To attract the right profile visitors, we first need to optimize your profile
Your Bio
The about me section is the single most important section on your entire LinkedIn profile and can make someone find and visit your Linkedin Page. Having this section set up correctly can make your freelance job search so much easier since it will bring leads to your profile more often than it currently does.
Begin in the LinkedIn job postings section and apply filters for the Location, Industry, and Type of Job you are looking for. Some of these may be inside all filters, only narrow down this search to a point that you feel is the right niche for you. For freelance designers, this may be the United States, Art, and Creative, Part-Time. From here, scan the job posts for repeating keywords across all posts. The objective is to find words that clients and companies are using to seek talent like you. Your prospects may be spelling a copywriter as Copy Writer, while this may not be accurate, for discoverability, you will have to use it similarly within your bio.
When scanning job posts, see who is hiring for your role. You may find a trend in the point person's designation at organizations that are looking for talent like yours. Observe these trends and specifically optimize content for them. Avoid the industry jargon and ditch the abbreviation in your Bio section and optimize your content to appeal to these job posters.
For example, "I provide creative design and development solutions to Start-Up Founders in the United States and the United Kingdom."
Visual
This is a small but important factor in your LinkedIn Profile and should not be ignored. You must have a semi-professional, high-quality profile image. Even if your discoverability is maxed out, without a good quality, clear image, most prospects would not click your profile.
As an additional step, you can use the banner section on LinkedIn to briefly describe who you are and what you do, before the prospect even reaches the about section. This can greatly improve the overall perception that the prospect has of you and your ability to complete this task.
For both the profile optimization steps, you can easily set up the required copy and designs using free online tools. However, if you want something one-of-a-kind and original, you can hire freelance writers or designers to help you with the same.
The Search Bar
The Search Bar at the top of the site is a powerful tool within the LinkedIn platform and for someone seeking freelance work, this can be a great way to find connections, resources, and jobs all through a simple search query.
For freelance jobs, this would mean typing certain search terms to find freelance or contract work. Millions of jobs are posted on LinkedIn, some are freelance, some part-time, some full-time, and so on. To find freelance opportunities in the US, go to the search bar and type your designation followed by "and we are hiring" or "we are hiring" and then your designation. You need to constantly find these listings with changing terminology. Experiment and see what you uncover.
Once you see a prospect, see your relation to them, and based on that, send them a connection request or an InMail. While InMail is convenient, a connection request with a mutual proposition toward that connection will work best. This may help you find people seeking your talent but you still need to convert them through conversation, so make sure that you confidently speak of your abilities and produce real-world examples of your solutions to make your claims believable.
If reaching out via InMail, you can create a Proposal Template or refer to the Proposal Template that has helped me build a 6 figure freelance Business using LinkedIn and Upwork.
Content Creation
Nothing works best in transferring trust i.e establishing credibility and confidence with your prospects than having informative content on your profile with a decent level of engagement. This is credibility by association with other people and projects. This content can be testimonials from past clients, industry developments, guidelines, or anything under the sun.
When you think about creating content, consider a topic that you can virtually talk endlessly about, define the 5-6 main disciplines or sections within that topic, distribute them across 5 days and start writing. Know that just because you can talk endlessly, doesn't mean that you should. You should make your content relatable, readable, and lastly actionable. You can see a few guides to content creation for LinkedIn to inform you how you should go about posting original content.
When you create content, you increase profile views for yourself on LinkedIn and consequently boost your discoverability on the platform. While for optimum results, it's recommended to post twice a day, I post once a day and that has been working out well.
Effectively and consistently done, you wouldn't need to find freelance jobs, rather freelance jobs will find you. This is called content marketing but rather than writing to sell a product, you are writing to eventually sell your services.
Upwork: The Ultimate Freelance Site
I have been on Upwork since the days when Upwork was Elance. In its essence, it's a powerful freelance job board for people looking for freelance gigs and freelance jobs. I am not negating the prevalence or the power of other freelance websites, but in my own experience, Upwork is by far the most convenient and has yielded the best results.
I have been on the freelancer and the client end of the website, and Upwork makes it convenient to hire freelancers, seek clients, pitch for jobs, create contracts, and manage projects. From a convenience and reputation standpoint, Upwork is second to none when it comes to freelance websites.
Let's dive into the specifics of seeking US-based clients on Upwork:
Profile Optimization
Just like any other platform for freelance jobs, Upwork and Upwork profiles are also a game of keywords. and making them discoverable to clients and how they seek talent is of prime importance. If set up correctly, an Upwork profile with a decent track record can attract clients through search and land jobs through inbound leads. The higher the profile level, the better this will work. So ideally you'd want a Job Success Score of 90% or higher, A few completed projects with solid 4.5-5 star reviews.
Clients would not search directly for a term like Social Media Design and Management but rather look for terms like "Social Media Manager" or "Graphic Designers for Social Media". You may think that these are surface-level terms and not direct enough, but that's how clients search. Remember, you're the specialist, they aren't. Top freelance websites also collate search results like this, based on the kind of search query.
The title should include a search term related to your specialization and whatever you think would be relevant to clients when they see it. It can go something like "Shopify Design and Web Development, Web Developer". See how we have targeted major keywords a client would possibly search for when looking for Shopify Web Developers or Designers. Followed by the title, the bio should have a high-converting copy in the first 2-3 lines that make the client want to visit your profile, those would be the only 2 lines visible within the search results for a query.
Successful freelancers or independent contractors on Upwork, make sure that your bio talks about the process of service(s) that you provide that gives clients some confidence in your abilities and that you can help them accomplish their goals. If you offer multiple services, you can section out your bio to include a little about everything. Do not overcomplicate, keep it linear, easy to follow, and play to your strengths.
Onsite Portfolio
Upwork is a powerhouse and integrates most of the tools required by freelancers within the site itself. You must take full advantage of all of these fields to show previous examples of your freelance work and anything prior as well.
For freelance designers, this is essential to showcase their graphic design and other similar projects. In the hiring process, most clients would simply search for a service they want, and seek out a designer with a good intro and a decent picture, followed by reviewing your portfolio halfway through the page. This is where they take a call if they should hire you or not so make sure you have plenty of good work examples.
Graphic Design is only an example, anyone who produces a digital file or product, in the end, can take advantage of these fields. For freelance writing, this can include samples or screenshots from webpages, links to articles online, etc. Other specialists can also find relevant collateral to add here.
When it comes to closing US-based clients, what they already know i.e the biases will always work best. So if you have work experience with a US-based brand but in some other country, that would be the project to highlight first. This would be the case for all the best freelance websites across the web, so make sure that you optimize accordingly.
Seek Advantage
Building a freelance career is a lot like building a business and is unlike any traditional corporate day job. And seeking advantages when the opportunity presents itself is pivotal to a business's success. Seeking an advantage over your competitors will always prove to be beneficial irrespective of geographical location.
Imagine that you are going through job listings on the Upwork job board, and you are going through a job description. In the job description, there's a line that says Spanish would be a welcome addition. In that case, if you are from Mexico or Spain, you are a native speaker. If you have learned the language as a second or third language, maybe a beginner-level proficiency is good enough for the work they require. This is an advantage and increases the chances of you being interviewed.
Just like this, you can seek the advantages within your skills and location to build your case to work with that client. For example, Small business owners may be seeking a website developer to work on their site and in the day it's difficult for them to collaborate with you actively. With their freelancer being overseas, they can run their business during the day, push edits during the early day or late night, then go to sleep while their edits are applied. You can structure this in a way that helps the prospect realize that you have a process and then also cite any relevant experiences you may have with other clients.
Just like in business, you need to find a workaround to get what you want. Seek advantages in who you are and what skills you have. The end goal for the client is the accomplishment of the task with due diligence, the freelancer's location is a convenience and not an absolute requirement.
Common Practices to find and continue Freelance Work in the USA
There are some common practices to be applied, which are platform independent to land freelance work in the US and continue working with clients based there. Here are some of them:
Website/Portfolio Website
Being self-employed and not having a website is like throwing caution to the wind. A website with your relevant work neatly presented is the first thing you should set up. In addition to serving as a work repository, a website also promotes discoverability on the web, which can be boosted with written content. Your portfolio and past work are a major consideration in a client's screening process for a freelancer and having a website make it easy to share your work. You can also track visits and traffic on your site using google analytics which can give valuable insight into optimizing your content.
You don't need web designers or developers to create a good website. You can use website builders and get a domain name from GoDaddy and you'd be ready to go. I use Shopify and it is well worth the investment.
Consider hiring an International SEO Expert
Content marketing has opened doors for companies and individuals to expand their reach into international markets including the US.
An international SEO expert would help set up your website for visibility and compliance in different countries. This is an advanced-level strategy and is only recommended for freelancers who have a decent track record in markets other than the US. If you are seeing considerable website views and visits and would like to go international, international SEO can be a good direction to take.
You may also require some design and development work for your site in case of changing your site to appeal to and serve the US market like changing your fixed price and hourly rate to USD.
Sell more to current clients
When it comes to freelancing, most freelancers see their clients and projects in isolation. This is going prospect to find a client, send proposals, close the clients, deliver the project, and then back to the same cycle.
What is often missed is that a client hires freelance workers for their projects, they usually work with one or two freelancers per niche per project. This means that at the end of the project, they still have some of the requirements for a different project or are looking for someone to provide direction on their next steps, this is when proposing newer projects to the same clients makes sense.
If you have managed to complete a project in the past 3 months or 75% through a project, for a client in the US, go and pitch new projects in a direction that pushes them forward. Propose 3 projects each at different pricing, a small project for about half the cost of your initial project, a mid-tier which is the same price, and a more advanced one at twice the value. You don't have to force the client rather propose projects that can bring tangible results for their business. Small Businesses especially look for freelancers who can provide work and direction toward navigating a certain path to grow their business.
If you delivered a graphic design project for your client, you can pitch more design projects that may make sense for your client, you can also pitch web design, freelance writing and so much more. You are the expert here, so provide direction. If you are willing to show founders and businesses the way, after a proven track record, you can consequently work on many projects with the same client.
Conclusion
As you may have seen in the article above, most of the strategies discussed above aren't US-specific but rather solid freelance practices to attract more freelance jobs to you and seek freelance work through some outbound search tactics.
Job seekers often forget that good quality freelance work doesn't have to be country specific rather what they mean by US work is high-ticket projects, with a work-life balance and quantitative movement in their career. Be it San Francisco, Toronto, or London. This can mean any first-world country with a growing economy and new businesses being built constantly.
A freelance job in the USA can't be guaranteed. What matters at the end of the day is your ability to leverage a platform that connects freelancers to potential clients. Hopefully, with the pointers above, you will be able to leverage LinkedIn and various other freelancing websites to find freelance jobs, attract inbound views, close clients, and build an amazing freelance career.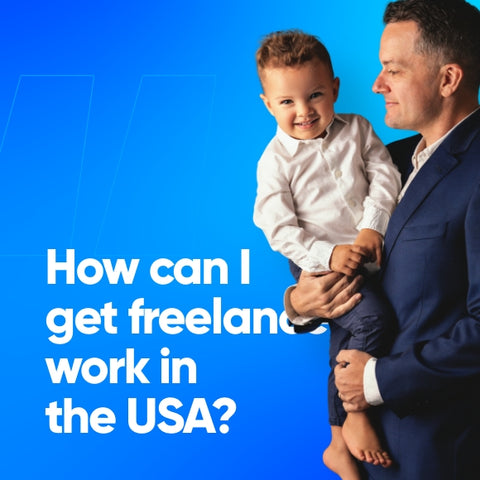 How can I get freelance work in USA?
Then, pick one of these:
---
Third, try these:
---