I completed a one-on-one coaching session with my student Paul Olorunrantimi, a WordPress Designer and Developer currently living in Nigeria, Africa, earning $150,000USD/year primarily on Upwork.
Today I will break down the key lessons we discussed during our freelance coaching one-hour one-on-one session to help him level up his freelance career, increase customers' lifetime value, and help him transition from US-based freelancer to Africa-based freelance.
Watch the complete, un-edited one-on-one session here, with the analysis and breakdown of the session below:
What did Paul learn?
During our one-on-one freelance coaching session we primarily discussed Paul's Upwork freelancing business which has been doing a great job over the last year with over $150,000 earned.
The problem Paul is currently having is that he has seen his freelance career drop since moving from the United States to Africa. His skills as a website builder, with ample experience in web design and website development using WordPress and Elementor. The only thing that changed was his location.
When you move locations, Upwork updates your location to validate your account. Unfortunately this can exclude many talented freelance professionals from search results when potential customers only choose a specific location in which to hire their freelancers, instead of leaving the location preferences open.
I have a similar problem, which I have overcome by being upfront and continuing to send proposals to clients regardless of my location. My experience comes from having a Brazilian wife, we have two kids and split our time between Canada and Brazil.
Freelance projects are easier to get when my location is set as Canada, instead of Brazil, but I keep my proposals the same, instead making it completely obvious during my freelance Upwork pitch.
My Upwork freelance pitch and proposal, starts "Hi, I'm Scott Luscombe, a Canadian freelance Graphic, currently living in Brazil..." Instead of trying to talk my way around it, I just leave it up to the customer to see that I'm a remote worker, have been, and am trustworthy as both a freelance graphic designer and website developer.
By being completely open with my clients I reduce any apprehension they have with hiring me as their freelance graphic designer, website developer, digital marketer, or which ever freelance service they may need.
As a freelance coach, I always recommend complete transparency. Honesty is the name of the game when developing projects and making sure that clients extend past one single project and become lifetime customers.
How to write an Upwork Proposal.
I have a separate article I wrote on how to write an Upwork Proposal, and even have a digital download of the freelance proposal template here.
The short form of how to write a proposal is this, take your reader through a fairly standard sales funnel, here is an example:
Upper funnel: Write 1 sentence about you and your skills.


Middle funnel: Write 2 sentences that include 3 different pricing options for your client to choose from.


Lower funnel: Write 1 sentence on how to hire you, how to start the conversation, and when you can start.
By keeping your Upwork and LinkedIn freelance proposal and pitch short and concise your reader, the potential customer, can quickly scan your offer and get the details they need to move forward with you as their freelance.
How to write an Upwork Profile.
I have another separate article which goes into detail about your how to write your Upwork and LinkedIn profile which you can read.
The short form for brevity sake, is as follows:
Write like your audience: As freelancers we know our services very well, but may not be obvious to clients. For example, a client knows they want a website, they don't know that they need a Java Developer.

How to choose your social profile keywords wisely: The easiest way to choose your professional profile keywords in your profile is similar to the last note, you need to speak like your audience. So hop on LinkedIn and search Jobs that relate to the freelance service you provide. Then you look through about 10 Job posts and choose keywords that the hiring manager is using. Then you add those keywords to your profile.

Structure your freelance profile correctly: Whether you are writing your freelance profile on Upwork, LinkedIn, or any other platform, structure your profile using the same Upper, Middle, and Lower funnel writing I described above.
How to find freelance work on LinkedIn.
Finding work on LinkedIn is quite simple. Freelance projects aren't listed out like on Upwork, but whenever I coach my freelance students I always give them this tried and true piece of advice:
Use LinkedIn Search for freelance projects: By typing "Freelance Graphic Designer and we're hiring" you'll see posts from potential freelance customers looking for freelancers just like you! The advantage here is that LinkedIn penalizes "hiring" posts, so there are often only a few people contacting these potential customers giving you much better odds at getting that freelance project.

Make sure your Profile is written correctly. The goal is to have freelance clients come to you. From sales-speak this is called organic inbound sales, it's the best because clients come to you and are ready to buy. Just don't screw it up!

Offer useful advice to other users that may use your freelance services: As a freelance success coach, I often comment on freelancers' posts when they are expressing difficulty with their freelance career. By doing this I position myself as the expert. You can find hundreds of these posts by just connecting to people in your industry and giving people as much value as you can.
How to get more work as an overseas freelancer.
I have worked with the same freelance developer for around 5 years now, he's amazing! As a knowledgeable freelancer, I know the benefit of this asymmetrical work style, when I work, he's sleeping, when I sleep, he's working.
Here is how to communicate the advantages of hiring "overseas" freelancers:
The work is done while you sleep: Many clients don't know the advantage of this, but it's amazing. Instead of my developer interrupting my day with back and forth revisions and messages. By working asymmetrically I can put a lot of thought into all of the work I want to send to him during the day, send it, and then review everything each morning. This saves significant time and interruption in my day.

The work is often less expensive: Many clients know that "overseas" freelancers are cheaper, but you can use this to your advantage by reducing your cost to the point that domestic freelancers can't compete simply due to higher cost of living issues.

Be incredibly organized and thorough: When working asymmetrically, make sure you have a great system for receiving feedback and performing quality assurance checks throughout your projects. I use Monday and you should check it out!
How to increase the lifetime value of clients by understanding you are a salesperson first.
This is a lesson I wished I had learned at the beginning of my career. On LinkedIn I hear acronyms like SDR, and AE, for years in the beginning of my career I had no idea what those acronyms meant, but I started studying them and learning their ways. This will see like an obvious strategy to salespeople, but freelancers very rarely realize this.
Here is how to increase the lifetime value of clients:
Upsell projects: Show your clients that you are interested in their projects by giving them 3 options for the next projects you recommend doing and why they will benefit your client.

Propose New Contracts: Upwork has a cool feature when you finish each contract called Propose New Contract where freelancers can send a client a new contract. As a freelance coach I highly recommend using this with every client because of it's high conversion rate. If you did a great job on the last project and you can justify the benefits and the cost of this next project to your client it's a win-win.
Every freelance project starts with a sale.
Whether you create websites as a freelance website developer, create logos as a freelance graphic designer, create content as a freelance copywriter, or even create tax savings as a freelance accountant, one thing is for sure, every project starts with a sale.
Make sure that you are consuming sales resources such as books, guides, and freelance business coaching like this and you will free up your time as you stop chasing new clients every time you complete a project.
The next not-so-obvious issue is that freelancers rarely have their services available on eCommerce and ready to purchase. By choosing a platform like Shopify you get the benefits of an easy to use portfolio site, coupled with eCommerce to sell your services.
I hope you gained a lot from this article and the coaching session, if you are looking for a freelance coach, make sure to reach out to me, I would love to help you level up your freelance career!
Each 1 hour session is currently $65/hour USD with my students increasing their weekly average income by $1500. It's a huge increase when freelancers choose my coaching on a weekly basis and can be achieve within the first few months of coaching.
If you are a freelance WordPress Designer and Developer this is for you!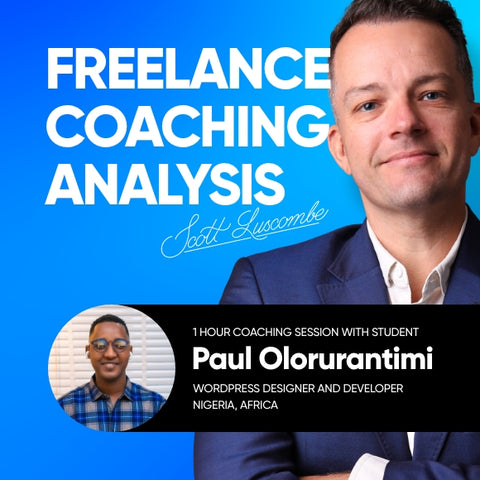 1 Hour Freelance Coaching with WordPress Website Developer
Then, pick one of these:
---
Third, try these:
---