Do you need a business license to sell on Shopify?
Technically, no. You don't need a business license to start selling on Shopify. But, as you will learn soon enough, it's not that simple. Business licenses are a dependable way to prove that the business owner has met all the requirements to operate the business at local, state, and even federal government levels. We have created and managed 100s of Shopify stores, and we can tell you it takes more than a knack for a business to succeed on Shopify. In most cases, you need a business license to operate an online store, much like you would need one for a physical business. Here's why a business license is essential and how to get one.
What are Business Licenses?
Before we begin, it's essential to know that this is not Legal advice. Whether or not you will need to get a business license right away will largely depend on the nature of your business and the regulations of the country, state, or province that you live in. You must always consult a lawyer before filing for and obtaining a business license.
With that out of the way, let's begin with an understanding of what a business license is, its purpose, and what makes it important.
Definition of a Business License
In the United States, a business license is a formal approval granted by the government, allowing a business entity (individual or company) to conduct business. It's a legal document that signifies compliance with local, state, or federal regulations and is often mandatory. For the most part, depending on the nature of the business and the regulatory environment, you need a business license to run a business, online or otherwise.
Purpose and Importance of Business Licenses
A business license ensures that a business operates within the confines of the law, maintaining public safety, health, and welfare. A business license legitimizes a business, building consumer and stakeholder trust. Additionally, it allows federal and local government agencies/bodies to monitor and uphold industry practices. This ensures adherence to standards and facilitates the collection of taxes. This helps ensure standards for safety and quality, making it possible for the consumer to trust the products they buy.
Operating without the required licenses in the U.S. can lead to substantial fines and legal repercussions. It can ultimately jeopardize the existence of a business.
Shopify's Policy on Business Licenses
To understand Shopify's policy on business licenses and paying taxes, you must understand its terms of service and your responsibilities as a business owner selling on Shopify. Here are the basics:
Shopify's Terms of Service
Shopify's Terms of Service require that the platform and all its users, that's you, adhere to legal parameters. While there is no mandate for a business license to start selling, you must obey local, state, and federal laws and regulations. This is the case with any business, not just a Shopify business.
Adherence to applicable laws, including ones related to business licenses, is essential.

Sellers must be conscious of and conform to legal standards relevant to their locations and types of business.

Shopify only insists on lawful operation; it does not mandate a business license to start selling on the platform.
Responsibilities of Shopify Store Owners
As a store owner, it is up to you to find out and comply with the legal requirements for your specific type and location of doing business. While you may think your product has no required compliance standards, you may be surprised. Food, beverages, supplements, cosmetics, personal care products, toys, clothing, and many others have legal requirements to fulfill. All of these include a business license.
Store owners must secure appropriate business licenses and comply with tax laws.

License to sell and laws differ around different products. Chances are that you will need some form.

Any legal discrepancies fall solely on the store owners, potentially resulting in penalties or termination of the Shopify store if non-compliant.

Owners must ensure the legality of their wares and abide by all relevant legislation.
By abiding by the requisite legal and regulatory norms, store owners ensure ethical business conduct and bolster the reliability of the eCommerce platform.
Types of Business Licenses and Permits
As you can see, you would need a business license to sell something online in most business scenarios. We also recommend having a business license to safeguard your business and make it look more professional when dealing with manufacturers, shipping partners, suppliers, and customers. Let's see what licenses are out there and which is relevant to your business.
General business license
As far as required business licenses go, this is the most common. A general business license legitimizes your business and allows you to operate within a specific jurisdiction. This is a business license that all Shopify business owners need, irrespective of the scale or business structure. This license is obtained from the city of the county where the business is located. This allows you to conduct business activities within an area.
Seller permit or Resale license
Sellers who deal with physical goods must consider obtaining a Seller's Permit or a Resale License. Sellers who purchase goods for resale require this license to conduct sales transactions in many states. This license makes you identifiable as a business and takes various associated tax benefits. Also known as a sales tax permit, this license allows you to collect sales tax from buyers, which is then remitted to the state using a sales tax ID. This ensures compliance with the state tax laws and helps avert any potential legal complications in the future.
Home Occupation Permit
Some jurisdictions mandate a home occupation permit to maintain zoning regulations and community standards. If you operate from home, with a home occupation permit, you must comply to uphold community standards. This ensures that your business operation does not disrupt the residential environment and adheres to local ordinances. If you are a small business starting from your own home, you must acquire this license to avoid zoning violations and penalties. Start by consulting your Small Business Administration rules to check if you need a Home Occupation Permit where you live.
Federal business license
You need a Federal Business License for an online business in the following industries. Industries that require a Federal Business License include agriculture, production of alcoholic beverages and spirits, aviation, firearms, radio and television broadcasting, transport and logistics, live animals, and pharmaceuticals. It gives the business credibility by showing partners that your business operates legally and adheres to industry standards. Additionally, some markets and business activities in the abovementioned industries can only be enabled with the right level of business licenses.
Determining if you need a business license
Now, let's determine if you need a business license. You must ask yourself specific questions to determine if you need a license and, if so, which one.
Evaluating your Product and Service
Identify the Nature of Your Products/Services: Are your products or services regulated at local, state, or federal levels? Items such as food (FDA) and drugs typically have stricter regulations. For Shopify sellers, understand the types of products you want to sell or the services you wish to offer.

Understand the Industry Regulations: Some industries are highly regulated and require specific licenses and permits, irrespective of the products or services offered.

Check for Compliance and Legal Standards: Understand the legal and compliance standards your product or service may need to adhere to. Evaluate whether your products meet the required safety and quality standards.

Consider the Sales Method: If you are dropshipping, creating handmade products, or reselling items, your licensing requirements can look very different from product to product. You must ensure that you are legally in the clear before you start selling.
Reviewing Local Laws and Regulations
Research Local Business License Requirements: Every locality has requirements, so check with your city or county's local business licenses department to understand the licensing requirements that apply to your business. For Shopify stores, research the local laws of where you operate and where your customers are located, as you might also have obligations in those areas. Internationally, Shopify makes selling in foreign markets easier for its users. We've covered this in our post Shopify Markets Pro: Sell Internationally With Ease.

Understand Zoning Laws: If operating from home, verify the zoning laws of your area to ensure that running a business from home is permissible and if a home occupation permit is required.

Consult State Business Agencies: Contact your state's business licensing office to inquire about state-specific licenses, permits, and regulations that may apply to your business.

Inquire about Sales Tax Permits: If selling physical goods, understand the requirements for collecting and remitting sales tax in your business areas.

Seek Professional Advice: Chances are that you aren't equipped to handle all of this paperwork alone. Seek advice from a business advisor and legal counsel. They can advise you and also file on your behalf. Multiple online services help you take care of these responsibilities in exchange for a small fee.
How to apply for a business license?
Now comes the time to apply. Below is a general guide to applying for a business license in the US. We recommend that you use this as a checklist to work alongside a business advisor or legal counsel and ensure you're on the right track.
License Requirements
Start by determining the specific license that you need for your business. Check with your local government, county office, or licensing agency for specific requirements. Many business advisors handle such work daily and can guide you on the type of license required. Check with them to understand specific requirements and regulations for your industry and location. After all, you are applying for a business license, claiming you uphold those required standards. So, you must ensure that all your ducks are in order before applying.
Compile Information and Documentation
You must prepare all the necessary information and documentation for your application. These can include but are not limited to business name, business structure (partnership, limited liability company, partnership, etc.), TIN (Tax identification number, proof of address, contact information, identification and any certifications or permits relevant to your industry.
Submit the Application and Pay the Fees
Make sure that you have the correct application form from the appropriate authority. This can be a physical form or a downloaded on in the case of an online application. Fill out the information as accurately as possible. Inaccurate or incomplete information can lead to denials. Attach all the necessary documents.
Submit the completed form along with any fees. The business license cost can be between $50 and $550 based on the license type. Follow the submission process. Some authorities take applications online, while others expect mail-in applications. You may need to follow specific guidelines to create a mail-in package. Not adhering to guidelines can result in delays or denials.
Track the status of your application and any communication from your licensing authority. They may require more information or schedule an inspection. Once your application is approved, you will receive your business license.
Navigating Business Licenses as a Dropshipper
Dropshipping presents specific additional steps when selling on Shopify since the seller does not directly handle the product sold to the customer. Here's a brief overview of dropshipping followed by the specific licensing requirements.
Understanding Dropshipping
Risk Mitigation: It minimizes the risks associated with purchasing inventory, handling, and shipping.

Investment and Overhead: Dropshipping requires low upfront investment and has lower overhead costs than traditional business models.

Product Variety: Sellers can offer a wider range of products without extensive inventory management.
Specific License Requirements for Dropshippers
For Shopify sellers operating as drop shippers, compliance with legal and regulatory frameworks is of the highest priority.
Business License: Often required to operate legally, depending on local and state regulations.

Seller's Permit: Mandatory for collecting sales tax from customers, it's crucial for drop shippers selling products in states with sales tax.

EIN(Employer Identification Number): An EIN is essential for tax purposes and is often required when dealing with suppliers and wholesalers.

Resale Certificate: Allows purchasing goods intended for resale without paying sales tax and is typically required by suppliers.

Product-specific licenses: Depending on what you're selling, additional licenses might be required, e.g., for items subject to regulations like health supplements or imported goods.
When a business license is not necessary?
In very small cases a business license is not necessary to start selling on Shopify. This limit only applies if your sales are under $20,000 a month, at which point you will need a business license. These include sole proprietors who work as freelance writers, graphic designers, contractors, and other gig-economy professionals like hobbyist sellers.
While it is true that Shopify doesn't mandate a business license to sell on its platform, some payment providers on the platform may require you to have one.
Our Thoughts
To run a thriving Shopify store, you need a business license and understand what having one means. You will need to consistently adhere to legal norms and regulations to stay viable and grow in the long term. It's not simply a legal obligation but pretty much the only way to do business.
Importance of Legal Compliance for Long-term Success
Risk Mitigation: Full compliance mitigates legal risks and disruptions to your business so you can focus on internal challenges like sourcing, sales, marketing, traffic generation, etc.

Brand Reputation: Legal compliance creates trust among your customers and partners. This reinforces your brand's reputation and integrity.

Financial Stability: Legal penalties and fines are more money from your business. Not having the right licensing is a bad business decision through and through.
Research and Consultation
Thorough Research: You can't decode what licenses and certifications you need without research. You must understand the obligation to meet at the local, state, and federal levels. Your business must comply with the law at all times.

Expert Consultation: Legal counsel or business consultants are there to help you. Navigating through intricate legal landscapes and obtaining precise interpretations of applicable laws and requirements with the help of a professional is highly recommended.

Continuous Learning: Business environments and legal requirements evolve. Ensure that your knowledge of the same evolves, as does your business.
Conclusion
It takes more than just business prowess to embark on an entrepreneurial journey. Yes, passion and business know-how are key to the success of your product or service, but so are the legal obligations. As a dedicated entrepreneur, you must embrace legal compliance and acquire the necessary licenses. Yes, you can technically have a Shopify store without a license, but that, too, applies to a specific type of individual. And even those need a business license once they grow past a certain point. A careful approach is required to flourish and succeed in the long term. However, don't let this deter you from starting that venture you've been planning. Find the right professionals to get the legal requirements in order. Then, when you're ready to tackle business challenges, you know where to find us!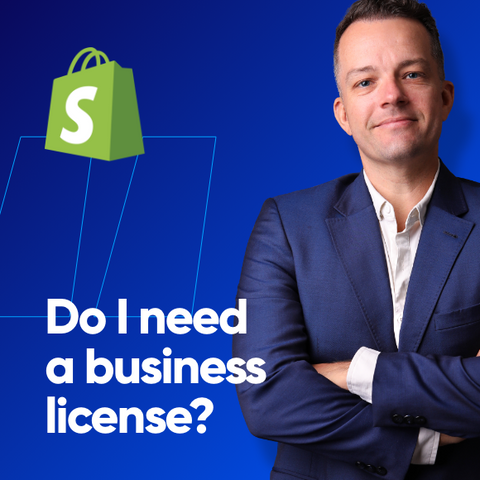 Do you need a business license to sell on Shopify?
Then, pick one of these:
---
Third, try these:
---