If you're anything like me, it's hard to turn your brain off after a day behind the computer being creative. The last thing you want is MORE scrolling on Netflix, so stop the scroll and go here.
YouTube is great, but often a distraction of tutorials, how-tos, and the latest artificial intelligence tech that's about to rob artists of future work.

The standard series on Netflix is great for a couple of episodes. Still, their lack of depth often leads to simultaneous phone scrolling while passively listening to whichever series is rambling in the background.

As creative people, we're often able to predict what's about to happen in a given series, leading to excessive levels of boredom. You want to wind down, but the need for more engaging content makes it challenging.

What on Netflix is worth watching for Graphic Designers?

Here are a few series on my "must-watch" list that speaks to me as a creative, and I expect they will keep you engaged.
Must-Watch Non-Fiction:
Abstract: THE ART OF DESIGN
It's terrible for your imposter syndrome as a designer because these artists are truly innovative, and the level of work is so high that it warranted its own Netflix series.

I got through this series in one sitting, fully engaged, mainly because the level of design and art is entirely off the charts.

The Episode that did it for me was about Paula Scher: Graphic Design, a lead designer at Pentagram in New York. Her use of type is something I can only dream of when designing. I immediately became a super fan, her work inspires me every day, and if I get stuck on a design solution, I head over to Pentagram to help usher in a solution.

Paula's Episode is mainly in New York, my 5th favorite city. I love New York. It's a place I always think I'd like to move to, but I quickly respond out loud to this thought with a resounding "No."

New York is inspiring, but it's also drowning. I see the reflection of New York in Paula's work, with type packing every negative space, treating white space like far-to-valuable real estate. It MUST have a skyscraper on it if it dares to stay empty.

Her mix of digital and traditional media is inspiring as well. It brings me back to my days at Sheridan College, where we used traditional mediums instead of the computer almost entirely. Traditional media invites happy and sad mistakes, which builds a uniqueness to work.

I only know a little about other designers. I'm too busy working, but the level of Paula's work has made me a lifelong fan, and I would love to see her own special on Netflix. She's so strong that she could pull off a Dave Chappelle-esque series. Different types of art, equal skill.


Must-Watch Fiction:
Emily In Paris
Why's a "dude" watching this show? Don't judge me. Watch the show first. I love this show for so many reasons, namely because it's about a digital nomad designer Emily who moves to Paris without knowing the language to flex her creative muscle at an ad agency called Savoir.

Don't lie to yourself. Every designer dreams of getting a role in an iconic city like Paris. Paris is its own country within France. I was there in 2015, and what a place. Everything people said to me was wrong "It's dirty!" Nope! Super clean.

Granted, I stayed in the 6th Arrondissement across from the Louvre. But walking much of the city, I found the parks incredible and the streets clean. If you want art, you don't have to enter the Louvre. Paris IS a Museum.

"It smells like pee!" What? I seriously heard this. "The people are mean!" Nope! Parisians are excellent. Compared to New York, they're easy to talk to, approachable, and not in a rush.

Emily in Paris is an excellent show, not only because of the context of her being a social media guru, copywriter, designer, art director, and Jill of all trades. But also her incredible wardrobe. It's a symphony of color and how all designers want to dress, even if we only stick to blank slate colors like black, blue, and white.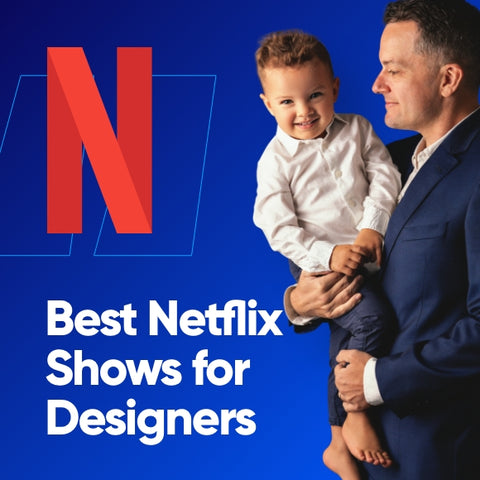 Best Netflix Shows for Designers in 2023
Then, pick one of these:
---
Third, try these:
---